We just flew back from Boston (and boy are our arms tired, har-har) but since we shared our freshly painted bathroom with you guys this morning and we didn't want to leave you hanging with just one post, we got this Reader Redesign together in the airport for ya (throughout all this travel, we're doing out best to keep blogging as usual). I know we typically share full room makeovers, but this furniture upgrade had such a creative twist that we had to pass it along. We loved that Beth and Nick rescued this old to-be-trashed buffet with the help of some wood stain applied in an unexpected way. Here's what Beth had to say about the project:
Hi guys! I love drawing with charcoal, and I decided that I was going to try the same techniques, only using stain on wood, instead of charcoal on paper. It came out so well, we just had to share it with you!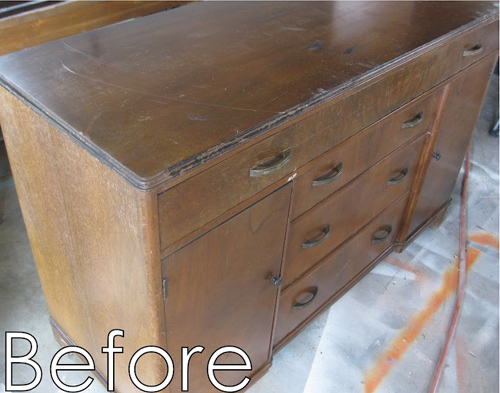 We pulled this buffet out of a burn pile, repaired the burn damage and fixed a structural problem, prepped, primed, and painted the body. Then I drew out some flower petals lightly with a pencil on the top surface of the buffet and began staining with Minwax Ebony. I started with the center petals and stained each petal, starting at the center and working my way out toward the tip of the petal.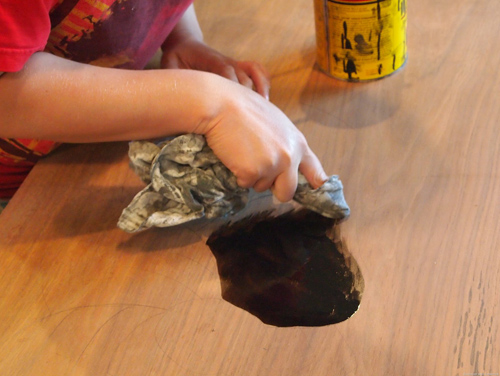 As you can see I didn't stain all the way out to the edge of the petals, because I wanted that to be the lightest portion of my 'shading." Using a dry cloth and my finger, I wiped away from the stain to allow a smooth transition from the stained portion to the outer unstained portion of my petal. Rubbing it to create that shaded look. I continued to repeat this process on each petal as I worked my way away from the center of the flower.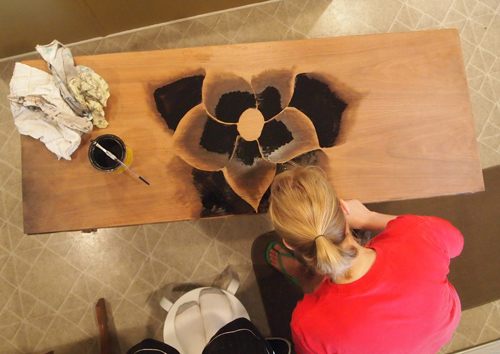 I'm soooo super proud of myself. Hope you love it! – Beth & Nick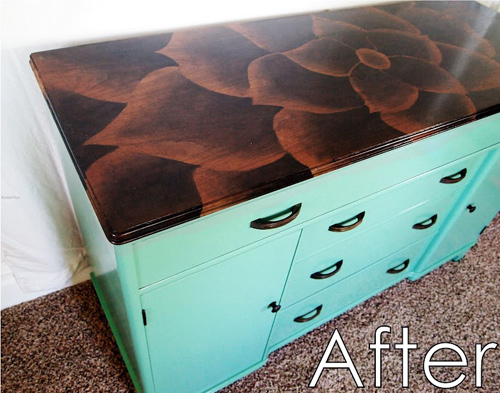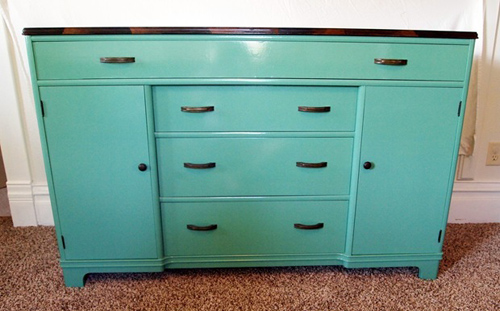 Isn't that such a cool idea? For those who might shy away from the painted bottom, you could easily stain the front/sides of a piece and apply this treatment to the top as well. Makes me feel like such a staining novice. But now I'm kind of itching to think of a piece that we could try this on. And it makes me realize that if such an intricate design is possible, someone could attempt something like stripes or tiled triangles too (perhaps with the help of some painters tape?). So if you're looking for more pics and details about the process, be sure to visit Beth and Nick's blog, and if anyone else has tried something fun with stain we'd love to hear how it all went down.