Should all brick fireplaces be painted? No way. We always tell anyone who's on the fence not to touch that brush. But if you're 100% sure you prefer the look of painted brick, then it can be a great way to bring an airy and light vibe to a room (we sold our first house in two weeks with two painted brick fireplaces so it didn't seem to be a resale deterrent at all). This makeover from Jamie and Ehren is all about crisping up a space – both with white fireplace paint and some darker blue paint worked in there for contrast on those awesome built-ins. Here's their letter:
Hey YoungHouseLovers! Your blog inspired me to start my own blog to document the progress we make on our new home that we bought in July. I just wanted to share our living room transformation. It's finally the "vision" that I had when we moved in. Here's the before, shortly after we moved in: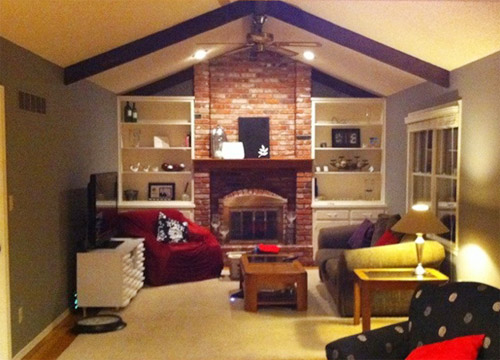 It took about 7 months to complete our upgrade, but it was way worth it. I made chevron artwork, refinished the brass fireplace insert, made some paint chip art, some no-sew pillows, and painted and decorated the built-in shelves. And finally, the biggest, most tedious part that made the biggest difference in the room – painting the brick fireplace!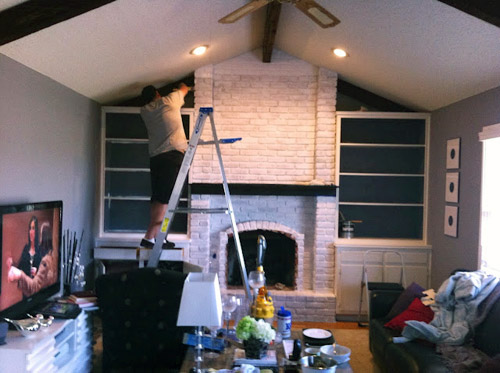 And 14 hours of painting later (with both of us painting), we were done!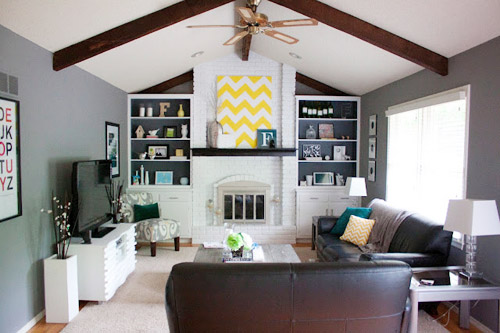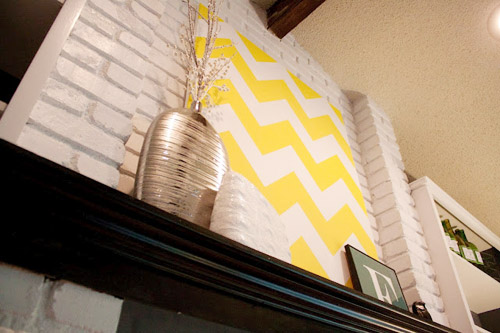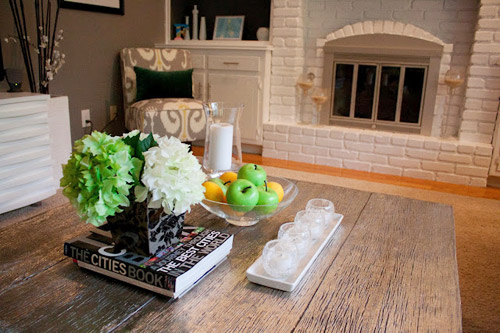 The coffee table is my favorite piece of furniture in our house. It is a resin cast of railroad ties from the Philippines – has a lot of meaning for us! Plus it's huge and doesn't show crumbs, water rings from glasses, dust, etc.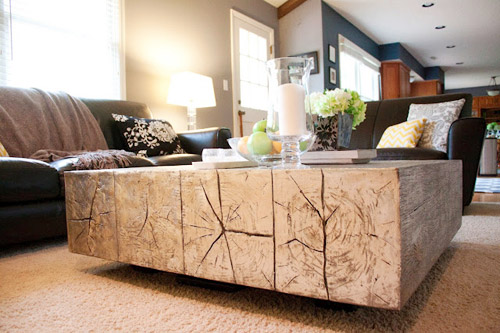 My advice is: don't be afraid to paint brick if you prefer that look! Especially if you want to brighten up the room and make it more contemporary. Our dog Cozy agrees.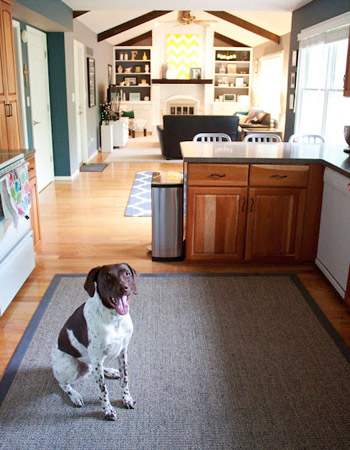 It definitely came a long way in there and we're so happy with the result. We hardly even remember the "before" picture anymore!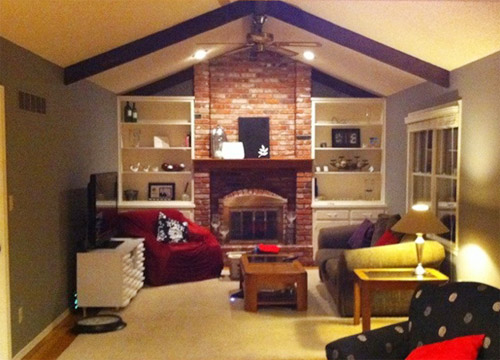 Keep up the great work and thanks for checking this out! – Jamie & Ehren from Lawrence, Kansas
So yeah, the painted fireplace looks awesome with those dark blue built-ins… but I'm also totally jealous of that awesome coffee table. And Cozy. He looks like a friendly pup. You can see more of him, Jamie, and Ehren on their blog (along with more pics of this makeover process). Thanks so much to the whole family for opening their virtual doors and sharing their makeover! Let's play the favorite part game. Sherry's really into how great those dark wood beams look with the wood mantel and the leather furniture. What do you guys love? Hands off the coffee table, he's mine.
Psst- We announced this week's giveaway winner, so click here to see if it's you.