It's not often that a before photo actually makes me laugh out loud. But I did so I'll cop to it right now. Just check out the shower tile in Erin's main bathroom for yourself. Thankfully the incredible overhaul that she and her husband did means that old tile is nothing but a (somewhat hilarious) memory. Here's her letter:
Hi John & Sherry, we've been working on remodeling our foreclosure mess for just over a year now, and so far we've completed three bathroom remodels! I'm still doing a happy dance from how this last one turned out. This room started out as bad as it could get with dirty white tile & brown grout, a rain shower mural in the bathtub, and pink walls with a goopy, drippy texture applied to them.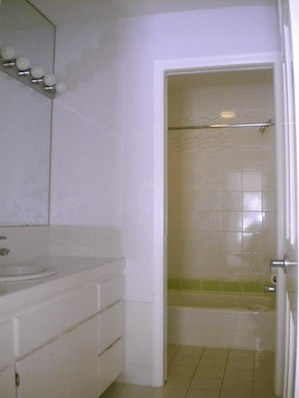 Every time I used it I thought, "I can't believe we bought this dump." Note the rain shower mural in the tub.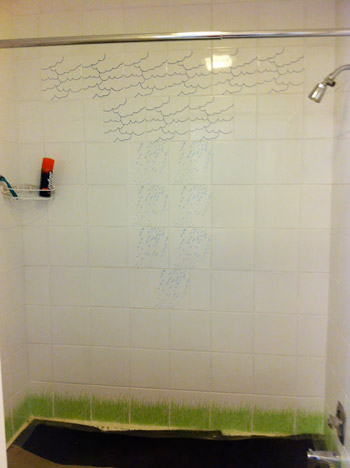 We were going for a very modern and natural look – something that was minimal but not cold. The piece de resistance was a shoji style inspired sliding door that I custom built to fit the space (it slides to the right to close off the toilet/shower without blocking too much light). I'm still shocked that it fit and worked well in the space right away. Those moments when what you had in mind actually works out perfectly… yeah, those never happen to me, so score 1 point for the DIYers.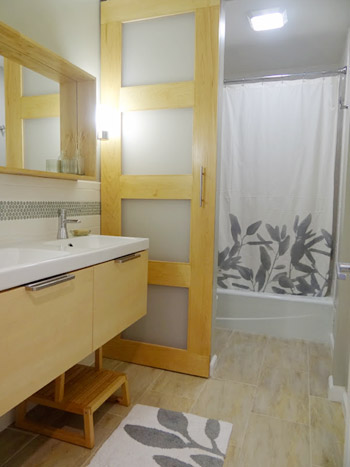 The best part is that doing all of our own labor and using affordable items like the Ikea vanity and mirror (along with clearance 12" x 24" floor tiles for just $1.22 a tile!) made this renovation incredibly affordable. The whole project was less than $2k.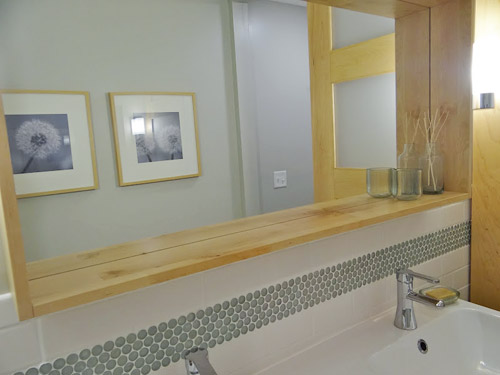 We also added lighting underneath the floating vanity, which not only accentuates the open floor space down there but provides a really cool nightlight to the room.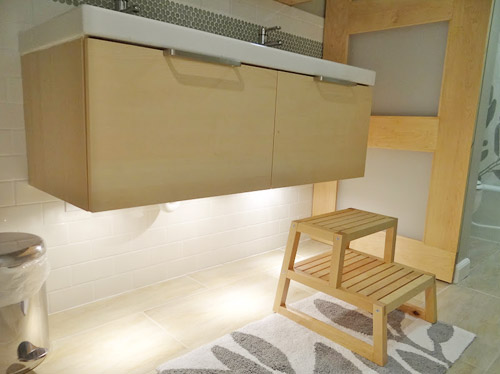 The lights are plugged into an outlet directly under the vanity, and that outlet is controlled by a switch right at the door so it's just a flick of the switch to turn them on. I hope you like it! -Erin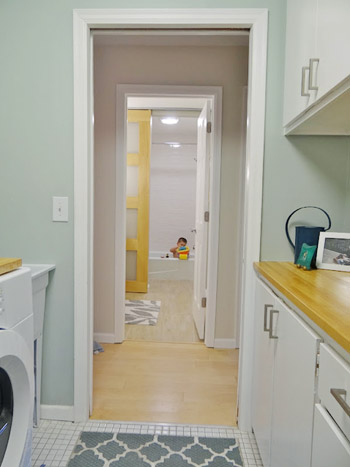 I just gotta give Erin another "bravo" for that door she built. I mean, the whole space makes me want to come over for a visit, but I've gotta hand over some serious props for making a door that fits on the first try. Erin's got more photos (including a close up of that before shower!) on her blog, so be sure to check it out. Thanks so much for sharing your awesome bathroom, Erin! What do you guys think? Any favorite parts? Sherry's obsessed with the mirror that also doubles as a shelf and of course that stripe of penny tile. As for me, you already know I'm crushing on that sliding door.
Psst- The latest round of Clara Conversations are up on Young House Life, including one exchange that's probably our favorite of all time (it involves talk of a future sibling and what Clara hopes will come with the deal).