Reader Redesigns
Ruthy's kitchen makeover immediately got our attention, since it's a style of house (and therefore kitchen) that we don't often come across here in Richmond. So we were totally digging the dose of Pacific Northwest that she and her husband Andy sent us (via Tacoma, WA) along with a stylish shot of mid-century modernness. We love sharing kitchen diversity whenever we can, so we thought it was really interesting to see their choice of dark cabinetry without any upper cabinets at all. Here's her story:
Hi John and Sherry! I wanted to send over some info about our newly remodeled kitchen. We absolutely loved the open floor plan of this mid century modern home…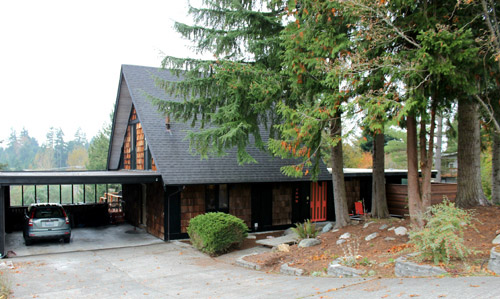 … but we didn't love the original cabinets and counters.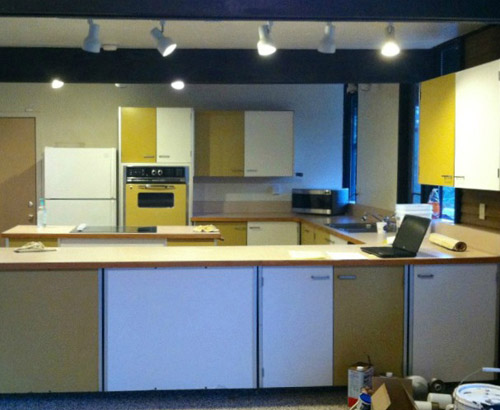 To say I love being in the kitchen now is an understatement. I actually enjoy cleaning it.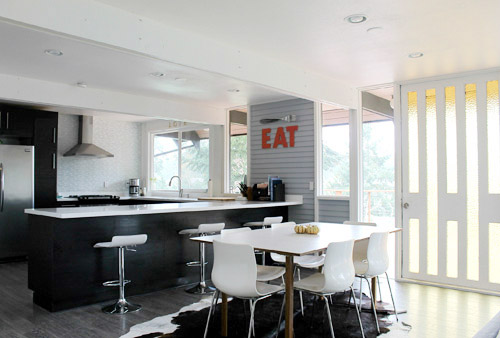 We chose to go with Ikea cabinets. The main reason we went with Ikea is because they had the style I wanted (flat front, not shaker) for an affordable price (we paid about $2,500). I was nervous about designing the kitchen with no upper cabinets, but I love how it turned out, and really love using drawers instead.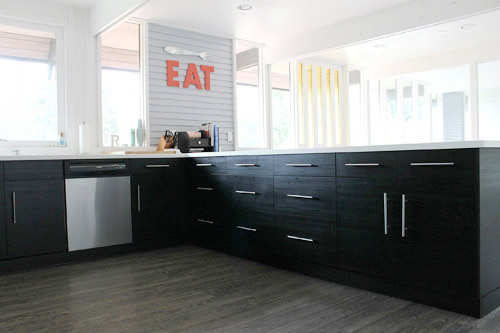 I really, really wanted quartz countertops, but if you haven't noticed, we've got countertops for days.  It just would've cost way too much money.  After doing a ton of research, I decided to go with acrylic. (I was sold after reading that you guys had the same countertops but a different brand). The very best price we found was at Lowe's for their Allen + Roth brand at $33 a square foot.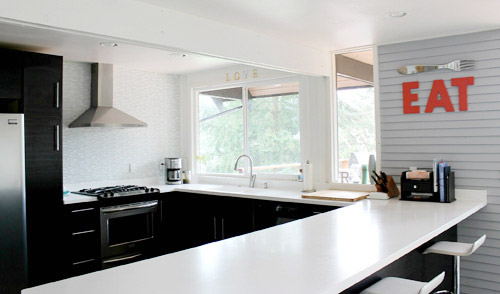 We debated about the sink. I wanted stainless steel and Andy wanted an integrated sink.  I had done some research on integrated sinks and the results were 50/50.  People loved it or hated it. Andy won the debate, and so far we have had zero problems keeping it clean. I use a magic eraser every now and then and a quick spray of bleach once a week and it is still sparkling white.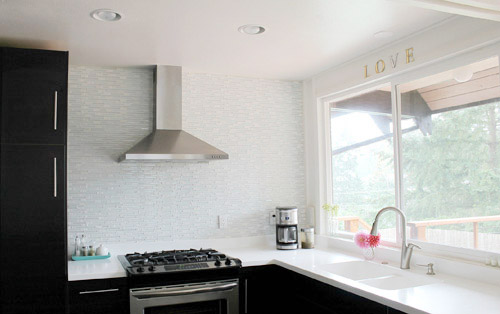 Your posts helped so much in choosing our appliances and countertops! Thank you! -Ruthy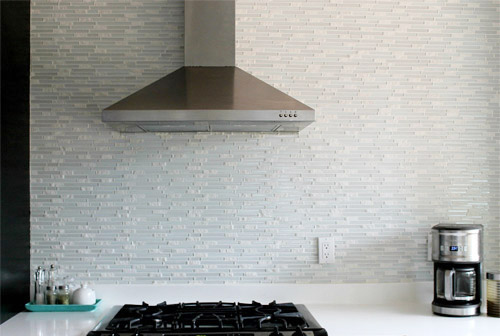 This kitchen totally rocks my socks. I know, did you ever think you'd hear me say that about a kitchen without white cabinets? My horizons are expanding people. It's official. I think my favorite parts are that big expansive backsplash and the exposed range hood without any other cabinets around it. Meanwhile Sherry loves the integrated sink, the planked wall, and that great cabinet hardware. Feel free to play the favorite part game with us. Oh and Ruthy's got some more pics and links (including her full review of the Ikea cabinets) on her blog if you'd like to know more. Thanks for sharing, Ruthy!
&nbsp&nbsp&nbsp
This time last year we had just wrapped up our first book tour stop in Cincinnati, where we learned how much fun it was to put faces to some of the names that we knew from comments and the blogosphere at large. And now, we're actually able to put a room makeover to one of those faces & names, so check out Sarah's redesign of her son Carson's room, both of whom we crossed paths with back in Ohio last October.
Hi John & Sherry! I don't know if you remember me, but we met at your first book signing here in Cincinnati, and my boys were the ones who scribbled all over your signing book (which I still feel really bad about). Anyways, I just finished redesigning my youngest son Carson's (aka the scribbler's) room after taking him out of his crib last year. This room has come a long way since we took out the crib (gulp) last year: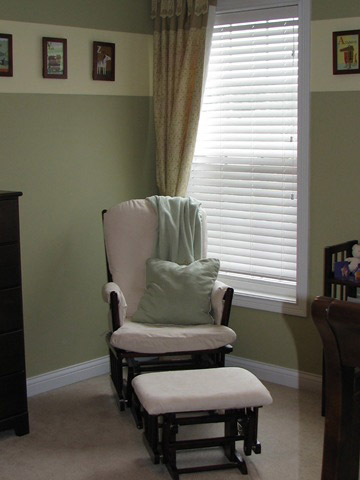 When I started planning Carson's room, he asked for a Cincinnati Reds/Dino room. After some unsuccessful persuasion to steer him in another direction, I decided to embrace his requests and just go for it. After all, it's his room, right?! And everyone (even 3 1/2 year olds) deserve a space that reflects them and that they enjoy spending time in. So my goal was to incorporate baseball and dinosaurs…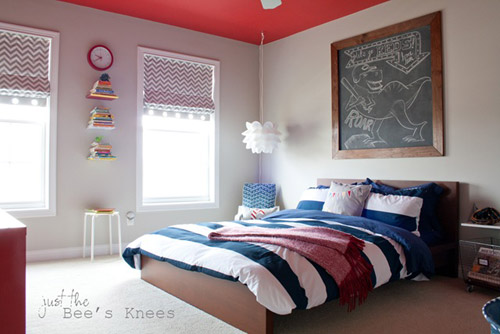 Since the bed is so low to the ground and there was such a large space on the wall to fill, I knew I wanted something oversized to hang up there, but I was terrified that Carson would pull it down and get hurt. I made the chalkboard by painting a square with chalkboard paint right onto the wall and then attaching 1×4″ planks of pine (also right into the wall) to create the frame. Now I have a blank canvas and the "art" can change as quickly as Carson changes his mind (which is quite often)!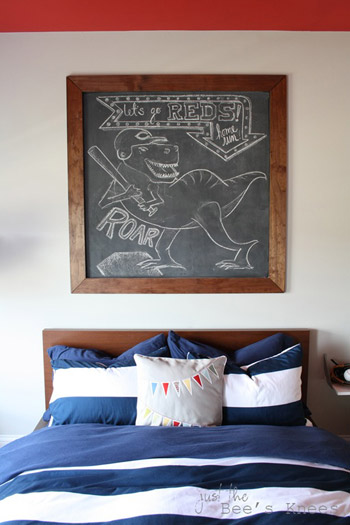 On the other side of the bed, I used a small $7 Ikea shelf to make a floating nightstand and turned a $10 wire basket from Home Goods into a rolling book cart.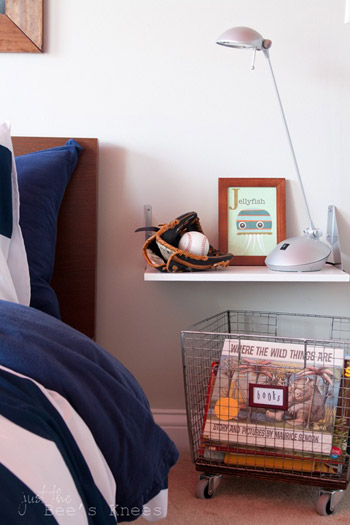 Some invisible floating book shelves (by Umbra) fit perfectly in between the two windows and hold all of Carson's favorite books. I made the roman blinds myself using Premier Prints ZigZag Twill Storm fabric from fabric.com. The design with the grommets on the bottom happened as I accidentally cut the fabric too short for the blinds and had to come up with a solution to lengthen them. Best mistake I ever made! I LOVE how they turned out!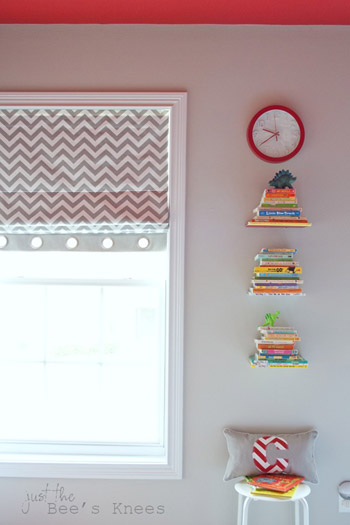 My absolute favorite part of Carson's room has to be his gallery wall. The red cabinet from Ikea was my inspiration for the red ceiling and is great for storing (aka hiding) all his toys. I knew I wanted to keep the walls neutral and the furnishings sleek and simple, so the red ceiling was the perfect solution to bring in some bold color without overwhelming the space.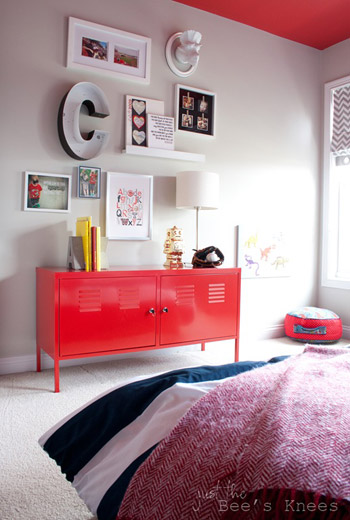 I had so much fun doing this and I'm thrilled that Carson loves his room! – Sarah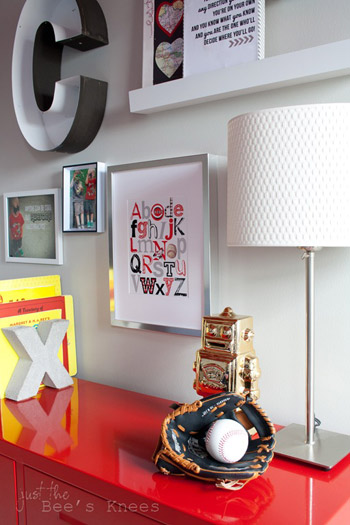 First things first – Carson may have been the first to scribble in our book tour book, but he certainly wasn't the last. And we loved every "child masterpiece" that we were left with. I mean, how can you not look at this and smile?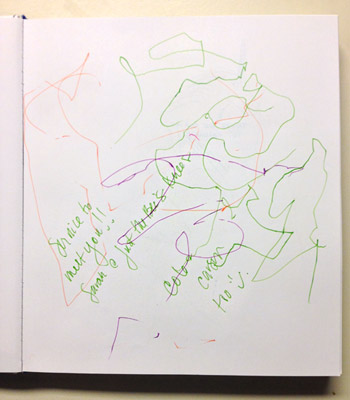 But more importantly, how much fun is Carson's room? Thanks so much for sharing, Sarah! I feel like dinosaur + baseball is the type of curveball we'll get from Clara as time goes on (wait until you hear what she wants to be for Halloween) so I love that she ran with it. And Sarah has a lot more photos and helpful links to all of her sources and DIY projects over on her blog. But first, what's your favorite part? Sherry is obsessed with those happy-accident grommets at the bottom of the blinds along with the red ceiling and I'm all about that clever can't-fall-down art over the bed along with the rolling wire book bin.
&nbsp&nbsp&nbsp