I know what you're thinking. Do John & Sherry want to marry built-ins? The answer is yes. What can I say, we're just suckers for them (function + form = jackpot) so it was no surprise that Hilary's project of turning cheap Craigslist bookcases into an architectural feature had me at "Hey there." It was just such a smart use of space and such a wise way to adapt something pre-made (and affordable) to work for the room. Here's her letter:
Hey there John + Sherry! My husband and I moved into our little cape cod in Jersey just over a year ago. In the first year we tore out the old flooring, laid all new wood floors, and completely gutted and renovated our kitchen. After we checked the biggest projects off of our To Do list we were able to move onto more fun projects like adding lots of storage and display space in our living room by means of two built-ins. After scouring Craigslist for months I finally found two perfectly ugly yet sturdy all-wood bookcases for only $100.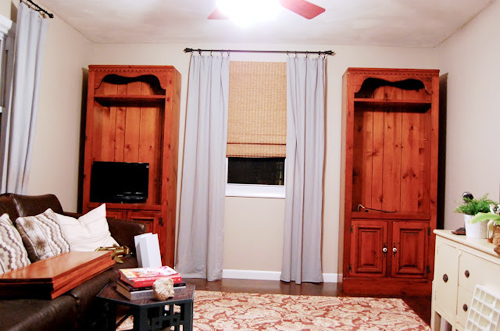 After I removed some outdated trim, sanded them down…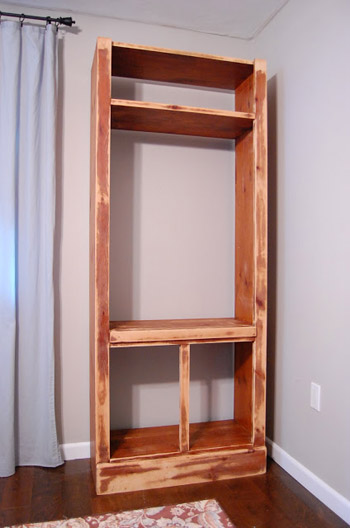 … and painted them in white (Benjamin Moore's White Dove)…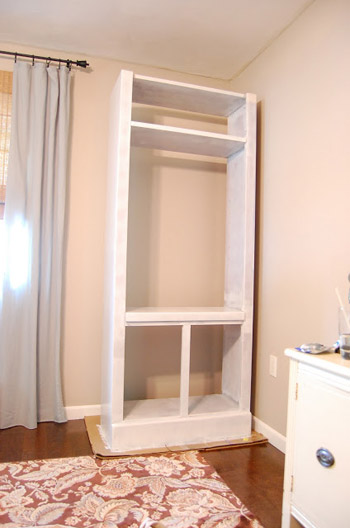 … they really popped against the navy blue walls that I painted to show through behind them (Behr's December Eve). Then we just finished things off with trim that we painted to match. Adding crown molding and putting the doors back on was the final step. And filling them back up with things we love – and stashing additional items in the bottom cabinets – was the icing on the cake.

There's still more trim work and paint touch-ups to be completed but I just couldn't wait any longer to share.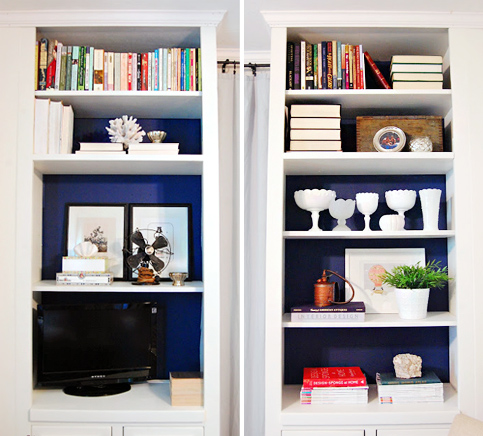 I hope you'll find them as awesome as we do! – Thanks, Hilary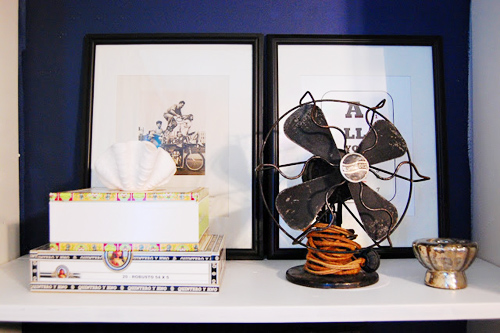 Is that not an awesome idea? The royal-ish navy blue wall color that shows through from behind them is such a great choice, the dark frames are cool, and most of all we just love that Hilary so smartly adapted old bookcases from Craigslist to earn all that display space (and storage!) against that formerly useless wall. You can see more about how these built-ins came to be on Hilary's blog – and even tackle your own version with some old secondhand bookcases if you hunt some down. And beyond just the shelves themselves, I'm really digging the items on them. Methinks I need to find myself a vintage fan…