Psst- We did it. We survived hosting our very first Christmas dinner at our house. So of course Sherry's hyper and giddy about sharing all of the photos and details next week (we're spending the rest of the week with the family, but we're dropping in with a little post today and another one for you tomorrow too). Hope you're all enjoying the holiday!
When it comes to Reader Redesign submissions, sometimes it's the room pictures that really get me, sometimes it's the story behind the room, and sometimes it's both. That's why we loved the tale Julia and Chris's studio tells… and the result is pretty sweet too. Here's her letter: Hey John and Sherry, I wanted to share the studio we finished in our home. When our little family of three moved into our house last April, we had plans to turn the third upstairs bedroom (a seriously creepy and outdated nursery) into a second nursery for a second child.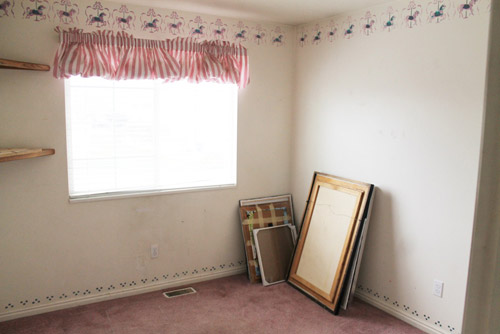 After over a year and a half of no-such-luck in the baby department, we decided to open the door to the stale room and turn the room into a useable space that we could enjoy right now–a studio for me with room for our little girl, Greta, to "work" in too.
Over the course of a month and a half, we painted the walls a crisp white and the ceiling a lively turquoise. We changed the light fixture and the floor covering and the window treatments (which are actually two tapestries from Urban Outfitters) to inject life into this room.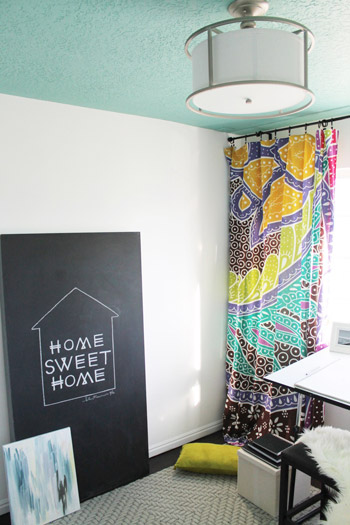 What used to be a sad reminder of what we were wanting in our lives, became a beyond happy and exciting experience for our little family and the friends who cheered us on. One of the last projects I did was DIY a 3D quote on the wall that encompassed what this room represented, and our new mantra: "Be Open To Whatever Comes Next."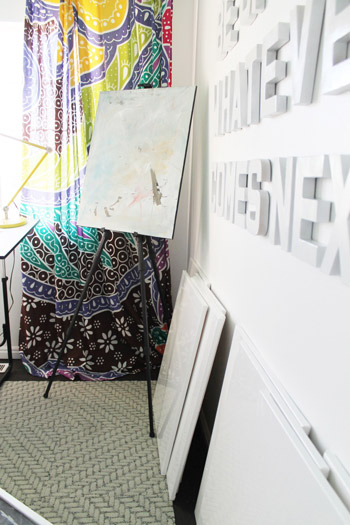 Next on our agenda is having a picnic lunch right on the floor in here–we love it that much. Thanks for all that you do and your constant and daily inspiration! -Julia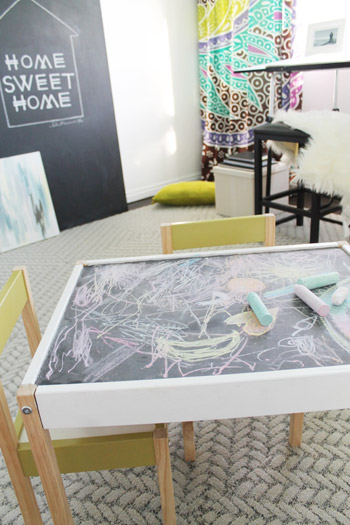 I don't say this very often about a room – but I think my favorite things about it are the ceiling and the floor. The color on the ceiling turns the whole space happy while the FLOR tiles below feel downright cozy. If you want more info on Chris & Julia's makeover, hit up their blog for extra photos, sources, and links to the various DIY projects involved. And a big thanks to them for sending the inspiration our way! What about you guys? Do you have any favorite parts?