Before we dive into an incredible house-transformation from Erin, Sherry just shared a little Easter-related DIY project that she whipped up for Clara over on Young House Life, so feel free to pop over there for the details (there's a sneak peek below):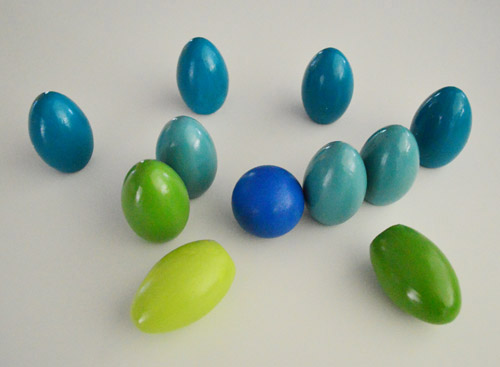 But now back to Erin's awesome makeover. Since both of our homes have had standard eight foot ceilings, Sherry and I have always fantasized about chopping off the roof and reattaching it just a couple of feet higher. So imagine how captivated we were by the story of a couple who pretty much lived out our dream – and crammed in some awesome room makeovers in the process. Here's Erin's letter:
Hi John and Sherry! We loved the 1938 cottage we live in near Lake Michigan in Wisconsin from the moment we laid eyes on it in 2002 but it was lacking in just a few things, headroom in the bedrooms and a roof that didn't leak to name two.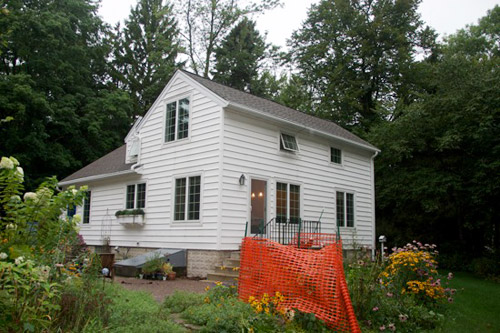 We started with fixing the roof (a bad design destined to leak for all eternity, it seemed) which lead to redesigning the roof, which lead to a few additions, and ended with ripping the top half of the house off and sticking it back on higher.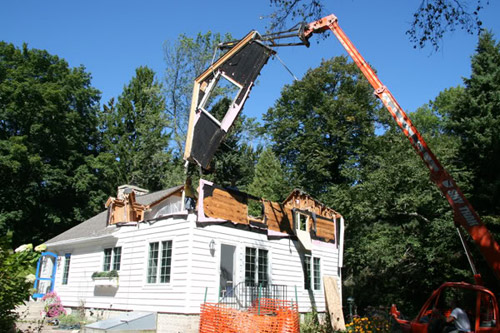 In the back yard, we had a deck built, but we did put in the cable railings (we're sailors and it turns out that cable railings are nothing but sailboat lifelines). I laid the entire stone walkway to the detached garage and the mini retaining walls around the garden, not to mention designing and planting the gardens. It's by far the DIY project that I'm most proud of to date.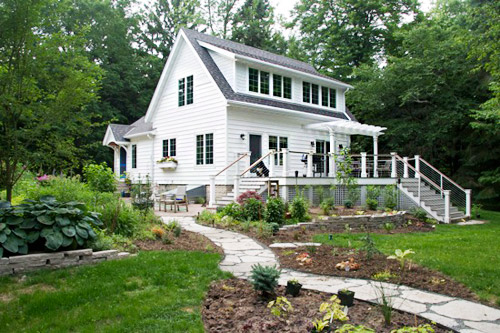 What we ended up doing was changing our upstairs from two small bedrooms with very low slanted ceilings to two pretty good-sized bedrooms, one with a walk-in closet, plus an extra bathroom (you don't realize how much it stinks to not have a bathroom on the same floor as your bedroom until you live like that for eight years).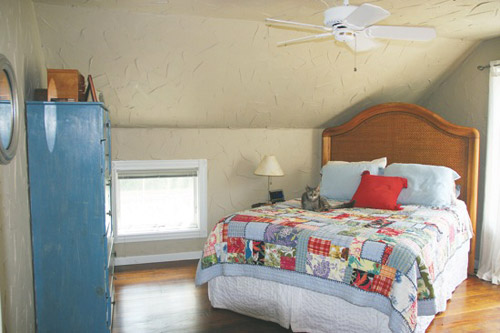 In our bedroom, our best decision was the built-ins, which provide so much storage (along with the small walk-in closet) that we don't need any other furniture (i.e. dressers) in the room. We laid the bamboo floors ourselves and did all of the painting throughout the house (other than the living room's cathedral ceilings because I love my neck too much and we don't have a chiropractor in the family).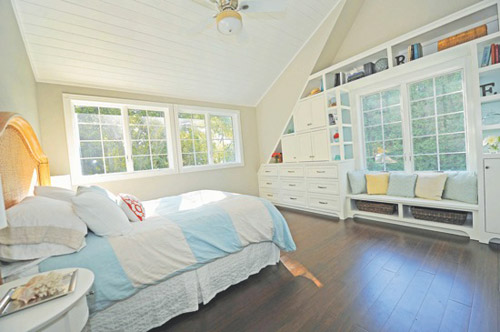 The new bathroom is only 8 x 8 feet, but we managed to squeeze in a 5 x 3 foot shower and more storage than we know what to do with. As with the bedroom built-ins, I designed them then had them built. You can get a glimpse into the upstairs hallway (open to the living room below) and my mini gallery wall, inspired, of course, by yours! One of the items on the wall is a piece of board that we found during demo that says "Put here July 11, 1938." The door into the bathroom was salvaged from my grandparents house.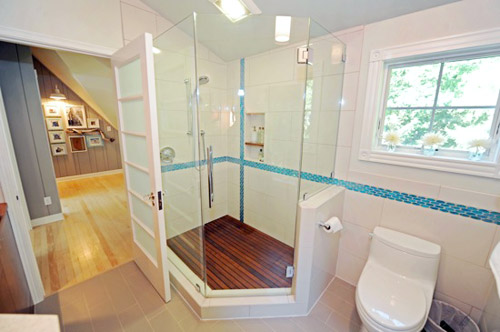 We couldn't imagine loving our house any more than we did before the renovation and now we're sure we'll only ever live in one house: this one! – Erin
Don't you just want to take a vacation there? You can check out some of the other makeovers that Erin has documented here on her blog. And feel free to pick your favorite part of this redesign (mine's the old board they found and kept from 1938 and Sherry's is that "bed and breakfast-y backyard" as she dubbed it). Thanks for sharing Erin!