We always love a big kitchen renovation when it comes to Reader Redesigns, but sometimes making over just the corner is enough to get us inspired bigtime. Just check out what Deme and her family did to the breakfast nook of their dated kitchen. Here's her email:
Hi Young House Lovers! Your blogs is one of the highlights of my day and I wanted to share our breakfast nook with you. After removing a thick lacquered chair rail and scrapping layers of fruit patterned and 70's wallpaper, we ended up with some pretty fugly untextured walls.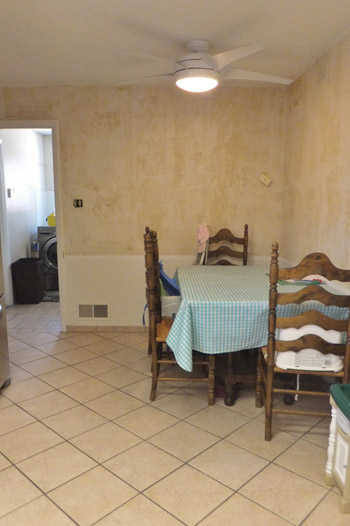 We started with a dark dungeon of a corner and ended up with something bright, fresh and uber functional for our young family of five!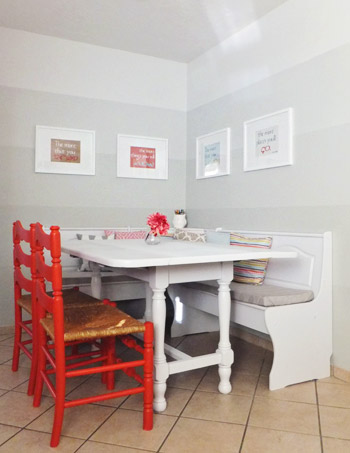 I scored an L-shaped bench on craigslist to give us some additional seating (our previous table could seat four, leaving someone in our family out of luck at mealtime). We said goodbye to the honey finish, giving it a fresh coat of white paint.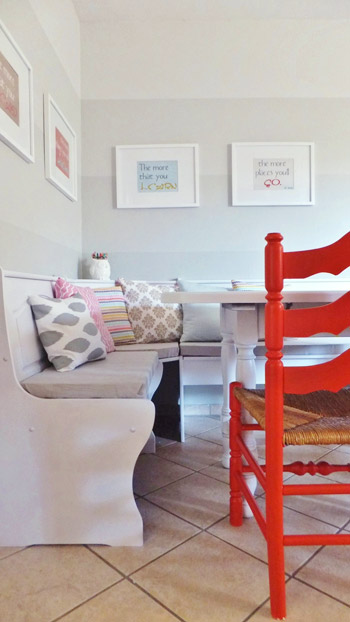 Even though the benches were a pretty standard style, they had storage in the seats, which helped solve the problem of our art/craft supplies that were scattered throughout the house. We lined them with some graphic shelf paper and they now hold all of the kids' painting/art supplies, homework necessities, and learning activities for our youngest bambinos.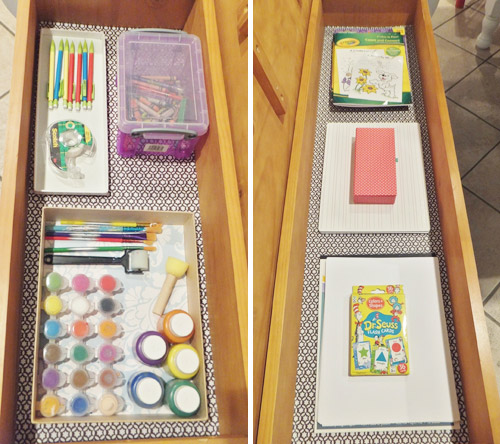 When it came time to paint the walls, I planned to use stripes to help this corner feel larger. But I also can't help but be pulled toward the ombre trend, so we went with a subtle ombre stripe treatment for our backdrop.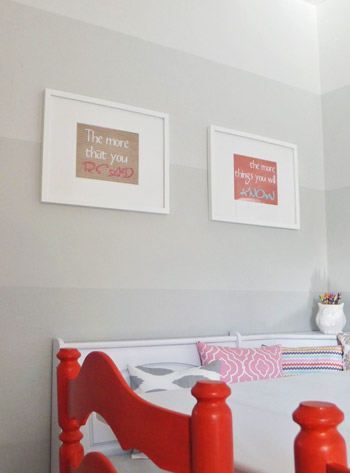 We used a digital scrap booking kit to break up one of our favorite Dr Seuss quotes into four prints ("The more that you read, the more things you will know. The more that you learn, the more places you'll go."). We framed them with some white lovelies we grabbed on sale at Target… they mark this space as a place to learn, explore, and create!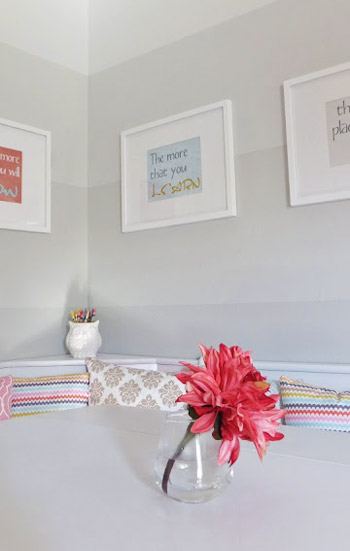 Overall we are so happy with the change to this little kitchen corner! It serves so many functions for us and I can't help but smile whenever I walk into the kitchen… especially since the rest of the kitchen is in that ugly mid-cabinet-painting stage of DIY kitchen reno! ~Deme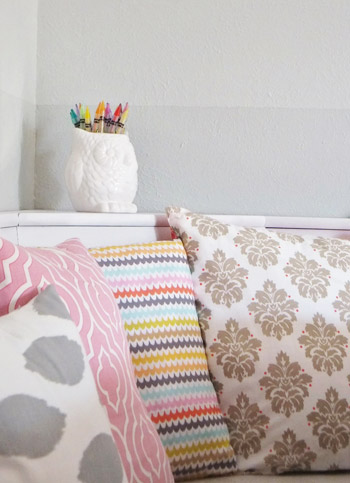 It's a fun update, right? I'm jealous of the storage benches. And I think the paint treatment on the wall is pretty awesome too. She's got plenty more details and extra photos of the makeover (including updating their existing table and chairs) on her blog. Thanks for sharing Deme!