Something about renovating a farmhouse just sounds so idyllic to me. And Joanna's farmhouse kitchen renovation doesn't disappoint. She and her husband took it from closed off and dated to open and, well, check it out yourself…
Hey guys! I live in Texas and my husband and I are in the middle of renovating our 125 yr old farmhouse. We have been married for ten years, have four kids, and have lived in 9 homes. All of which we bought, lived in, and flipped. After we move into the farmhouse, I am done. I hope.

When my husband first showed me this house, I walked right out of it and said there is no way. Two weeks later we were signing papers and it was ours. I had to get my game face on so that I wouldn't freak out. There was so much potential especially in the kitchen area and this is where I decided to focus the most. The kitchen had a huge brick wall (you can't see it in the before pic) and it just felt so dark and dated.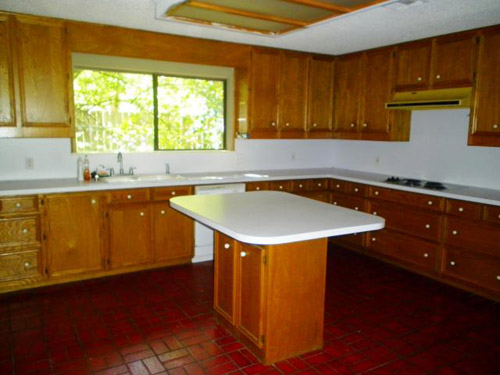 We decided to take the brick wall down to counter top height so the kitchen would be open to the rest of the house. I wanted a clean palette in the kitchen because when life gets crazy with four kiddos, it seems to all happen in the kitchen. My kitchen tends be the pit stop for school bags, paperwork, mother's day out crafts, etc… I wanted the space to feel clean even when things started piling up. Brazilian black granite and white subway tile is as clean and simple as it gets.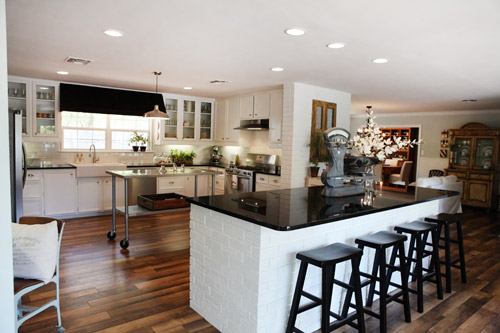 We lightened the space up by painting the existing cabinets and brick white. We also added glass to the cabinets that framed out the sink and we replaced the window above the sink. My big affordable farm sink came from Ikea. I chose an affordable, durable laminate floor- clean up is so easy with these!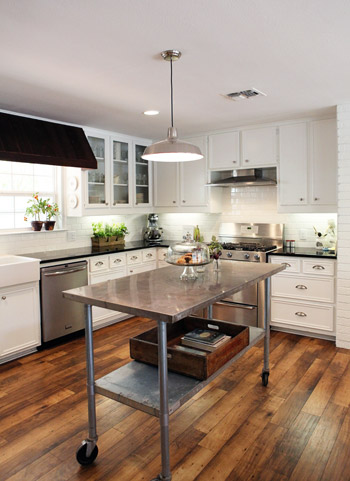 I went to a used restaurant supply place and found a stainless steel island with wheels, got it for a bargain!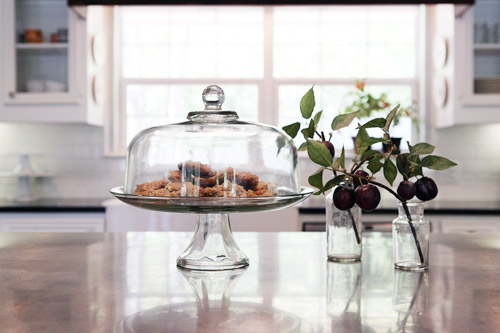 This house ended up being perfect for the six of us. I am glad my husband had the guts and vision to get past the obvious! – Joanna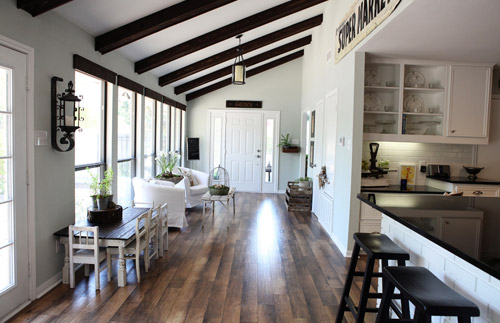 If you want to see more from Joanna and her husband Chip, here's her blog. And in the favorite-part arena, I could stare at the awesome sloped beams for at least an hour. And Sherry loves the big window over the sink and the contrast of the dark window treatment, stools, and counter with all that white.