Archive for July, 2011
Oops, we totally fell off with the whole used-to-be-monthly budget blooms thing. But lookie what I found growing in the jungle that is our front lawn: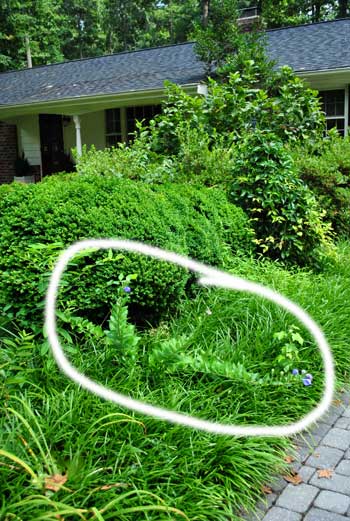 Allow me to put on my best Australian nature-show voice to set the scene for you: The air is still. Not a predator in sight. Something moves in the brush. A buzzard circles overhead. Somewhere in the distance a lion roars. No wait, that's a baby crying. And just like that I'm out of character.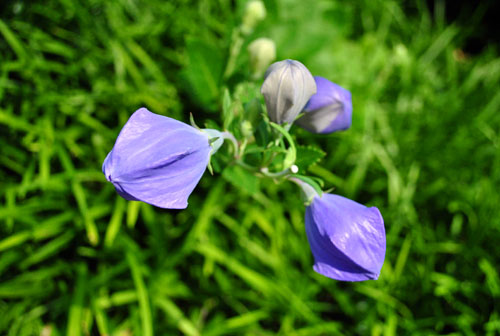 I don't know the real name for them (flower whisperer, I'm not), but I like the sound of Purple Ring Pops. So that's how I've been referring to them. At first I just admired them on our way up and down the driveway. Then I thought a little snip snip was in order so I could take some of the stems inside to be ogled more regularly. Here are a few cuttings living it up on the back of the living room console table.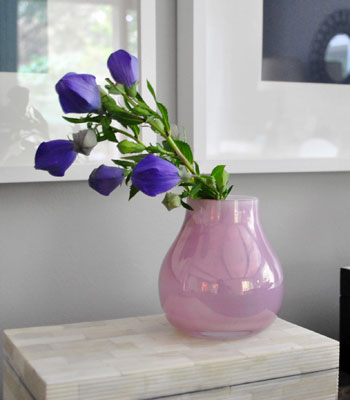 Sidenote: Everything looks better with a white cardboard rhino in the background (from here a while back, bee tee dubs).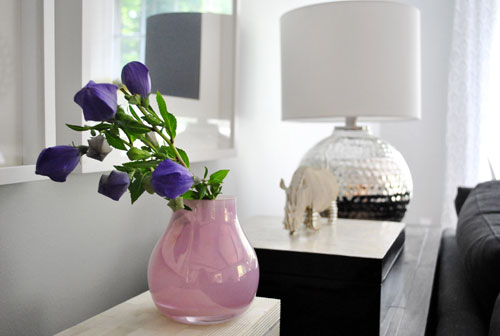 I think this vase gets used more often than any other in the house (it's from Crate & Barrel three years ago or so). Pink and purple sounds like it could sway into the unicorn/fairy princess realm… but somehow it works.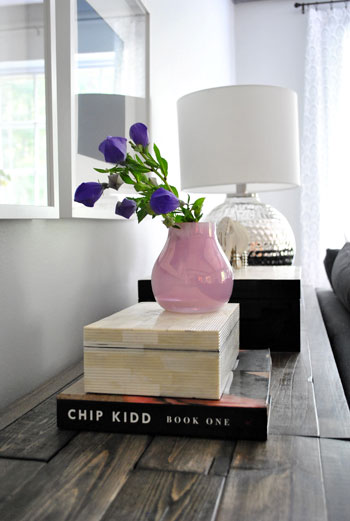 Anyone know the real name of these blooms? Have you found any fun mystery flowers – either in a field, at the farmer's market, at the grocery store or in your yard? Do you ever have that internal debate about whether you should leave flowers outside to enjoy when you're out there, or snip 'em and bring them inside, where you spend more time? I usually leave things outside for a few days and then can't help myself and bring in a few cuttings. Oh and did anyone notice I snapped these pics before our frame switcheroo (mention this morning) but it just took me longer to write this post than it took John to get his done? Maybe we should add Overachiever to his roster of middle names. John Overachiever Danger Soda Petersik. I like it.
Psst- Wanna see our first cheap-o bouquet from January of 2009? And February, March, April, May, June, July, August, and September's too? How about our 2010 blooms from January, February, March, April, May, June, and July along with one from a few months back? Can you even handle all of that glorious nature in one sitting?
&nbsp&nbsp&nbsp
Well well well, if isn't those little photography note cards again. You know, the ones we bought on our anniversary from a local art gallery to hang in our bathroom? You might not even have registered them in that post since everyone went bananas over the whole Sherry-haircut thing.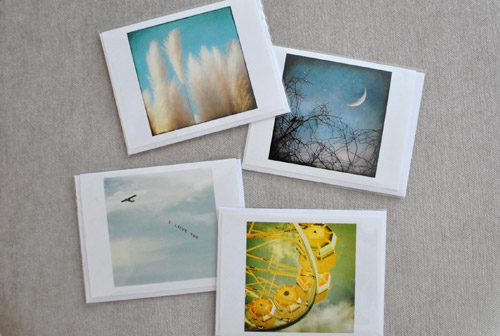 Anyway, hanging them in the bathroom was the initial plan. Until I noticed some of the photo colors were in the same neighborhood as our framed $5 scrapbook paper. That neighborhood being Sue-the-Napkin-ville. Or is it Sue-the-Napkin Heights?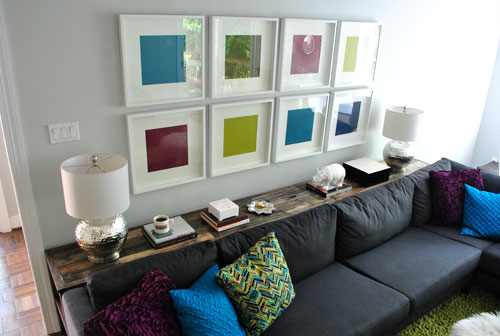 We figured that maybe our $4 a pop Sherri Conley note cards were destined to live in these eight frames (plus we couldn't decide on a configuration for the bathroom, so we liked the idea of enjoying them out in the living room). But it meant we had to get four more of them first, so we shucked out another $16 to round out our "local art collection" (from Crossroads Gallery here in Richmond).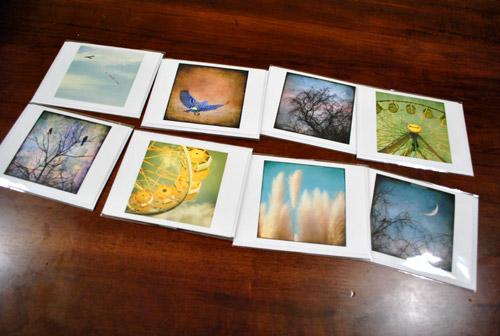 The idea was to add the small square of art into the middle of the colored paper square that already sat inside the square frame. Thereby making the colored square of paper into a fun little colored square mat. Wow, lots of squares going on. We're one do-si-do short of a square dance.
First we had to cut our rectangular note cards into… you'll never guess… squares. I used an exacto and a ruler to keep my lines straight, but was brave enough to just eye the placement of my slice. Yup, my middle name should be Danger. Or soda. Or both. John Danger Soda Petersik. I like it.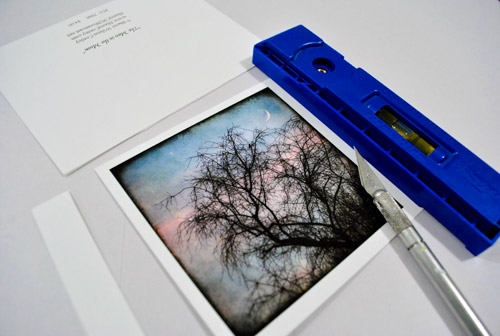 As you can see, we left a thin white border on the pictures to, I dunno, further emphasize their squareness? They sort of looked like little polaroids to us.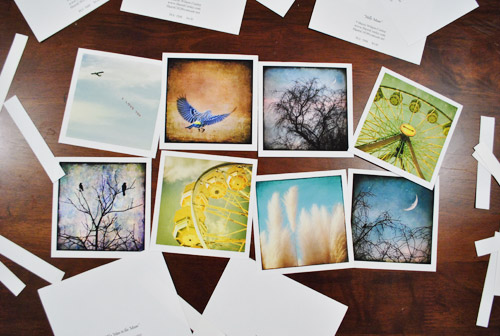 Then one by one the frames came off the wall so the photos could be scotch taped into place on each colorful background which essentially became the "mat." To get them centered we eyed them, then used a yardstick to make sure they were actually centered. To do that we just lined up the yardstick across two opposite corners, and then repeated that with the other two corners to make sure they seemed to intersect equally.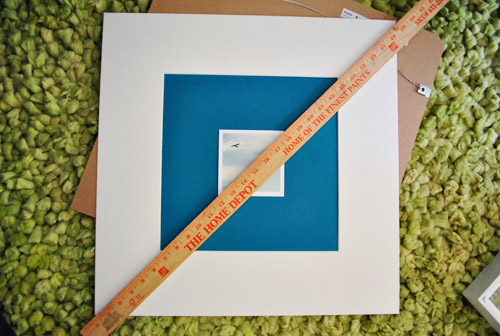 Finally, everything was reframed and ready for our viewing pleasure.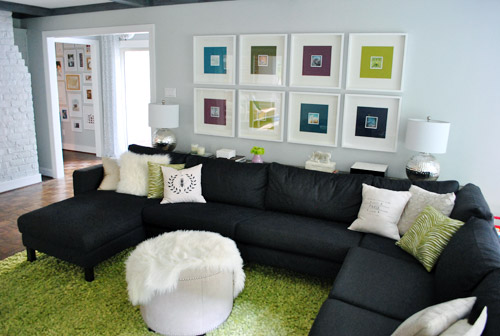 Only problem, we weren't totally psyched by the result. We didn't mind the small size (it just makes us want to lean in and take a closer look) – although I know some folks might think bigger is better (that's what she said). Our issue was that something about them was really interrupt-ish and busy and, well, just too square-y (it honestly looks better in pictures than it did in real life). And yes, the reflection on the glass totally bites for taking pics, but we're not quite ready to splurge on eight panes of museum glass just yet.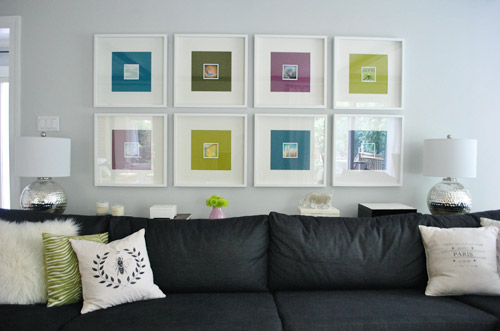 We realized the white borders I left on when trimming the note cards might be the problem. It made the distinction between the photo and the colorful mat so defined that we kind of lost the fun coincidence that each pairing was sort of linked by color. So rather than the paper feeling like an extension of the art's hues, it just felt like a tiny picture on top of a thick bright mat on top of a thick white mat. It was a square vortex and it was threatening to eat our brains.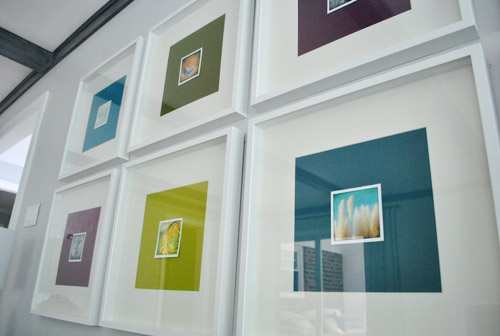 So after a few days of living with it (and not growing any fonder) Sherry took it upon herself to remedy the situation. And since she has a much steadier hand than I do, she didn't even use a level and an exacto (just a regular old scissors). Cocky much?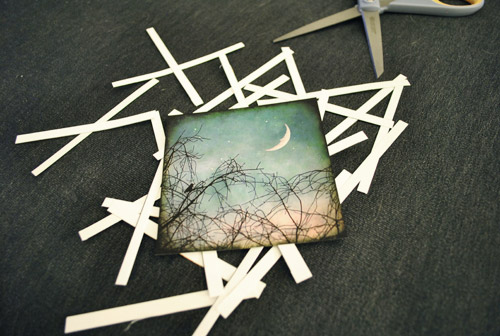 Of course her cuts were great. And now we've got this: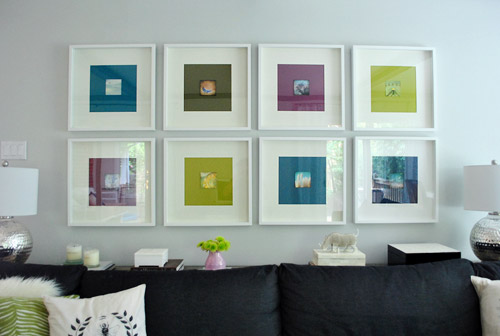 We like it muuuuch better – especially in real life. Although we're the first to admit that for some reason the white framed note cards didn't photograph as crazily as they looked in person, so there's not as much of an obvious improvement from the square-on-square-on-square action that was going on before. But in person it was such a relief. We worried we might have to scrap the whole note card idea entirely, but once they were trimmed down and put back in place, all was right with the world. Or at least with the left wall of our living room.
We like that they feel less busy and that subtlety is much preferred. They don't scream "check-me-out!!!" but are nice when your eyes meander around the room and happen to land on them. So for a total of $4.64 per frame (64 cents for the scrapbook paper backgrounds and $4 a pop for the photo note cards) we're psyched.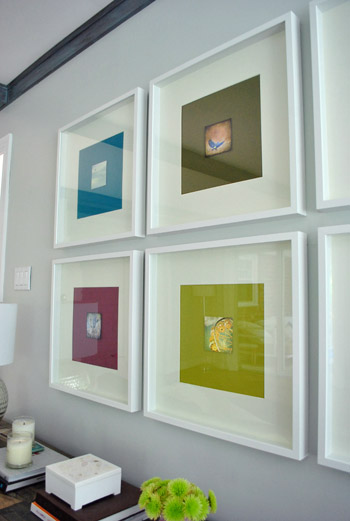 I still wouldn't go as far as to call this our forever art solution for these frames. We've learned our lesson when it comes to making those sort of giant declarations since our house is always a WIP (work in progress). Not to be confused with an ORB (even though Sherry is definitely demonstrating her undying love of all things oil-rubbed-bronze). So we think adding these small photographs are a good warm-up for us since they might end up laying the ground work for something else that we may want to transition to a bit further down the line. So let's call it a baby step. We've introduced some small photography, so maybe in a while we'll try some larger photography, rehang the note card photos somewhere else, and scrap the 60 cent scrapbook paper altogether… who knows.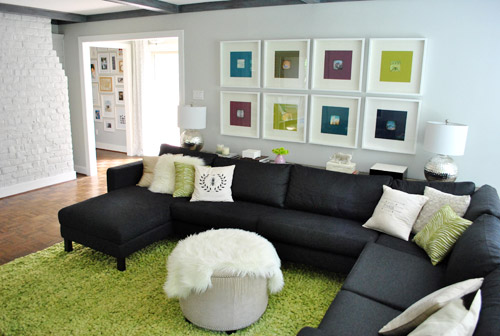 What I do know is that looking at some of these photos makes me want to go on a ferris wheel. Oh, and eat funnel cake. Yeah, definitely that.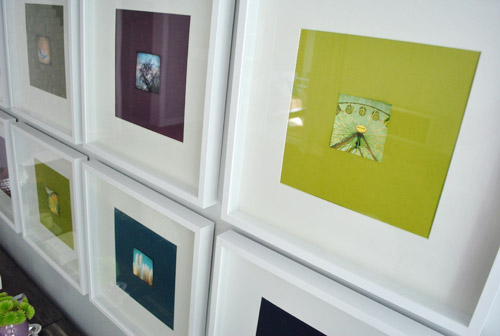 Has anyone else made any art-y updates lately? Or used note cards as wall decor? Or gotten sucked into a square vortex, never to be seen or heard from again? Well, if you have, I guess you wouldn't be able to comment…
Psst- We announced this week's giveaway winner. Click here to see if it's you (plus the $15 discount code for everyone is still valid until August 31st).
&nbsp&nbsp&nbsp