We passed a weird milestone on Wednesday. On the surface, it just marked seven months of living in this shouldn't-call-it-new-anymore house. Then we realized it also marked the point at which Clara has spent more of her life living here than at our first home.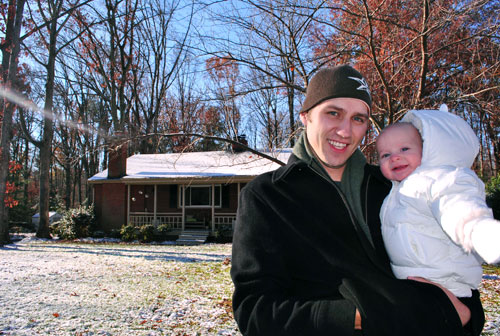 We always knew our first house would just be a foggy blip on Clara's memory radar, but passing this milestone feels like it's actually happening. The house that we spent renovating/loving for over 4.5 years meant so much to me and Sherry – it wasn't just our first home, it was our wedding venue, our DIY testing grounds, our inspiration to start this blog, and where we took our baby home from the hospital. But it's already becoming "that place I lived for a few months back when I was a baby" to Clara. Sigh.
Here's her almost seven-month-old self checking out her new room back on moving day.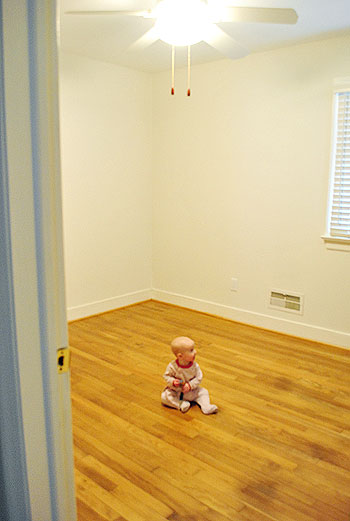 And here she is over seven months later. Such a big girl. Still pretty bald though.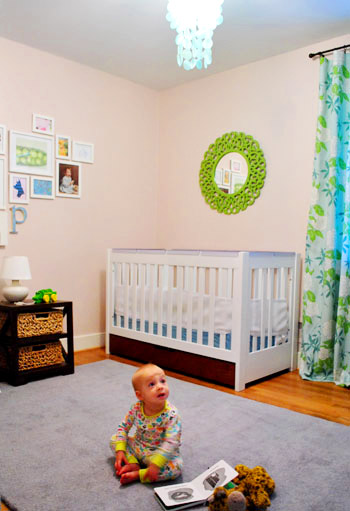 We're really glad she (and Burger) took so well to the new house. And we're more than a little fond of it ourselves. It's just funny to think that a house that meant so much to us won't be much more than "oh yeah, that place" to Clara. Thankfully she'll have no shortage of photos and videos to remember it by (like this vid that we made just for her before we moved).
Do any of you have a childhood home that you only remember vaguely? Or do you get most of your memories jogged by pictures and your parents' stories? I lived in the same house for my entire childhood, but Sherry moved around a few times, and only remembers "the drop ceiling in the basement that she and the boys would 'accidentally' break all the time" from her first one. At least Clara's memory of her first house won't involve destruction. Unless you count all the DIY that she witnessed.
Update- We just got Clara's monthly pic done, check it out here. We've got a walker!!