See what I did there? If our 4th wedding anniversary were a movie sequel I'm sure that's how the title would be treated on the movie posters (and yes, it would be dubbed a blatant rip off of Scream 4). Anyways, as is the tradition, we're dropping in with our little rundown about how we celebrated four years of marriage last Thursday (see our three year anniversary post here and our two & one year anniversary post here). This year it kicked off, as most days do, with breakfast.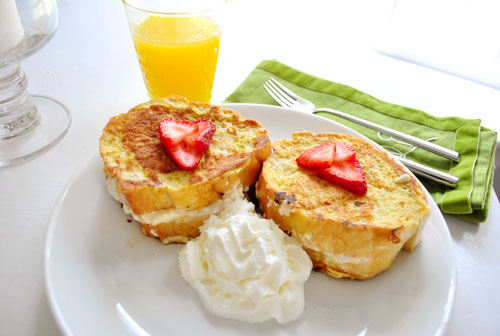 I made this particular breakfast (Strawberry-Orange Stuffed French Toast with Raspberry Butter) as an homage to our so-good-we-took-my-picture-with-it (here) favorite meal during our Alaskan honeymoon. Of course, what I lacked in food presentation (do I get points for my strawberry hearts?) I made up for in flowers in our wedding colors.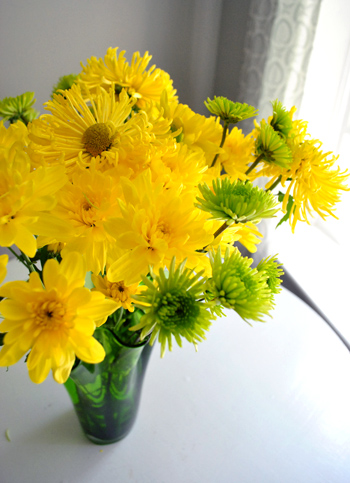 We agreed not to do gifts this year (our new laundry project was going to be a joint gift to ourselves), but I broke the rules when I spotted a bunch of bee-themed stationery from Smock Paper. Since Sherry's an epic list maker and our wedding invite had bees on it, I just couldn't stop myself from shelling out my credit card digits for a few items. And yes, Smock Paper is a sponsor of ours but no, they didn't have any part in me buying these. They're probably finding out about my purchase via this post, actually.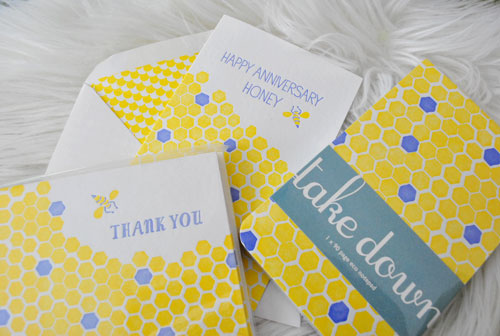 They sadly didn't have any bee themed big sticky pads, but I got one in the closest color scheme since I knew Sherry was low on office notepads (small sticky notes went unused in our junk drawer, but these big guys are already getting a workout). We appreciate how eco-conscious these wares are in general, but we particularly loved this simple request printed on the bottom: use this to do good.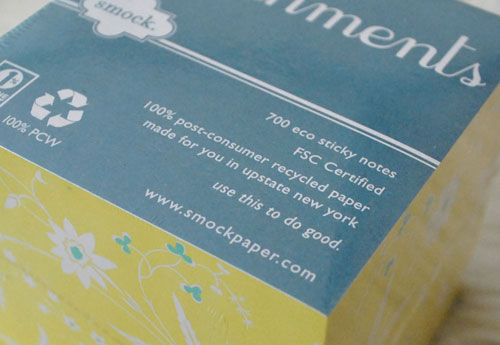 What I spent in dollars, Sherry matched in thoughtfulness – writing a homemade card listing thirty things she, Clara, and Burger love about me (each of them got ten). I told you, the girl loves lists. And it sure beat the "Love, John" in my card. Oops.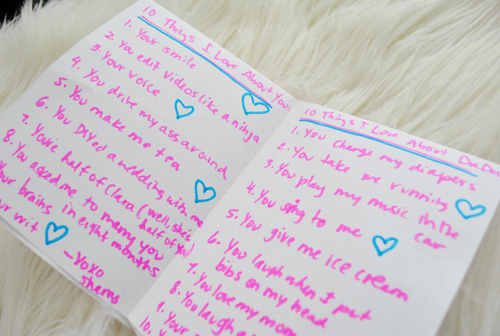 But the day wasn't about exchanging paper products. It was about doing fun stuff together. So after working the morning away, we ducked out for lunch at one of our favorite casual spots: Sticks Kebob Shop. Yum. And we had a $10 off Groupon for it too. Aw, cheap lovebirds. Or should I say cheep? (Bird joke for the win).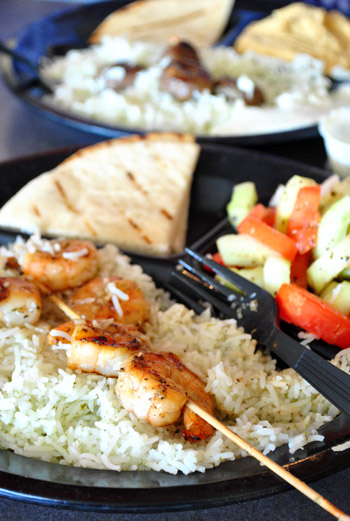 From there we popped over to a local art place called Crossroad Art Center, which we've heard lots about but never managed to visit in five years of being Richmonders. It's basically a massive gallery featuring of lots of local artists, though sadly we couldn't take pictures inside for ya. One of our favorites was Morgan E. McKinney, but we didn't find anything in our current price range. Someday.
We did get giddy over these $4 paintings-turned-notecards by Sherri Conley that we thought (once framed with big generous mats) would make for a great little "zen moment" in our master bathroom. So we took them home.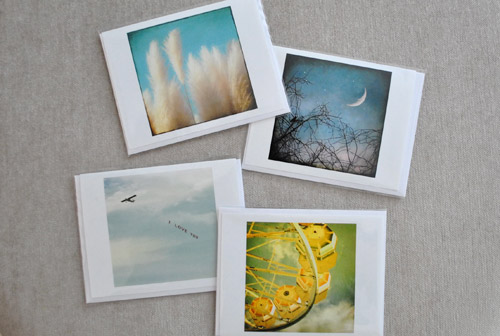 How could we pass up buying something that said "I Love You" on our anniversary? And the photographer's name is Sherri, so that counts for something too, right? Sherry and I were actually standing in different areas of her booth and each said "this is sweet" at the same time. We reconvened to see what each other had found and we were both holding the I Love You airplane card.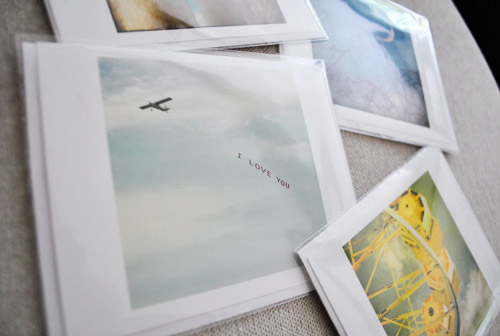 From there it was time to take our annual corny anniversary photo. We've got a little tradition of snapping (and later framing) a family pic each year on 7/7…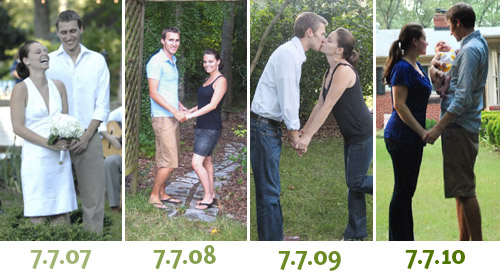 … and this year definitely proved the hardest. Apparently a 14 month old can't grasp the concept of "hey, look at the beeping black thing on the funny three-legged stick… and oh yeah, smile while you're at it." Guess we didn't know the blessing we got last year when her 8-week old self slept through the entire thing. But we did eventually manage to get this one. Stacked heads = maximum cheesiness.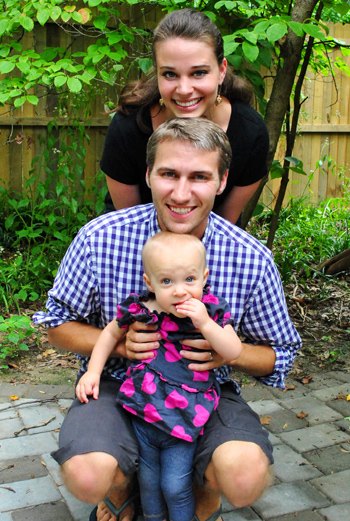 Apparently we pressed our luck by trying to get Burger in the picture. This was our most successful attempt. Hey, at least the adults are looking!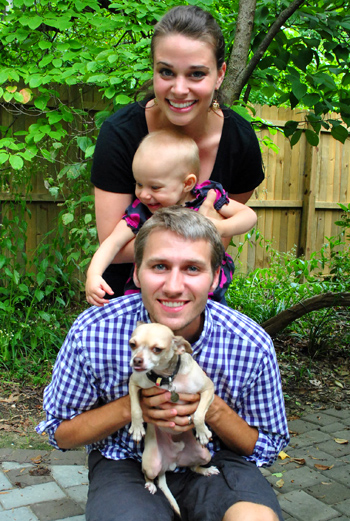 Then we headed off to grab our anniversary photobooth picture (more on that tradition here). The place we always go (New York Deli here in Richmond) has an authentic 50-year-old booth that actually develops film strips (not digital prints, like a lot of the others out there). Sadly the booth was having an off day, so the results were especially smeary (note the fourth frame in particular). We were having a bit of an off moment too, apparently. Yes, Clara cried the entire first strip.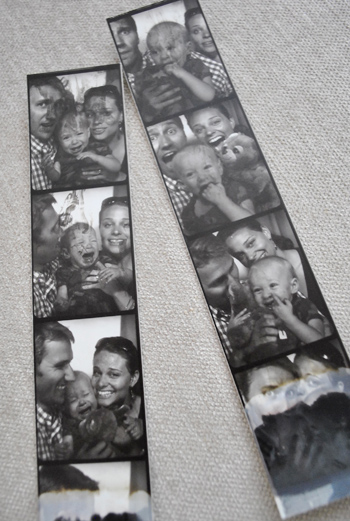 Well, that was actually the second strip because we didn't even keep the first one. During our first attempt the thing started going off prematurely with only me in the booth, so half of the strip is me looking perplexed and calling for Sherry to hurry inside with the bean. But we got some happy squeals during the third attempt from Clara. Good nuff.
After some in-the-car blog tending (what did people do before iPhones?) it was dinner time.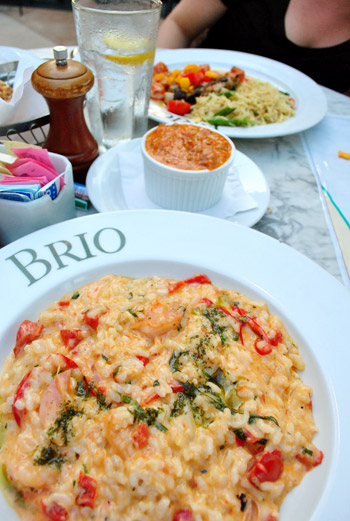 We ate at Brio Tuscan Grille because it was the site of our rehearsal dinner back in 2007 and, well, we hadn't been back since celebrating our second anniversary. Meaning it was this little lady's first trip.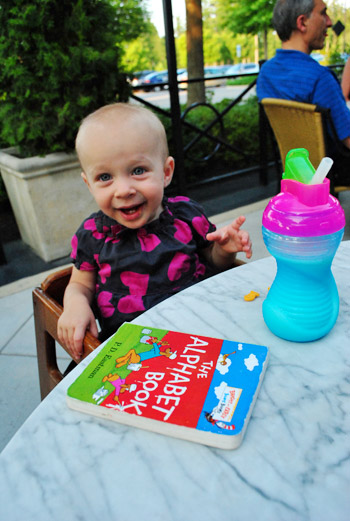 Is it just us or is there something hilarious about a sippy cup, some Goldfish crackers, and a Dr. Seuss book on a carrera marble table? Thankfully those magic items (plus her very own pasta meal) were enough to keep Beansie happy and entertained – even after a long day of celebrating.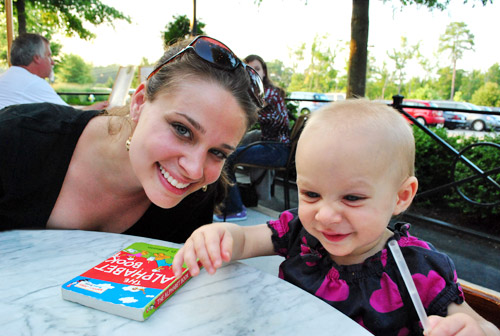 And as if we hadn't shoved in enough anniversary bid-ness already, Sherry followed up this July 7th just like she did four years ago after our wedding: by chopping off a bunch of her hair (you can actually see her with short hair waay back in the 2007 archives here).
Yep, say "goodbye" to the honorary fifth member of the YHL team: Sherry's ponytail.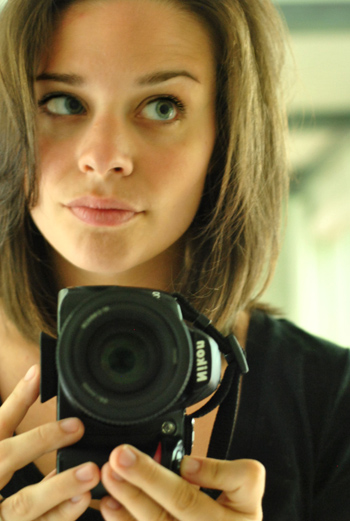 Though I'd say it's a fond farewell, since I think my lady looks mighty sexy this way. Note that she was too shy to pose for photos by me, so she snuck off and took pictures in the mirror because "I made her nervous." Aw yeah, four years later, I still got it.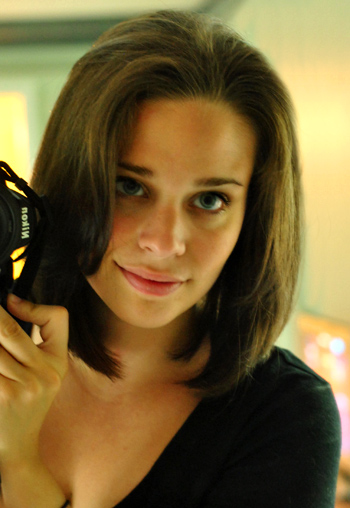 Oh and Sherry wants me to add that all is right with the world – she can still pull her hair back into a tiny pony when we paint. How would she know? Let's just say we're working on the laundry room rightthissecond. More details tomorrow.
Anyway, as much fun as we had this seven-seven, we must admit that our minds have already kinda skipped ahead to next year's big five year anniversary. In honor of our Alaskan honeymoon, we thought it'd be perfect to celebrate the big 0-5 by going to Hawaii (since it's sort of Alaska's non-contiguous partner in crime). We haven't really planned much at all, but we figure if we keep saying it out loud it'll force us to actually make it happen next year. Since we haven't actually flown anywhere on vacation since our honeymoon in 2007. Better make it happen.