Waste not, want not. That was my attitude when it came to using up the rest of the oil-rubbed bronze spray paint from this project that I had leftover. So I turned my attention to the mismatched patio furniture that we inherited from the previous owners (seen here in an old photo with my dearly departed ceramic dog, sniffle).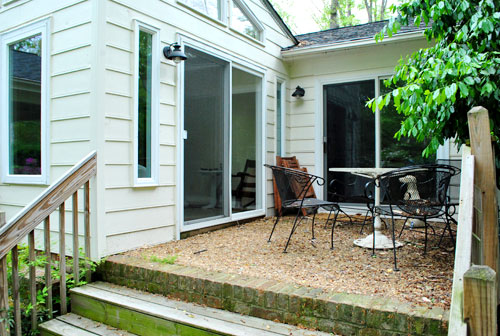 Sure, I like painting things white (and white ceramic animals, and white chocolate among other snow-colored objects) but sometimes white things outside = grungy. As this shot demonstrates, any time it rained little dirt and leaves splashed into the crevices of the table and looked all grubby.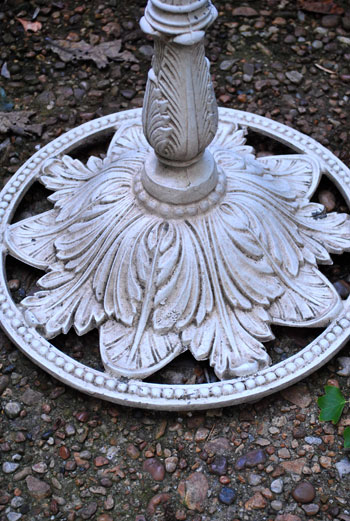 Parts of it were peeling too: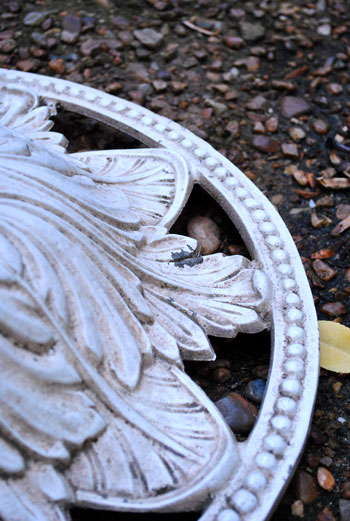 And you should have seen this guy in March/April in the height of allergy season. Yeah, it was fuzzy and yellow. So I figured a coat of ORB spray paint could cure his everything-shows issue. And unify those chipping black chairs.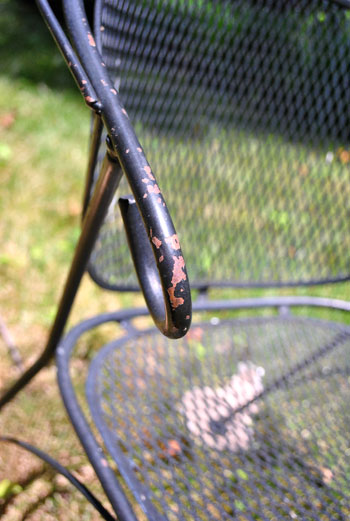 So I just dragged everything out to the yard, set them down on items from our recycle bin (namely magazines & cardboard boxes)…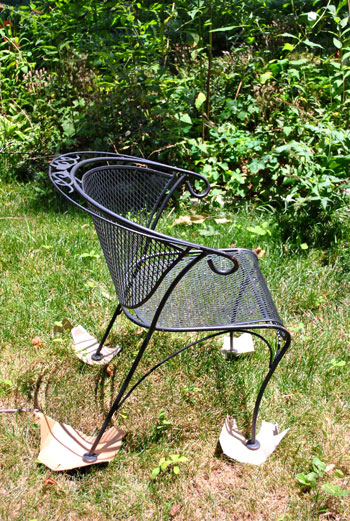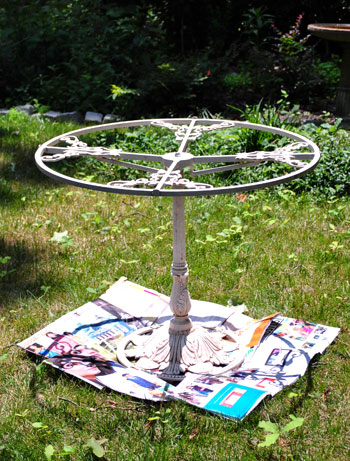 … and sprayed away.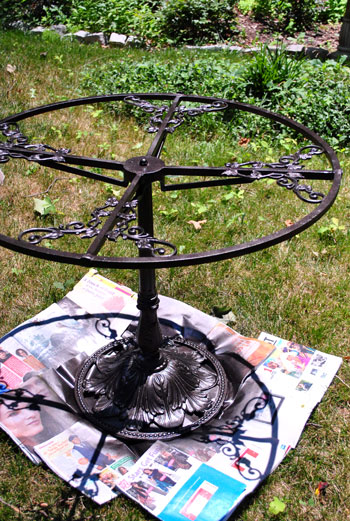 Especially satisfying? Taking the nasty parts like this…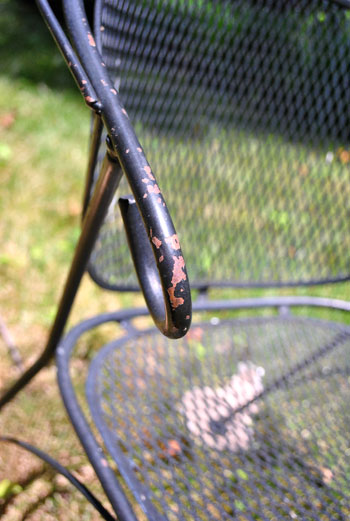 … to this (gotta love that ORB glistening-in-the-sun phenomenon):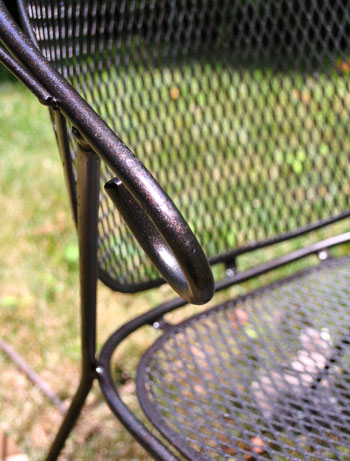 Voila.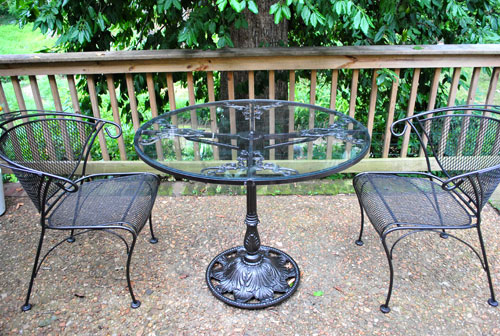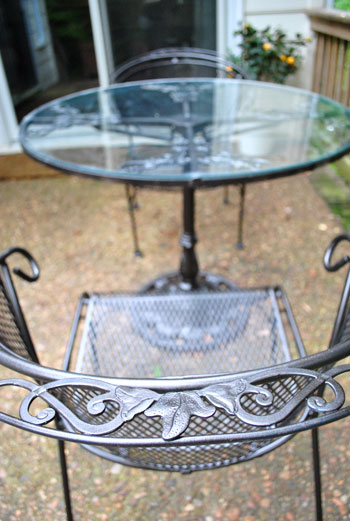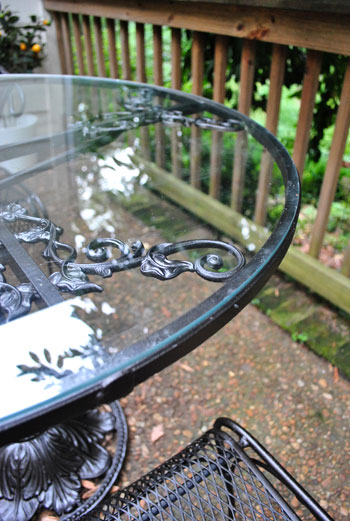 Update: Here's an affiliate link to the spray paint we used over on Amazon for anyone who can't find it in stores.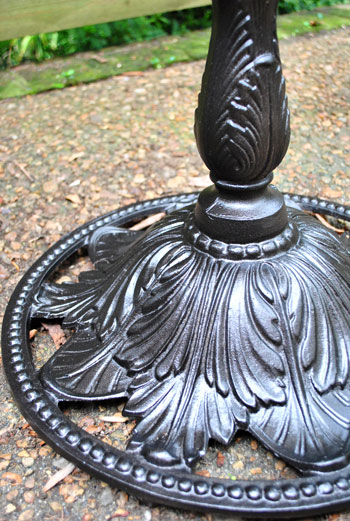 The whole shebang took about an hour and a half. Maybe two if you count brushing everything with a stiff brush (from our dust pan) to shake all the junk off, and carrying stuff out to the grass and back after they were dry. Oh and it took another can of ORB to get all three pieces done, but we figure spending a little more for that second can and using the rest of our leftover one (from this project) sure beats investing in new patio furniture.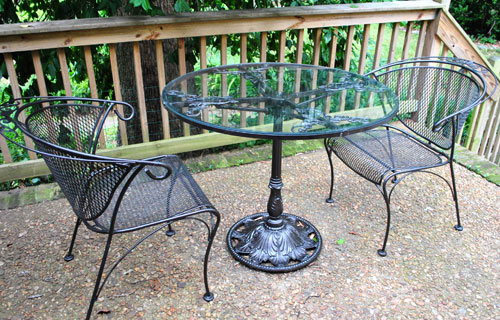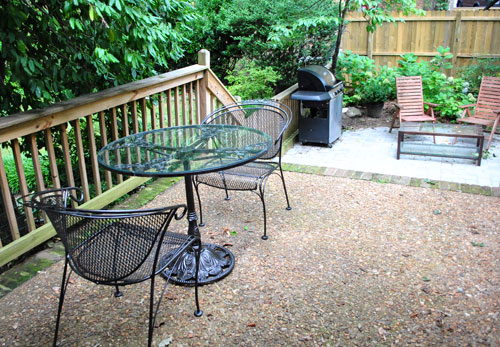 You might not see it yet, but adding some pillows (or chair pads), some swagged bulb lights, and a few other festive patio accessories might just take this old set from drab to fab. Yes I just said drab to fab (she types as she buries her head in her hands).
What have you guys been spray painting lately? Any outdoor chillaxing going on? Anyone shocked that I didn't paint everything white instead of ORB? Anyone turn this post into a drinking game (and sip every time I mention that three letter abbreviation)? Just went back and counted, but I only said it three times. Not enough: ORB, ORB, ORB. There, done.