Archive for May, 2009
Olga's living room is ready for a major makeover. Here's her letter:
I'm excited to get your help. I need to keep most of the furniture in here. I will be buying a new couch sometime in the near future, but it will be a light color sectional close to the one I currently have, so I would like to use this one for now. The media table and towers I recently bought and I like them, so I would like to keep them as well. The table can go, if it's better to let it go, as can the art in front of the fireplace. I would like to use as much as I can of what is in the room, along with adding more accessories, but things can definitely go if they don't fit in. I also purchased some medium brown shelves for the fireplace wall if you think one or more of them would add interest. The chair can go; it's old. The walls I think are fine color and recently painted.  I'm not even sure what style I like as I tend to like a whole lot of different things, but I really do like the way your house is decorated!  I think I'm leaning towards traditional with modern twist and interesting items/decor. I don't like red, multi colored things, flower patterned upholstery, and I do like big, bold, items, in neutral colors. I do need to stay on a budget as much as possible. Hope you can help!  Thanks a lot! -Olga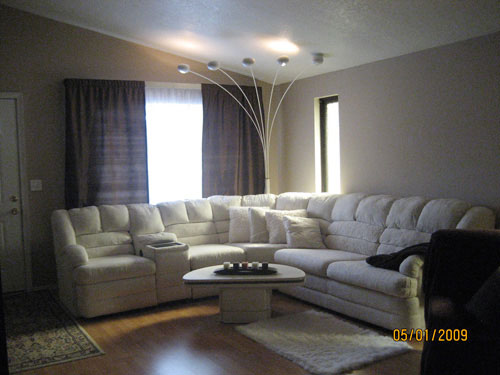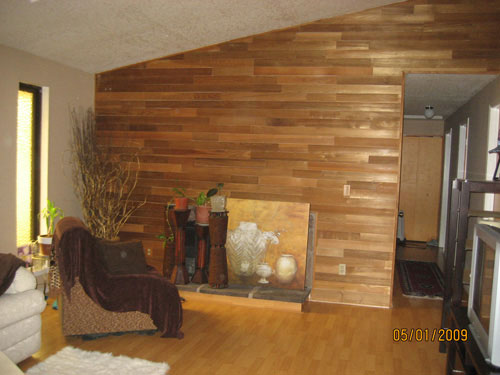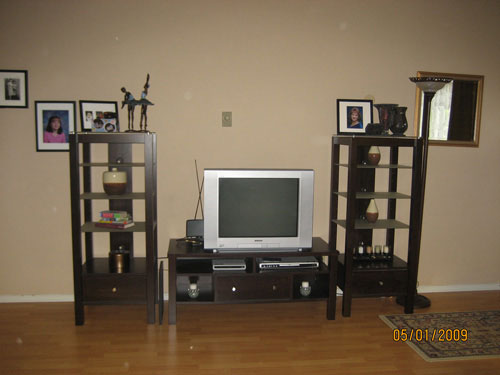 This space is primed and ready for some sprucing. Here's the plan:
And now for the mood board breakdown.

Read the rest of this entry »
When we saw the magic that Mindy worked on an old dresser we had to share the eye candy. Here's her letter:
I love your website and eagerly look forward to reading it everyday. I just thought I would show you my dresser re-do! The hubs and I really needed a dresser but didn't want to spend a lot. We like things that are solid and made really well. So, after finding this antique dresser on Craigslist I decided to fix it up. I took the handles off and filled the holes in, sanded the varnish off, primed it, then painted it with two coats of Behr's "lime light." Then I drilled the holes for the new knobs and lined it with contact paper. It was fun to do and I did almost everything in one afternoon (but left it to dry for 24 hours before putting the new knobs on). The dresser was $20, paint was $17, knobs were $19, contact paper was $5 which brings the total to around $60! Thanks for all your inspiration! -Mindy
Here's the seen-better-days before: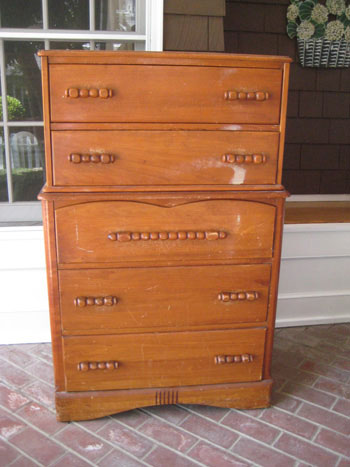 And the amazing after: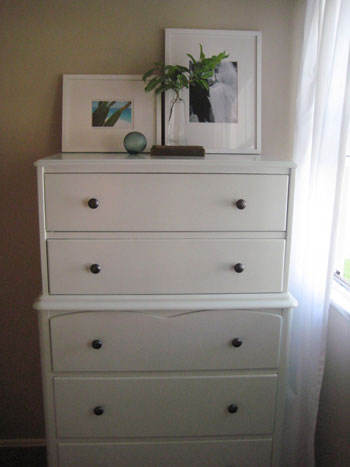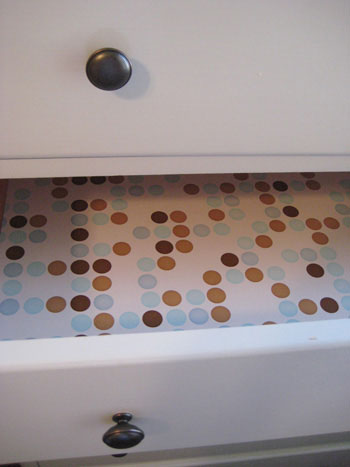 Anyone who knows us knows that we like a crisp new paint job. And anyone who knows us well knows that we're actively drooling over this fabulous transformation. Mindy, it looks absolutely amazing! You did a lovely job and the fun contact paper is the icing on the DIY cake. Thanks so much for sending the deeeelicious pics our way.
I think we can all admit that sometimes we get bored by our routines and occasionally feel the need to mix things up a bit. Right?
So that's why we're wondering if you guys, like us, ever cheat on your master bedroom and spend the night in another room of the house? Maybe you've wanted to test out the guest bedroom before the in-laws visit (is the mattress a dream or a nightmare?). Or a renovation has forced you to find another sleep spot for a few nights (like when our recent floor refinishing drove us to a mattress in the den). And we can't forget the always fun adventure of camping in your own backyard…
We don't own a tent, but we did celebrate a recent warm night by sleeping on the daybed in our sunroom. It was a good reminder that twin beds are not designed for two adults and a squirmy chihuahua. And that the sun comes up too early. But it was a little at-home adventure none the less. Enough about us – what's your sleep around story?