On May 25, 2006 Sherry and I officially became homeowners. Yup, it's been three whole years since we moved into our humble abode and we can't believe how time has flown. Despite all that's happened (renovations, redecorations, and even a backyard wedding), it seems too soon to be celebrating our third anniversary at this address.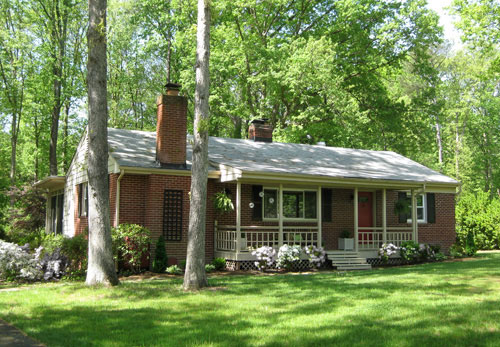 In honor of our milestone, we thought we'd give you guys a look back at how we ended up here. Because as much as we think time passed incredibly quickly between then and now, wait 'til you hear how speedily our house hunting weekend – yes, one single solitary weekend – went. And we've peppered our timeline with some photos that we took during the first few looks at our home (FYI – all of our House Tour "before" photos are from our first walk-through or they day of our inspection).
February 25, 2006: Sherry and I ditch New York City and relocate to Richmond, VA in my parents' minivan (full of only a few essentials) in search of a slower pace. We happily move into a one-bedroom apartment to get a sense of the city before choosing a neighborhood to buy in (watch a video tour of that apartment full of free hand-me-downs). We figure we'll spend a year renting before taking the homeowner plunge.
March 18, 2006: I propose to Sherry on the top of a mountain after a 4 mile hike (Sherry always jokes that I really made her work for her ring). She says "yes" after a bit of speechless arm flapping. Our parents feel much better about the whole living together thing.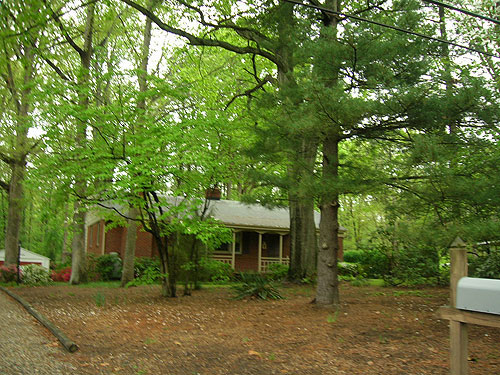 Mid-April 2006: Friends advise us that "it's never too soon" to start house hunting, just so we can get a sense of what's available and what we can afford. Sherry consults our bank to learn how much of a loan we'd be approved for… just in case.
Friday, April 21- 6pm: I come home from work to learn that Sherry has arranged for us to see a nearby house that fits our budget. We decide it'll be good house hunting practice. We hate the house, but love the agent and ask him to help us find other options (that's his backside below).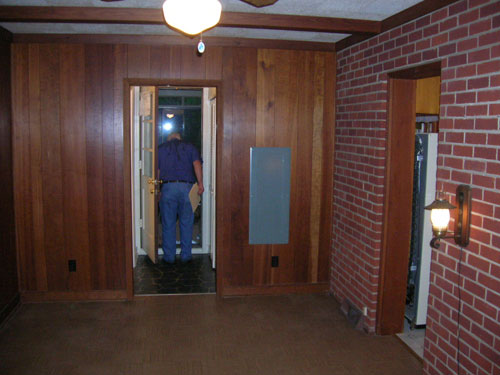 Saturday, April 22 – 8am: It's raining, but that doesn't slow us down. Armed with a bunch of listings, we begin driving around checking out neighborhoods to get a sense of what our money can buy (so we're better prepared when it comes time to "seriously" look in down the line).
11am: Don't like most of the drive-by options, but decide we should at least go into one for the experience. Our agent first gives us a tour of a recently renovated, two-bedroom. Neighborhood and location aren't the best for us, but the inside is nice and new. We tell our agent that we like it, but don't want to pay for all the renovation work that we could do ourselves (although we literally have zero experience). Agent suggests we see one other house which is a bit more of a "fixer-upper."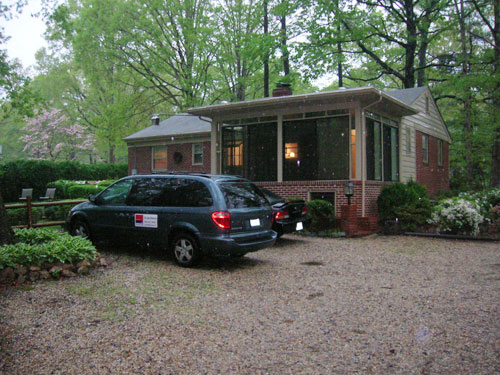 Noon: At other house. Had driven by it earlier, loved the location but could barely see the darn thing through all the trees. Another couple is already there touring it. First impression: very outdated, the exact antithesis of the previously renovated house we toured. Walk through the humble brick ranch, laughing/cringing at several features. Love the backyard and the price (which is over 30K lower than our budget- lots of room for renovations…). Start to realize the house has potential. But we're not seriously looking. Right?
1:30pm: Back to the apartment. Sherry professes her love for the house we just saw. She wants to put in an offer on it. I express my hesitation – we're just looking right? Sherry counters – it's only been on the market for two days. What if that other couple takes it? What if we never find anything else that's a great deal in a great location. How does paying rent for a year when we could be paying down a mortgage make sense? This continues for a while. I start to see her point.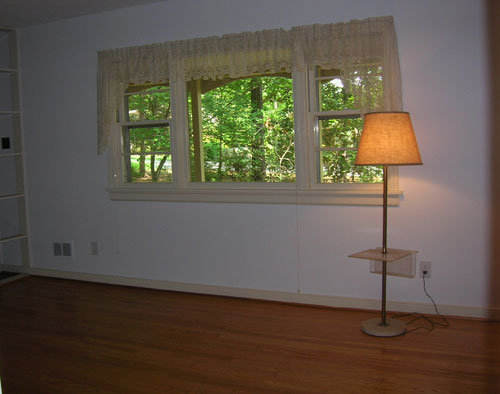 2:30pm: We call our agent and tell him we'd like to put an offer on the house. I pace nervously.
4pm: Agent arrives. We fill out paperwork. He leaves to submit it. My pacing continues. Sherry prefers to jump around giddily saying it's gonna be great. "We'll love that house and it'll love us back" she promises.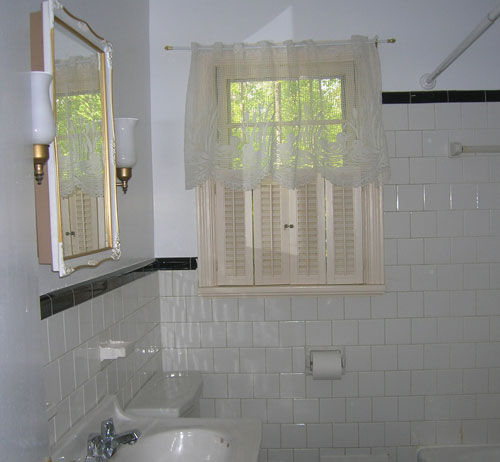 Sunday, April 23 – 10am: Agent calls. Offer is accepted. Mix of disbelief and excitement floods over us. Did we really just buy a house? On the very weekend we started "casually" looking around? Start calling family and try desperately to explain our "guess what? we got a house" news in a way that doesn't make us sound completely out of our minds…
Saturday, April 29th- 11am: Show my parents our future home. They love it so much they suggest that we get married in the expertly manicured backyard. We had already decided on an outdoor ceremony at a gorgeous stately tudor on a big grassy lawn, but this suggestion sticks in our heads and by the time we get the keys we're sold on a backyard wedding at our new house.
Thursday, May 25 – 4pm: House inspection goes off without a hitch. All the financial stuff checks out too. Meet attorney for the closing. Sign a bazillion pieces of paper. Get keys handed over to us. Sherry & John Petersik = homeowners. Do the (seated) happy dance in the car.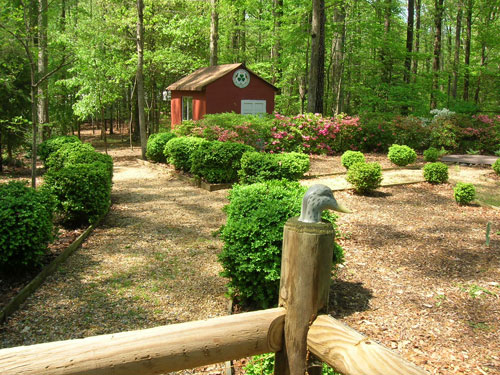 6pm: Like two crazy people, we begin shuttling whatever belongings fit in our tiny Nisaan Maxima from the apartment to our new house (we don't have the patience to wait until morning when we'll have a UHaul). We have officially begun "moving in." That night is spent on an air mattress in our soon-to-be bedroom even though we have a perfectly serviceable bed back at the apartment. Why shouldn't we sleep in our new house?
Friday, May 26 – 9am: I leave for work. Sherry pushes all of her meetings and conference calls until next week and begins decorating (she claims she can't sleep let alone work until she gets to repaint a few rooms). She hasn't stopped fixing things up since (1094 days and counting)- and I've gotten in on the demo/reno action quite a bit since then as well.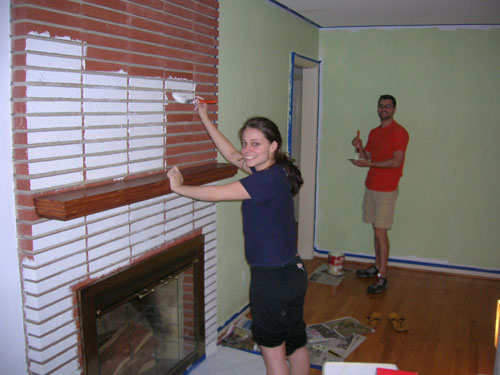 That's my cousin in the photo above helping Sherry paint our living room (the first time around). That was taken the Sunday after our closing (the only reason it wasn't on Saturday is because we were in New Jersey for a wedding that day, but we drove home that evening- through the night- just to get back to our new house and whip out our paint brushes the next morning).
So that's the story of how Casa Petersik came to be. We'd love to hear how you guys found your current homes. Was it a long process? Or a whirlwind like ours? Either way, we hope you've enjoyed celebrating your homeownership milestones as much as we have. Happy anniversary, house!