Yessiree we have more mood board after pics for you! Can you hear how squeaky and excited my voice is about this development? No? Well, that's probably a good thing. Here's Sara's letter:
We love our home office after following ideas from your mood board. The green, white & brown combo is perfect and we can't thank you enough! And the closet, well, let's just say I don't dread anyone looking behind the curtain. Everything is in its place and if it isn't (note the white organization drawers sitting on top of desk) then no one is the wiser! This room has easily become my favorite in our house! Thanks again! And I must confess that this room has been finished for a couple of months. So, this is my note to all other design dilemma peeps out there: if I can overcome my laziness and send in my pics, so can you- I'm not above begging for some of yours! Keep up the great work you two! -Sara
Let's fire up the ol' time machine and check out Sara's office before our little mood board makeover: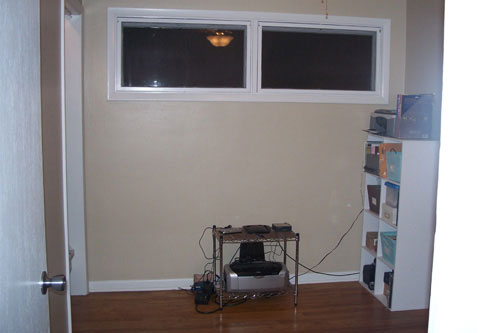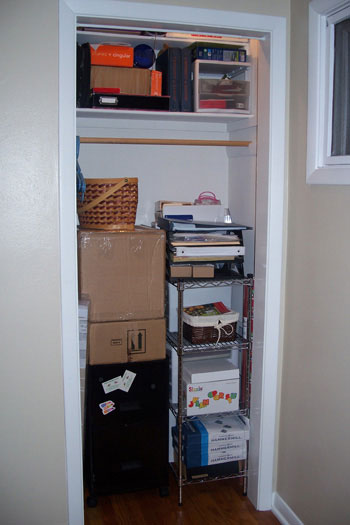 And now let's get back to the present day and feast our eyes on the oh so lovely after pics: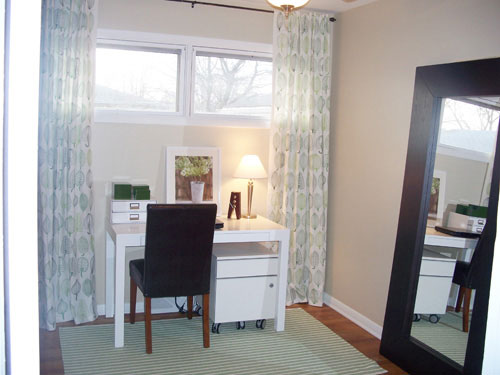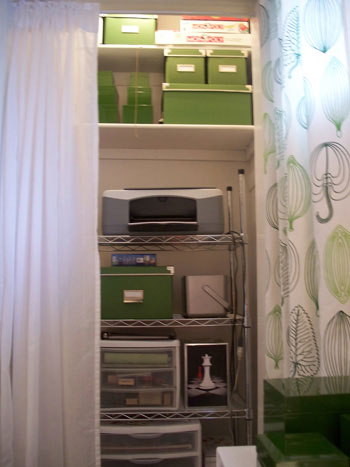 Didn't Sara do a fabulous job? We're so glad that her formerly empty office is now her favorite room in the house and we can totally see why. That organized closet is the stuff dreams are made of and that wide high-riding window looks balanced and welcoming with those lovely leafy curtains and the sleek white desk below. Thanks so much for sending the after pictures our way Sara!
Update: We sadly can no longer find the time to take on client commissioned mood boards (we now whip up general inspiration boards instead) but if we ever reinstate them we'll make a big announcement!