When we featured Lindsay's kitchen makeover as a Reader Redesign back in October, we never could have guessed that the people at Kitchen Makeovers (an awesome Better Homes & Garden's special interest publication) would contact us for Lindsay's info. Yup, they saw her before and after pics on our blog and wanted to feature her kitchen! Needless to say we were over the moon with excitement, and of course Lindsay (who just welcomed a little baby a few weeks ago) was delighted to hear about her kitchen's impending fame.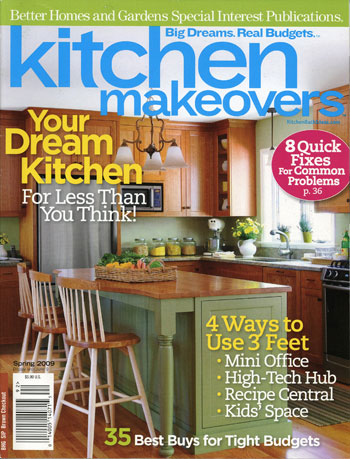 Fast forward a few months and here's her gorgeous and budget-friendly kitchen makeover in their Spring 2009 issue, in a column that they call Do It For Less. And do it for less Lindsay did. She only spent a mere $50 on primer & paint and her refreshed cabinets look like a million bucks.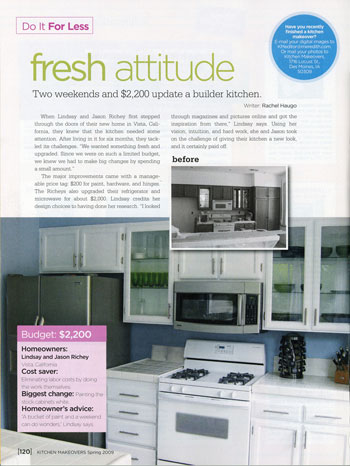 Of course you can click the kitch above to enlarge it (and read every dirty detail) and even pick up an issue of your own for the full effect (it's packed with lots of other yummy eye candy as well). Congratulations Lindsay- on both the gorgeous kitchen and the new bambino!
And there's more exciting news in the pipeline. The lovely people over at Kitchen Makeovers have contacted us for more info on a few more of our Reader Redesigns and they've already lined up another one of our very own readers' kitchens for their upcoming Winter issue. Stay tuned…