I try to resist the urge to let decorative accessories like candles, plants and books stagnate for too long here at Casa Petersik. It could just be the fact that I work and live in the same place so I need a little more variety than the average bear, but even sheer laziness often loses out to the fun of reworking the things that we already have in new ways. It's hardly a weekly or even a monthly ritual, but every now and then I just can't resist a small switcheroo here and there…
So I grabbed a round woven storage basket from the bathroom (snagged a while back at Ikea for $2) and slipped it over a basic white planter from Ikea. Voila: a woven planter basket with a ton of textural interest. Then I decided to break out an empty green seeded glass hurricane from TJ Maxx (a $5 score from a few months ago) and plopped a pillar candle into it. Still a little boring. What about using some brown rice as vase filler?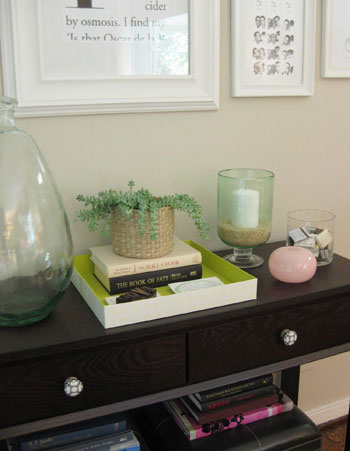 The color and the texture actually mimics the new planter basket. And you really can't beat the price.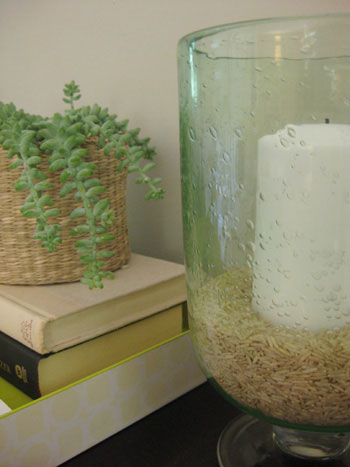 It's always fun to use things in new ways, especially if they're already on hand (ie: free). And ultimately it can actually save you money since it helps you resist the urge to run out and replace everything that you own whenever you get tired of it.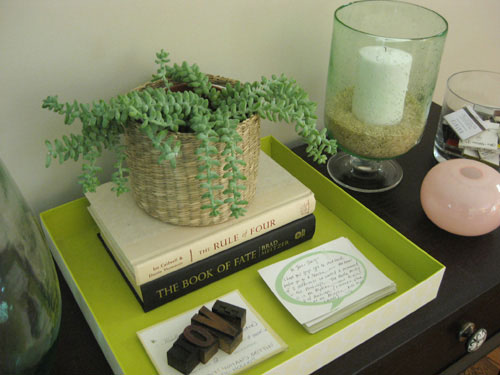 Oh and on the subjects of plants, we can't leave without showing you our new little succulent that we snagged for $3 at Lowe's.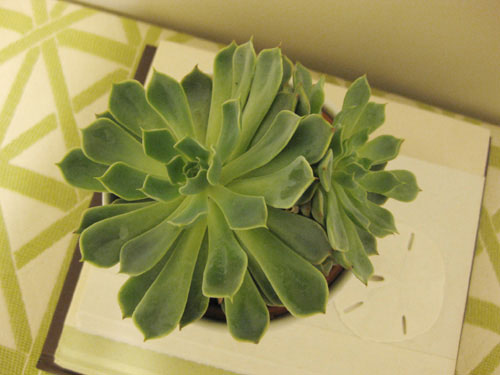 It looks oh so chic in the white one-dollar Ikea planter that we already had- and speaking of using things in new ways, we LOVE to stack a few hardcover books and use them as a plant pedestal. In fact, you'll also notice some books under our basket planter on our living room console table as well. And while we're on the subject of hardcover books, they almost always look a lot lovelier without their plastic-y paper jackets (their fabric bindings are simple and oh so fab). So undress those books and get to stacking 'em!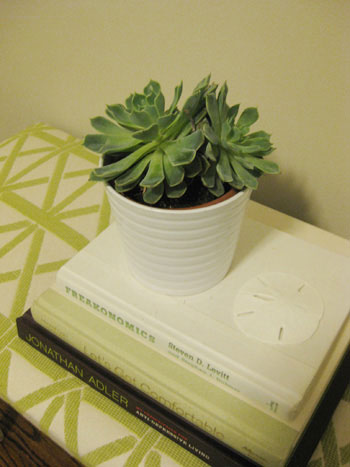 What about you guys? Do you have any objects, items, or edibles that you use in unexpected ways when it comes to home decor? Spill the beans (hey those could be vase fillers too…).