When we saw the magic that Mindy worked on an old dresser we had to share the eye candy. Here's her letter:
I love your website and eagerly look forward to reading it everyday. I just thought I would show you my dresser re-do! The hubs and I really needed a dresser but didn't want to spend a lot. We like things that are solid and made really well. So, after finding this antique dresser on Craigslist I decided to fix it up. I took the handles off and filled the holes in, sanded the varnish off, primed it, then painted it with two coats of Behr's "lime light." Then I drilled the holes for the new knobs and lined it with contact paper. It was fun to do and I did almost everything in one afternoon (but left it to dry for 24 hours before putting the new knobs on). The dresser was $20, paint was $17, knobs were $19, contact paper was $5 which brings the total to around $60! Thanks for all your inspiration! -Mindy
Here's the seen-better-days before: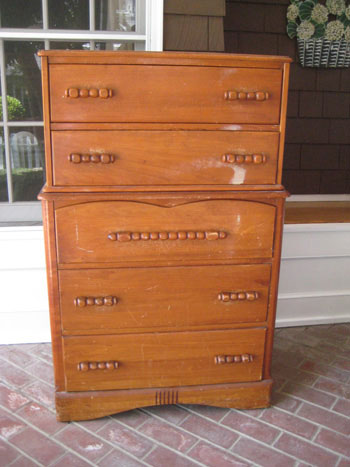 And the amazing after: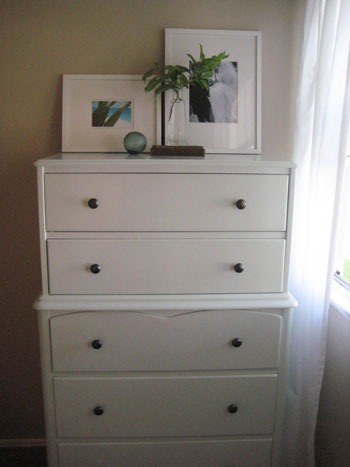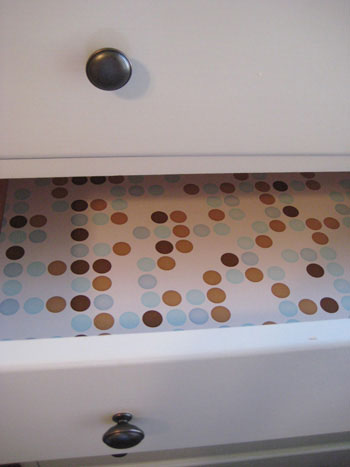 Anyone who knows us knows that we like a crisp new paint job. And anyone who knows us well knows that we're actively drooling over this fabulous transformation. Mindy, it looks absolutely amazing! You did a lovely job and the fun contact paper is the icing on the DIY cake. Thanks so much for sending the deeeelicious pics our way.