Remember when John met his frog friend (well, technically his toad friend) here?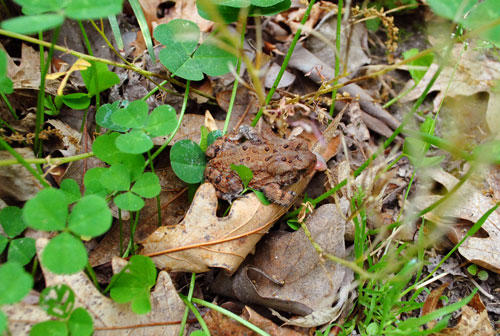 Well, this time around we made a new neighborhood acquaintance…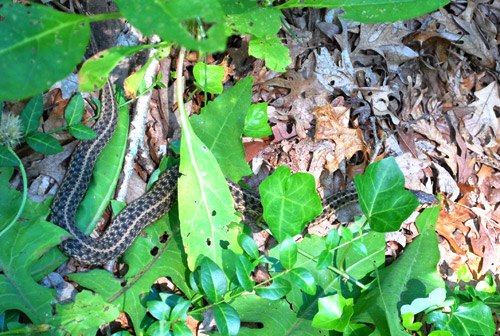 … a snaaaaaaake! And we were skeeeeered. But not to scared to take a picture. Thankfully he was just a harmless garter snake.
Why were we outside? Yard maintenance. We figure our exterior will need a whole lotta small phase projects if it's going to ever-so-slowly transform like our last one did, which went from this…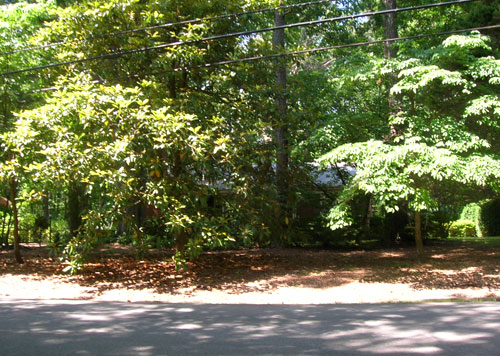 … to this (over the course of 4.5 years)…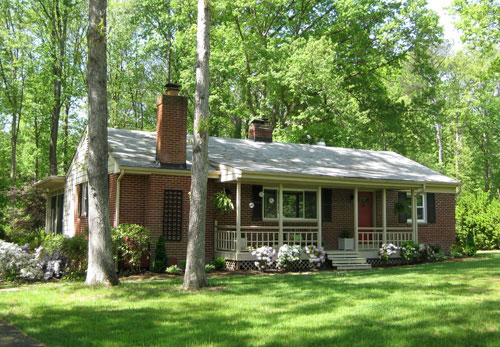 So since that's nothing we'll ever be able to accomplish overnight – or even within a year – we're all about breaking that humongous task down into much smaller bite sized pieces to tackle slowly over time. So here are a few little outdoor undertakings that we've recently checked off.
First on the list: spray the mailbox and our house numbers with ORB (oil-rubbed bronze spray paint) so they would look a little more refreshed.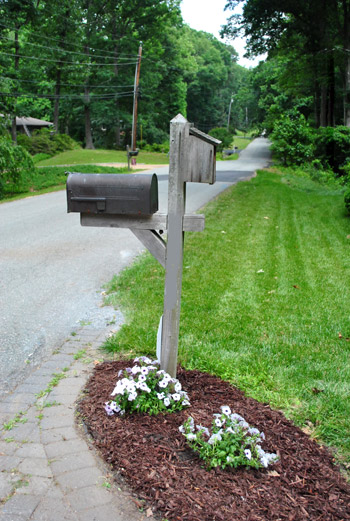 The most fun part of the process was when John brought it to me using rubber pot holder thingies because it was literally too hot to touch from sitting out in the sun out front: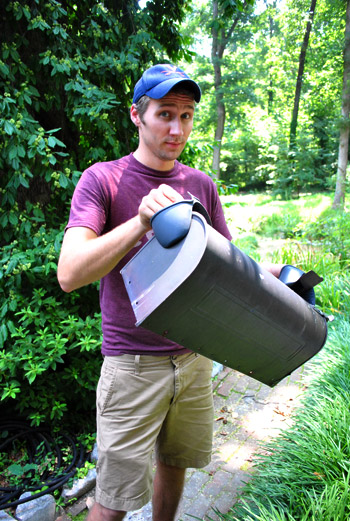 Up close and personal, she definitely wasn't looking so hot (even though she was literally quite hot):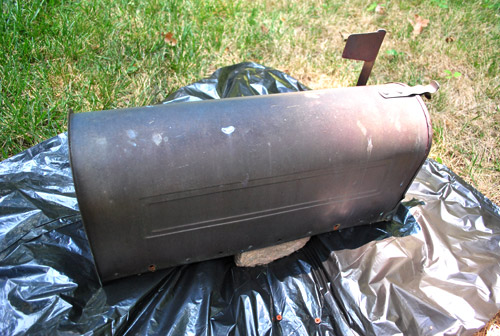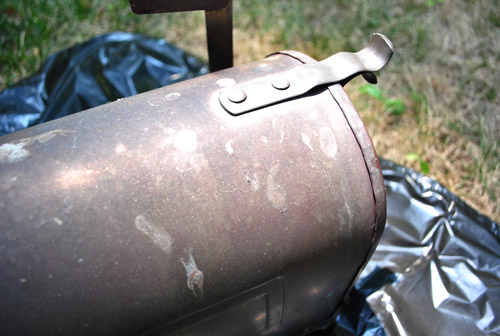 So I wiped down all the bird poo with a wet cloth (I live a glamorous life) and used my favorite ORB spray paint (hi my name is Sherry and I have an ORB problem) to apply a few thin and even coats (you can check out some spray painting tips here). I also sprayed the rusted tops of the screws for holding the mailbox in place and our brass house numbers.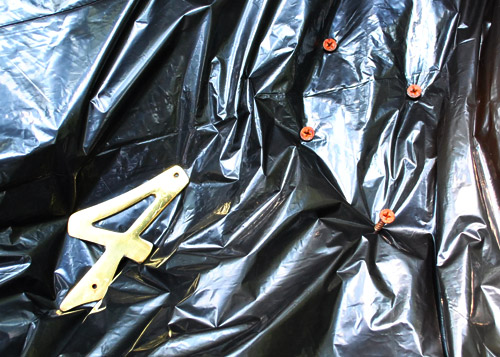 Oh and for "drop cloths" I usually use an old fabric one (or cardboard from the recycling bin) but this time I decided to use the same few big black plastic bags that I've used for other ORB projects as of late (I just ball them up after they're dry to be reused since I'm such a spray painting fool these days, and hate to toss them after one go).
Can't show you all of our house numbers of course, but the mailbox is looking mighty shiny: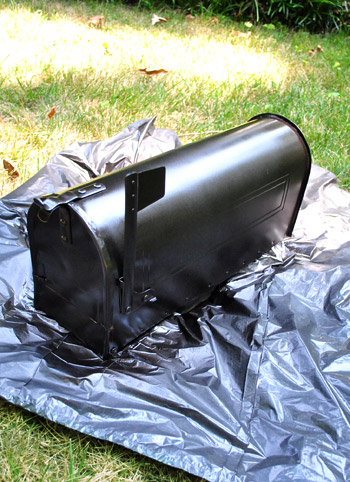 Oh and I did this on a Sunday so as not to confound the mailman. By the end of the day everything was dry and I was able to screw them back into place. And while I was up there I snapped a few shots of the flowers since we had some requests for updated pics to see how they've grown.
But first, here they are before, back when we planted them: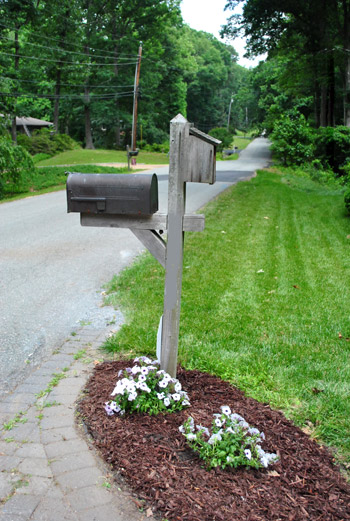 And here they are now, paired with the freshly sprayed mailbox (we photoshopped out the newly painted house numbers on the post though):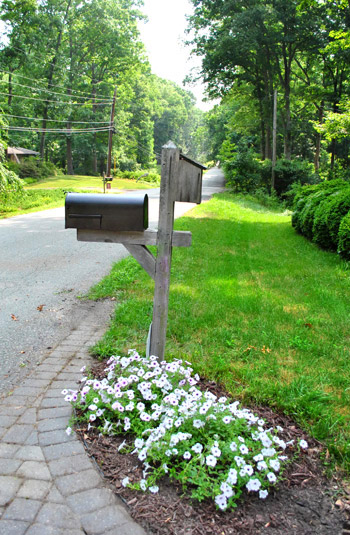 Isn't it amazing how much they've filled in? And it's worth noting that we only watered them once (when we planted them) and it's been scorchingly hot so I'm extreeeeeeeemely impressed. Wave petunias are the way to go, it seems.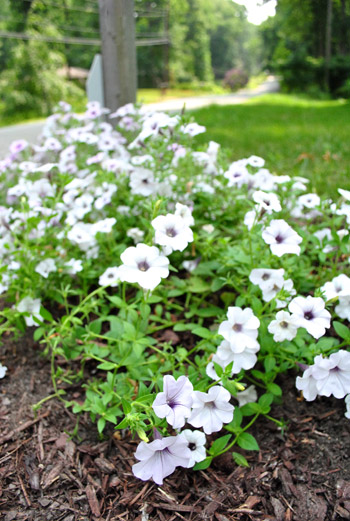 Even Lord Squirrelio is enjoying the expanding flora: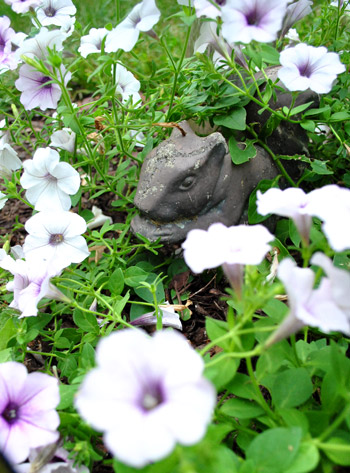 Oh and as for the mailbox post, we've considered painting it but kind of like how it blends into the landscape thanks to the old weathered wood. A landscape designer friend of ours has a theory that you should never bring attention to your mailbox or post itself, just keep it neat and let it be what it is (so it doesn't stand out/detract from the yard around it). That natural wood post definitely does that. We still might paint it down the line, but for now we're happy to leave it au naturale.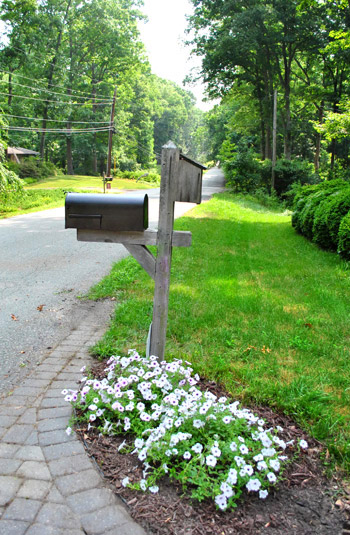 But I digress with all of the mailbox updating. Back to the title. Here's why we're those neighbors again. Remember when we admitted that we had a bit of a mailbox problem (before we weeded, laid down landscaping fabric, planted some flowers, mulched, and removed some extra signs on our mailbox post) which made us quite the embarrassed new family in town?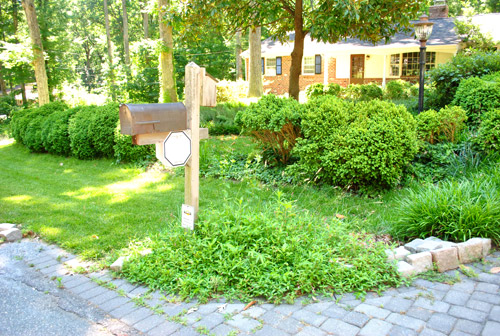 Well, we also have this insane side yard that doesn't look like it's ours, but it is. Yup, everything in this picture is our lot: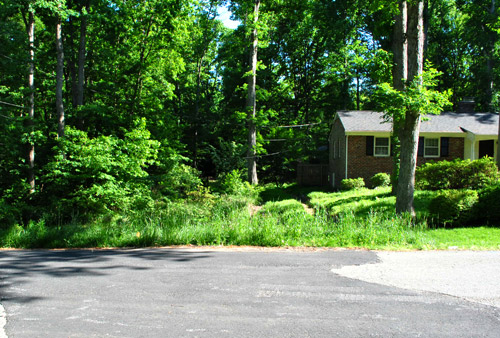 Even the crazy shaggy stuff on the left.
See, it's a whole lotta don't-know-what-to-do-with-that-but-don't-want-to-have-to-mow-or-weed-or-otherwise-maintain-it space to deal with, so we decided to see if we could naturalize it (the neighbors have some naturalized land on their lot next to ours so we thought it would "go together" nicely).
Oops. Total failure. It just ended up looking crazy and overgrown: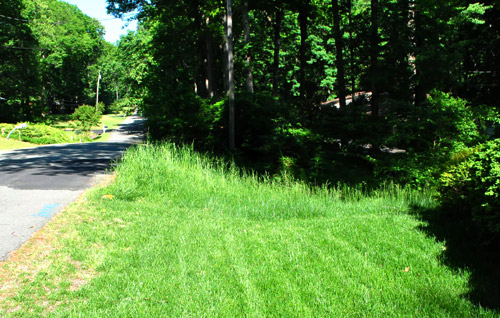 Not only wasn't the overgrown grass doing it for us, a few well meaning neighbors actually mentioned that we might want to mow it before "we get reported to the neighborhood association." Talk about embarrassing. We muttered something about trying to naturalize it like the lot to the left, admitted that it definitely wasn't working out the way we hoped, and vowed to at least cut the grass in the front for less of an unkempt appearance from the curb.
But it meant that we had to attempt to mow that wayyyyy-too-looong-to-easily-mow grass. Thankfully big strong John got 'er done! It didn't take five minutes (more like about an hour of slow back and forth maneuvering and turning off the mower to get clumps of grass out every ten minutes or so)…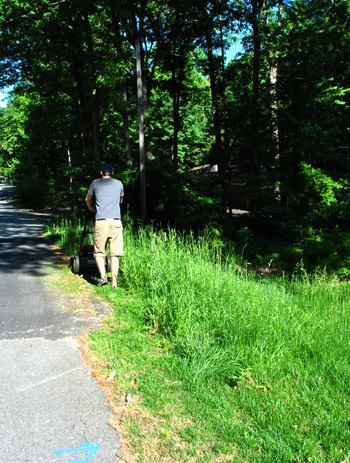 … but slowly but surely…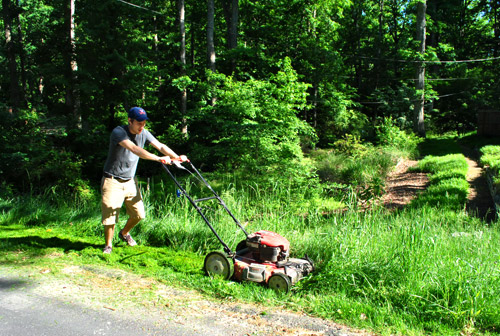 … we went from that crazy overgrown embarrassment to a slightly more manicured-up-top look, thanks to just moving that front strip: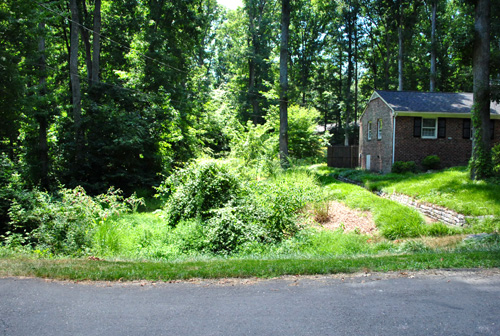 We like how it actually looks like it's part of our lot now, even if it's obviously the more naturalized portion of it: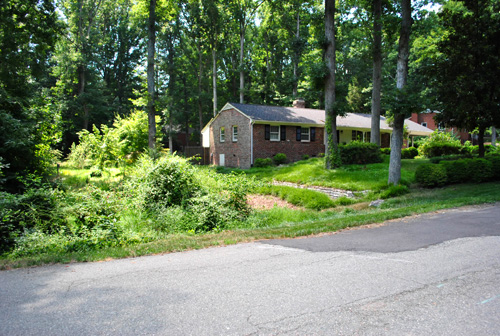 Now it looks like the area down the hill is intentionally wild (hooray- no weeding or incline mowing necessary down there) but the area up top is a bit neater from the road. You know, as opposed to looking all sad slash abandoned.
In other small-things-we-tackle-in-the-hopes-that-in-five-years-we'll-blink-our-eyes-and-love-our-exterior news, we also planted three more evergreens in the back area of our house to hopefully provide more future privacy from the back (and to pay the environment back for doing all this clothespin driving).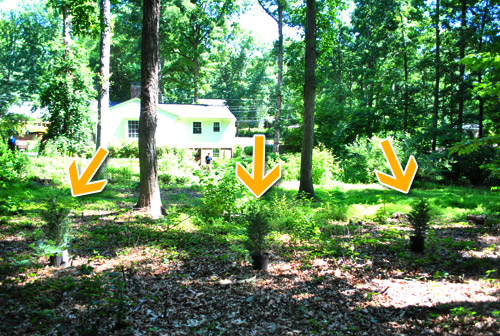 We went with three more of the same fast growing evergreen trees that we planted on the side of our house (so you can check out more on how that all went down here).
Next we did a little weeding. Or should I say big weeding. We don't know what the heck is in the soil here, but check out the size of some of the weeds springing up around the someday-we-hope-it'll-look-naturalized-and-wooded side & back yard: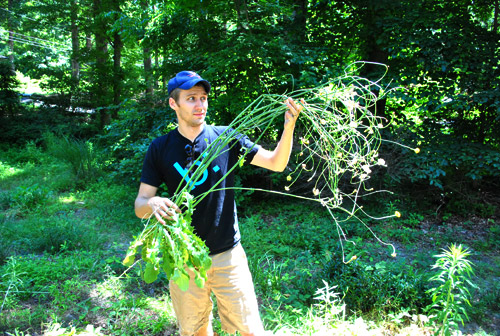 Yeah, that's a giant dandelion. And yes, it felt like we were suddenly on the set of Jurassic Park and would soon see a pterodactylfly by or something.
Sure we want some areas of our side and back yard to look woodsy and naturalized someday, but for now these big ol' weeds were more that a little embarrassing. So we dug them out and marveled at their shrub-like proportions. Crazytown.
As for our outdoor checklist, it's waay too long to share in its entirety, but we'll jot down a few things that we did (just for the satisfaction of crossing them off) and list a few more objectives that we hope to tackle over time:
weed the side of the carport (done here with some mom help)
limb up the giant magnolia (done here)
build a side patio (done over the course of about four weeks here)
weed, mulch & plant the embarrassingly unkempt mailbox area (done here)
plant three fast growing evergreen trees on the side of our house for privacy (done here)
make some mini porch updates (done here)
upgrade the mailbox and our house numbers with some ORB
plant three more fast growing evergreen trees in the back of our house
weed the side and back yard areas, so they naturalize with trees (not giant dandelions)
avoid snakes (so far so good, but this is an ongoing initiative)
transplant the tree that's planted ON our house (seen here)
remove/transplant a ton of bushes and shrubs that block our front walkway & our house in general (in multiple phases)
paint the front door
frame out the round country-ish columns on the porch
remove the also-country-ish scalloped header on the porch
build raised bed gardens in the back
add a wood compost bin in the back (right now we use this slightly less handsome compost method)
In short, we'd like to slowly tame the jungle that is this in a bunch of not-too-intimidating phases: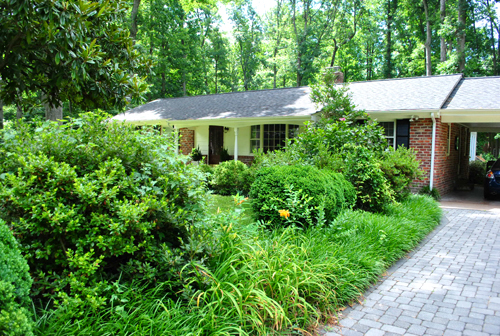 Because let's be honest, you can't even see the porch. Le sigh.
What about you guys? Do you completely "gut" your yard and rebuild it all at once, or are you one-project-at-a-time folks like us? Have you ever seen a sneaky little snake? Or a giant person-sized dandelion? Or been told to mow your lawn by the neighbors? Oh man, we're still kind of blushing.