Sure it's Sunday, but how about a little bonus behind-the-scenes tale of hunting down clothespins for the Pinterest Challenge light fixture that we have in the works? Other considered titles:
"The Petersik Clothespin Tour of Richmond"
"Wow, I'm a really patient husband."
"Sorry environment, we vow to plant three trees to make up for all that driving"
Okay, so here's the deal. When we first started our clothespin light fixture (first mentioned here), we snagged four bags of clothespins at Ben Franklin just to get us started. We knew we'd need more, but we didn't want to go crazy buying them until we decided on a pattern and had a better sense of how many we'd need. Oh, and Ben Franklin only had four bags at the time too. Minor detail.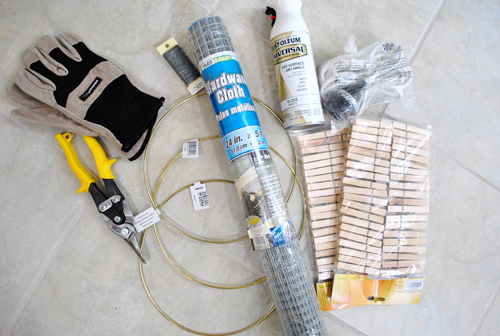 Once we started clothespinning away, we realized we'd definitely need more. LOTS more. So just as Clara went down for a nap, Sherry sent me out on a quick errand to get more packs (8-ish was my instruction). Neither of us knew my "quick" errand would turn into a 2 hour, 54-mile trek around the Richmond suburbs.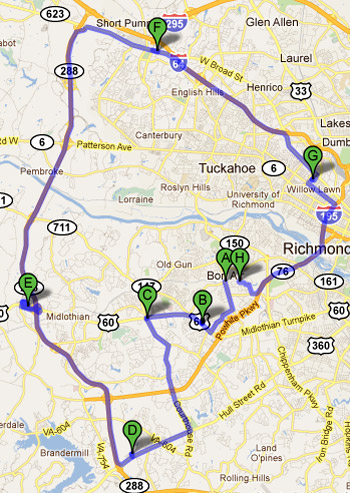 Since we had already started using the four packs that we bought at Ben Franklin, I needed to get more packs of the exact same sized clothespins to add to our collection (which sadly meant places like Target and the dollar store were out due to only carrying pins that were too large or too small). So I decided to hit up the same Ben Franklin from before [Marker "B" above] hoping they had been restocked. They hadn't. Zero clothespins secured.
I only knew of two other Ben Franklin stores in our area, so I stopped by a nearby Bed Bath & Beyond ("we don't sell clothespins") and Michael's that shared a shopping center [Marker C]. Michael's carried another brand of clothespins that came in large, small, and mini sizes. Wouldn't you know we needed the medium size (since those fit perfectly into our wire light fixture frame and would look consistent next to the pins from the four bags that we already had).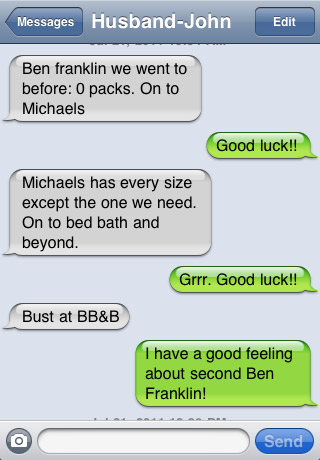 Sidenote: And yes, my wife has me labeled as "Husband – John" in her phone. Like she knows so many other Johns that she would get confused withouth the whole "husband" part.
But back to my hunt. Thanks to failing at my first few stops, I realized that I needed to expand my errand circle to the next Ben Franklin [Marker D]. Score, they had three packs of mediums in stock. Maybe they never stock more than 3 or 4 at a time? But that would mean going to the only other known Ben Franklin store [Marker G] wouldn't get me up to my goal of 8 packs. Crap. Time to break out the big guns: JoAnn Fabrics [Marker E] and Hobby Lobby [Marker F].
Though they were both far out of town, they're both really big and located off a nearby highway with a high speed limit and low traffic volume. So basically, the need for speed* tricked me into what I would later find out was a bad decision.
*If you're rolling your eyes because this sounds like a typical testosterone-fueled poor decision, allow me to remind you the decision was also swayed by the possibility of finding CLOTHESPINS at a JOANN FABRIC or a HOBBY LOBBY. I was deserving of a masculine moment, okay?

Anyway, you've probably guessed where this was going. Sherry actually did some calling around and they both said they had clothespins, they just didn't give her specifics on size or brand, so I had to check those things out myself. Spoiler alert: both JoAnn and Hobby Lobby failed me (once again, only large, small, and mini sizes). At least the Burger King I stopped at in at between them didn't let me down (it had been over an hour of clothespin hunting and clearly I was growing weak). So with almost all hope lost – and visions of a half-filled clothespin chandelier creeping into my mind – I trudged my way to my last Ben Franklin [Marker G] where Sherry had also called ahead for me (but couldn't get any assurance that they had the specific brand and size that we needed).
Here's where I should've been ecstatic: they had them. But here's also where I felt like an idiot: they had nine packs. NINE. Yep, had I gone here in the first place (a mere 8 miles from home, no less) I would've found all of my clothespins in one spot. No two hours wasted. No getting tired of cashiers joking "you must have lots of laundry to do!" No Burger King-induced stomach ache.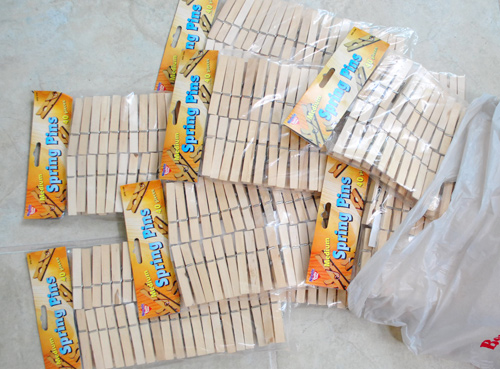 Oh well. Shoulda, woulda, coulda right? Even by calling ahead and identifying places to avoid (Target, the dollar store, Bed Bath & Beyond, etc) it was still was a pretty exhaustive tour of my fair city. The bright side is that the chandelier is shaping up to be really cool. Sherry and I have been experimenting with a lot of different clothespin patterns and we can't wait to finalize things, hang it up, write a picture-riffic tutorial, and share the results on Tuesday morning (and hear what all of you guys tackled if you opted into the whole Pinterest Challenge thing too).
The only bummer? We have four leftover packs of unopened clothespins to return to Ben Franklin, my new home away from home. Yup, there was a mild to moderate over-calculation. So we really only needed four more packs in the first place (as opposed to the eight that I bought home). In the words of the always eloquent Homer Simpson: d'oh.