Spring is in the process of sprung-ing here in Richmond and we're boiling over with excitement. Warm weather? Yes please. Green trees? Bring it. Flowers blooming? Duh, winning.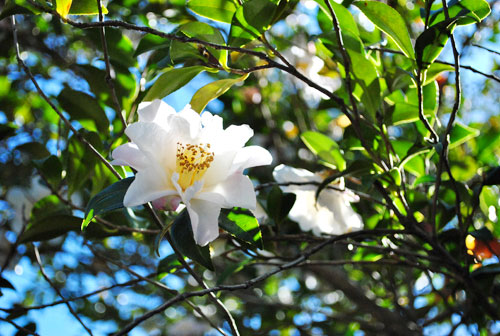 So to those of you who aren't on the brink of spring yet, we thought we'd send a virtual dose of the season – courtesy of some photos of what's starting to happen around here – like the little buds that are showing up on the hydrangeas that we've inherited.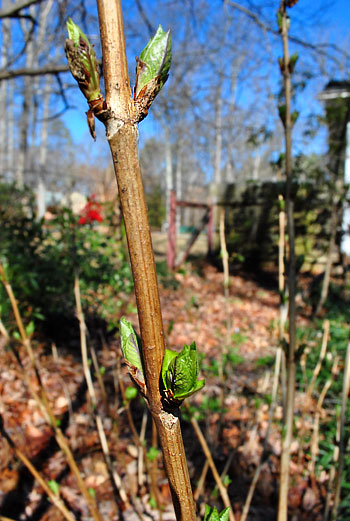 Spring is especially exciting this year because we get to be surprised by whatever magically decides to pop up around the new house – and we finally get to see what our property looks like in all it's bloomin' glory. The daffodils are already on blast. Holla.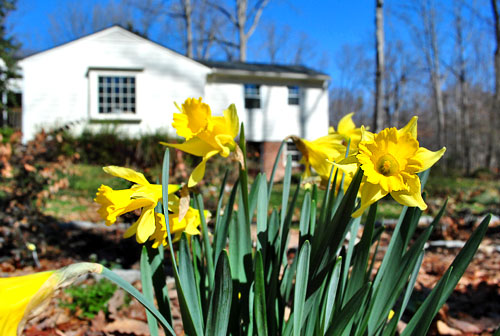 Oh and for those who don't recognize the house above, it's the back of ours. It's definitely different than the original brick ranch facade in the front, right? We think it's really funny that the addition was only built about 10 years later (in the 70's instead of the 60's) but it has such a different vibe. Someday we hope to unify things. Not sure how yet, but maybe it'll come to me in a dream. Sidenote #1: I once had a dream about tiling our old shower surround with white subway tile about a year before actually deciding to embark on that adventure (and to use white subway tile).
But back to the weather. Even Burger is itching to get outside and kick off what will be many months of bug hunting in a new backyard. Here he is gazing longingly out the living room window. Sidenote #2: This shot of the bushes makes Sherry twitchy because she wants to trim them like crazy.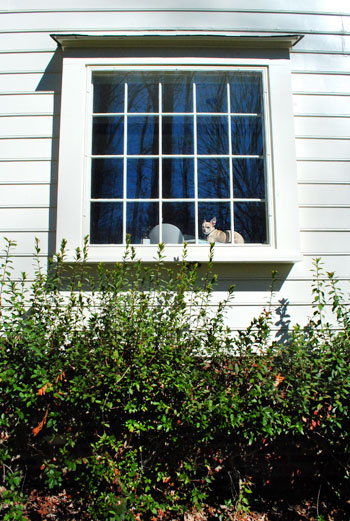 As for the temp, the daily highs around here have been wavering between the mid-50s and the high-60s, even stretching into the 70's a couple of weeks back. And that means yard work is quickly creeping to the top of our to-do list (especially since we got started a few weeks back). Which reminds us, we owe you a more official "tour" of the exterior of our house. So put that in your "stay tuned" folder.
The only bummer that spring has sprung on us has to do with the tree in the front of the house. It has grown (or was planted?) crazy close to the foundation…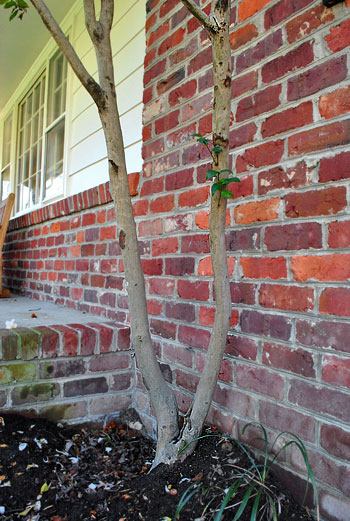 … and stretches up the side of the porch, sort of feathering out over the walkway to the front door. We've always known it probably has to go (aka we should take it out before it takes out any of the house). But it's charming, darn it.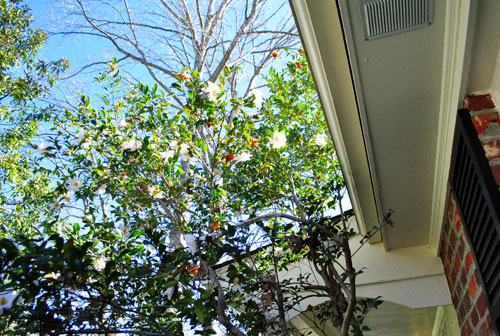 Especially covered in white blooms. See them below? Sidenote #3: I just typed "see them blow?" which was oddly entertaining to me (I dunno, kinda like "thar she blows"), so I stopped writing this post and told Sherry about it. She only found it marginally funny. Maybe it was a you-had-to-be-there thing.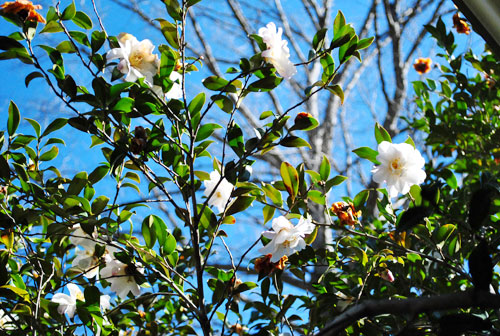 Anyway, don't those white flowers in the picture above (not blow) make you love it? Maybe white flowers are the tree equivalent to sad puppy dog eyes. Seems like a shame to remove that sweet little tree now. Especially since we don't think we can save him since he's basically on top of the house (so we anticipate a crazy root situation when we start digging). Oh and while we're on the subject of said tree, does anyone know what it is? We have no idea.
Despite our little tree drama, we're ready to enjoy spring to the fullest (holy buckets, it'll be Clara's first birthday before we know it). I wonder how good she'd be at mulching. Hmm…
Is anyone else getting a good dose of spring fever yet? Are temperatures up and flowers out in you area? Who's shoveling snow today?