This weekend our deck was full of people we love, gathered to celebrate this four year old bean of ours. It was pretty awesome to have so much connected outdoor space to party on (the sunroom-turned-veranda and our big deck that overlooks the grassy backyard felt less chopped up than having some people in the last house's sunroom while others were on our two-tiered patio). And since our previous house is where we've hosted every other Clara-birthday since she was born (here's the post about her first birthday, the one about her second one, and the one about her third) it felt both weird and wonderful to have our first big birthday gathering here. Most importantly, this girl had a blast.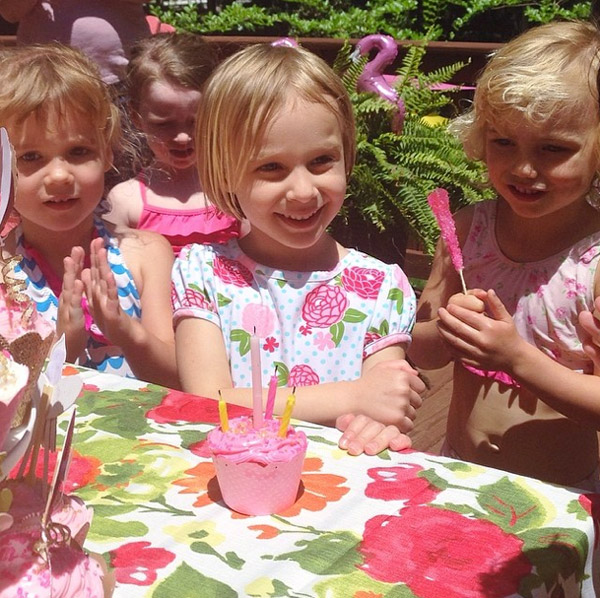 We usually do a little party prep post before the big "after the event" rundown (like this one, this one, and this one) which is where we share details like her invitation, but this time we figured we'd toss everything into this full-monty post and call it good. This is the invitation that we sent out to friends and relatives after Clara decided she wanted her party to be "all full of pink and gold everything… with glitter."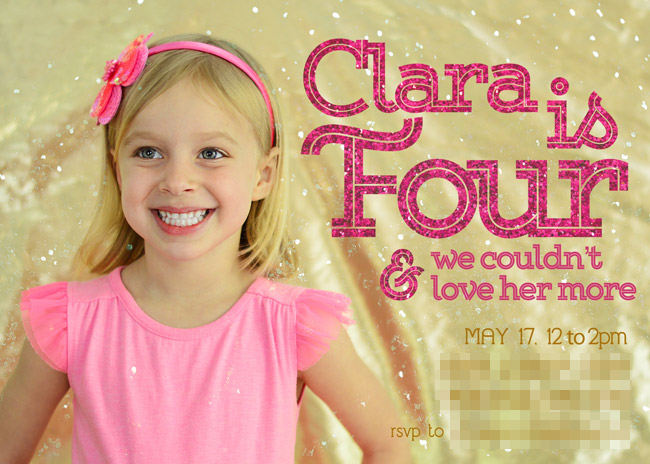 But the theme wasn't "pink and gold with glitter" for long – it kept evolving. The description quickly morphed to include nearly everything in her world. Soon Clara was calling it a "pink and gold flamingo, fairy, princess, lego, glitter, flower, cupcake, pez, castle, polka dot, treasure, bubble, water party" – which we shortened to her "pink and gold everything party" since it included everything but the kitchen sink.
It was fun to embrace all the things she loves. We pulled out existing items that fit the theme (like old paper lanterns and floral tablecloths from parties past) as well as grabbing some fun new items that tied in (like a few dollar store flamingos, some gold tinsel to make a glittery table runner, and some polka dotted balloons from Target).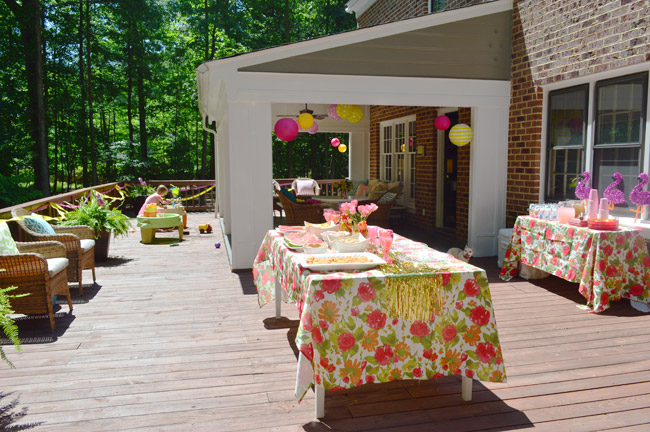 For added seating in our not-really-furnished-yet former sunroom, we brought out an old pedestal table and our wicker dining chairs (they're actually outdoor chairs, so they worked really well) as well as breaking out some fun stuff for the kids like our water table (and the one we borrowed from Grammy and Tom-Tom) as well as a bunch of toys, bubbles, and even the sprinkler for down on the grass.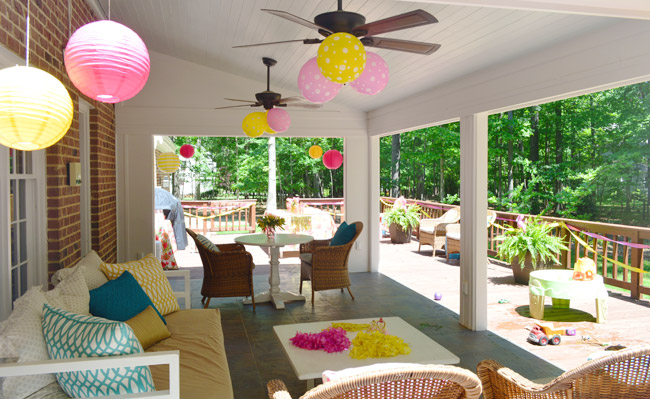 We're so grateful for the weather. It was sunny and warm enough for the kids to play with water in the sun, but nice and cool in the shade (we didn't even turn on the fans!).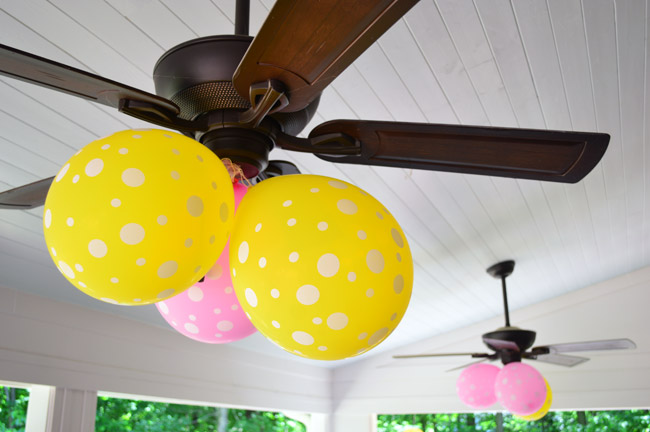 We kept the food casual as usual, with some pink and gold favorites like watermelon, chicken nuggets, sliced peppers, caramel corn, chips & salsa, as well as a few pizzas since they're always a crowd pleaser.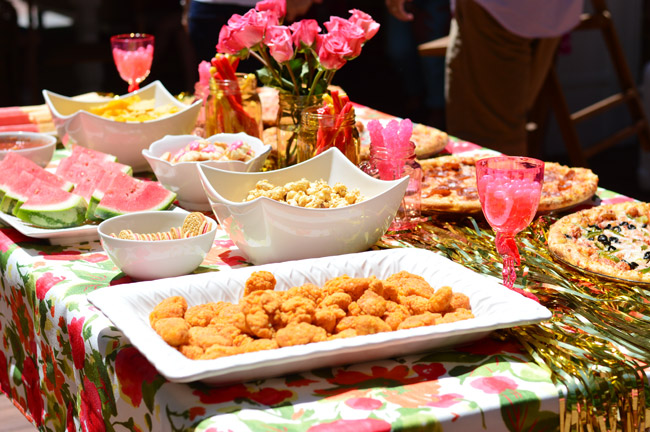 We even worked in some grocery store blooms and a few gold mason jars (from JoAnn) full of pink & gold twizzlers.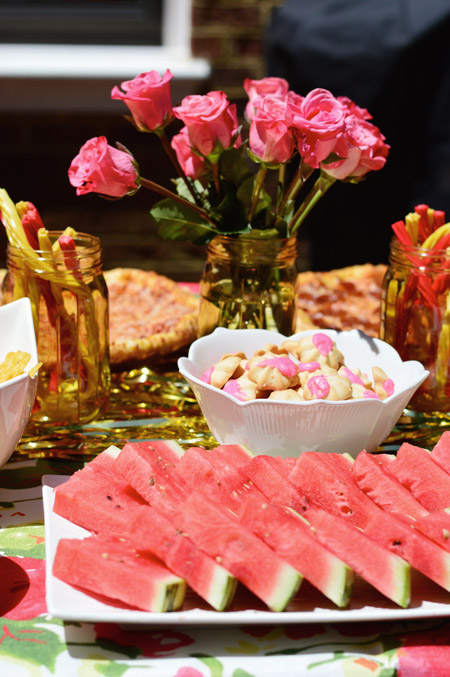 These little flamingo glasses were dollar store finds, and the chocolate coins and pink jelly beans were pretty much gone before the pizza was even touched.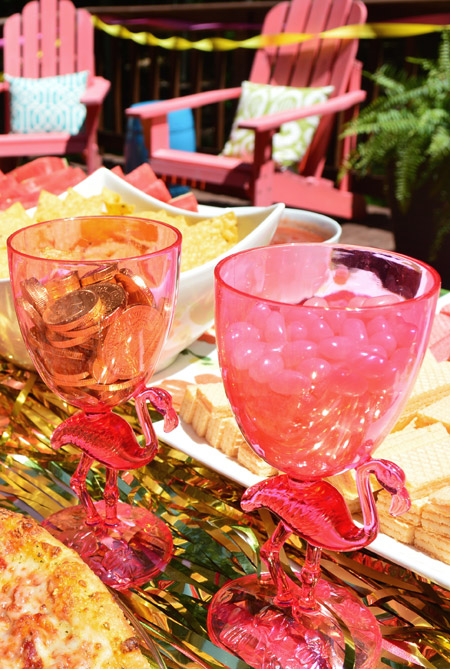 We also grabbed five flamingo stick-balloons at the dollar store (who knew they were such a treasure trove of flamingo memorabilia?) that we stuck into the the potted ferns around the deck. Kids loved them so much they asked to take them home at the end of the party.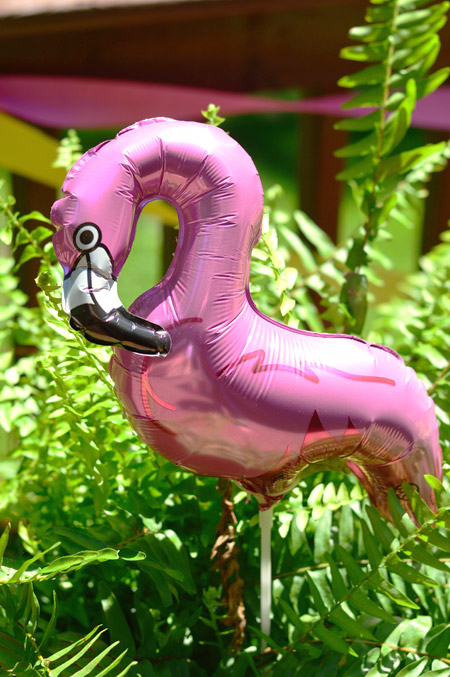 Easily the most exciting thing were the cupcakes, which were made by our sweet friend Justine. After we had Teddy she asked if she could bring us a meal and we kept saying "you're too kind, but we're all set – seriously our freezer is full" which somehow turned into her offering to make cupcakes for the party (she loves to bake, and her stuff is so delicious we couldn't resist). She fully embraced the pink-and-gold-fairy-princess-lego-castle-glitter-etc theme and made adorable toppers for each cupcake, including a few "fairy Clara" toppers with her face on a glittery winged body along with everything from a lego head to a pink glittered castle. There was an audible "oooh!" when we brought them all out.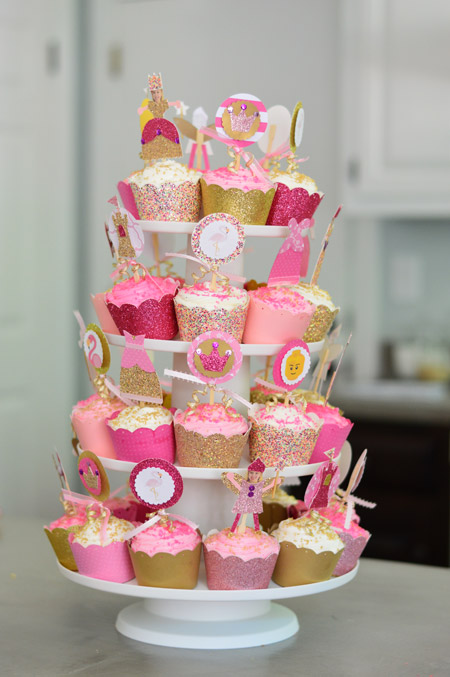 Here's one of "Queen Clara" wearing a big dress (girl loves a big dress, especially of the pink and gold variety). Justine seriously went above and beyond.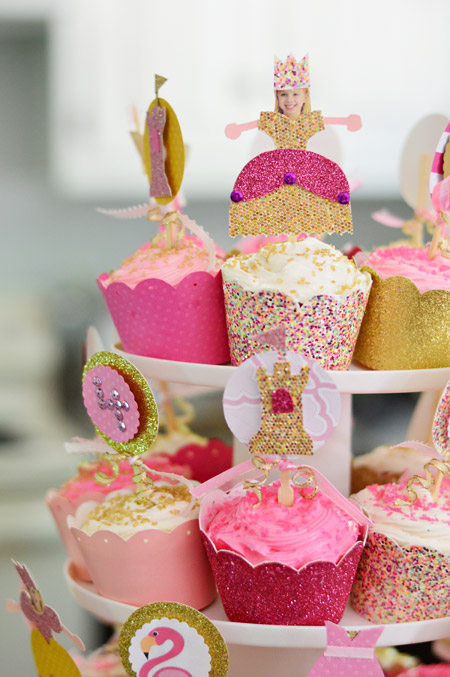 Later when we asked Clara to name her five favorite parts of the party, the very first thing she said was "MY CUPCAKES!" (which oddly enough was followed by "when Sam hit me in the face with the beach ball").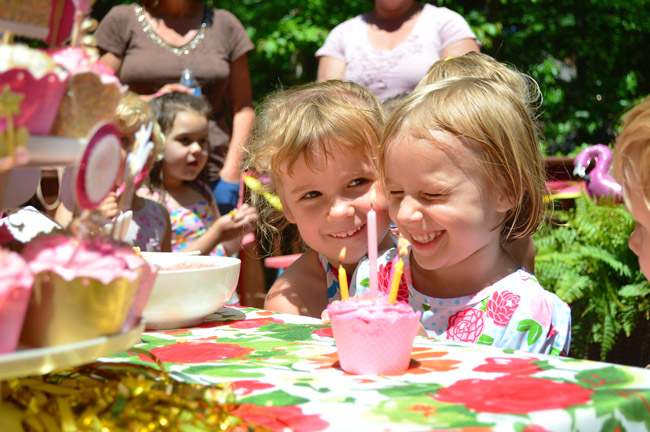 Everyone hung out on the deck and ate and played with the water tables for the first half of the party (there were around a dozen kids and twenty adults) and then some of the kids started funneling down to the grass to play with things like the sprinkler and the bubbles.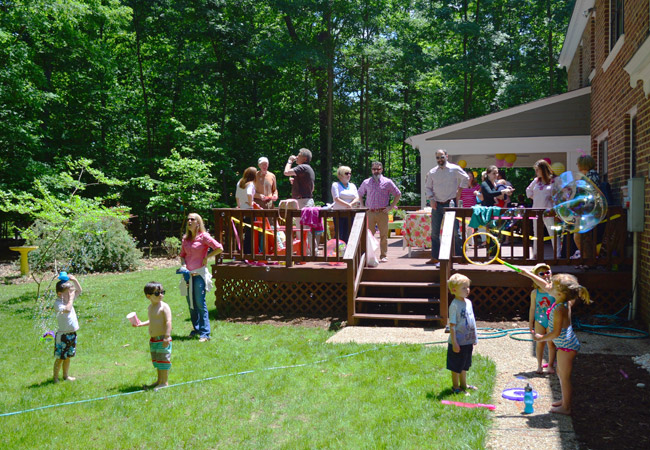 First we set up a little bubble blower…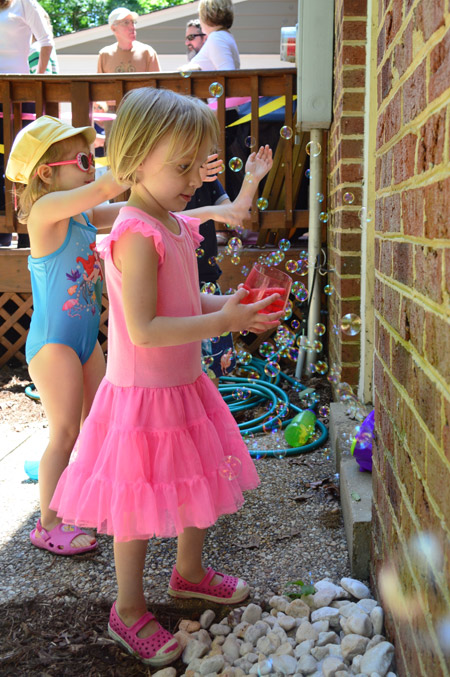 … and then John broke out the giant bubble maker, which had everyone in awe of his skills. Until several kids made bigger bubbles than this on the first try.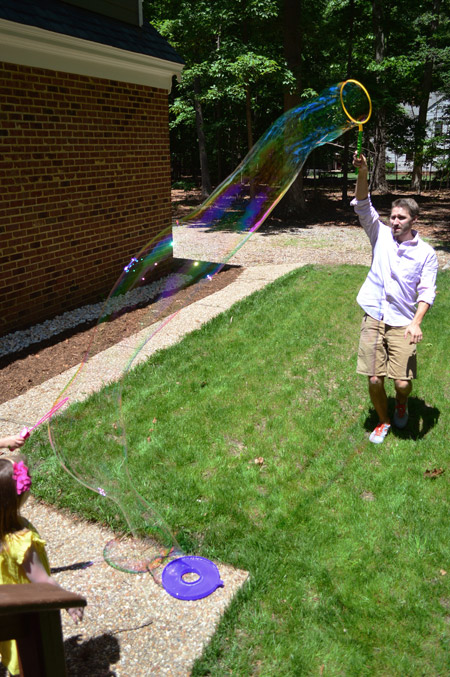 The sprinkler was especially funny to watch since it was a bunch of kids standing around filling various cups and containers with water.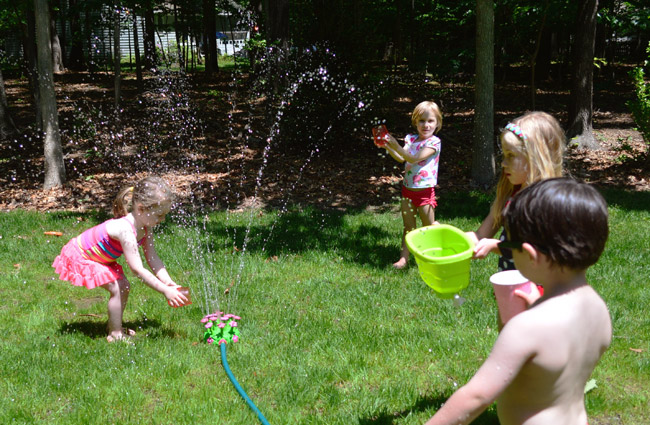 The water tables were also pretty constantly in use, so it was nice to have a few "stations" for kid activities while the adults chatted nearby without anyone being out of eyeshot.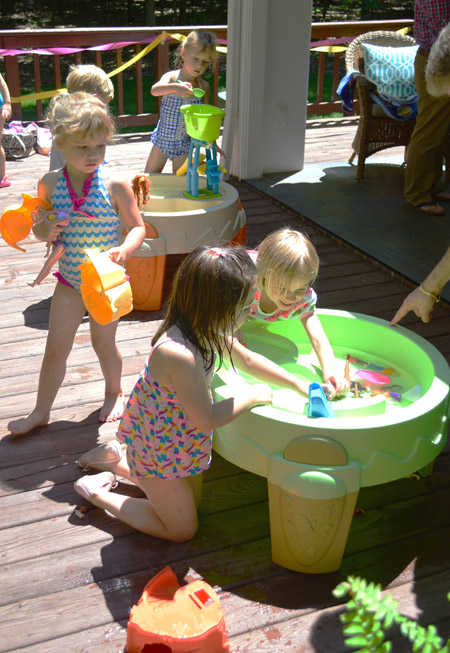 Teddy didn't get in on the water table, bubble, or sprinkler action, but he did woo his fair share of party-goers. Here's John's mom in her flamingo headband. Gotta love a lady who commits to a party wholeheartedly.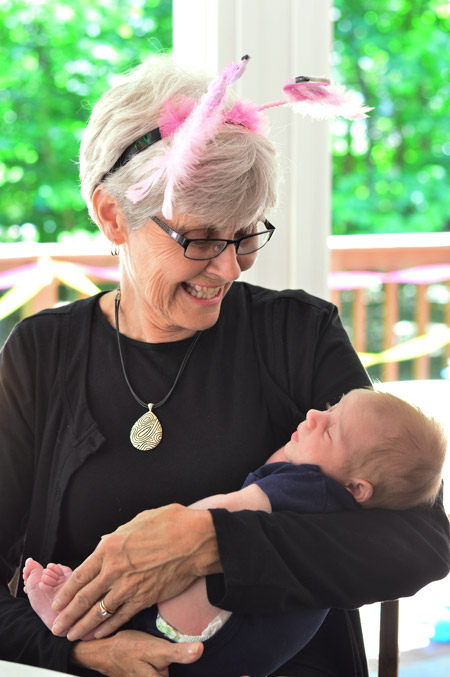 We kept the favors pretty simple too. Since one of the things in Clara's longest-party-name-ever was "Pez" I found some dispensers at the dollar store for these pink & gold containers (30 cents each from Target) and tossed in a few other treats.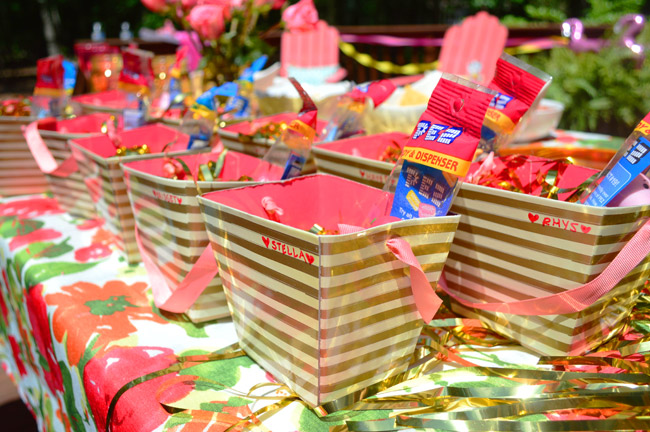 We also bought this pinata from Target but almost forgot to break it out. Some folks had already left when we ran in and got it, but the lingering crew had a ton of fun with it. Check out Louie with his gold chain and sunglasses on the right. Dude had moves.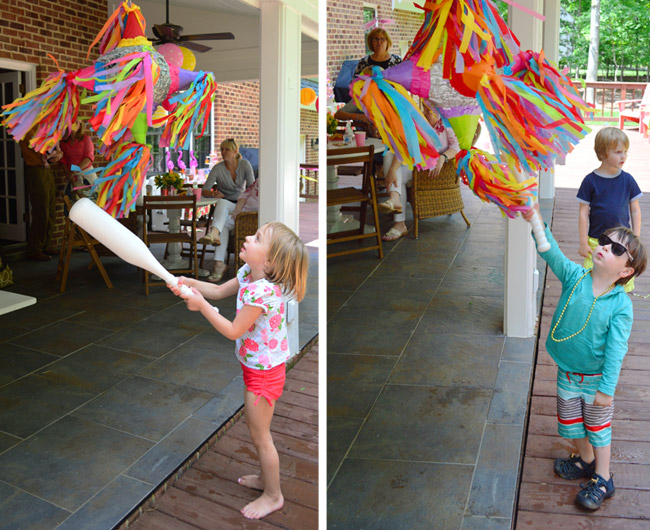 It took about 100 swings, but it finally exploded and the kids scrambled to grab as much as they could.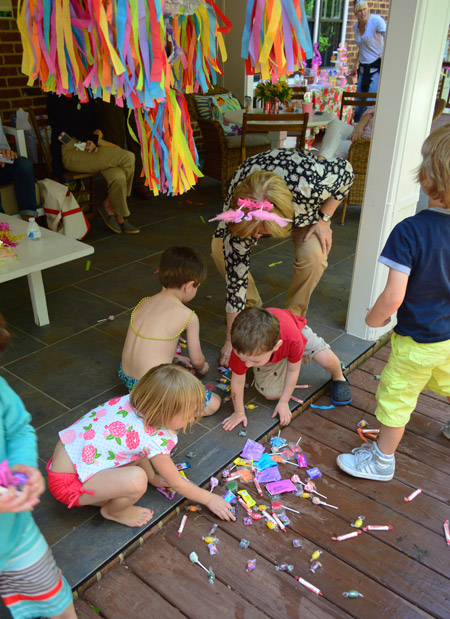 As is the tradition, we also took a family photo, which is a pretty rare event for us (one of us is always holding the camera). In this case it ended up being even more momentous than usual since it's the first photo of all four of us. Only took us a month…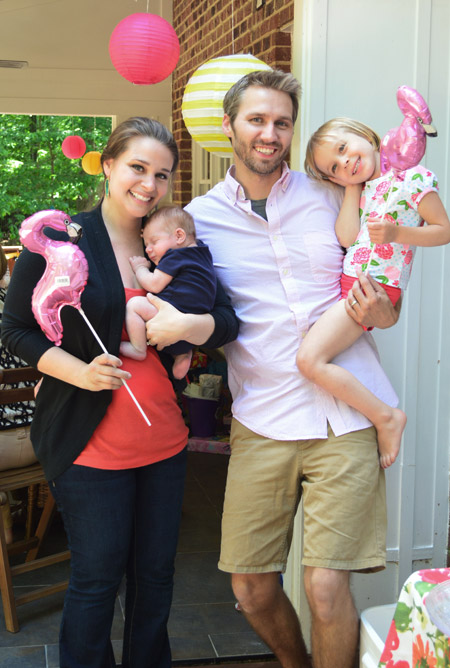 Can we just pause for a second to soak up little Teddy. He's so sweet I could eat him. But I won't. And don't even get me started on that little lady in John's arms. When did she get so big? I tell her she's not allowed to grow anymore but she just doesn't listen.
Did you guys have any gatherings this weekend? Have you ever thrown a bunch of parties at one house over the years and then moved and marveled/feared making a new place work? I've said it before and I'll say it again: a house never feels homier than it does when it's full of the people you love. In some ways even though we've almost lived here a year (how did that happen?!) this house didn't fully feel "broken in" until Saturday. Just looking around seeing everyone out on the deck and our kids running around in the grass… well, it was pretty great. Even if there were giant piles of laundry lurking inside.