We're inching right along in the kitchen (wish we could share kitchen updates every day but we're doing this thing real-time). Which brings us to our latest decision: the new counters that we'll be going with.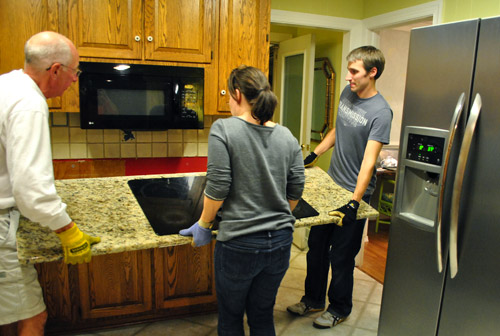 We've been debating possibilities for weeks (there are a junkload of options out there with pros and cons to each one). And ten people would probably make ten different decisions, so it can feel especially hard to hone in on the "right" thing since there are so many variables. So here's how we landed on the choice that we like best for our kitchen/family/life. But first the thing we're sad about: although we had high hopes of DIYing concrete counters (I pinned about a million tutorials) they're not a good choice for our kitchen. After talking to a few concrete experts (who actually make 'em for a living) we learned that in order to accommodate the double 12″ overhang (on two of the four sides of the giant 3 x 5′ peninsula that we'll be adding) we would need to pour the slab extra thick, which is an issue because:
our cabinets can't support that amount of weight (they'd need to be reinforced = $$$)
our floors aren't built to support that load anyway (more on that here)
Cue the sad trombone sound effect. We debated doing some sort of concrete "slipcover" (for lack of a better word- some folks just coat another countertop material with a thin layer of concrete) but it ended up having more cons than solid concrete, so we decided to explore a few other options in hopes of finding The One. But we're diabolically determined (picture me stroking my chin like an evil genius) to mess around with concrete one way or another. Maybe we'll make a long concrete dining table for an outdoor deck area that we have yet to tell you about/build (it's on the to-do list, so we'll hopefully get there eventually). But back to the kitchen…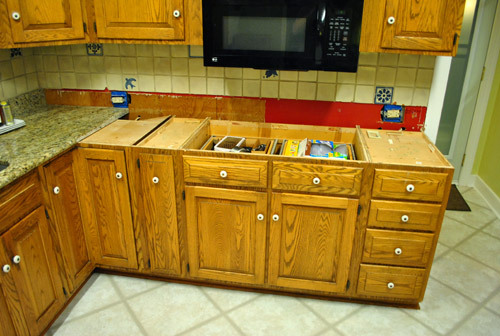 Once concrete was off the table (or the counters, har-har) we decided that hitting up a bunch of local kitchen shops as well as the usual home improvement guys (like Lowe's and Home Depot) would be a good way to see what other counter materials were out there… and what they were going to do to our budget. Back when we did our first home's kitchen we really splurged when it came to the counters (to the tune of $3,700 after a $300-off promotion), but they kind of made our kitchen and we had saved up the money to pay them off right away, so we didn't regret that choice.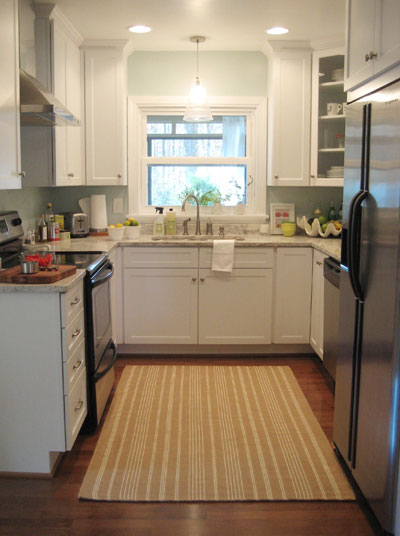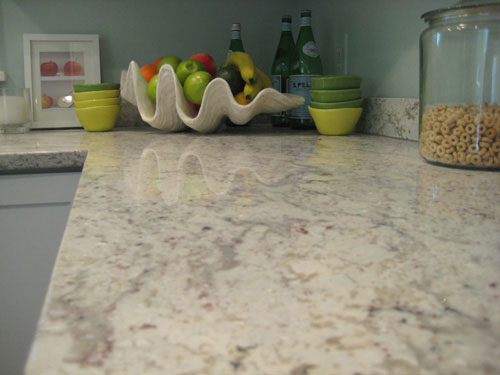 But we definitely went into this kitchen makeover vowing to come in substantially under that number. Which is funny given that we have about twice as much square footage (since we're adding a big peninsula and this kitchen is a lot larger than our last one). For example, to use the same "pashmina" granite from Home Depot that we used for our last kitchen would cost us over $7,000! Which is just not in the budget. At all.
At first we thought about butcher block (Ikea sells it so affordably and it can be stained to get a richer chocolate look). But with the dark wood counters in the adjoined office (just five steps from the stove and three from the fridge) we decided that would be too much wood. Plus we loved the slick and easy-to-wipe-down surface that granite offered us in our first kitchen. Call us spoiled. But this time we wanted to go with something different (and had heard good things about quartz, solid surface options like Corian, and even cool eco options like recycled glass). So after hitting up a bunch of places, here are all of the samples that we brought home to mull over: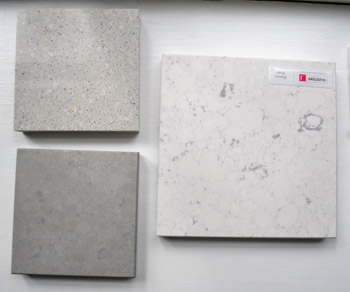 Top left: LG Viatera quartz in "Geneva" found at Lowe's (note: any of these options are probably available at a number of places)
Bottom left: Caesarstone quartz in "Pebble" found at a local spot called Kitchen & Bath Solutions
Right: Silestone quartz in "River Blanco" found at Kitchen & Bath Solutions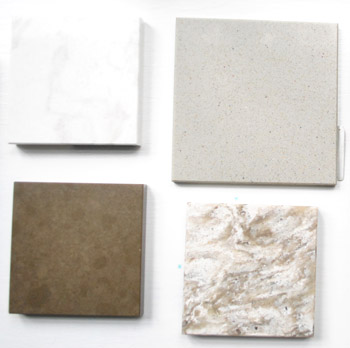 Top left: Cambria quartz in "Torquay" found at Kitchen & Bath Solutions
Bottom left: Cambria quartz in "Sussex" found at Kitchen & Bath Solutions
Top right: Allen & Roth quartz in "Alloy" found at Lowe's
Bottom right: Cambria quartz in "New Quay" found at Kitchen & Bath Solutions
Oh and here's a pile of white solid surface options from Lowe's, Home Depot, and Kitchen & Bath Solutions (the one on top is Glacier White by Corian, and there are other options by LG Hi-Macs and Allen & Roth under it).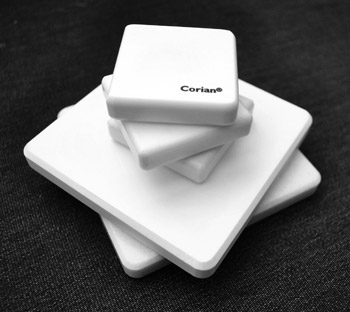 We also admired a few awesome eco options like recycled glass but they sadly weren't in the budget (at least we got cork floors and can reuse almost all of our cabinetry to keep things green).
The one we loved most? This Silestone guy (River Blanco):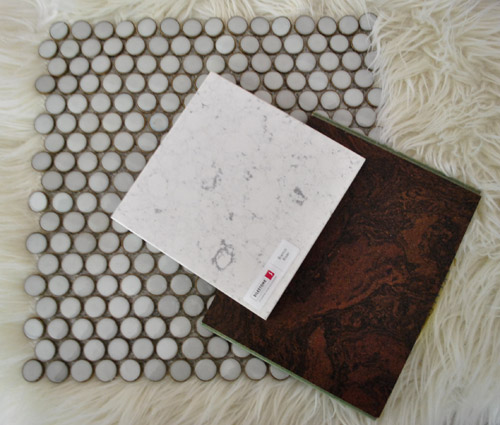 But after we learned that it would be over 5K for those counters alone (!!!), we knew it wasn't meant to be. But don't cry for me Argentina. It all worked out in the end and we found something that'll be a great choice for our kitchen/family. The winner? Glacier White Corian: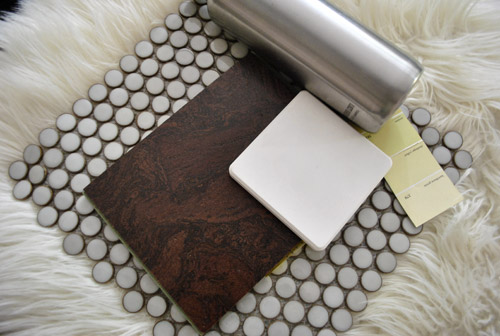 We're in love and have all but forgotten the 5K option that we once called a favorite. That's actually not a white Corian square pictured above, but that bigger white tile was the same color so it represents the new counter better than a tiny Chicklet-sized square sample. Oh and the stainless steel bottle represents our new stainless appliances and the paint swatch is the current wall color so you can see how those things layer in with other things like our backsplash tile and the mocha cork.
Why did it win? So many reasons:
It's thousands cheaper than most other options we priced out ($38 a square foot at Lowe's – compared to many other options shown above that were in the $80-100 per square foot range). We also have a 10% off "project coupon" that arrived in the mail from Lowe's and will get 5% off on top of that when we use our Lowe's credit card (you know we love a deal)
John's sister has lived with Glacier White Corian in her kitchen for the past 5+ years and loves it and has had zero issues (seriously, she wants to marry it)
We are keeping our existing deep stainless sink and are not going with an integrated Corian sink (we have heard they can be harder to care for, and John's sister has a stainless sink with the Corian tops and has loved that combo).
It's easy care (Corian is nonporous, which means stains do not penetrate the surface). According to the company, it also resists the growth of mold, mildew, and bacteria (John's sister has a teen, a tween, a toddler, and a big dog – and she has no scratches or stains to date)
We already use trivets and wood cutting boards to set down hot things (we're paranoid) so following those steps with Corian should be no sweat (John's sister hasn't had any issues with that in five years of use either)
It's lighter than granite, quartz, concrete, etc (so our cabinets and floor joists can handle it, no problem)
When installed, there are no seams, if done correctly (which is definitely appealing since the seams in our current granite tops drive us bonkers)
It reflects lots of light, so it's great for dark windowless rooms (like our kitchen!)
I know it might sound really bland to do white cabinets with white counters, but many of the rooms that we love in our inspiration files have the white on white look. And given our recent backsplash choice it'll all hopefully make sense (the gray-green penny tiles will stand out along with colorful items on our open shelves while the counters and cabinets are classic & clean).
We're also toying with the idea of some sort of subtle color on the cabinets (maybe a soft taupe-gray like this kitchen that we crashed a while back). Not sure where we'll end up, but we'll definitely keep ya posted! What about you guys? Has anyone else decided to go with Corian? Or concrete? Or quartz? Or granite? Or butcher block? We'd love to hear which counter you picked for your kitchen! There are so many delicious options out there…
Psst- We announced this week's giveaway winner. Click here to see if it's you.