We recently passed the one year anniversary of moving furniture to our beach house, so this week we're looking back on how we kept our sanity while decorating an entire house all at once. It made us realize that there are some flaws in our usual method of taking things slow and going one room at a time – so if you're struggling with your own home, we have some ideas. We're also recapping our trip to Chicago for the Domino Magazine Awards. Plus, I defend my take on navy cabinets and smart locks while Sherry buys something exceptionally ugly for our house.
You can download this episode from Apple Podcasts, Google Podcasts, Stitcher, TuneIn Radio, and Spotify – or listen to it below! Then use this page to check out any links, notes, or photos we referenced. Note: If you're reading in a feed reader, you may have to click through to the post to see the player.
What's New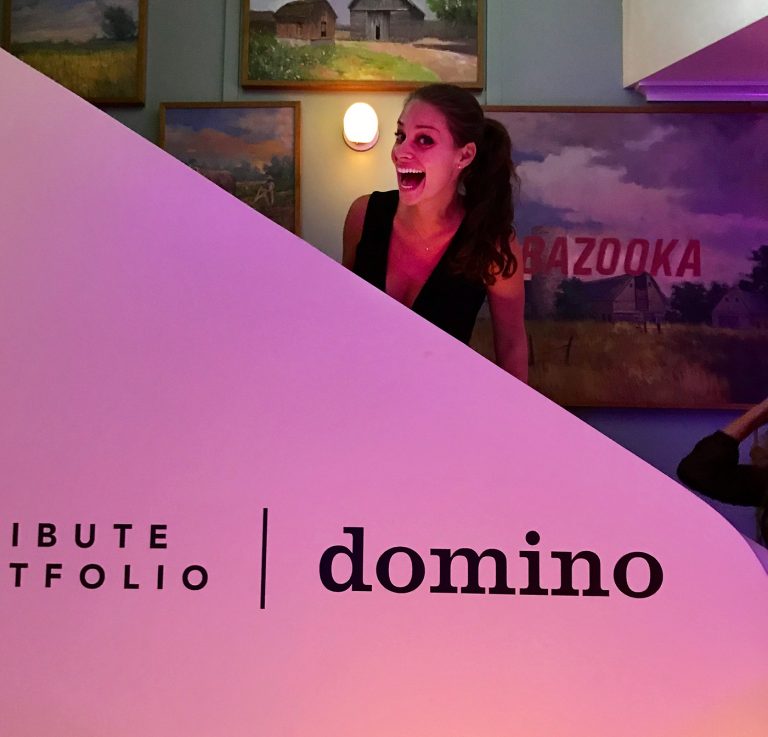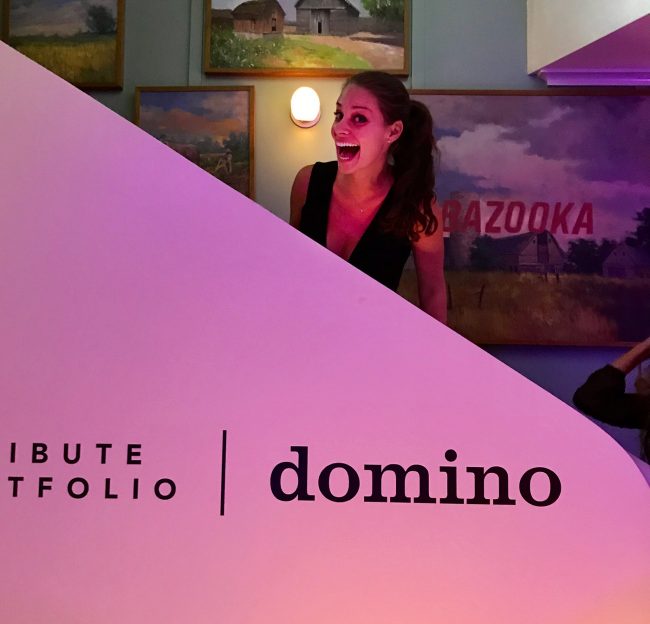 Thanks again to everyone who voted us Best Renovation Blog (!!!) in the Domino Magazine 2018 Design Blog Awards! We are so flattered, humbled, and grateful. Please check out the other winners below, too. We're in great company!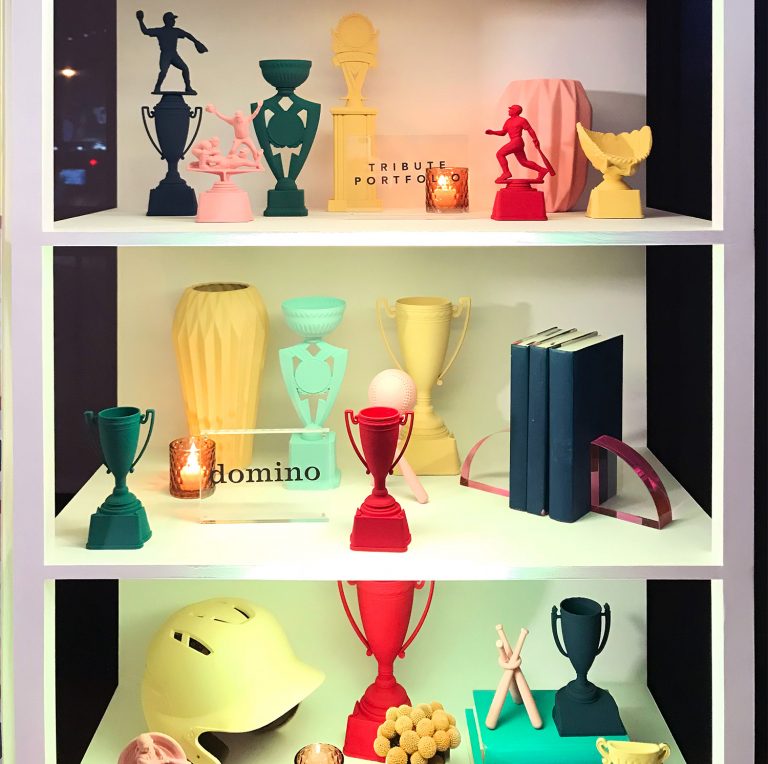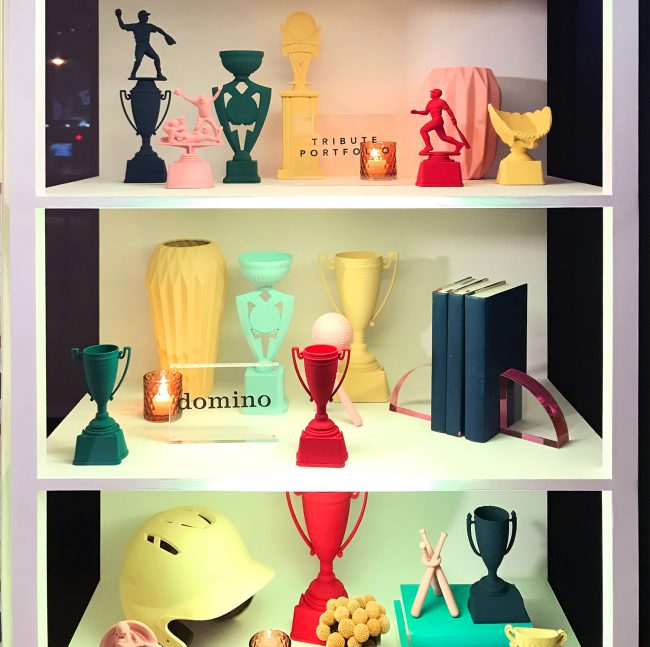 We realized MOST of our "photos" from the night are actually Boomerangs (you know, those short GIF-like videos like the one below) so your best recap of the event may be by checking out this Instagram post where Sherry posted a bunch of them that you can scroll through.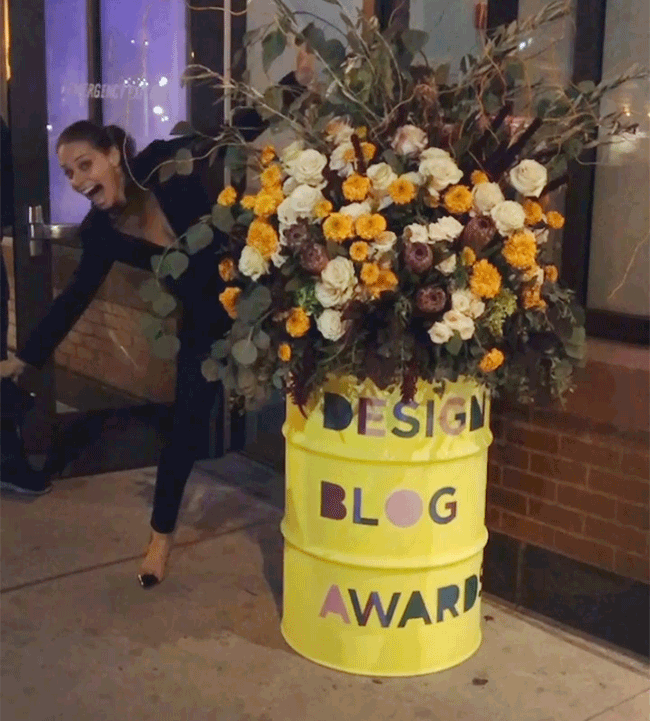 Updates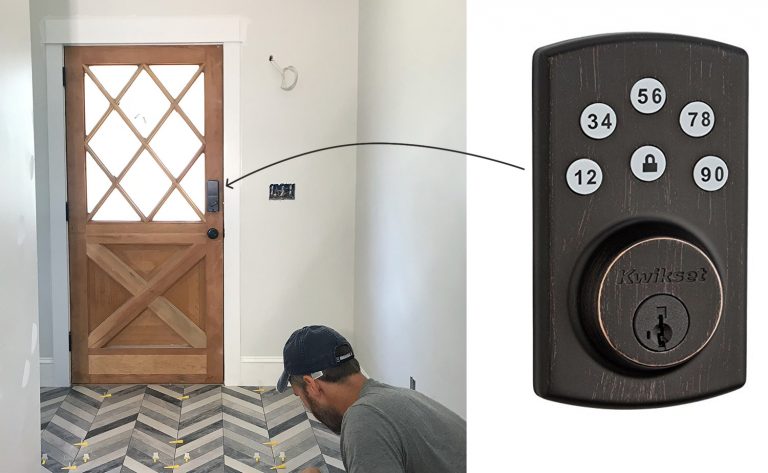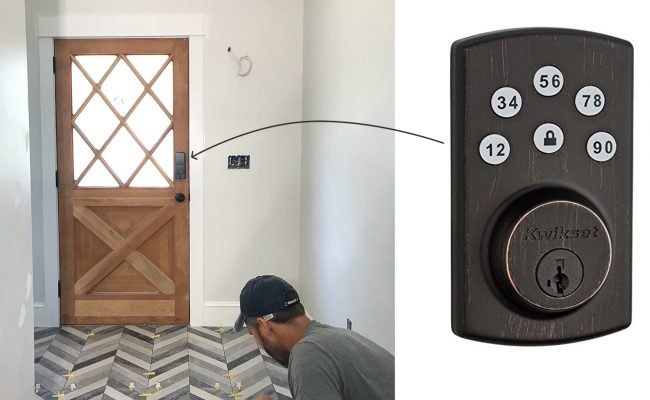 That's the photo of tiling the duplex mudroom that had everyone wondering if we'd gotten a smart lock (which I ranted about back in Episode #113) but it's actually just this keypad lock which doesn't have any smart/wi-fi/Bluetooth features. Don't be fooled by the "SmartKey" descriptor in the listing – that just means you can rekey the lock yourself to match any other existing Kwikset keys you have.
It's slightly larger than your typical door hardware, but we appreciate that it matches the rest of the doorknob in color (we went with oil-rubbed bronze, but if you buy the nickel or brass versions, the entire thing is that finish).
If you'd like the details on that gray tile we used above, here you go.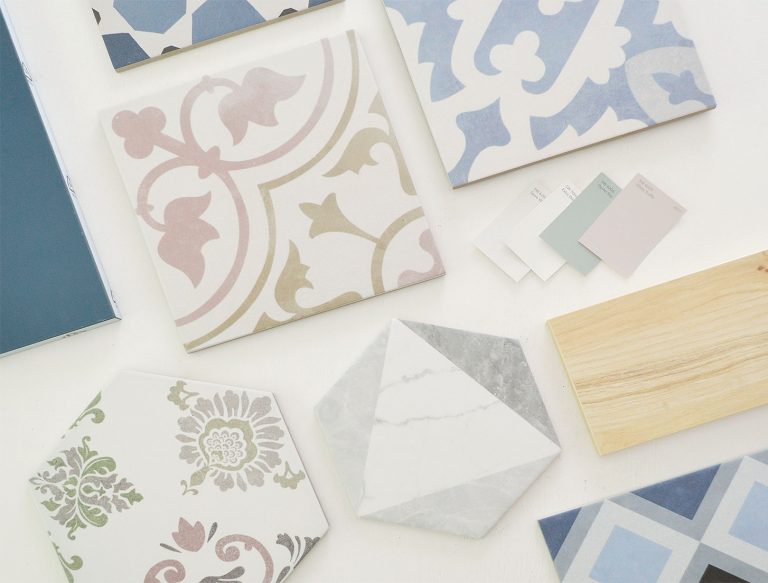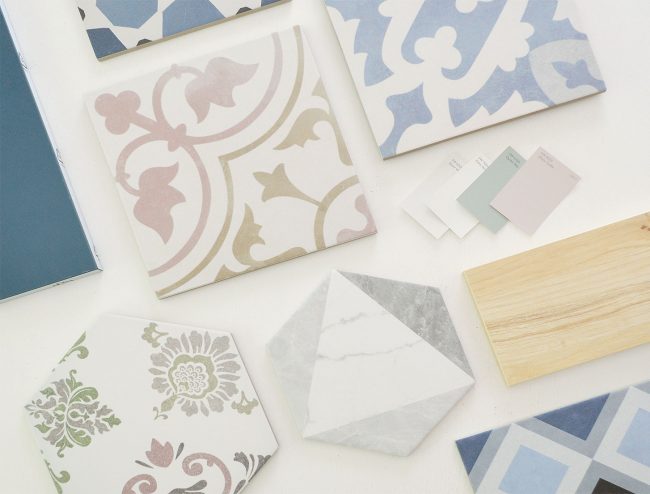 Also, in the top left of the photo above, you can see the cabinet color that I egregiously called "navy" back in Episode #111 (for source info on all the other tile in the photo above, click here).
But maybe what I meant was that it's closer to "the new navy" as Apartment Therapy recently speculated after spotting a growing peacock blue trend.
Our cabinets probably aren't green enough to be dubbed a true peacock blue (Sherry's description of a grayed out muted teal might be closer), but we've used peacock blue a lot in the past (like in our last home's guest room and dining room)
And lastly, if you missed the original discussion of solving our stinky house problem with a crawl space dehumidifier, you can catch it back in Episode #103.
Decorating A Whole House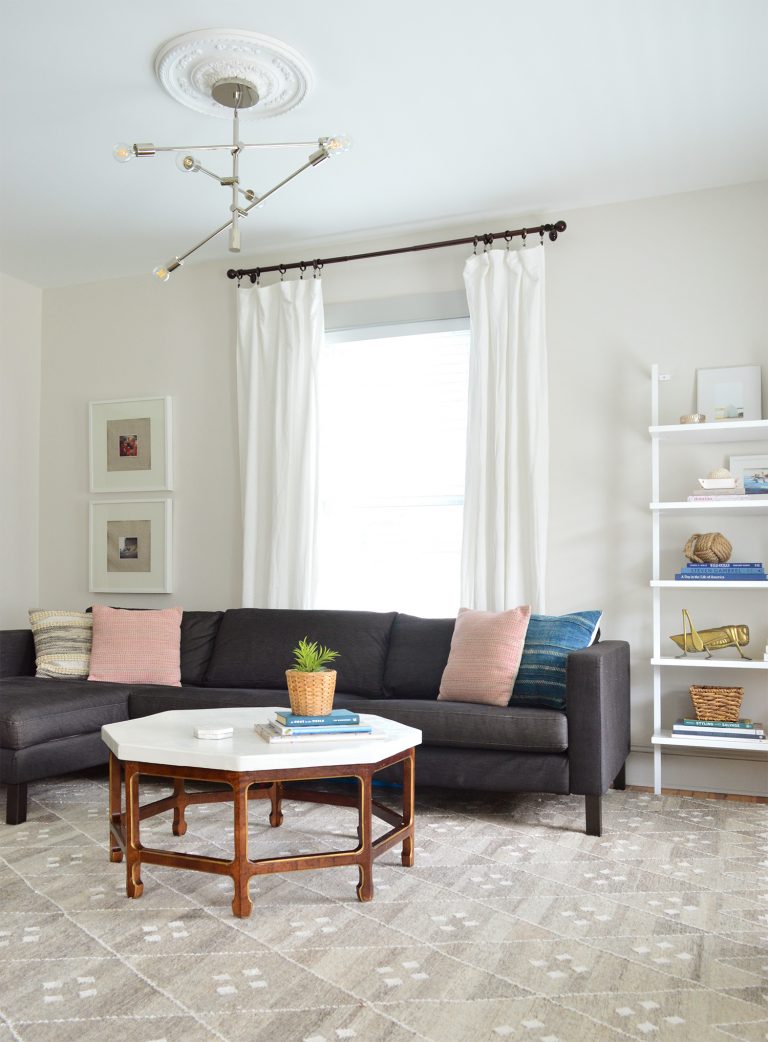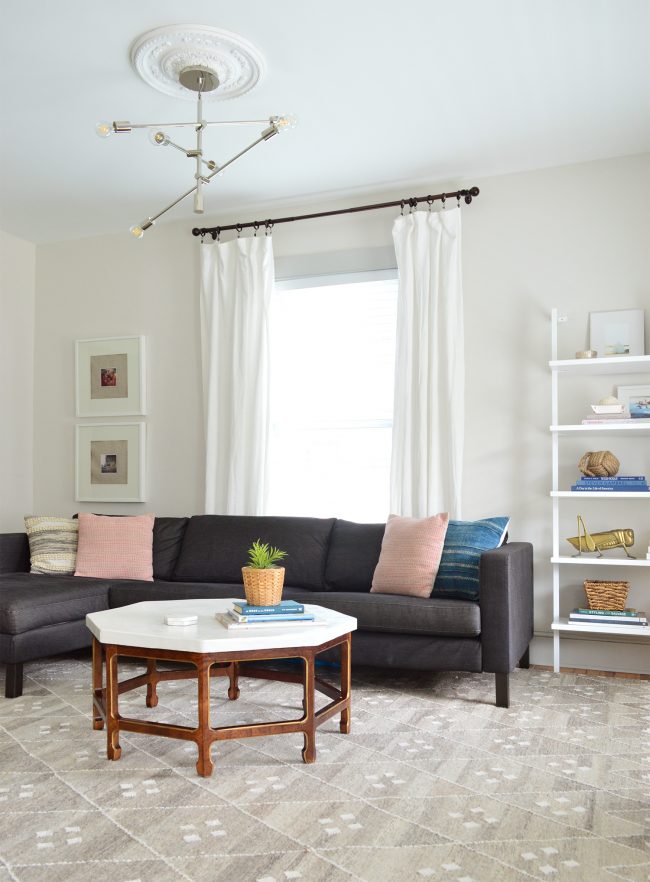 chandelier / ceiling medallion / rug / bookshelf / curtain rod / curtains
It's been a little over a year since we first moved furniture into the beach house so it's been fun looking back at the process and the progress – like this is what the living room looked like the day that we unloaded the moving truck.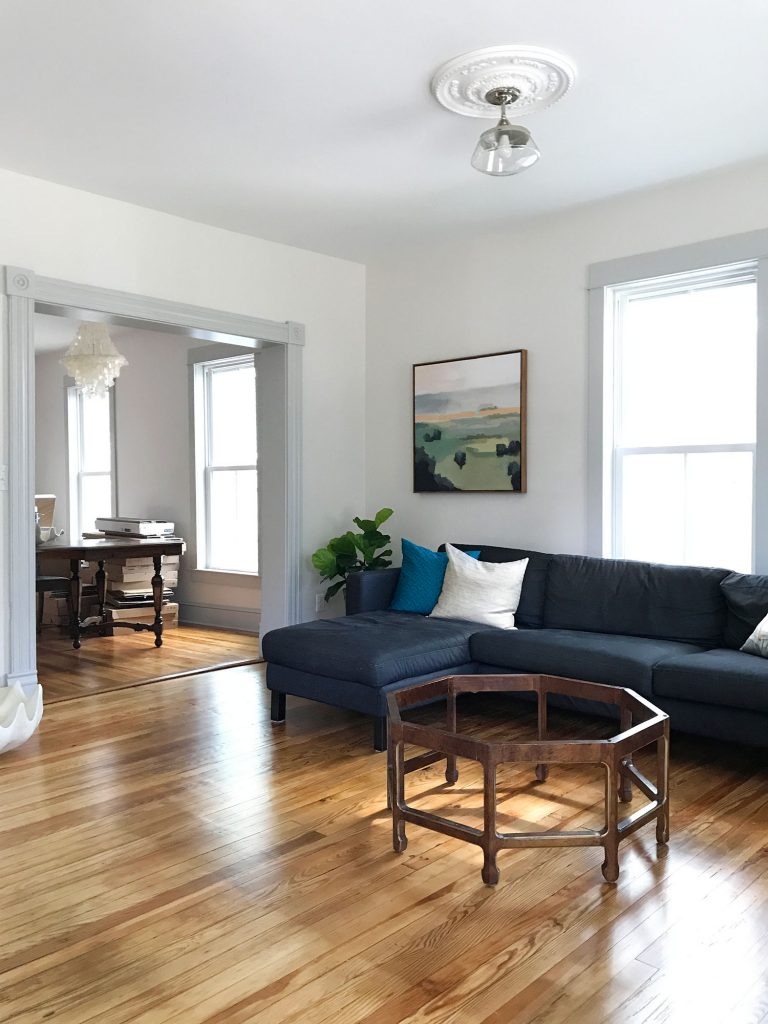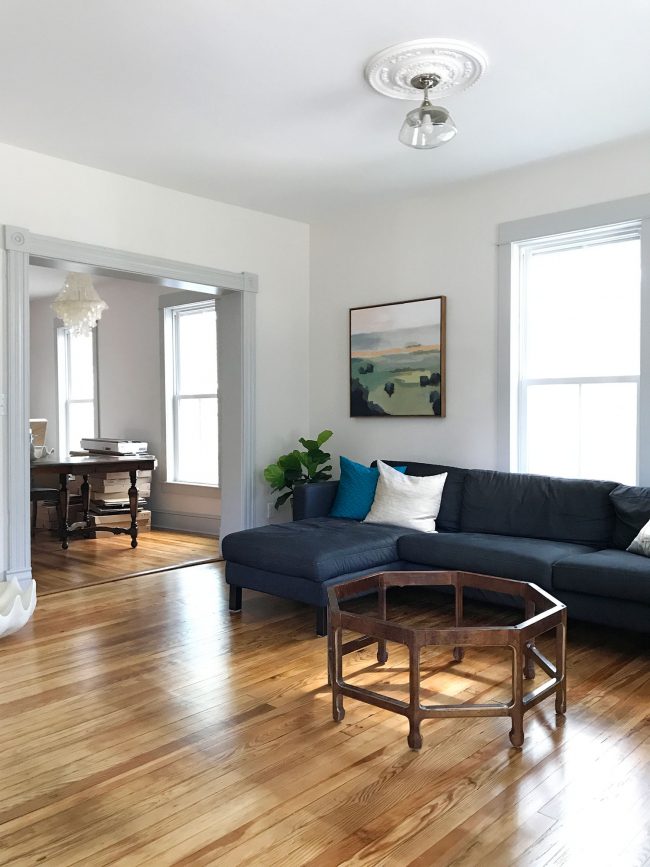 It's funny to look at what stayed right where it landed (like the coffee table base we got from a neighbor – which we later finished off with a DIY concrete top) and what got moved around (like that art above, which now hangs in the front bedroom).
Here's another angle that demonstrates how we were able to shuffle things around easily. This is how the main bedroom looked right after move-in day: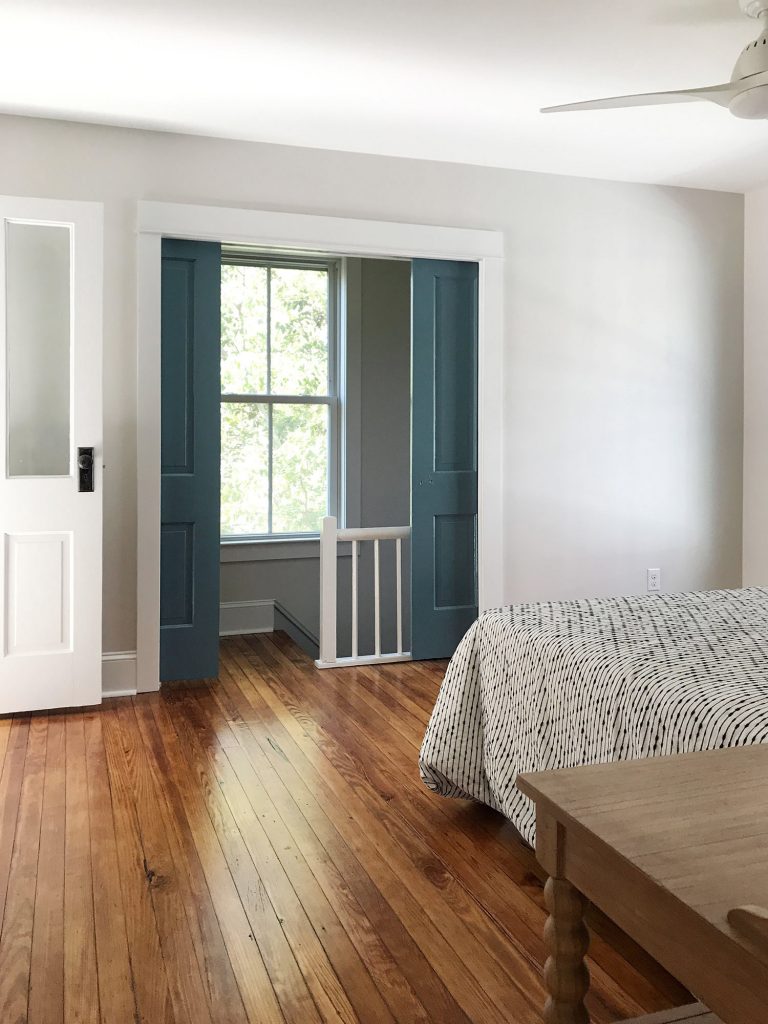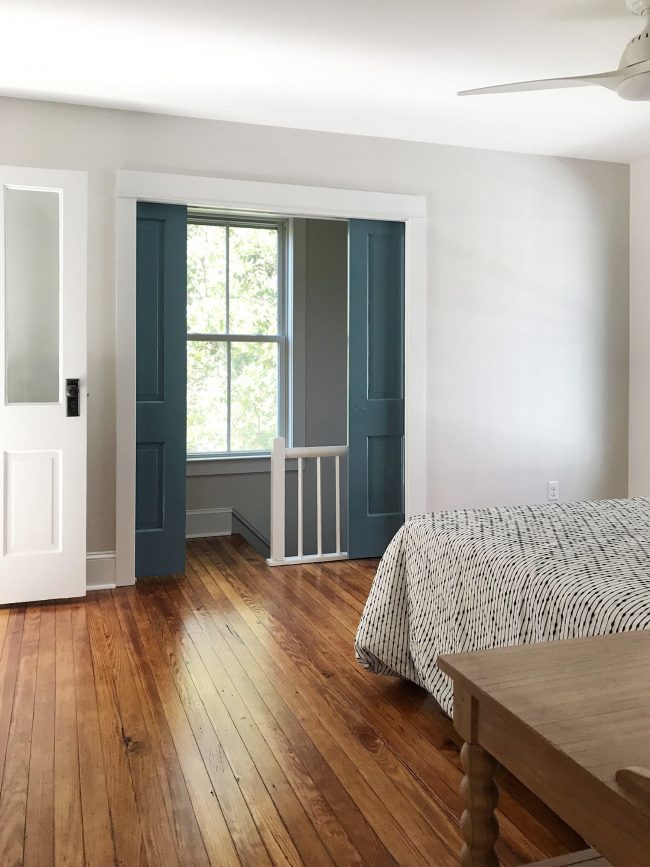 And now it looks like this. The original bedding went into the middle bedroom (and got flipped upside down to calm the pattern a bit) and the original nightstands are now in the front bedroom, where they have more breathing room. Also, the blue rug that's in here is one that we bought for the living room but once it arrived we decided we liked it better up here.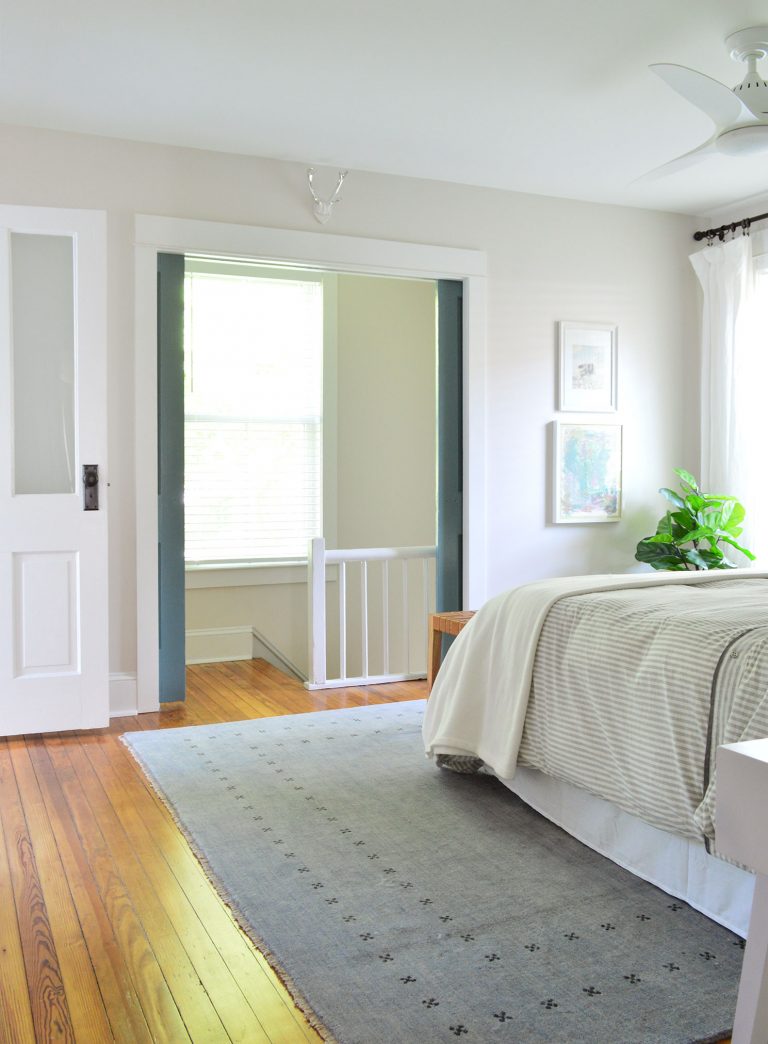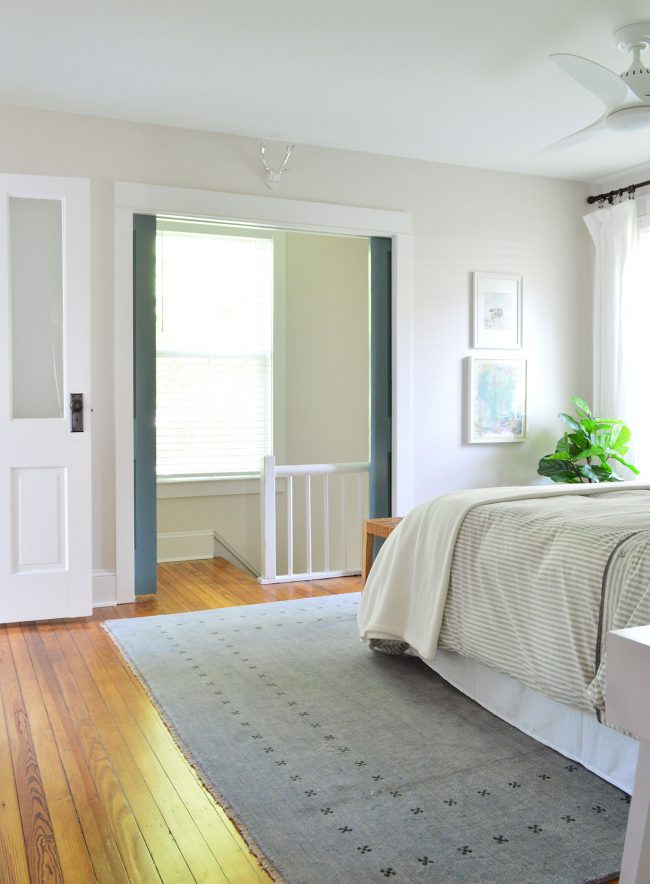 rug / bedding / nightstand / fan
We also mentioned in the podcast that we could vividly remember a few old blog posts where we deeply deliberated single decisions like a light shade, a kitchen rug, and even bath mats. Man there's "a lot of look" in this image below. Thanks 2012!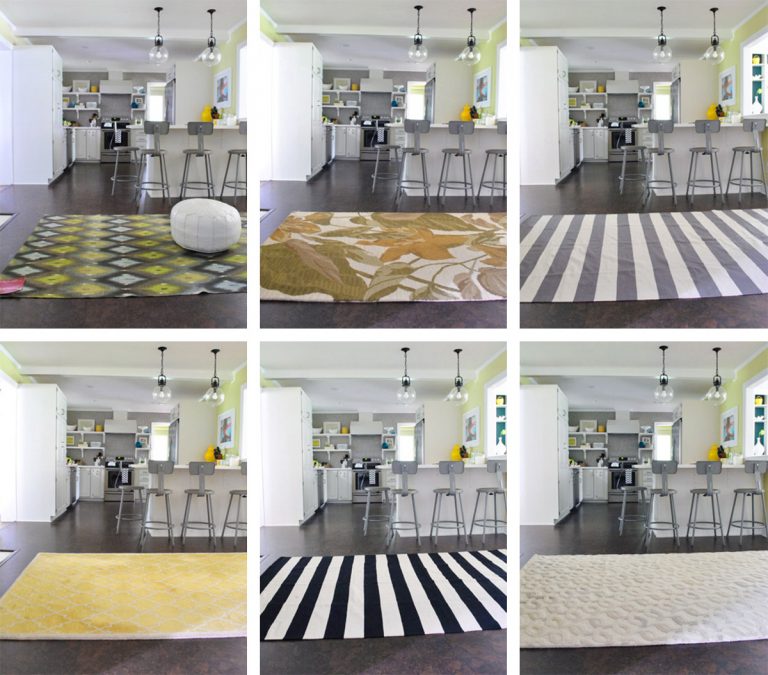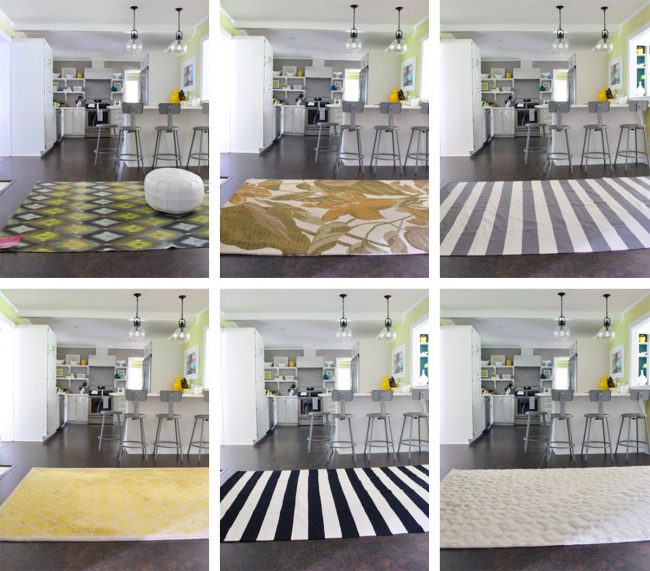 And like we said, we're working on a big before & after post of the entire beach house (here's a sneak peek below) but until then you can see most of the rooms in their final state (and all of the sources that you might ask about!) on our Shop Our Beach House page.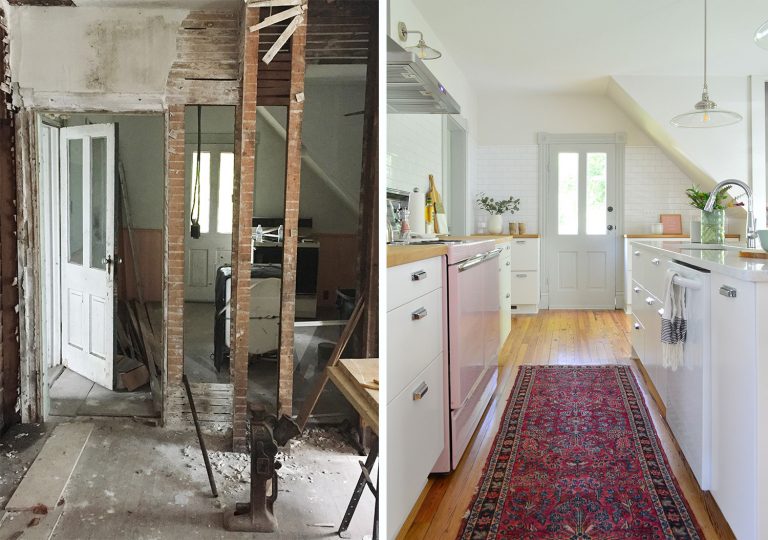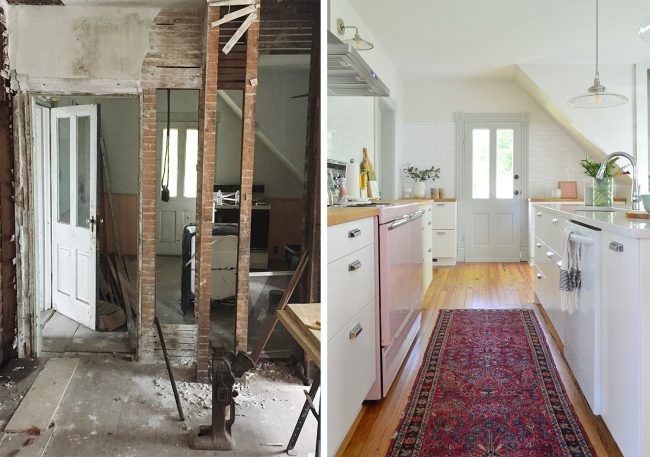 We're Digging
Don't look now, but Sherry's watching Housewives in the mirror (it perfectly reflects our TV for her – ha!)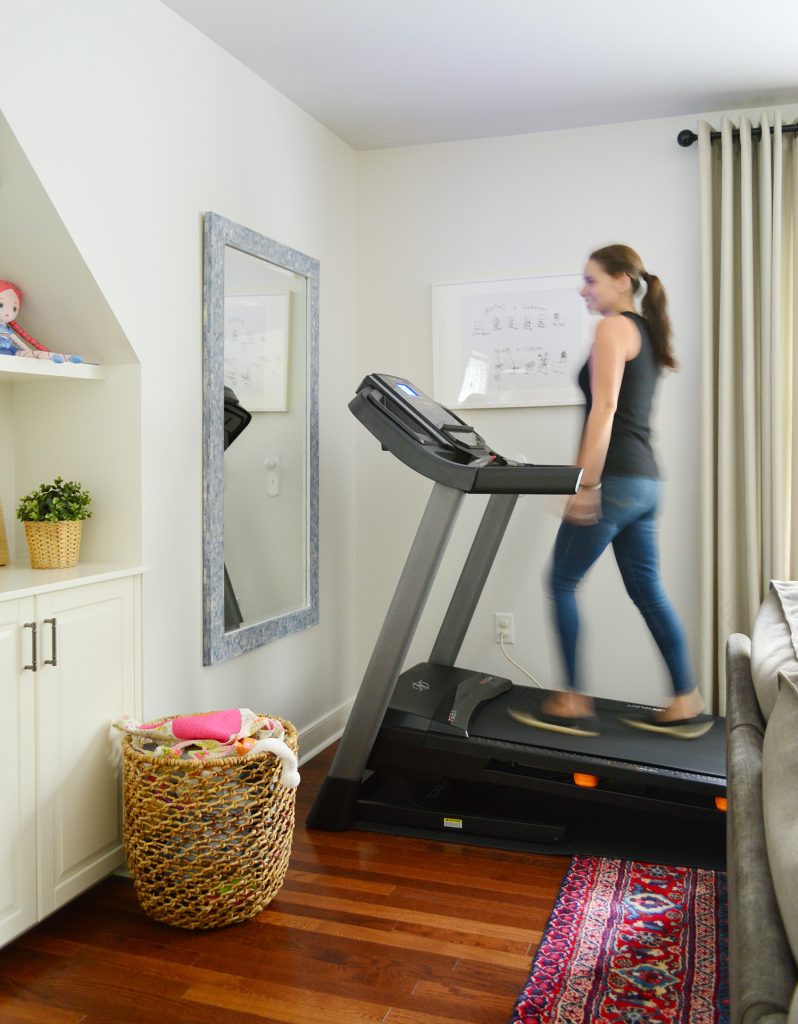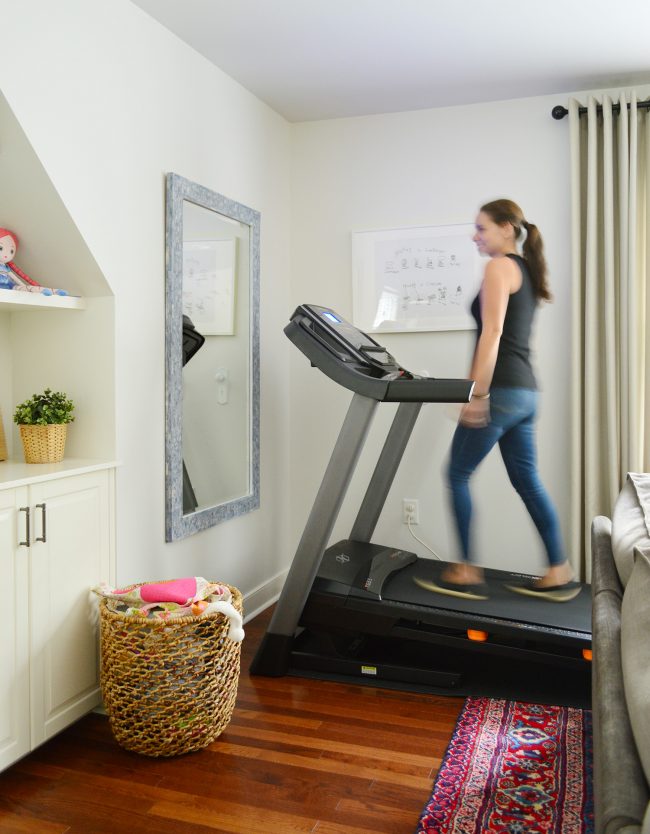 There's the NordicTrack Treadmill we got for our bonus room (we're considering it Sherry's early Christmas present due to her newfound love of walking). She still much prefers her walks outside, but when it's too cold or rainy she hops on here and turns on Housewives.
I noticed there's a code on the listing at the moment for "free expert set-up." I would totally take advantage of that! It was such a pain for us to wrestle it up the stairs alone, and assembling it ourselves was totally doable, but it took about an hour and required two people at certain moments.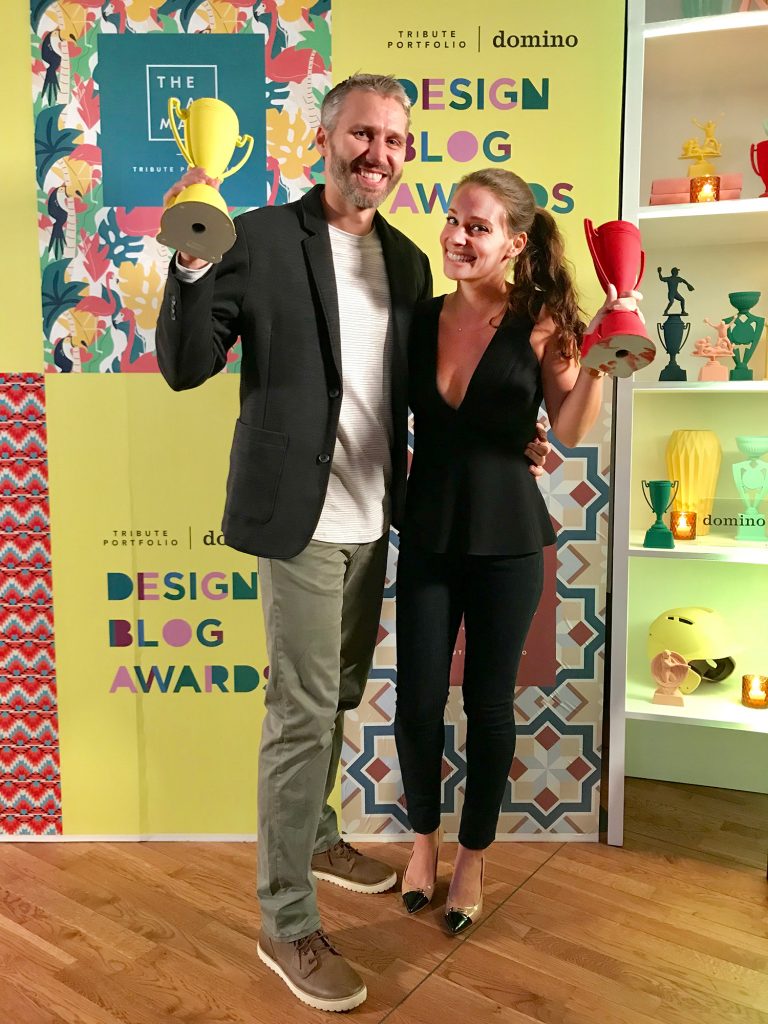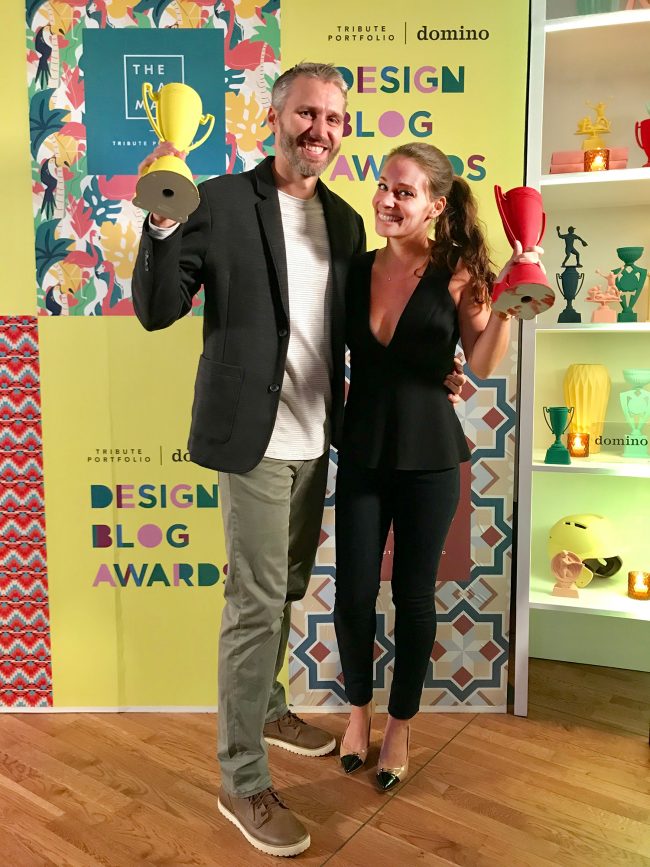 If you're looking for something we've dug in a past episode, but don't remember which show notes to click into, here's a master list of everything we've been digging from all of our past episodes. You can also see all the books we've recommended on our Book Club page.
And lastly, a big thank you to Grove Collaborative for sponsoring this episode. Sign up at Grove.co/YHL to receive a trio of Mrs. Meyers cleaners and a set of walnut scrubber sponges, or if you're already a Grove customer, visit that link to still get the free sponges!
Thanks for listening, guys!
*This post contains affiliate links*