Ah, the rugs in our kitchen. They were $34 from The Company Store ages ago (maybe 2008?). They originally lived in our first house's kitchen and third bedroom, and they're awesomely durable and neutral – but they don't really do anything for the new kitchen (in person they're a little too small and sort of clash with the avocado walls since they're so honey-oak-colored). So "find a new kitchen rug (or rugs)" has been on our lingering kitchen to-do list for the last couple of months.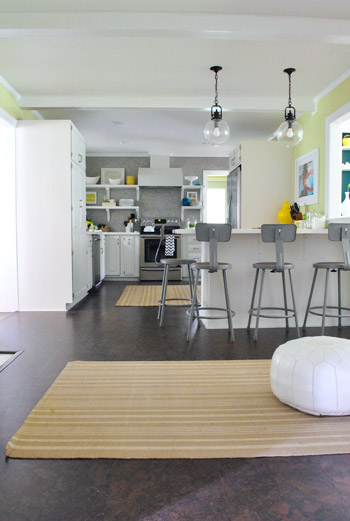 We decided to tackle this rug situation – well, more like it decided to tackle us – on a recent stop at HomeGoods. Sherry found a pile of awesome 5 x 7′ flat weave options for just $49 each. We saw potential in a lot of them so we lugged them home for what Sherry cheerily dubbed our "kitchen rug fashion show." As for me, I prepared myself for lots of rug moving – so a disclaimer upfront that the rugs in the pics to follow aren't perfectly placed, nor are they wrinkle or tag-free (we just threw them down, gauged our reactions, and snapped pics for ya).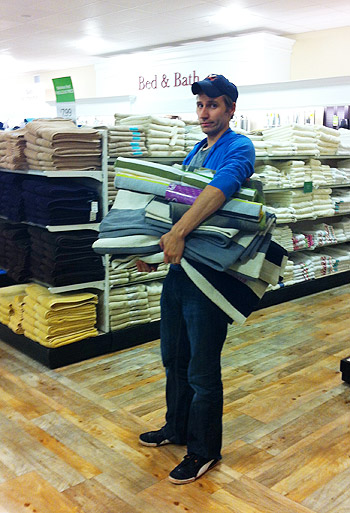 In an attempt to spare myself a lot of work, I suggested we start with what I thought was guaranteed to work: a bold black and white stripe. In my head this was the perfect solution. It became quickly clear that I was wrong.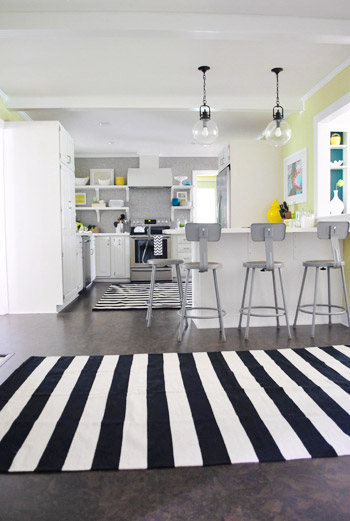 Even though the pattern was simple, the high contrast black versus white was very visually demanding. We thought that eliminating one of them (in the cooking area) might help, since we'd been leaning towards just having a rug on the fireplace half of the room anyways (to define that area is the cozy living spot in the room). But…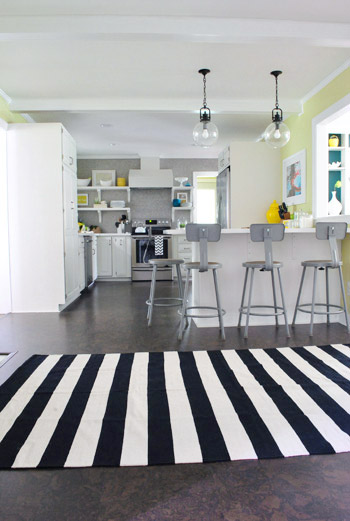 … that change wasn't enough to save the black & white rug as an option. In person it was even crazier/more chaotic to look at. But it did confirm that we wanted just one rug in the room (in the living part) since they would have to run different directions to make the most sense – and almost any rug would look odd running length-wise in the cooking area and width-wise in the casual fireplace zone. Eliminating the competing pattern (since they'd be oriented in different directions) also helped to reinforce that the fireplace side was a living / relaxing space.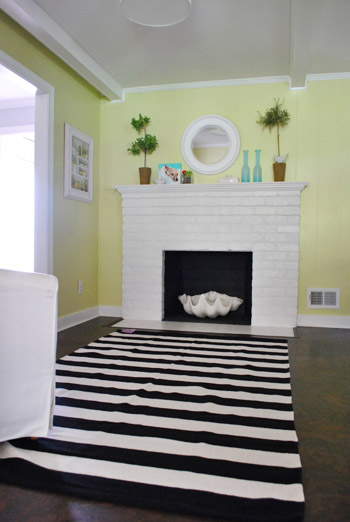 Our next try was with a similar option HomeGoods had – a more subdued gray on white stripe (I wasn't ready to give up on stripes).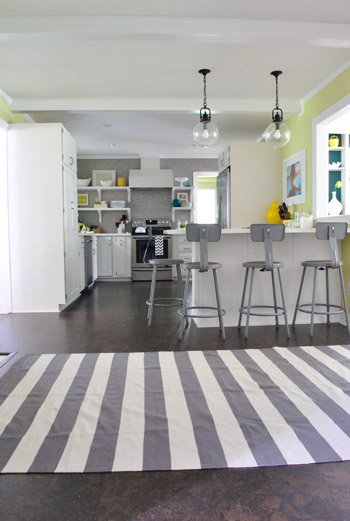 We did like the gray because it sort of carried the gray backsplash over from the other side of the room. But I think it put the nail in the coffin for large stripes. It was still too high contrast for the space and felt sort of cheap and just plain wrong in person.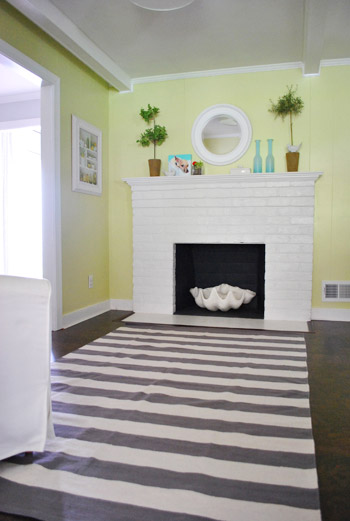 With my theory about the stripes sufficiently proved wrong, Sherry suggested that we try her favorite rug. It was an ikat-ish diamond pattern that was made up of some of our favorite colors. She also thought the dark colors would keep it from being too jarring against the dark floor.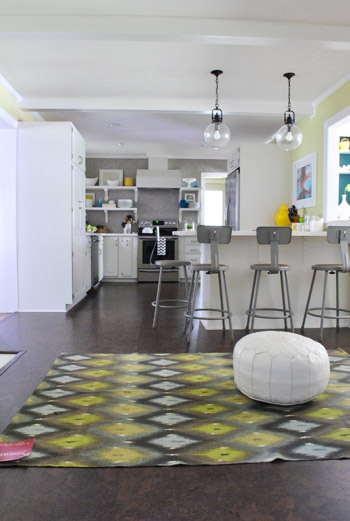 It did seem to work very nicely with the dining room curtains, which are visible from one view (check out Sherry's hastily draped dishcloth pillow cover in the corner to help tie things in) and it helped her visualize the potential color scheme of that side of the room.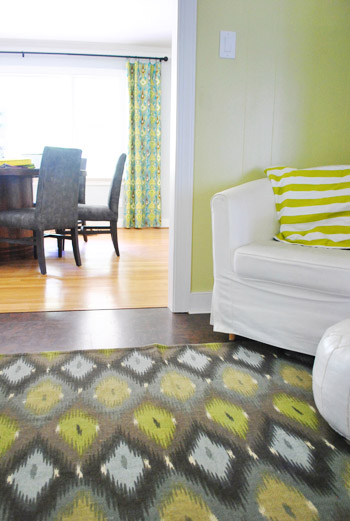 But ultimately this rug got the axe too. The pattern felt too distracting – perhaps because it was still relatively large scale – and the colors felt a bit circus-y in real life (it actually photographs better here than it looked in person). Sherry was bummed, especially because she had found a matching runner for the laundry room (which also has the same color scheme as the kitchen and is attached to the other side of the room).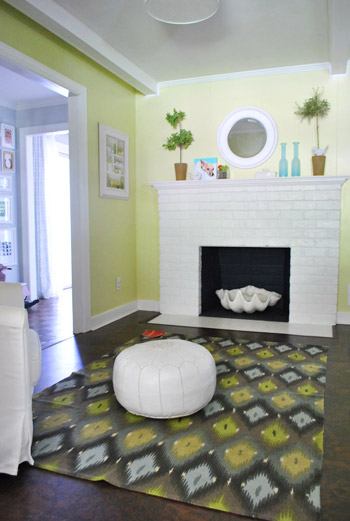 By this point we had tried our entire bounty of HomeGoods rugs (which all got returned), and were starting to be convinced that a bold pattern was not the way to go. So we turned to our stash of existing rugs that are not currently "in service" around our house (aka: shoved in the playroom to use either in rooms we haven't touched like the sunroom or playroom – or to be yard saled/craigslisted eventually) to see if any of them might work – even though we knew that would be a long shot. For instance, here's the Pottery Barn rug that used to live in our office: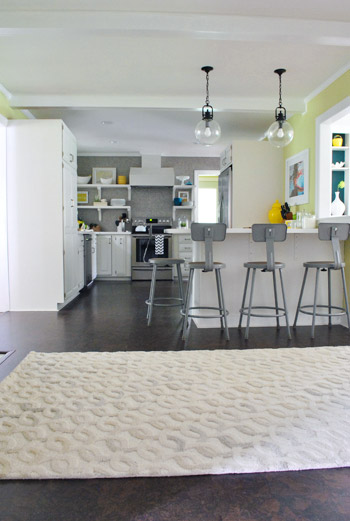 Meh. We deemed it too light – and the off-white color just looked dirty in comparison to the white counters and cabinets in the room. Back to the closet for you!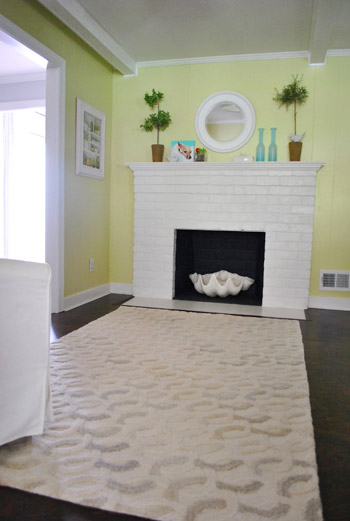 And even though we were over the in-your-face patterns, we also gave the old Pottery Barn "Clara" rug from our old den a shot – just to be sure.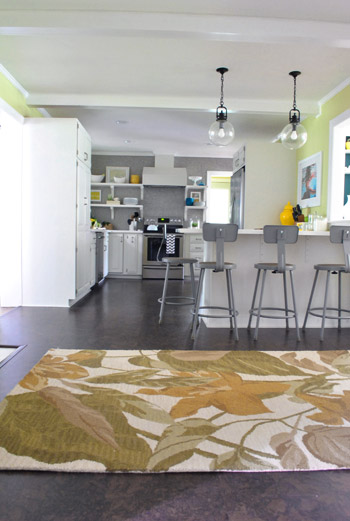 We still love it as a rug, but the pattern and color are totally wrong for our kitchen. Once again (like the original jute rugs from The Company Store) the honey-wheat tones were all wrong with the soft avocado walls (which we hear can read differently on many monitors, so our apologis if they look yellow or neon green – they're really the color of the inside of an avocado- very light and subtle). Sorry Clara rug.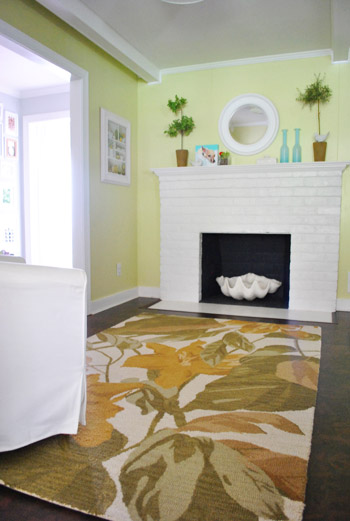 At this point we started pilfering things from other rooms, like our all time favorite yellow moorish Pottery Barn rug from the guest room.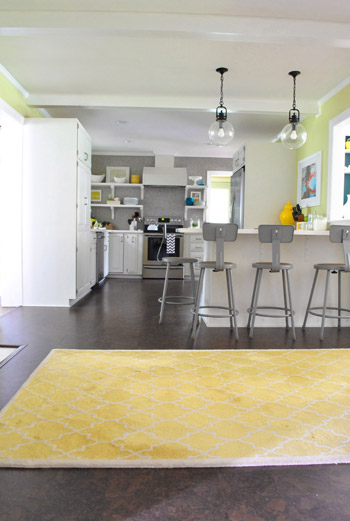 We were actually feeling this one a little bit. We liked that the sophisticated pattern wasn't too high contrast. It didn't scream for attention like a lot of the other larger-scale rugs had.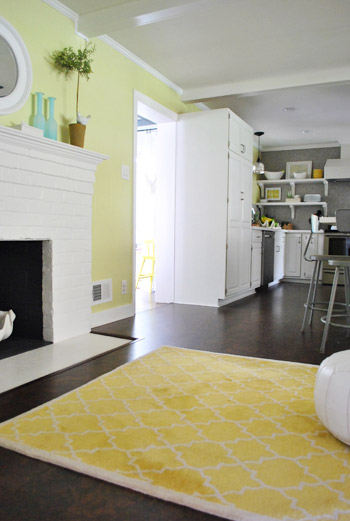 Our only hang up was that the yellow clashed with the walls. Even though we love the other yellow accents around the room, it just wasn't working (it was a little too orange in person while the walls have green undertones). Of all of the colors we tried, we actually thought that something gray could be the most natural for the space (it's not clashy with the walls, it would tie into the wall of tile on the other side of the room, etc).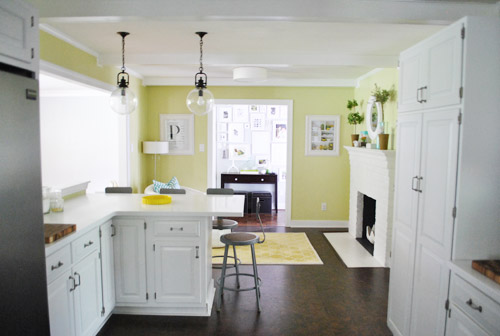 The yellow rug is still living in the kitchen just-for-now, but we've both agreed it's not permanent. So I guess we still have more rug shuffling in our future, but at least all the shuffling in our past wasn't a waste. We learned some important things about what we're looking for: mainly a light, subtle not-too-large-scale pattern – possibly in gray to reference the backsplash and bring that over into the fireplace side of the room. We actually used this criteria to hunt down another rug that we think will be perfect. Cue the choir of angels. The only sad thing is that it's on order – but once it arrives and we have photos to share, we'll be able to tell you whether or not we were on the right track. Fingers crossed!
In the meantime, what did you guys do this weekend? Any rug shopping? I hope there was lots of family time too. We got to log some of that – and although four children under the age of three sounds like a recipe for disaster, it was great to have everyone together.