Update: We brought in a few of the items on our to-do list below and it changed everything! Well, not everything, but a few things came out (the brown blanket is history, at least in this room) and a few other things moved around. Gotta love those last minute tweaks. Check out the whole shebang here.

Here's what things are looking like right now (well, as of an hour ago when we snapped these pics and uploaded them):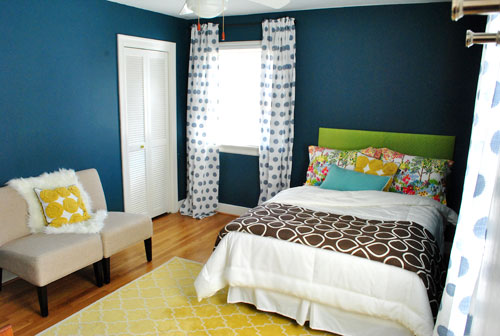 Which is definitely an improvement on Monday's more spartan look…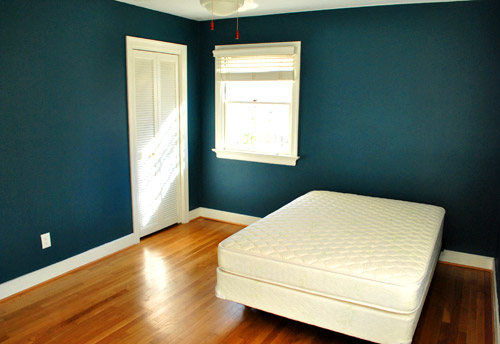 … but we still have lots to do (an quite a few things aren't in their "final resting place") but here's what we've checked off so far:
Get all of the junk out of there (thanks to a Habitat for Humanity ReStore pickup & moving stuff into the playroom)
Buy a mattress & boxsping along with a cheap-o bed frame
Dress said bed with already-owned bedding
Add shower curtain & other bathroom essentials (towels, new toilet seat cover, etc)
Paint the room
Hang curtains
And here's our outstanding to do list:
Hang something above the bed to balance out the big window to the left (probably a large round mirror to soften the harsh angles)
Add a nightstand & table lamp (here's hoping we actually get around to this one)
Put something on the empty bookcase between the bathroom door and the bedroom door (which will eventually be switched out for a proper dresser that we can use to store a ton of stuff)
Wash and hem the curtains
As for the room's layout, we tried about a million different things (bed placed diagonally in the corner, bed on the other window wall, bed centered on the back wall, etc) and this is the configuration that we loved most. Especially once we added in things that we knew we'd be including, like our green headboard (see how we DIYed that here) and our old yellow Pottery Barn rug from the living room (since we're due to get a rug much bigger than 5 x 8 in there for Karl).
The off-centered, foot-of-the-bed rug placement wasn't exactly intuitive, but we loved the rug so much with the walls and the bedding that we vowed to make it work. Bringing in those two slipper chairs that used to live in the living room (and squishing them together like a loveseat) helped to make sense of the rug placement and add balance to that side of the room. And once we introduce a night table to the left of the bed we think it'll look even more balanced and make more sense in the space. Speaking of balance, we can't wait to hang something above the headboard as we mentioned up in our little bulleted list. It'll help balance out the window to the left of the bed, and a large round mirror is at the top of our list (for the nice curves it'll add to a room with so many rectangles and squares).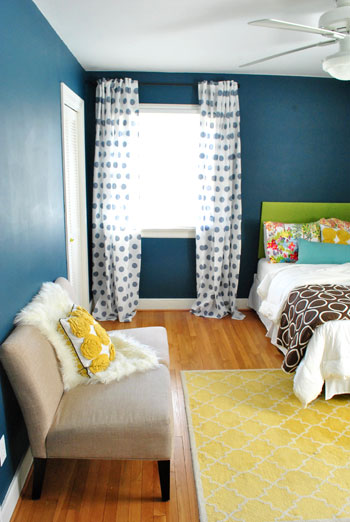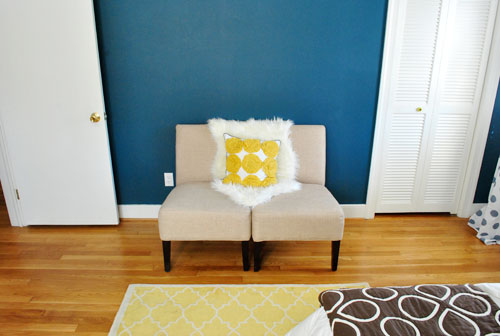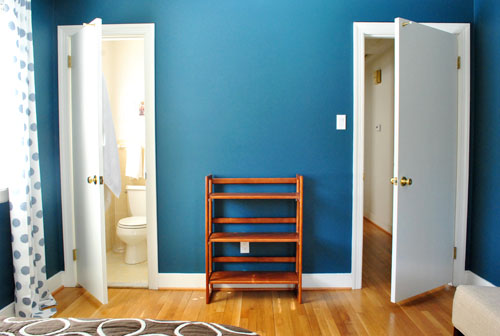 We also added a $10 white bedskirt from Target to complement all of the existing bedding that we already had from our old guest room (the brown and white blanket is from Bed Bath & Beyond back in the day, the white comforter is from Ikea, the printed pillow cases are from Pottery Barn, the yellow pinwheel pillow is from Target, and the long blue pillow is from TJ Maxx a while back). The bedding isn't 100% finalized, we just threw everything that we already had on and though it looked kinda fun. Who knows where we'll end up tomorrow after we finish those last few to-do list items though…
Psst- There's already been an update and a few of the bedding items have been switched out – check out this post for the room as it looked when our guests arrived.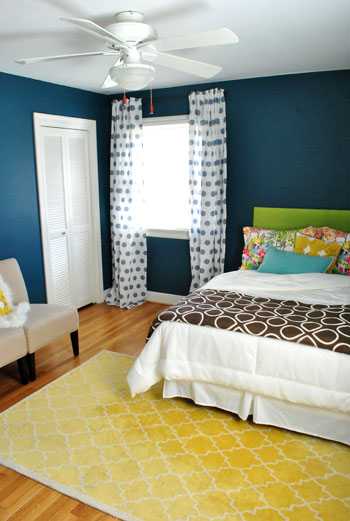 Oh and the curtains are from Ikea.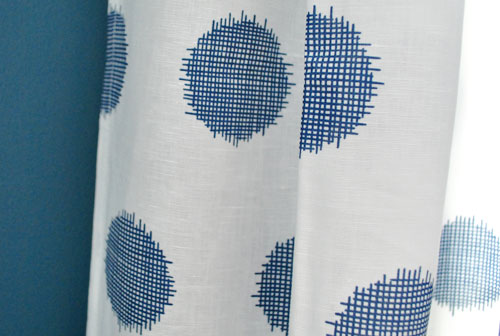 They were $39 for two, which makes them $19 a pop. Not bad for extra long 95″ curtains (86″ ones never quite do it for me since I like them hung extra high to make standard ceilings like ours feel taller). Of course I still have to wash and hem them. Ack. And add crown molding above them – but that'll have to wait a while.
When it comes to the little things, we even switched out the hardware on the closet door from this basic brass pull…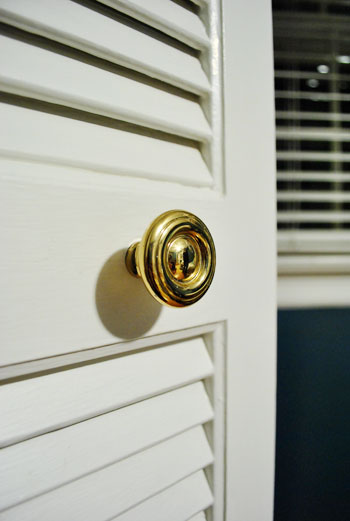 …to this cute lime greeny-yellow one (with oil-rubbed bronze hardware to match our curtain rods) for $1.25 at Hobby Lobby. Oh and speaking of those curtain rods, they're from Target for just $9.99 a pop.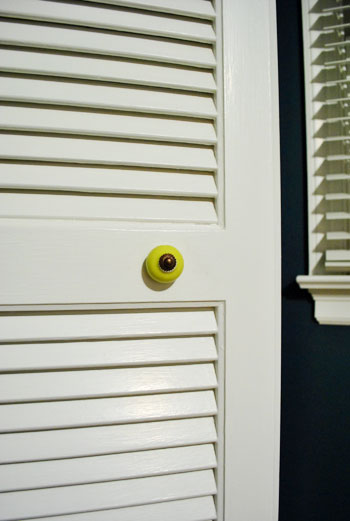 I'm off to finish those last few items on our to do list (and move things around for the 100th time), but I'll leave you with this pic of what the room looked like just eight short days ago: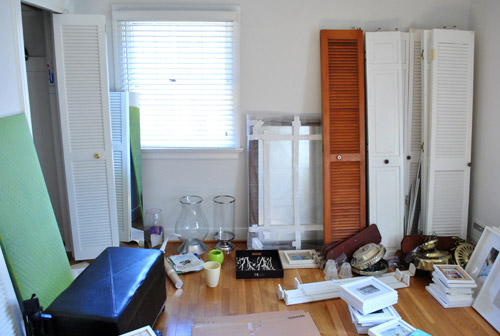 How crazy is that? You've come a long way baby.