You guys have patiently waited for the big nursery reveal while we've spent weeks tackling everything from paint, mirrors, and art to lighting, storage, and a custom crib skirt. Now we're back to share the whole room all put together (and not a moment too soon since John's sister Emily's son is due in two weeks!). But first let's look back on the blank slate of a before that we started with: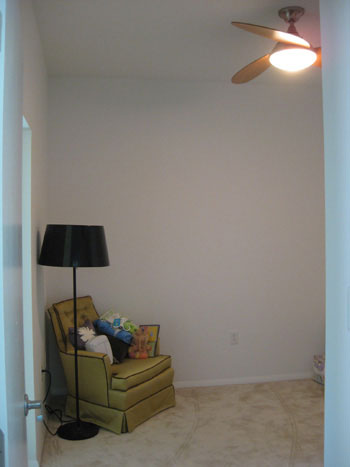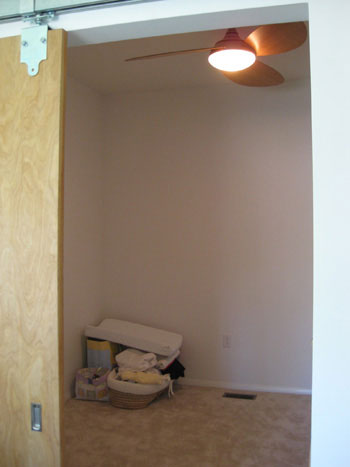 We hardly even remember that bare and boring guest room. Here's the clean-lined yet oh so cheerful nursery we whipped up for Emily's wee one on the way: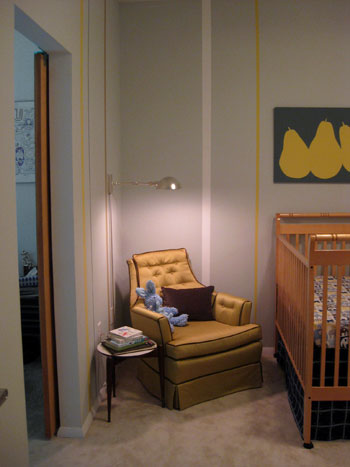 The playful and modern vertical stripes in yellow, caramel, white and slate blue really added charm and interest, especially when paired with soft blue-gray walls for a room that will really grow with our new nephew-to-be. And hanging that clearance swing arm lamp on the wall (with a nice little dimmer switch so it's not too bright for baby) freed up some space in a tight corner for a small table full of reading material next to the thrift store chair Emily hunted down a while back (gotta love how the color and the piping fit right into our room's palette).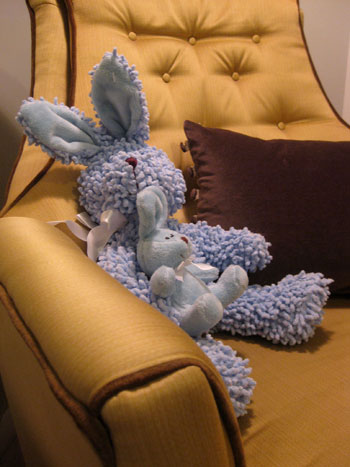 I also got to get back to my art school roots by painting three pears on a canvas Emily already had with our leftover wall paint for totally free pop art in the room (and the three pears actually represent Emily's three children- once the last one comes along, that is). We also loved that the $7 clearance crib sheet that we found at Target helped us further establish our color scheme, and instead of repeating the elephants from the bedding all over the room (which felt too theme-y for a modern family like Emily's) we loved that we could work in other simple shapes and forms like the pears (which actually remind us of Emily because she has a huge iconic pear sculpture on the middle of her dining table).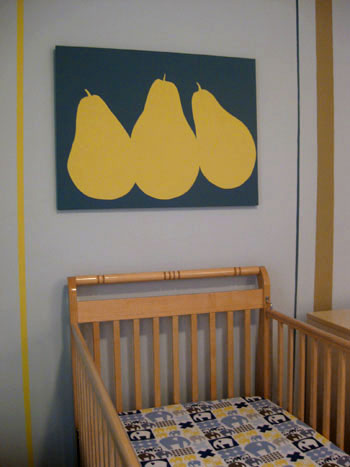 When it comes to function, Emily wanted a storage piece that could work as a changing table and be converted to a normal cabinet once her son gets a bit bigger, so we snagged this affordable and oh so functional shelving unit with doors to conceal all the clutter (it's full of diapers, wipes and all that good stuff)…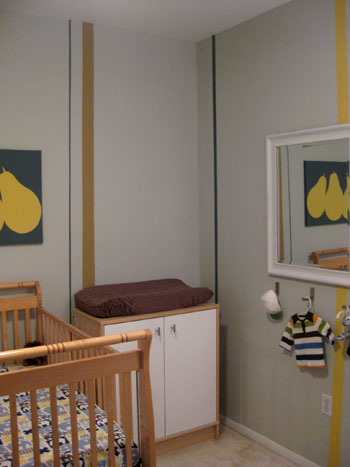 … and even added sleek silver knobs for easier access and more of that modern feel that Emily loves.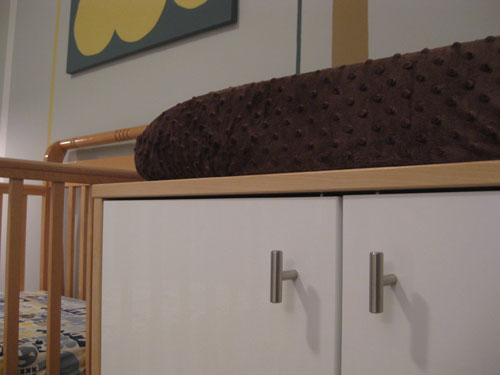 Emily also didn't want to permanently attach the changing pad with screws or even velcro since she wanted to use the cabinet without the pad in the future, so we hunted down a super grippy rug pad which really holds the pad in place (but can be easily removed when the time comes). For those who aren't sure about a rug pad's strength, we actually use one to keep our wood countertop in place above our washer and dryer and it works like a charm- that sucker never so much as scoots one eighth of an inch in either direction). Of course it bears mentioning that Emily has already had two children (this lucky guy is her third) and she strongly believes in always supervising any child who's getting changed, so even though the pad isn't going anywhere, neither is your child if you're right there in front of him. Safety first!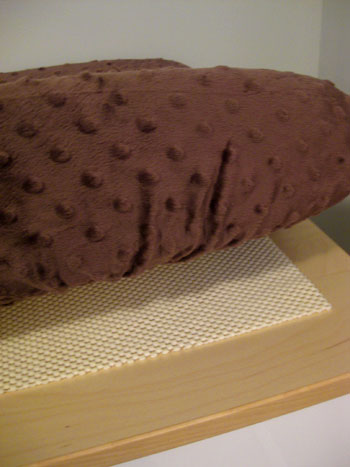 And then we have those great fold-away hooks from Ikea for more function and fun in the room (remember they fold up and away so whenever Emily wants to make a few of them disappear she can snap them up and they become flush with the wall and non-pokey (that's a technical term by the way). So from bibs to outfits (hats, shoes, onesies) to diaper bags and backpacks- even cloth bags or hanging baskets that can house toys or dirty laundry- this wall is super diverse and functional.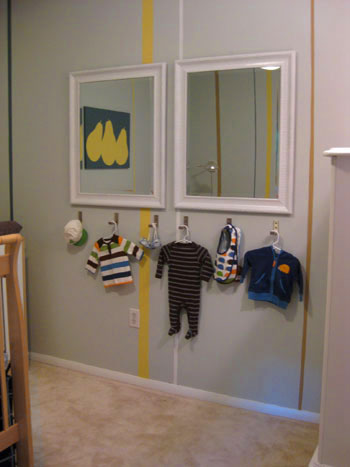 Of course the obligatory warning here is if you have kids who are toddling around, be sure there aren't any straps or cords hanging from the hooks that they can get stuck in. Safety first! And it certainly helps to hang them a good distance from the floor so your little ones can't hit their heads on them (Emily's are around three and a half feet from the ground and her other two children- aged 9 and 12- are certainly old enough to know not to get rough near them).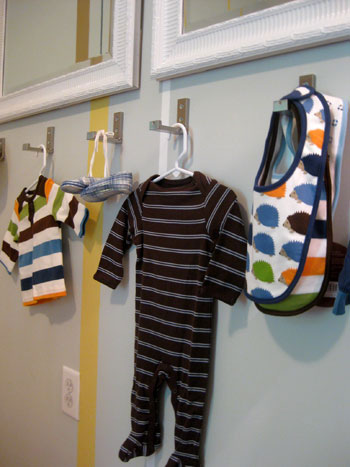 Then there's the amazing armoire that Emily already had from her daughter's room back in the day. We gave it a fresh coat of white paint (using this tutorial and white paint that Emily already had) and just loved how it fit perfectly into the corner next to the closet (which provides even more clothing and toy storage to keep the room feeling organized and clutter free). And do you see that cool built-in nook above the closet…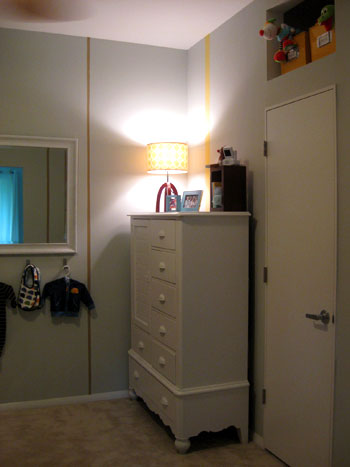 … that was the perfect place to tuck two yellow bins full of toys for a fun pop of color and even more functional storage to boot.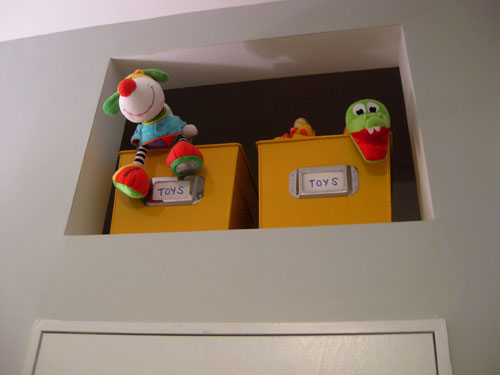 Atop the armoire is our punchy yellow fabric covered lamp shade that we whipped up a few weeks ago for an old lamp base that Emily already had laying around (here's that tutorial for you). And because we realized Emily's baby monitor needed a bit of a lift to see down into the crib at the right angle, we snagged that wooden box on the right for $1.99 at TJ Maxx and used it to store a few books and stuffed animals as well as her baby monitor for a less utilitarian look. A few existing blue frames of the family along with a cheerful yellow book starring Curious George (generously donated by Emily's daughter Olivia after we found it in her room) fill out the top of the armoire without breaking the bank.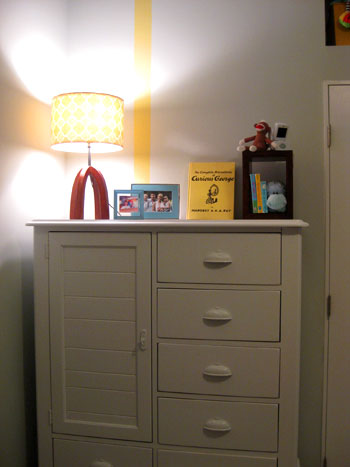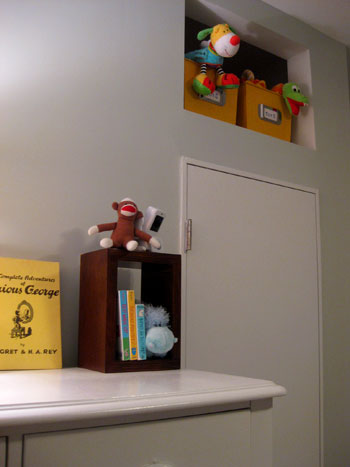 And of course our big previously-bronze mirrors (just $19 a pop) really help keep the room feeling open while bouncing around a ton of light, which is always a good thing in a small guest room that's about to get a whole lot busier in two weeks…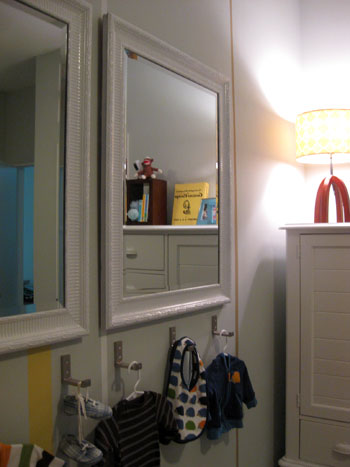 So there's the big nursery reveal. We had so much fun plotting and painting and planning and project-ing with Emily. And we hope you guys enjoyed the little weekly updates as we went. Oh and because we know you love when we show you the money, here's the whole budget breakdown:
Wall & stripe paint: $39 (click here for actual color names and a striping tutorial)
Crib sheet: $7 on sale at Target
Crib: free from a friend
Armoire: already owned
Crib skirt fabric & supplies: $29
Mirrors & spray paint: $44 from TJ Maxx (click here for a quick how-to)
Canvas art: free (we reused our stripe paint and painted over an existing canvas)
Hooks under mirrors: $20 from Ikea
Lighting: $39 for the swing arm lamp and $8 for the DIY lamp shade fabric
Wooden box shelf for baby monitor: $2
Yellow toy bins: $12 from World Market
Changing table: $155 from Ikea (with $3 pulls)
Changing table pad: gift
Chair: already owned (snagged at a thrift store a while back)
Grand Total: $358

Not bad for a room that we pretty much cobbled together from scratch, right? It's especially amazing to us when we look back at the before photos because the room really had nothing in it except for that thrift store chair. And you could easily spend $358 on a changing table alone, so the fact that it includes every last knob, bin and hook makes us grin from ear to ear. We loved using paint, on-sale accessories and discounted fabrics along with items of furniture that Emily already had (or gratefully inherited) to create such a sweet little place for our future nephew to lay his little head. So that's the story of an almost-empty room going from bare to baby-ready without depleting Emily's diaper fund. And of course she, her husband, her 12 year old son and her 9 year old daughter can't wait to see the room when it's truly complete. As in, with a little baby boy in it. And we have to say that we can't wait for that day either!
But what about you guys? Any babies on the way? Any nursery projects you'll be taking on this fall? Any older kids' rooms that you'll be gussying up on a serious budget? We actually have a kid's bathroom redo in the hopper for next week and it's super cheap and simple so stay tuned for that…
Wanna see the room come together from the beginning? Here's the first post, the second post, the third post, the fourth post, the fifth post and the sixth post that all led up to this big reveal.