We recently revealed that we'll be working on a Young House Love nursery… just not for us. We're super excited to create a fun and functional baby's room for John's sister Emily who's expecting a little boy this October. And of course we have plenty of affordable DIY ideas up our sleeves that we'll be sharing as we go. The first order of business in Emily's blank canvas of a guest room was to get some paint up on those bare walls.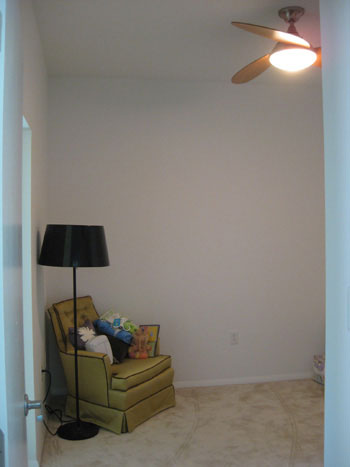 But we didn't just settle for a fresh coat of soft blue-gray, we decided that a cheerful, modern and awesomely random vertical stripe effect was just the thing to get this makeover started with a bang.
The easy one-night process of taping, painting, and peeling was as simple as picking a color palette…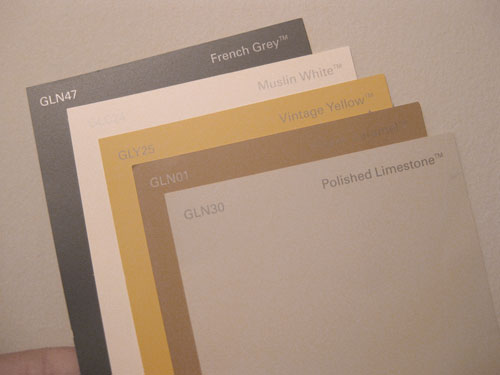 … getting that painter's tape up on the wall…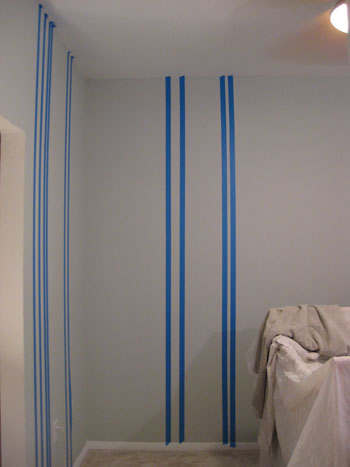 … filling in each randomly sized and spaced stripe with one of our four accent colors and peeling off the tape to reveal…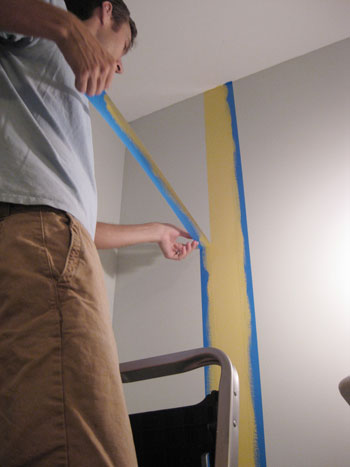 … fresh slices of color around the room (we promise they're straight, the camera lens just makes them bow out a little).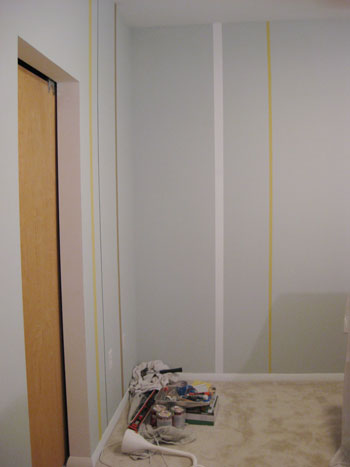 And we even whipped up this video of the entire painting process with more step by step details and paint color information:
Yes John's awesomely long arms came in handy for the filming of this video. And that is an Oregon Trail icon on his painting shirt. Good times. Oh and you can watch it here on YouTube .
And since we'll be keeping a tally of how much our little nursery transformation costs, we'll share the tally for this phase of the project. For a gallon of wall paint and three sample cans of our stripe colors (we already had the white paint on hand) the room got a totally new look to the tune of just $39. And we'll also be using the leftover paint for a few more DIY projects around the room so we'll get even more bang for our buck. Stay tuned…
And because we love a good teaser, we thought we'd share a glimpse of some of the bedding and upholstery choices along with our paint chip color palette so you guys can get a taste of the big picture: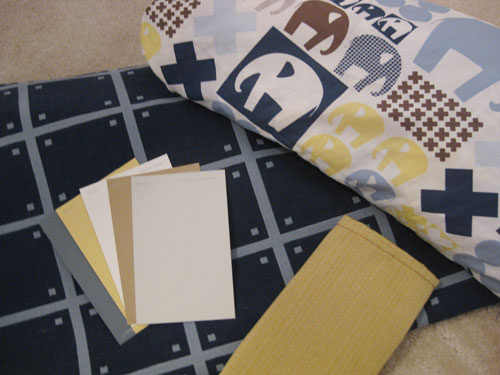 Don't you love those cute little elephants? Babies are so much fun, even before they're born. So what about you guys. Any babies on the way? Any nursery makeover details that you'd like to share? Spill the bun-in-the-oven beans.