We've slowly been making over John's sister Emily's nursery on a major budget and we're back with another update. We already shared how we painted some modern vertical stripes…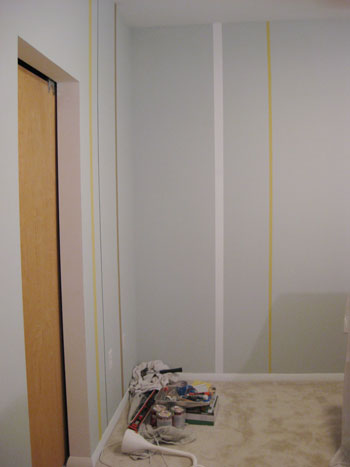 … added large mirrors to open up the small windowless room…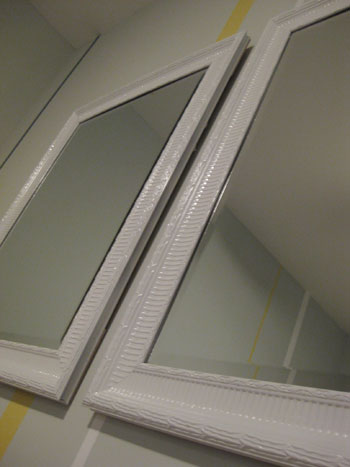 … and whipped up a super easy no-sew bed skirt.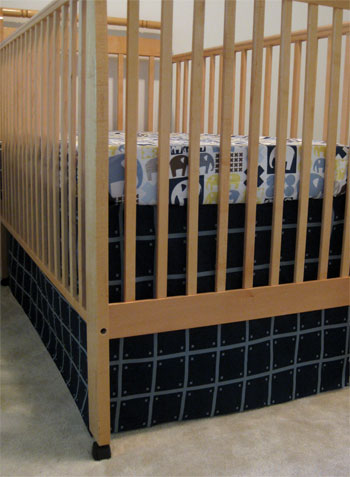 But what about art? We wanted something modern and graphic to hang in the room, but didn't want to spend much money to get it. The solution? Why not DIY it? So I did. To the tune of zero dollars and zero cents. Victory!
It all started when Emily was given some hand-me-down nursery art from a friend who mentioned there was no pressure to use it or anything, just that she was done with it and wanted to pass it along. The blue color was a bit more pastel than the muddier gray-based blue that we had going on in the nursery, so Emily suggested that we repaint it to create something new. We even had some leftover wall paint from our stripe painting project so it really was a zero cost project (that was guaranteed to work with our color palette no less). Here it is before we primed it with some oil-based Kilz to prep it for repainting: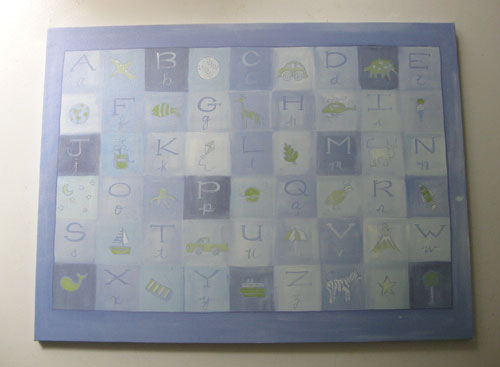 I was actually super excited to get back to my art school roots. Four years of it in NYC had me creating all the time, but in the five years since graduation I had slowly segued into painting rooms instead of art so I knew I was a bit rusty. The good news is that Emily's modern nursery called for clean and contemporary art, so I settled on a simple two-color composition of three pears, which absolutely anyone can do. First I sketched the outlines of three not-at-all-perfect-and-that's-ok pears in pencil on the freshly primed canvas. I liked that they leaned in different ways and were slightly varied in size for interest, especially since I was only going to be using two colors for a simplistic result: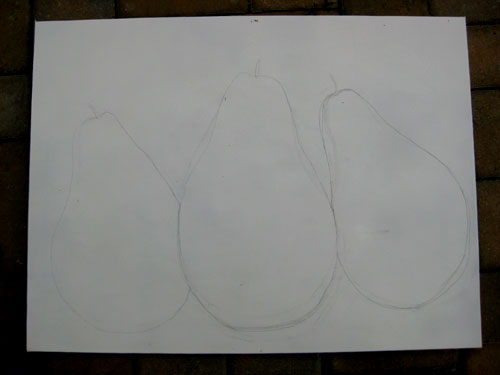 Then I filled in the pears using leftover yellow paint that we had laying around from some of the stripes that we painted in the nursery.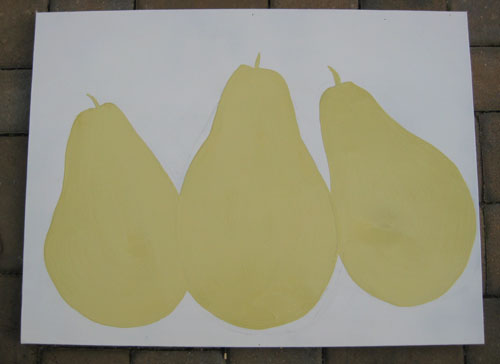 Next I added a slate blue background (with more leftover wall-striping paint) which ties into the crib's deep blue skirt for even more cohesion in the room. Here it is after the first coat (about half dry, hence the different shades of blue):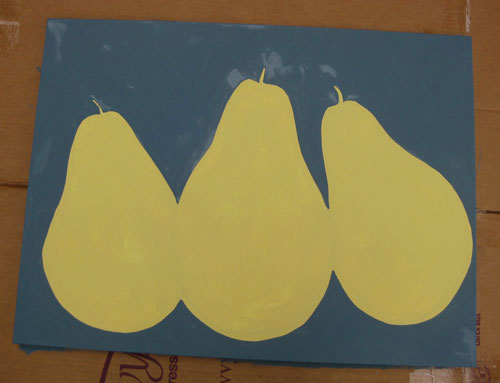 Another coat of blue paint along with a second coat of yellow on the pears had everything looking a lot more solid and even. And we love that three pears fit perfectly across the canvas since this will be Emily's third child (and her son and daughter really got a kick out of picking which pear they were and which pear was for the baby on the way).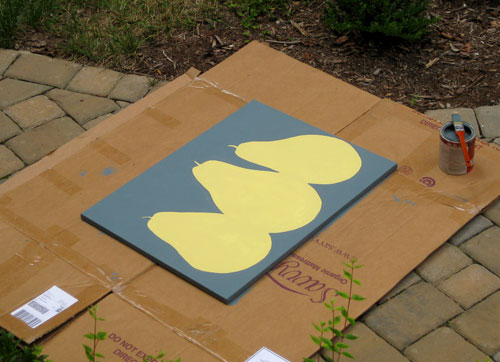 As cute as the new DIY art looks on that lovely cardboard outside on our patio, you'll just have to stay tuned to see it in the nursery as we continue on with the makeover (next up: some storage, lighting and accessories to finish off the room). But that's how we got some fun art for no moolah and next to no work. Really, anyone with a canvas (or even foam core, poster board or a piece of plywood) can do this project with some leftover paint. Just pick a simple shape (an airplane? an apple? a heart?) and sketch it out. Then fill it in with two coats of paint and add in the background in another color for a modern pop-art-ish result.
What about you guys? Made any fun DIY art lately? Got any other easy ways to decorate naked walls on the cheap? Let's put on our virtual black berets and turtlenecks to talk about how you channel your inner artiste.