We're back with another John's-sister's-nursery update as promised. After we shared the play by play on our fun wall striping project…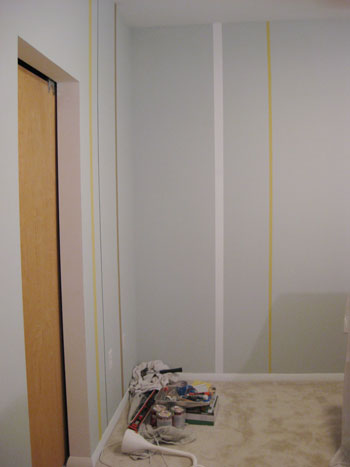 …and even revealed our little collection of fabrics…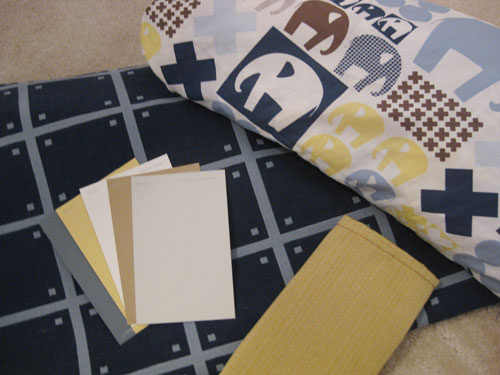 … it was time to deal with the most challenging aspect of the room. Zero windows. Yes that's right. Not a one. Emily's modern new construction was designed so that this interior room met all the fire-safety codes since it was connected by a sliding barn door (on a cool industrial track) to her older son's room (which has a giant 5′ x 5′ window) and is also accessible from the hallway by a traditional hinged door. But talk about a decorating doozie! So the name of the game was to get some light bouncing around the room stat. And to make things feel more open and spacious in the same way that rooms with a view often do. It ended up being as simple as adding two large, painted, and strategically placed mirrors. Easy peasy.
We snagged these giant bronze-framed mirrors at TJ Maxx for just $19 each (cheaper than all of the Craigslist or thrift store versions we hunted down first!). We purchased them knowing full well that they'd benefit from some crisp white paint once we got them back to Emily's house, but boy was the price right.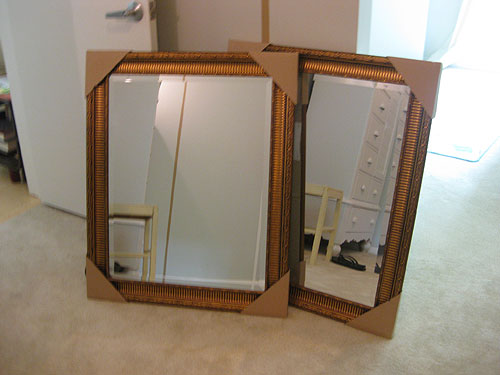 Then it was as simple as laying out a plastic drop-cloth in the yard, taping off the mirrors and applying three thin and even coats of glossy white Rustoleum spray paint. A great trick for removing any rogue spray paint that somehow manages to seep through and get on the mirror is to wait for it to dry and use a straight razor to shave it right off for a clean and finished look.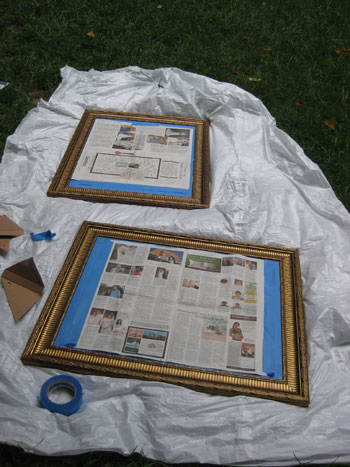 Little bonus tip: attempting to spray paint indoors is like attempting to cut your own hair- never a good idea. The spray dust will coat every single surface within a 20 foot radius- plus outside ventilation will keep you from getting woozy enough to attempt a little Posh Spice bob with the kitchen scissors afterwards. Double bonus.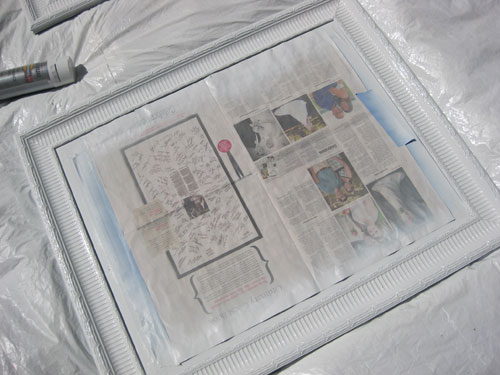 And voila! Two crisp and fresh mirrors that reflect the outside world now that they're hanging next to each other across from the window in the adjoined bedroom (when the barn door that connects the rooms is open they actually reflect sky and trees!). It's like we installed two windows for $19 a pop and a few dollars worth of spray paint. And even when the sliding barn door is shut so they no longer reflect the leafy backyard beyond, they still bounce around so much light that the room feels larger, brighter, and lovelier in general. But we can't share a wide shot just yet because it'll reveal some of the other projects we have in the works. So we hope that this sneak peek of the glossy new mirrors will tide you over until we can reveal more of the room…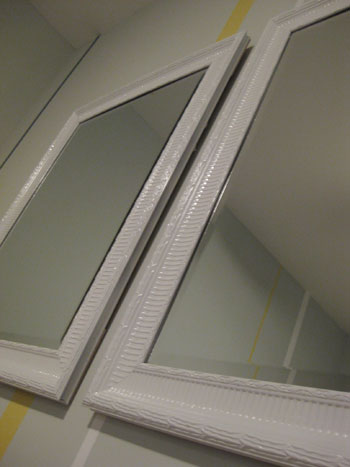 So that's our under $45 windowless-room fix that only took us a few hours from soup to nuts (well, shopping to hanging). But we're not done with that wall yet. We actually have a few finishing touches that we'll be bringing in under each mirror to add a whole lotta function and form so don't go anywhere. Oh and while we're on the subject of mirrors, fill us in on how you've used mirrors to brighten and expand the rooms in your home. Any tricks or tried & true mirror uses that keep your house looking ooh la la? Do tell. And be sure to check out this old mirrors 101 post from back in the day (because mirrors can actually do more harm than good if they're placed in the wrong spot!).