This is off da hook, yo. Forgive me for getting a little gangster. That's my inner $herdog coming out. Anyway, you know that we've slowly been making over John's sister Emily's nursery on a major budget and the good news is that we're back with yet another update. We already shared how we painted some modern vertical stripes, added large mirrors to open things up, whipped up a super easy no-sew bed skirt, and made some free art by painting right over an old canvas with leftover wall paint to create some simple high-contrast pears.
But what about function and storage? Emily does have a nice sized armoire in the space as well as a changing table, a full closet and even some under-crib storage thanks to the aforementioned hide-everything-skirt. But we had one last display idea to keep a few things at arm's reach in a sweet and interesting way. Remember how we mentioned that we had a plan for the empty space under those two large mirrors?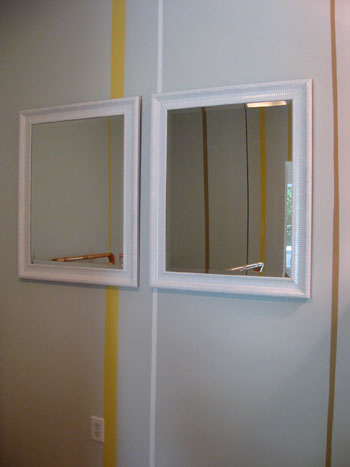 Well, we finally got to implement our super simple idea. And it took about ten minutes. Literally. We just hung six hooks under the mirrors to ground them and add function to the room as well as a cute modern clothesline-ish feeling.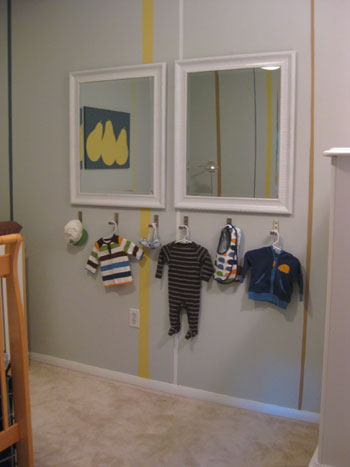 But they're not just any hooks. Oh no, these are insanely cool foldable hooks. So whenever they're not in use, or if Emily ever wants to tuck them away…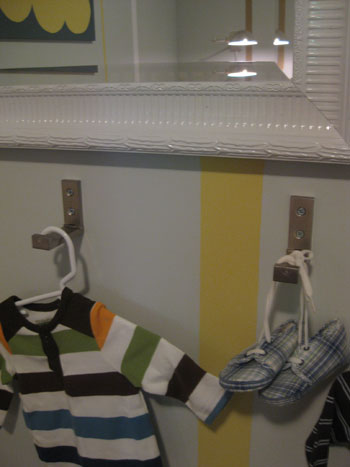 …they just fold up and snap into place: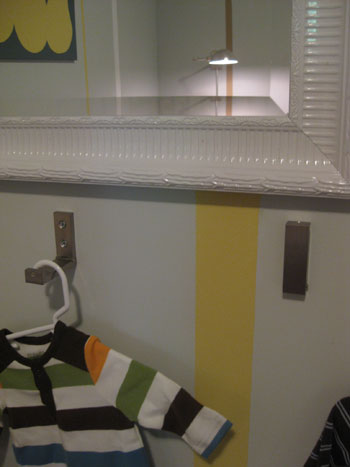 So from bibs to outfits (hats, shoes, onesies) to diaper bags and backpacks- even cloth bags or hanging baskets that can house toys or dirty laundry- this wall is super diverse and functional. Of course the obligatory warning here is if you have kids who are toddling around, be sure there aren't any straps or cords hanging from the hooks that they can get stuck in. Safety first! And it certainly helps to hang them a good distance from the floor so your little ones can't hit their heads on them (Emily's are around three and a half feet from the ground).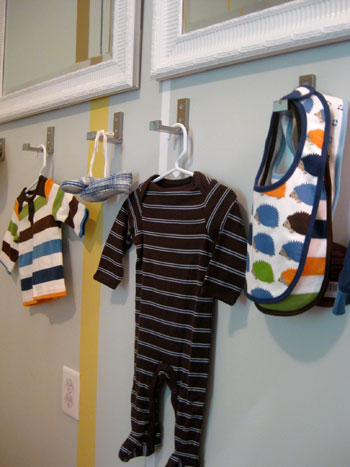 So that's how two packs of $9.99 hooks from Ikea can add interest, fun and function to any room for under twenty beans. And while we're revealing more of the nursery makeover, we'll share a much requested photo of my pear painted canvas from last week all hung up. Isn't she a beaut? Perhaps the most beautiful thing about this DIY art was the $0 price tag. If keeping money in your wallet isn't gorgeous then I don't know what is.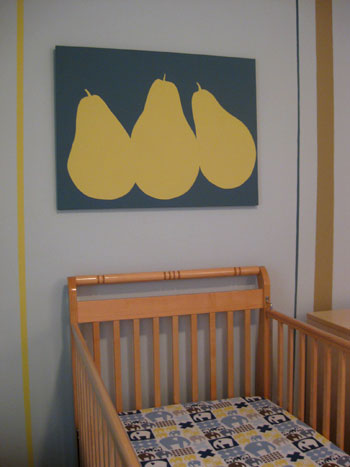 Stay tuned for next week's nursery update which not only includes some new lighting for the room but a DIY lamp shade makeover (for less than eight bucks). In the meantime, tell us what you've been doing when it comes to adding function around your own home. Any hook-hanging individuals out there who want to pipe up? Any basket freaks who have the guts to admit their basketoholism? I'll start. Hi my name is Sherry and I'm a basketoholic.