It's hard to believe we've already been here a month! And let's not sugar coat things… this house is looking pretty crazy right now. Blue trim out the wazoo, wallpaper at every turn, bright salmon living room walls, old carpeting that still covers the stairs & our closet, and a whole lot of furniture that we just plopped down on moving day (so it's safe to assume that nothing is staying where it is for the long haul, this is just where it landed). On one hand it's like "moving day literally feels like yesterday" but on the other hand, in a few rooms (especially the ones upstairs), we're like "wow, it's hard to remember what this looked like before" – which is a funny little Bermuda Triangle to be living in. But enough chitchat, here's how our house looks one month in.
The foyer: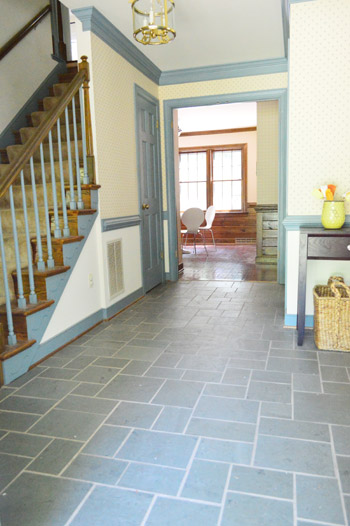 The kitchen: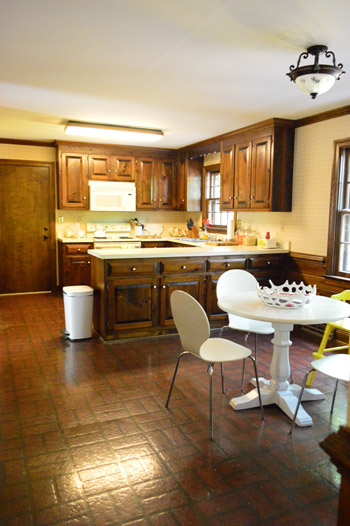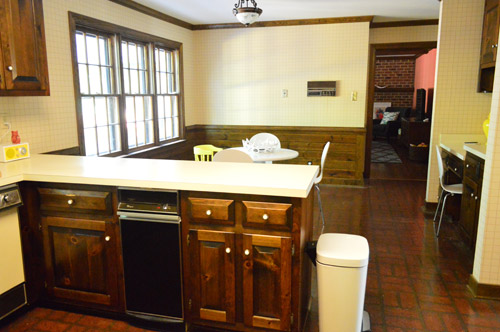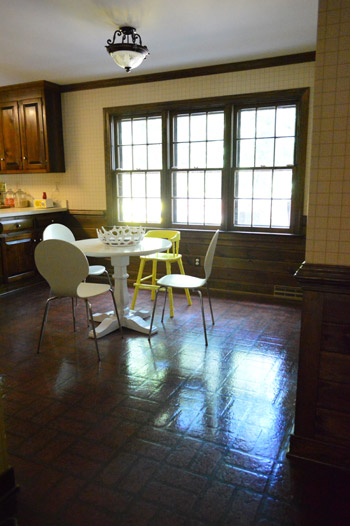 The table's way too small, but thankfully it looks a little less crazy than it did on moving day…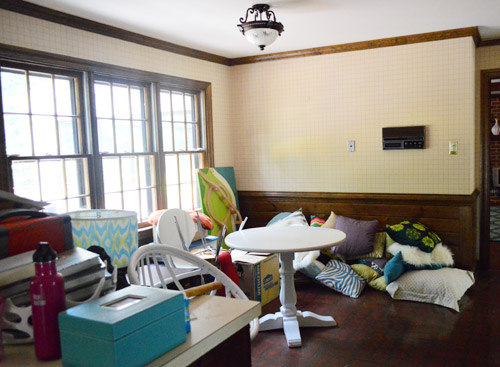 The sunroom: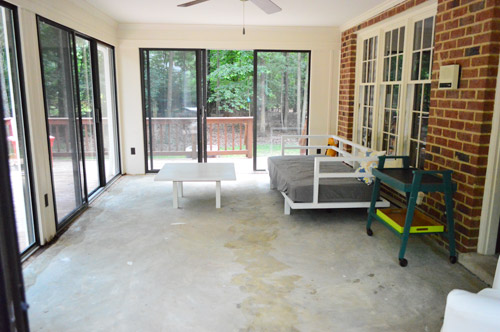 The office: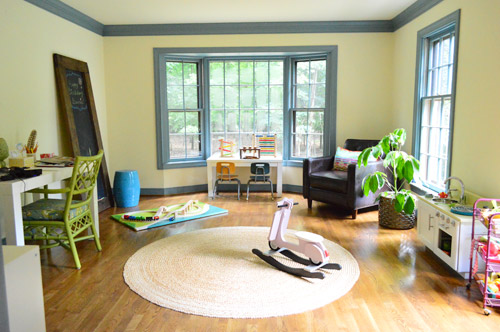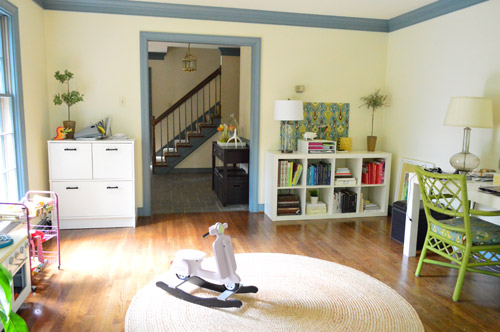 The living room: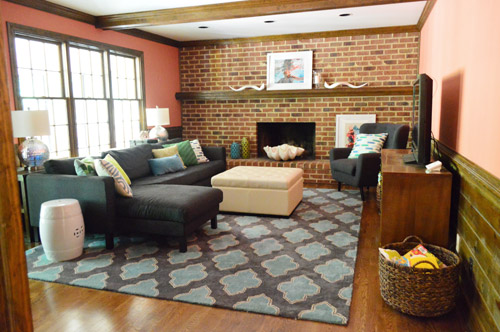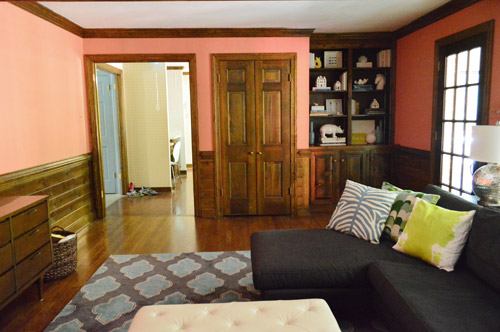 The dining room (confession: nothing has changed in here since day 1, so we used the same picture):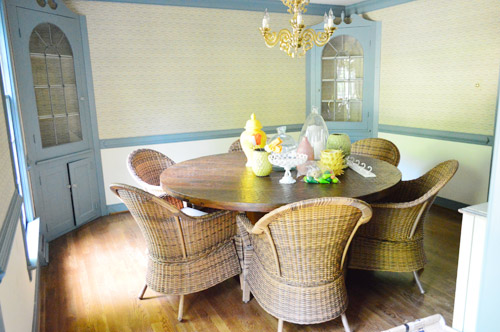 Here's the half bathroom: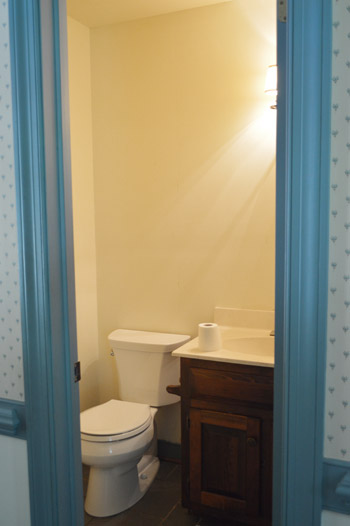 … which is definitely looking a little lighter and brighter than the wallpapered version we started with.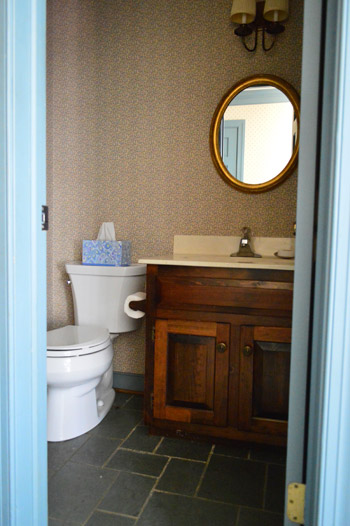 The guest room: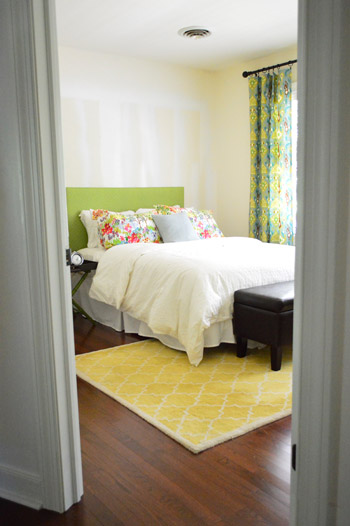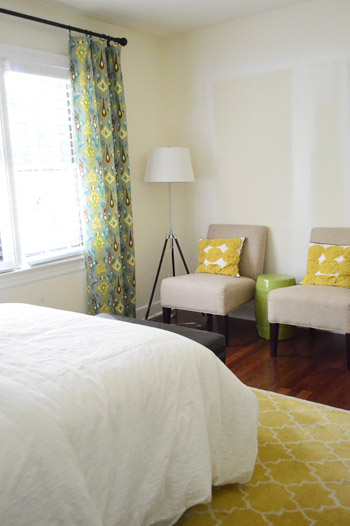 This is one of the rooms that has come a long way. Here's how it looked a few weeks before we moved in: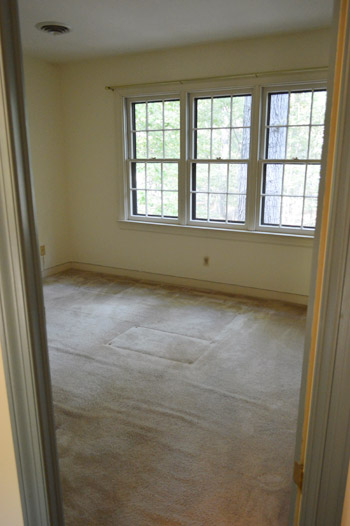 The hall bathroom: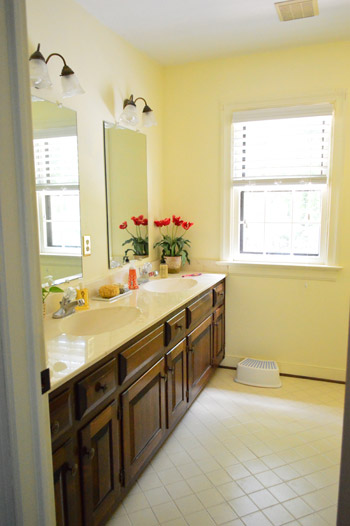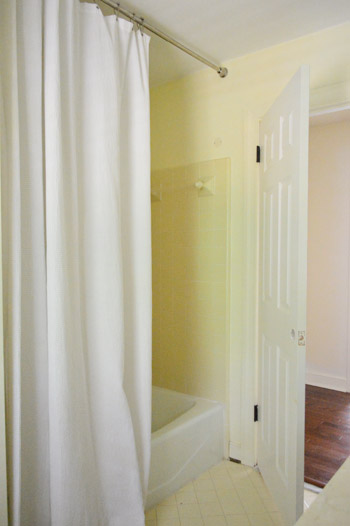 The spare room / possible future nursery…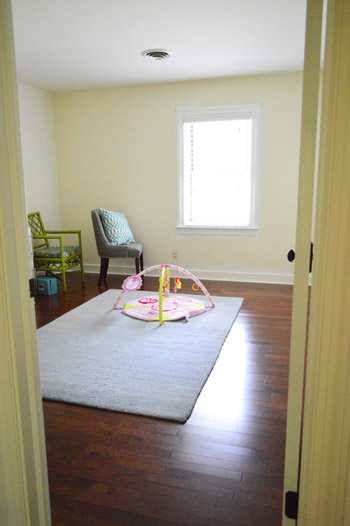 … which looks a little different than the mauve-trimmed carpeted room we started with.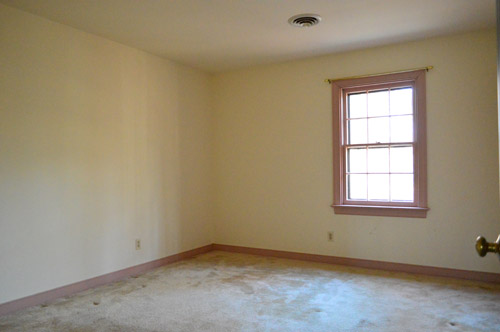 Clara's room: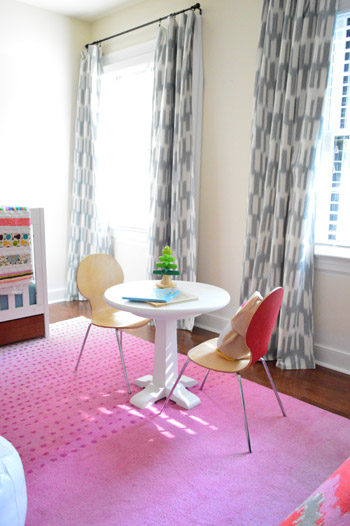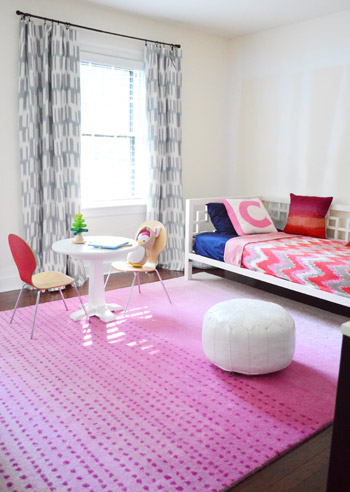 This one has come a long way too. Here's what we were dealing with a few weeks before we moved in: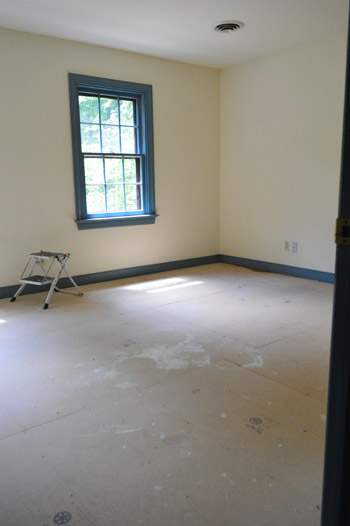 Our bedroom: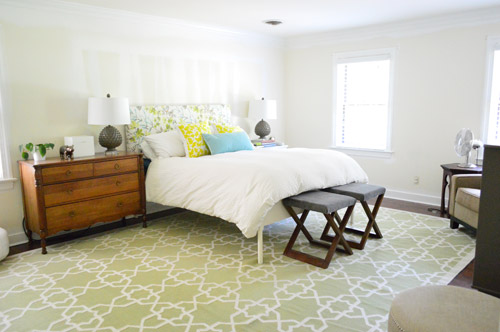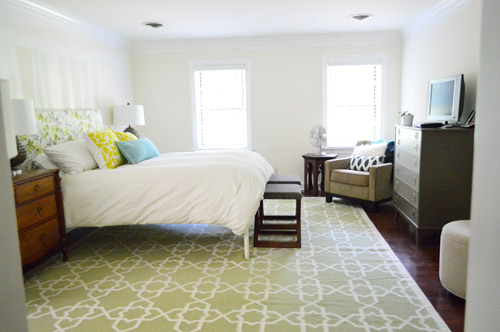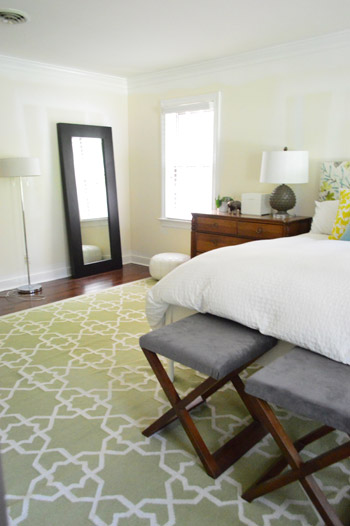 Which is definitely a far cry from this pre-move photo: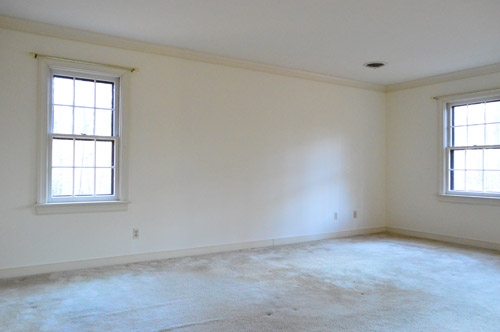 Our bathroom: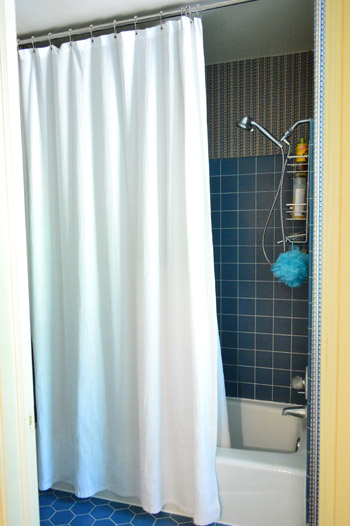 It's fun to scroll through this post to see how it looked on Day One too. We definitely still have some just-moved-in moments going on. Like this kitchen cabinet full of a jumble of tools: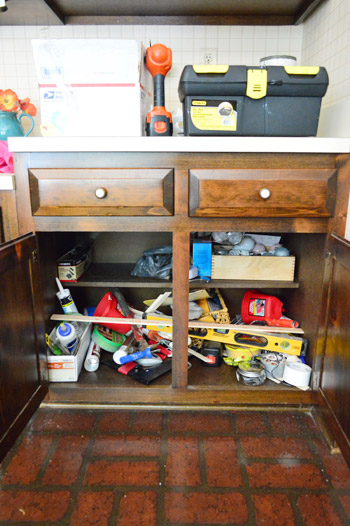 Our closet needs some help too…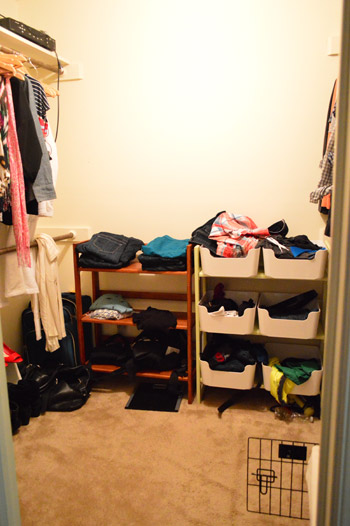 But overall, for a month in we're just glad to have gone from seeing this when we walk up the stairs…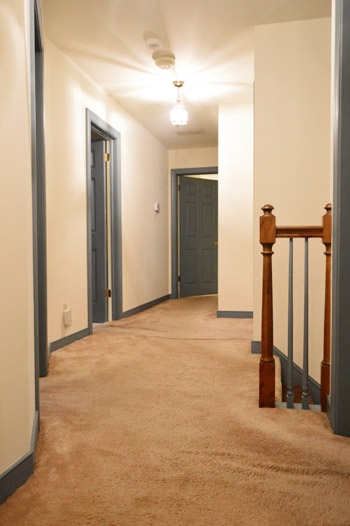 … to seeing this…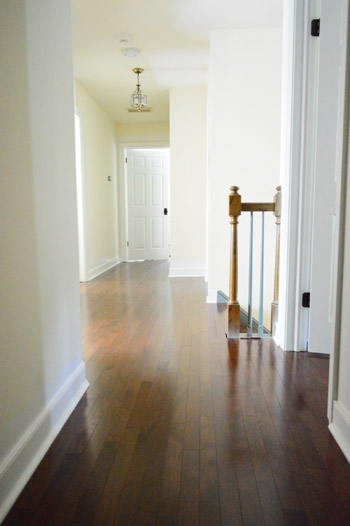 The hallway is definitely the most dramatic change so far. It's sort of like Old Carpet With Blue Trim And Wallpaper Central when you're climbing the stairs, but when you get to the top it feels clean and new. I let out a giant sigh every single time I go up there. And yes, that railing is SCREAMING for an upgrade. But even though we're faaaar from completing any space at all (it usually takes us around two years just to paint every room), it's nice to see that we've checked this stuff off:
We're slowly starting to feel like this is our house. And we're deeply and hopelessly in love with it (blue trim and all!) along with our new hood. Seriously, you might need an anti-nausea pill if I keep gushing. I know we've learned never to say never (thanks Beibs) but you'd have to drag me kicking and screaming from this place. I'm about to get a "Be Mine Forever" tattoo on my forearm…
Psst- If you're wondering what our plans are for each space, chances are we haven't fully fleshed them out yet, but this giant to-do list should help. We prefer to research/plan things as we attack them, so we promise to share every detail with you guys as we go!