Exciting times guys. Operation Ditch The Blue Trim is currently in progress! So while we sweat our way through un-blue-ing things on the second floor – that's four bedrooms, a nice long hallway, and at least 10 doors – we thought it was high time we shared our master to-do list for the new house (and for anyone jonesing for trim-painting info/photos, we hope to finish up and be back with a full report for you on Wednesday).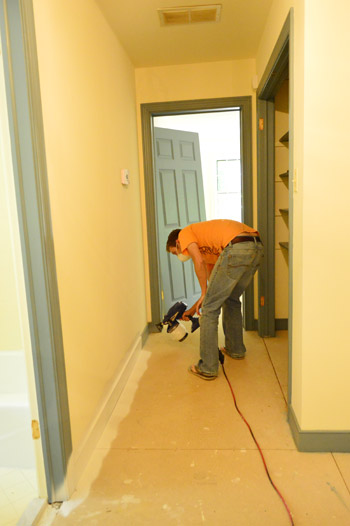 These posts came about when people asked how we organize all the stuff we have on our to-do list. We explained that we basically have one long run-on document that we update as we go. Folks kept asking us to share it and it turned out to be a good time for us since public proclamations help keep our momentum up, and crossing things off gives me a nice mom-buzz. So here's our first brain dump for the new house. Of course things tend to evolve as we go, so we'll probably change our minds fifty times, but right now if you were to peel back our skulls and peek into our DIY-loving brains (you're welcome for that delicious visual) this stuff would be banging around in there. #warningitslong
– The Front Yard (0% Complete) –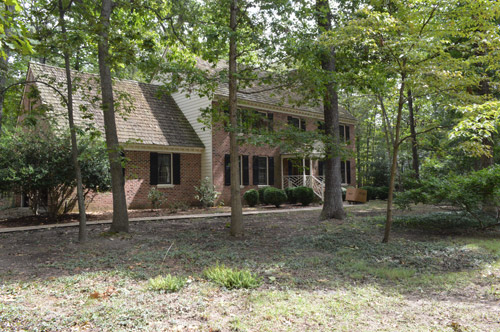 To Do:
Dig up all the quickly spreading ground cover
Remove the trees that are dead/decaying/diseased beyond repair (our house inspector helped confirm which ones had to go)
Aerate, level, and seed the yard
Make planting beds up front and mulch and plant them
Repaint all exterior siding and trim (there's peeling paint, some rot, etc)
Redo old cracked concrete walkway from the driveway to the front door (add curves and pretty planting beds on both sides)
Add some pretty hardscaping around the front (we're still inspired by this house's awesome landscaping – so we'd love to add something raised stone beds)
Plant a few green dwarf maples (it's our favorite thing that we planted one at our current house – you can see it in this post under the window on the right)
Add exterior up-lighting (some of the neighbors have it and it's crazy charming at night)
Add low curved brick borders on either side of the driveway wired with lights (some of the houses nearby have 'em and we love them)
Get the driveway paved
– The Portico (0% Complete) –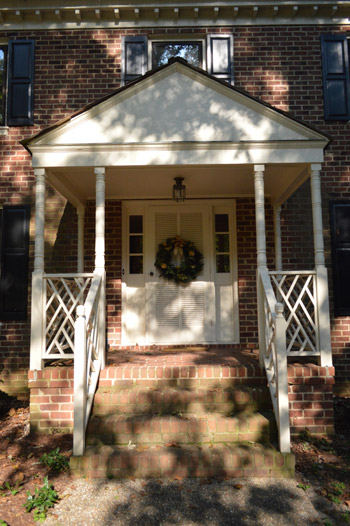 To Do:
Repaint the portico (peeling paint = everywhere)
Arch the portico ceiling (it's low and one house up the street has an arched ceiling with a gorgeous hanging lantern)
Add a few planters, a new door mat, new porch lighting, etc
Paint the front door (we're leaning towards a rich emerald color but we've also always loved a glossy red door)
– The Garage (0% Complete) –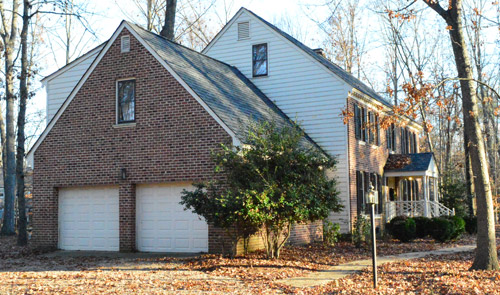 To Do:
Repaint garage doors and add some nice hardware to beef them up
Add pergola over double garage doors with vines creeping over it
Finish the interior of the garage with drywall to create a workshop on one side and storage around the perimeter (add pegboards, shelving for paint and tools, etc)
Reuse kitchen cabinets in the garage if we can't salvage them after the kitchen makeover (they're dinged up and splintered in a bunch of spots, but would be great for the garage)
Redo four steps that lead from garage to kitchen (remove old carpeting and paint them? rebuild them completely?)
Build a box on casters for scrap wood storage in the garage (we need a system to keep it from being all over the place)
Maybe we should get old lockers and paint them fun colors and remove some of the doors for storage? (love these!)
Possibly add plumbing for a utility sink out there (we've always wanted one in our "workshop")
– The Foyer (0% Complete) –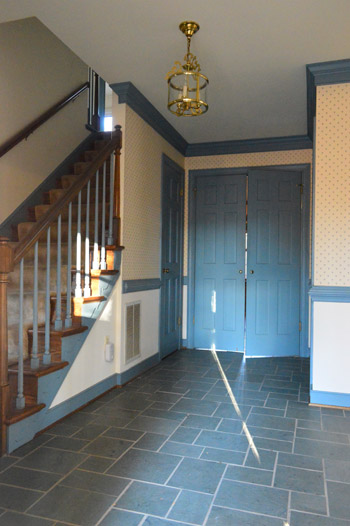 To Do:
Remove the old carpet from the wood stairs
Paint blue trim in foyer, including stair balusters
Remove wallpaper and repaint the walls
Remove the doors that block the flow into the kitchen (and the pretty view out the back windows that will someday be french doors)
Depending on how things go as we move in/live there, we might add gates to the stairs and maybe a stair runner (seagrass? a colorful Dash & Albert runner?)
Replace the old foyer light (paint existing one? so torn!)
Replace tile? (only if it's un-salvageable – there are a few areas where it's pretty beat up)
Since there are two closets in the foyer and we only need one for coats, so we want to build a craft and toy closet in the deeper foyer closet with a bunch of shelves to store Claraphernalia
– The Half Bathroom (0% Complete) –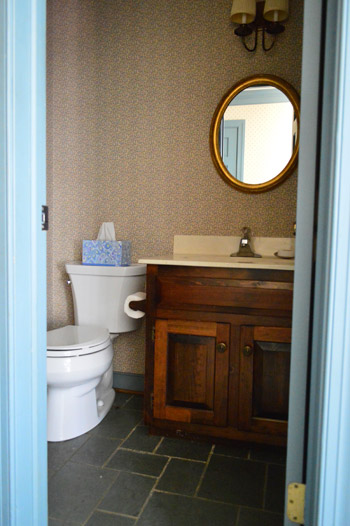 To Do:
Remove wallpaper
Repaint all blue trim (and door)
Upgrade door hardware & hinges
Paint walls
Replace vanity
New mirror (something larger and higher – John can only see up to his shoulders now)
Upgrade lighting
Replace tile floor? (only if it's un-salvageable)
– The Dining Room (0% Complete) –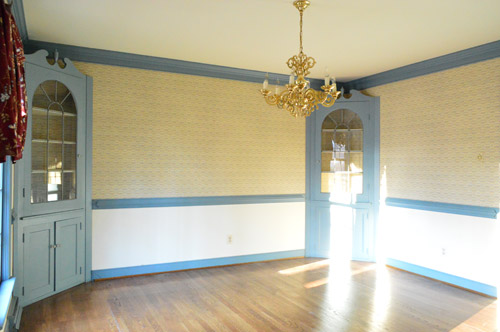 To Do:
Clean and re-poly the wood floors
Upgrade built-ins (remove scrolly tops? build up to ceiling? paint white?)
Paint all of the blue trim
Remove the wallpaper and repaint the walls
Upgrade lighting and curtains
Add furniture, a rug (?) and art
– The Living Room (0% Complete) –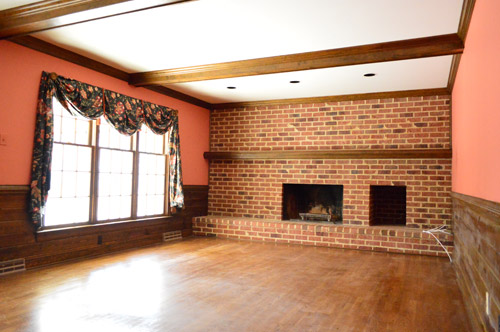 To Do:
Clean and re-poly the wood floors
Prime and paint the bright pink walls
Lose the curtains
Prime and paint the thick woodwork that wraps around the bottom half of the room's walls (we LOVE it, and think it'll be gorgeous in white)
Paint the brick fireplace wall in the first phase of lightening up the room (we always loved how our first house's den looked after we cozied it up with paint)
Retile fireplace (maybe something like this tile?) and get gas logs as phase two after we save up our bucks OR drywall fireplace wall and add a stone lip like this?
Add more can lights to evenly light the room (there are just three near the fireplace)
Turn the overhead beams into a coffered ceiling (like these)
Build/find a nice big built-in-looking cabinet that holds the TV (across from the window, we think)? We'll have to see where we end up on this one…
– The Office (0% Complete) –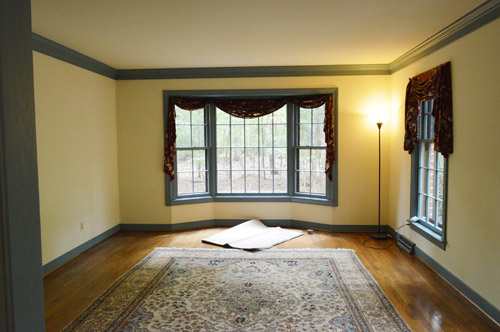 To Do:
Lose the curtains
Clean and re-poly the wood floors
Paint walls and trim and ceiling
Add double desk work area somewhere – perhaps coming out from the middle of the left wall (or the right wall between the windows)?
Bring in storage (bookcase, file cabinet, etc) – possibly cool build-ins around the bay window
Add curtains/window treatments
Hang art & create a brainstorm-zone on the walls (bulletin board? chalkboard?)
Add two large potted plants (lemon trees? fiddle leaf figs?) in front of the two front-facing windows
– The Kitchen (0% Complete) –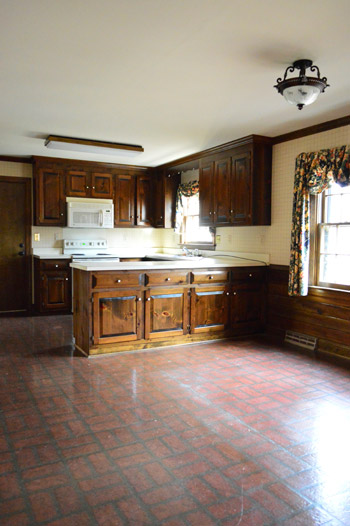 To Do:
Remove the wallpaper and paint the walls
Lose the curtains
Convert giant triple window into french doors leading onto deck
Open wall between kitchen & living room then add built-ins on either side (sort of like the dining room built-ins in our current house)
Prime and paint the woodwork that wraps around the bottom half of the room's walls
Full kitchen reno (replace the faux brick linoleum, damaged cabinets, laminate counters, bad lighting, old broken appliances, etc)
Perhaps try our hand at heated floors under some fresh tile (that might spill into the foyer and hall bath if we can't salvage that tile)
Organize the pantry with pull out drawers and bins and containers (and paint the door a fun color or replace it with frosted glass?)
Amp up the "command center" area across from the triple windows
Paint the new kitchen french doors and door to the sunroom (black? charcoal? soft turquoise? white?)
Get water filter for under the sink
Add window treatment and pendant over the sink & a larger new light fixture over the eat-in area
Figure out how to create a drop zone for coats, shoes, etc (maybe in the garage if not in here?)
– The Sunroom (0% Complete) –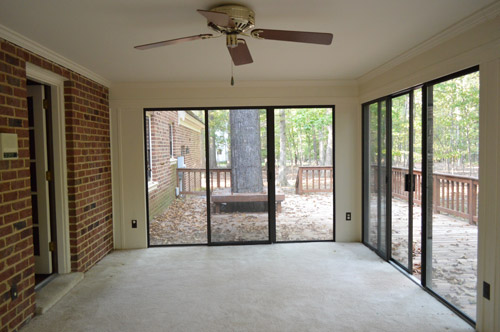 To Do:
Rip up old stinky carpet and padding
Seal in the smell somehow (so the concrete doesn't leech odor forever)
Stain or paint the concrete floor as part of Phase 1
Permanently remove the broken base heater
Eventually retile the floor with outdoor-safe stone to upgrade the old concrete floors (down the line for Phase 2)
Convert sunroom to an open covered porch with new columns and no more sliders (many of the sliders are bad and the posts are rotten) – we're envisioning something like this
Build a brick outdoor fireplace off of the sunroom after we open it up? Kind of like this, but different…
Add beadboard to the ceiling and paint it soft blue?
– Our Bedroom (1% Complete) –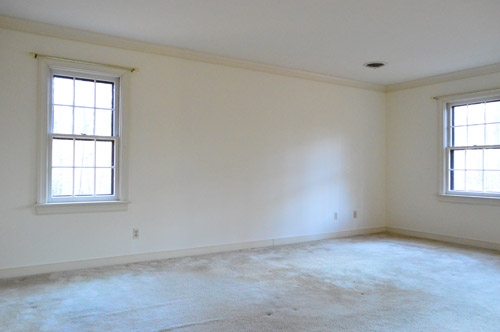 To Do:
Remove old carpeting and install hardwoods
Repaint all of the cream trim and doors
Repaint the off-white ceilings and walls
Add built-ins along the entire window wall (with integrated window seats, hidden storage, and display shelves with thick molding)?
Add a ceiling light fixture (there's nothing in there)
Maybe add some textured wallpaper like this to the ceiling, just to spice things up…
Bring in art, curtains, etc.
Add wood blinds to all windows (it gets crazy sunny in here in the afternoon!)
– Our Bathroom (0% Complete) –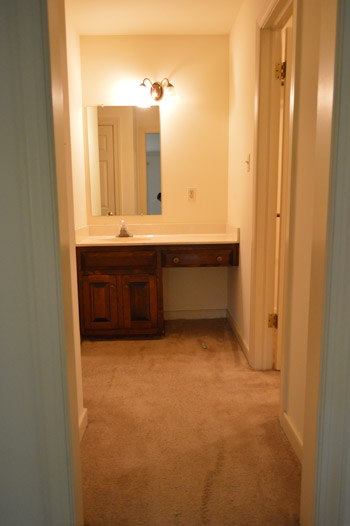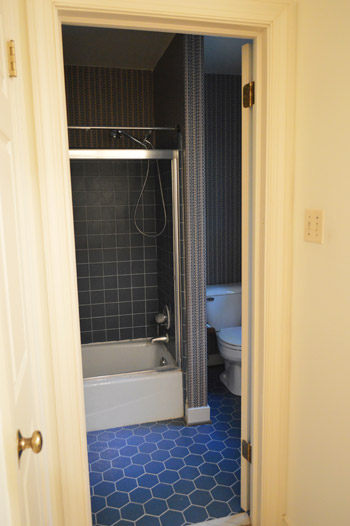 To Do:
Completely redo our bathroom (the fun blue hex floor tile is in rough shape and we want to expand the footprint into the sink nook area so it's all one space (soaker tub? tiled shower as well? double sink? should be fun!)
Bring privacy to the window in there (frost it? window treatment?)
– Our Closet (0% Complete) –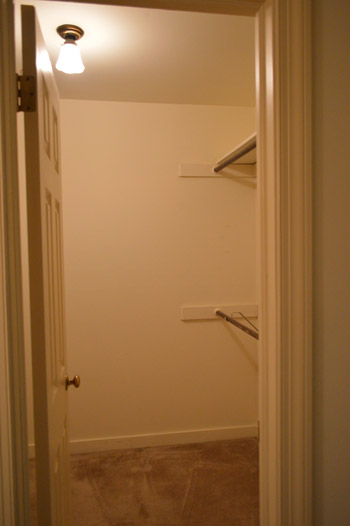 To Do:
Repaint all of the cream trim
New light fixture
Organize/build out/pimp the entire space (we're envisioning cabinetry with drawers, shelves, rods at different heights, etc)
-Upstairs Hallway (1% Complete) –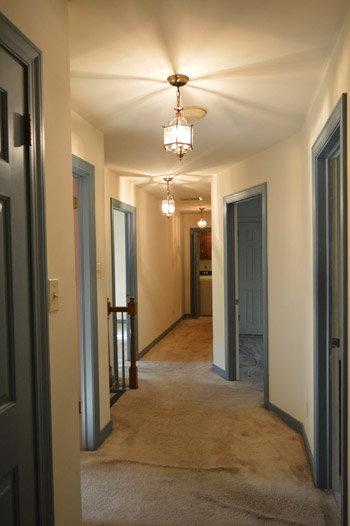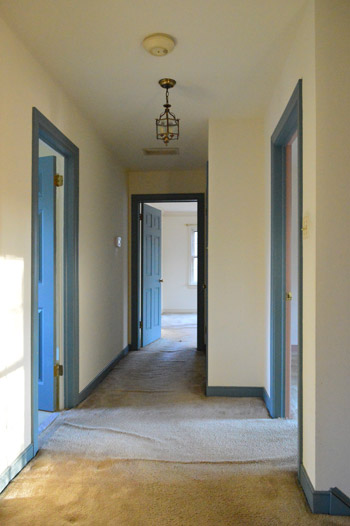 To Do:
Remove old carpeting and install hardwoods
Replace the old hallway lights (or paint existing ones? not sure)
Repaint all of the blue trim and doors glossy white
Get all new hinges and door knobs (they're not only bright brass, many of them are rusted/corroded so they can't just be sprayed)
Convert hallway linen closet into built-in open shelves or cabinets with shelves over them (sort of like this?)
Upgrade to a Nest thermostat (we hear nothing but great things about them, and John is drooling for one)
Add crown molding
Add thick wood wainscoting (like we have in the kitchen and living room) to the upstairs hallway to break up the long space?
– Clara's Room (1% Complete) –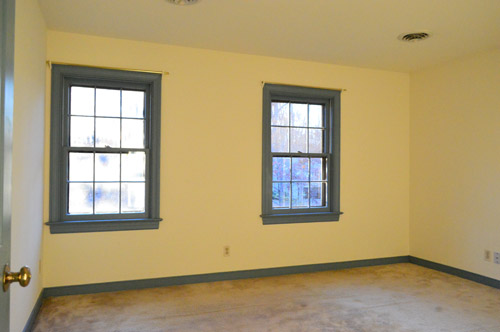 To Do:
Remove old carpeting and install hardwoods
Repaint all of the blue trim and doors
Make entire wall of built-ins somewhere? Maybe bookcases surrounding the windows?
Build a bench seat in Clara's deep sloped ceiling-ed closet nook with beadboard on the ceiling and wallpaper on the back wall
Prime and paint Clara's big girl dresser and attach leather pulls
Add crown molding
Add a ceiling light fixture (boo! there's nothing in there!)
Add window blinds, curtains, art, etc.
– Spare Room/Possible Someday Nursery (1% Complete) –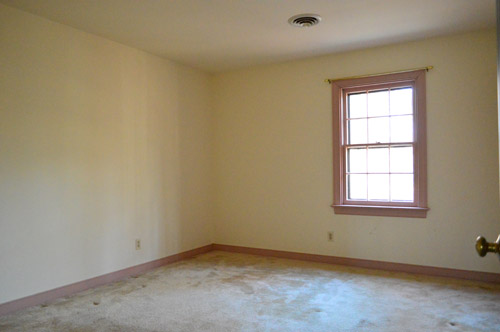 To Do:
Remove old carpeting and install hardwoods
Repaint all of the mauve trim and doors
Repaint the dingy ceilings
We're going to hold off on major decorating decisions until this room actually has a use (if/when baby #2 is on the way, we'd love for this to become a nursery)
Repaint the walls
Add crown molding
Add a ceiling light fixture (boo! there's nothing in there!)
Add wood blinds (for light blocking) and curtains
– The Guest Bedroom / Craft Room (1% Complete) –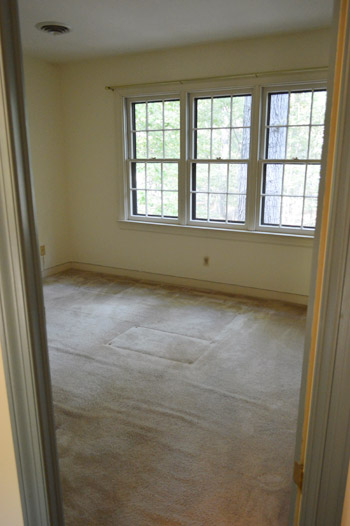 To Do:
Remove old carpeting and install hardwoods
Repaint all of the cream trim and doors
Bring in a bed and a dresser/desk that can accommodate my sewing machine/crafting so this room can multi-task (it has the prettiest view/light – I'd love to creep in there and sew/paint on Sunday afternoons)
Organize and build out some craft/gift wrap shelving in closet (lots of shelves and bins, etc)
Add crown molding
Add a ceiling light fixture (nope, there's nothing in there either!)
– The Hall Bathroom (0% Complete) –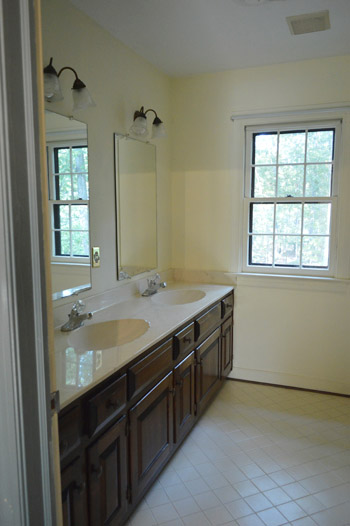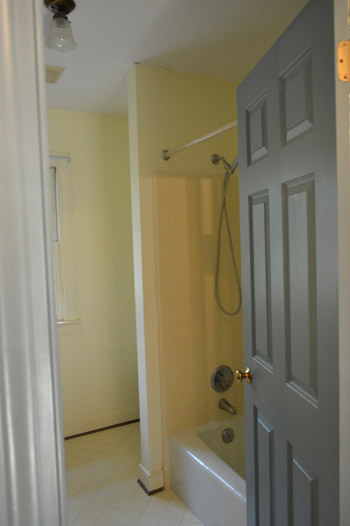 To Do:
A complete redo is in order (the old tile is stained/cracked, the tub and fixtures are crusty enough to make grown men cry, etc). Maybe we'll do herringbone slate? Marble? Extra long rectangles of tile like this?
– Laundry Nook (1% Complete) –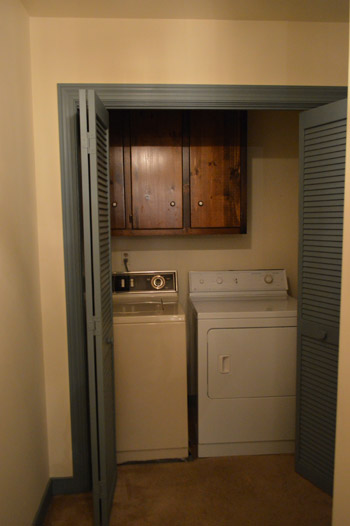 To Do:
Remove old carpeting and install hardwoods (with washer in a water-safe metal tray on the floor for leak protection)
Completely redo nook (new doors for noise control, updated energy star appliances, new counter, new cabinets – or more cabs if we re-use the existing ones)
Add tile backsplash and some great art/lighting (I want to make it a fun little surprise jewel box in the back of the hallway)
– Unfinished Storage Room (o% Complete) –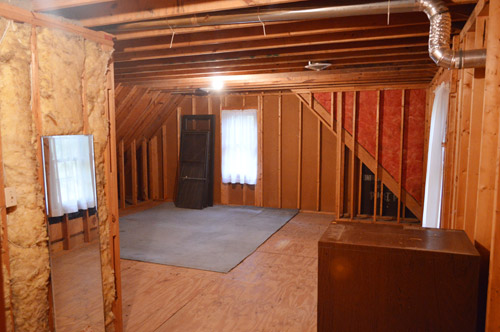 To Do:
This will serve as an awesomely large storage room for a while (we have no current need for additional finished rooms), but down the line we'd love to finish it – maybe as a movie room / bunk room for older kiddos? This'll be waaay down the line, but we dream of:

Adding drywall
Getting flooring
Adding lighting
Building out the closets (so there's still some storage under the eaves)
Furnishing the space with built in beds, a TV, a big sectional for lounging, etc – wahoo!
– General Whole House Ideas (0% Complete) –
To Do:
Slowly upgrade all lights in the house to LEDs to save energy
Replace all of the gold/wallpapered/off-white switchplates and outlets in the house (there are about ten million of those to tend to)
Upgrade to nicer frames, drapes, sheets, and curtain rods over time (they're not cheap, but we'd love to be "grown ups" someday – even if it takes us 10 years or so to get there!)
– The Back Deck (0% Complete) –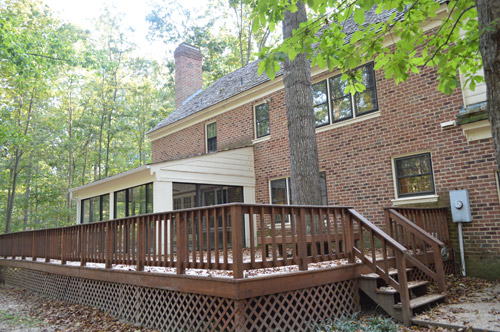 To Do:
Power wash and stain/seal deck and replace rotten/ warped boards
Remove the giant oak tree that's practically growing into the house (the inspection indicated that the roots could severely damage the house's foundation if we don't get 'er down – which is pretty sad since it's cute but just way too close)
Build a pergola for more architecture and shade off of the back of house where the future kitchen french doors will be (square to the sunroom)
Build outdoor furniture like a table or lounge chairs for the deck
– The Backyard (0% Complete) –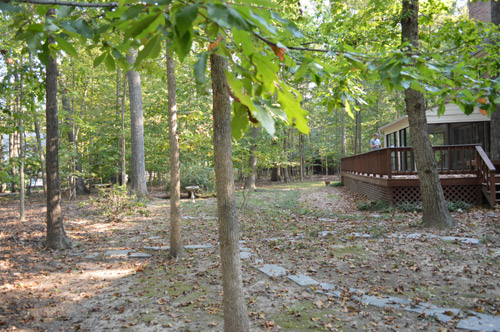 To Do:
Remove random slate paths from backyard and aerate and seed
Transplant a few things for a better layout, like the pretty peony bushes in the middle of nowhere (not pictured)
Plant holly bushes for privacy from the other houses that our wooded lot backs up to (Phase 1)
Build a fun wooden playhouse tucked back into the woods for Clara
Plant an edible garden
Build a swing set
Redo old cracked concrete walkway between garage and deck (not pictured) <– we'll be whipping up an outdoor video tour for you guys soon, which should help show a lot more than a few pictures can
Add more privacy plantings – tiered trees, bushes, and flowers (Phase 2)
Build some raised planters and hardscaping
Add a patio area somewhere around the deck
Make a wooden lean-to in the corner of the backyard with Clara and then plant some vines to grow up around it to make a cool little hideaway
Build air conditioner cover with wood boards like this
In summary, we've got big plans for this baby. And thankfully we've learned that we're hopelessly in love with the act of upgrading a house (we did this stuff for fun far before we did this as an actual job) and the journey is actually a lot more exciting than the destination is for us (more on that here). We've also learned just to take things one day/project/victory at a time to avoid getting too overwhelmed and sucking the joy right out of things. And seriously, is there anything more fun than crossing things off of a giant list called Listy McListerson? (NO. The answer is NO).
As for the method to our "project order," we don't really think there is one. We just do whatever we're in the mood for (barring anything that needs to be moved to the top of the list for safety or other extreme-urgency reasons). And we jump around from room to room just to stay excited and to avoid feeling too forced into doing something that we might not be ready to deal with yet – like gutting a kitchen or bathroom (we like to live in a house for a while to see how we use those spaces before completely retooling them).
As of this very moment, we're thinking that we'd love to tackle these before we move in a few weeks (might not get it all done, but it's nice to dream…):
repaint all of the trim and doors on the second floor (we hope to be done and share details by Wednesday)
lay our new hardwood floors in the four bedrooms and hallway
lose the floral curtains in the office, dining room, kitchen, and living room
remove the extraneous flow-blocking doors on the first floor (between the foyer and kitchen, dining room and kitchen, and living room and kitchen)
So those are "on deck" for ya. How do you guys make your house to-do lists? Do you keep them on your phone? On post-its? How do you decide what to tackle next? Is there any method to your madness?