We love being able to look back on Day One at our previous house (as clammy as the photos make us) – so we took a second to walk around our new house on Day One (in this case, the day all of our big furniture finally got moved over) and snapped these lovely photos. What do you guys think? Gorgeous, no? Our work here is done.
The living room: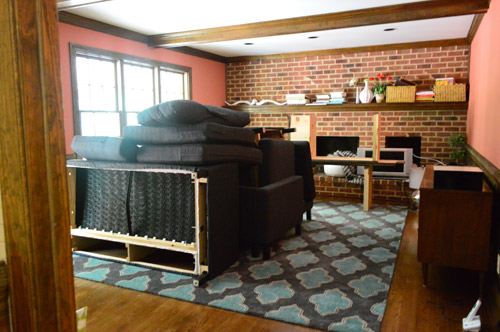 The kitchen: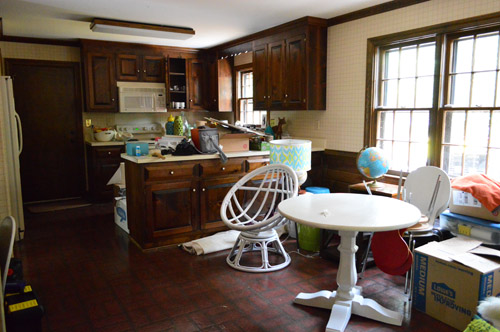 Other side of the kitchen: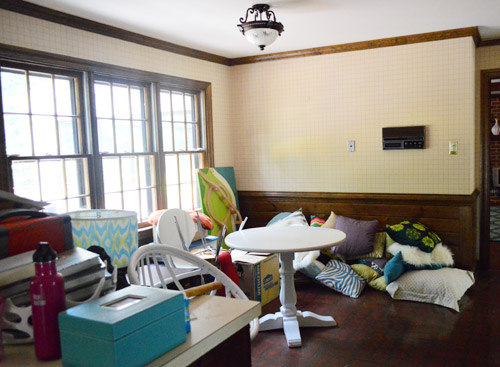 The office: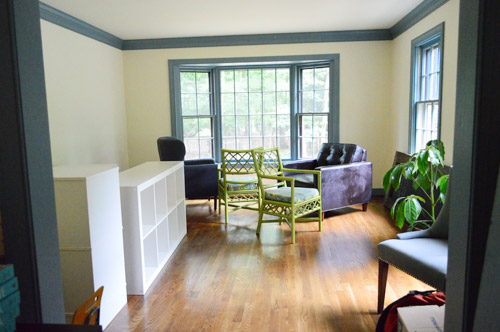 The dining room: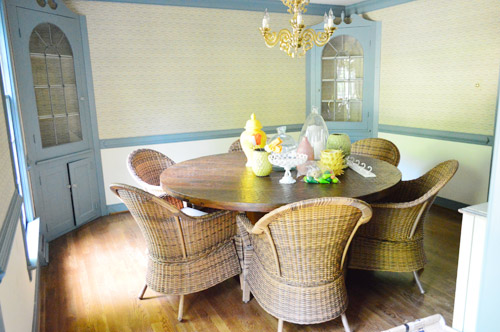 The guest room: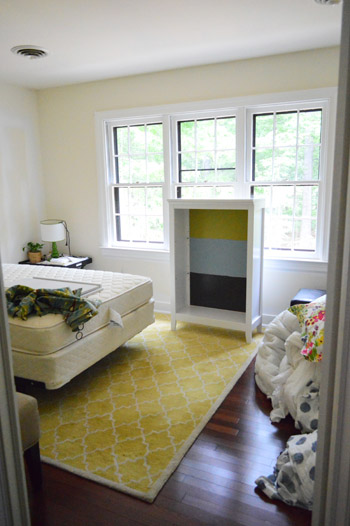 The hall bathroom: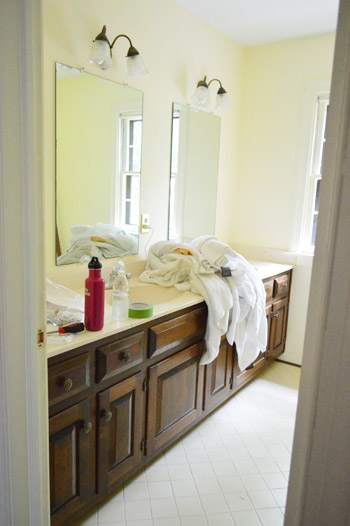 The spare room: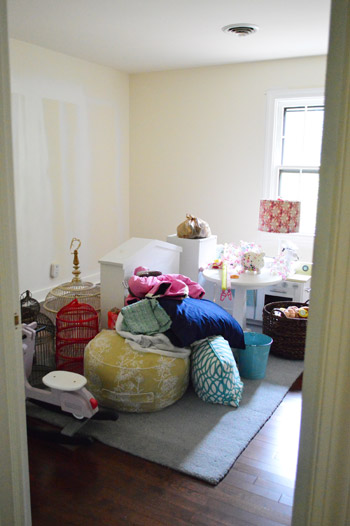 Clara's room (here's us frantically trying to get it ready so she had a place that felt like home – and a place to sleep).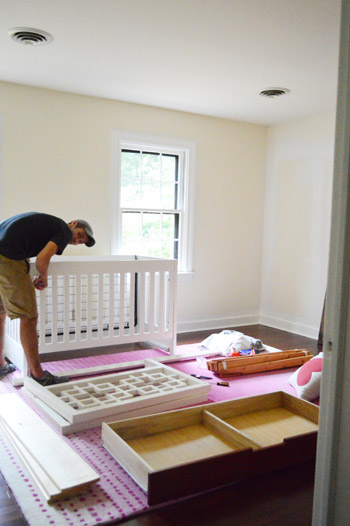 This is her room as it looked a few hours later: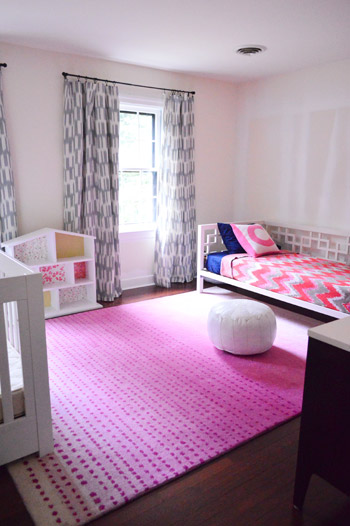 Words can't describe how grateful I am that she's so enamored with the place.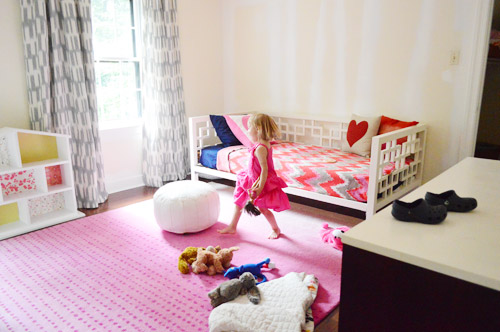 Here's our bedroom on Day One, as I was screwing the headboard back into place. Quick tip: every gal needs an accidental bouffant whilst using a power drill.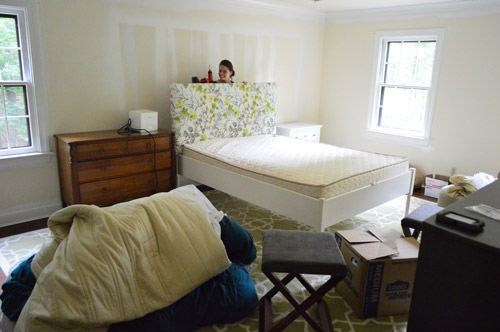 As for moving, this time we tried a new approach since we had overlapping time at our last house and this one. Instead of needing to squeeze everything into one big truck and move all on one day (which we had to do last time) this time we got to take car-loads of things over every time we went there. So if we were laying flooring we took a load each day we worked on that.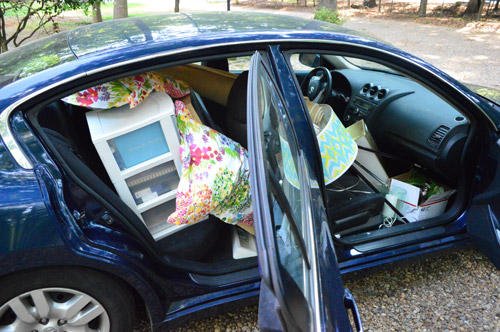 It sure looked crazy, but for the small to medium stuff it seemed to work great. And it definitely cut down on bubble wrap and boxes since just driving a few miles in the car (instead of stuffing everything into a rocky moving van) was a lot lower pressure. You can just cram things into the car in a somewhat thoughtful way, without meticulously wrapping every mirror and frame. And not only was it faster to pack, but unpacking went more quickly and created less waste too. No box graveyard like last time!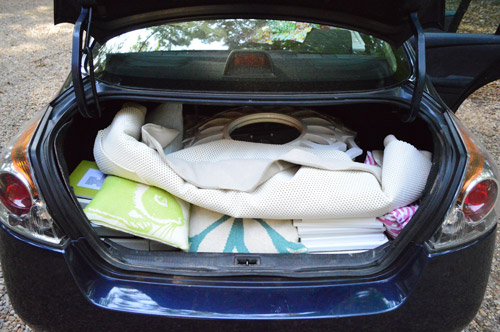 We also did one evening of moving that we lovingly called Family Caravan, where John's parents brought their larger cars over and we did a run to the new house with some bigger stuff like dining chairs and console tables. It was amazing how much we could transport in a 3-vehicle parade over to the new house.
But we still needed a big moving truck to transport large items (beds, dressers, the sectional, our dining table, two daybeds, a few big armchairs, etc). So we recruited some hired help that John's sister had once used for a move: four guys to lug stuff with us. We didn't task them with any box packing or furniture dis-assembly (we did that all in advance since we were paying them by the hour). And thanks to all that prep we had the big stuff over to the new house by lunch! So our budget way to use moving help would be to do 80% of it yourself and just hire the big guns for the large stuff – which is hopefully just a few hours of their time.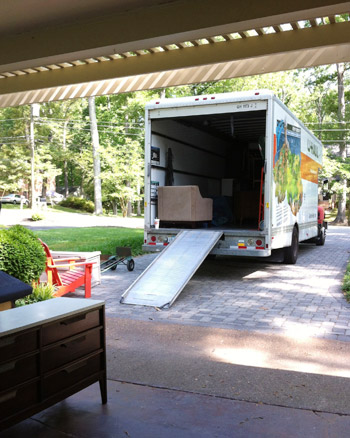 Not only did things go much faster, but it meant when they left we still had plenty of time and energy to start putting rooms together (we mainly focused on Clara's so she could feel settled). Plus, John was still in hardwood floor recovery mode so he was grateful to be spared some manual labor. Oh and I knew we'd have moving luck on our side (wahoo, no ditches!) when our U-Haul had my home state of Jersey on it. Picture me doing a good luck fist pump all around the truck before we started loading. You know, as one is apt to do.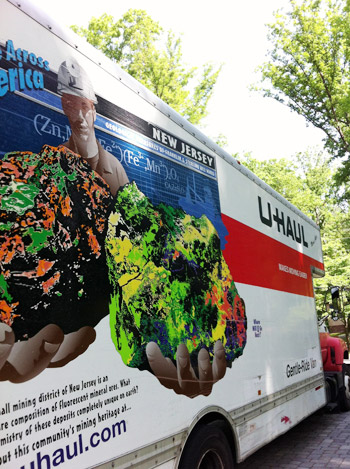 Oh and one of my favorite tips is to have small ziplock bags handy along with a sharpie. That way when you disassemble large furniture (John and I did that right before the guys showed up to help) you won't get to the new house and say "uh, where are those screws… and what goes with what?" I just bagged them, labeled them, and shoved them into my purse. It's a huge time saver, and a welcome stress saver after what could turn out to be a pretty long day of searching for nearly everything since your house is such a disaster area.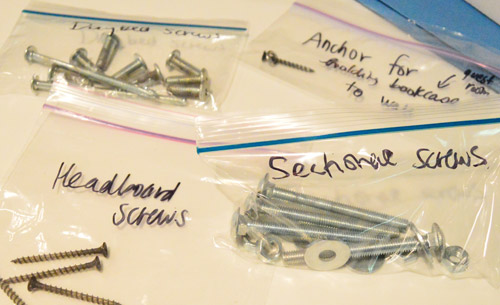 My second tip is to take time to soak it up. We posed for a few nerd-tastic photos throughout the process. It really helps to keep spirits up during a pretty tiring parade of carrying things, stopping to breathe, and carrying more things.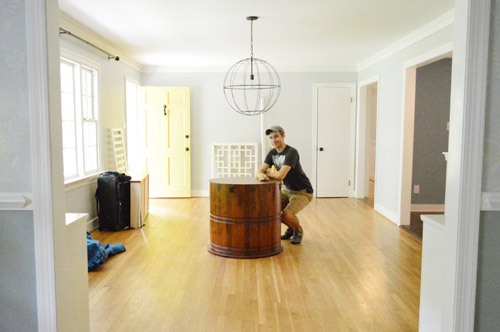 Bet you guys didn't know I was a windowsill ninja.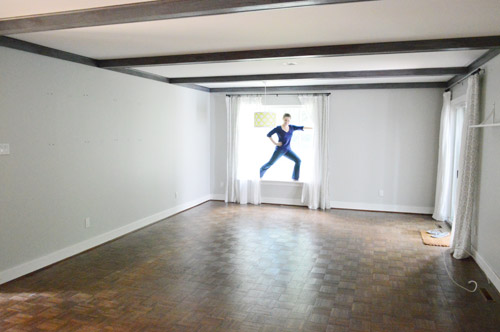 So that was Day One and a few moving tips. And you'll be relieved to know that: A) I'm no longer rocking an accidental bouffant, B) I'm also a top-of-the-car ninja, C) the sofa is put back together, the office no longer looks like a chair convention, but the house is still pretty nuts looking.
Can't wait to share all the photos as we get this thing together…