Offices are inevitably full of wires and cables. And if you recall from this post about building some under desk storage, ours is no exception. But we were determined to make our mess o' cords look somewhat more presentable. Because if you know us at all, this random under-desk chaos was not going to fly here at Casa Petersik. Plus we realized that once Clara gets a little more mobile she might even get into trouble under there, so we wanted to put the kabosh on that from the start.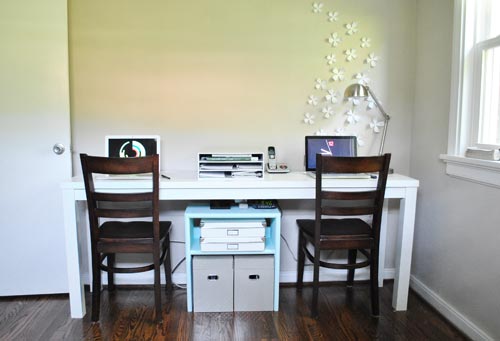 In addition to making things safer and more visually appealing, I also had two other functional goals. The first one was to get us down to one powerstrip / surge protector. See, we had one hidden behind the file storage (where we plugged in things like our modem) and one sitting on top of the storage shelf itself (which meant that the two wall outlets behind the desk were completely used up, each by a powercord plug). And since the only other outlets in the room are behind the couch on the opposite wall, we often found ourselves doing things like plugging the vacuum in all the way in the bathroom and running the cord down the hall. Annoying!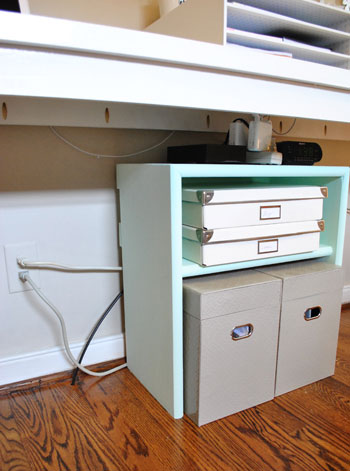 Our second goal was to clear off the top of the file storage shelf so that we might actually be able to use it for something other than resting a powerstrip on it (along with our external hard drive and clock radio).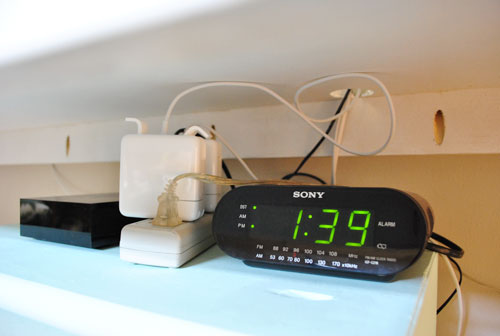 So with those goals in mind it was time to take inventory before getting started. The first question I asked myself was if I wanted to squeeze everything into one powerstrip, how many outlets would that strip need? So I unplugged everything and laid it out to count. We also used this as an exercise to see if anything could be eliminated (the radio ended up getting the boot because we could easily use our computers to both check the time and listen to music- and you know we like our devices to multitask). Here are the lucky seven plugs that we were left with: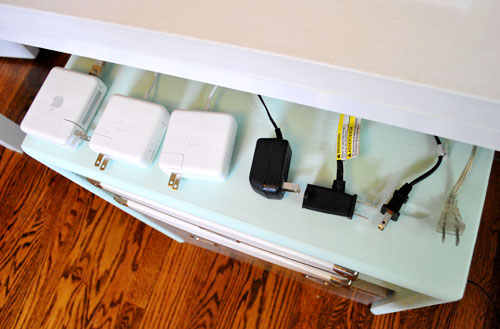 In case you're curious, from left to right they are: our Airport Express wireless station, our two MacBook plugs, our landline phone, our modem, our Lacie external hard drive and a desk lamp plug. So off we went to hunt for a powerstrip with seven outlets (preferably eight which would provide an extra). If we could find something like that, not only would we have an extra outlet on the strip, but we'd also have an extra outlet on the wall for the vacuum since we would no longer have two powerstrips going on. We were daring to dream. Here's what we came home with: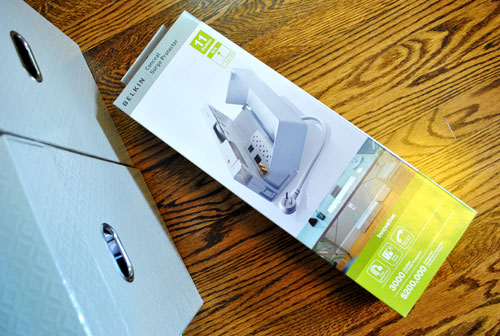 This Belkin Concealed Surge Protector was actually recommended to us by our friend Heather who recently used it in her home office. She told us that she got hers at Home Depot, which wasn't a place that we expected to find such a product, but they actually had a larger selection than Office Depot (the first place we looked). Thanks for the tip Heather! And although this sucker was a semi-steep 49 bucks, we figured it was worth it to be able to close the entire mess of plugs in a concealed case that was kid-safe. Not to mention that we would gain eleven whole outlets plus the extra one that we'd be freeing up on the wall!
We were very excited until this discovery…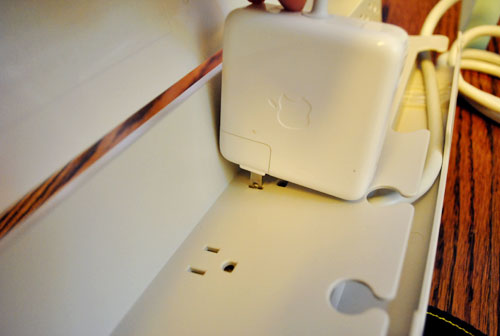 It doesn't play nice with Macs. Not only were the MacBook AC adapters too big to fit into the slot that was especially built for big adapters, they blocked the cover from closing when plugged into the normal outlets. FAIL!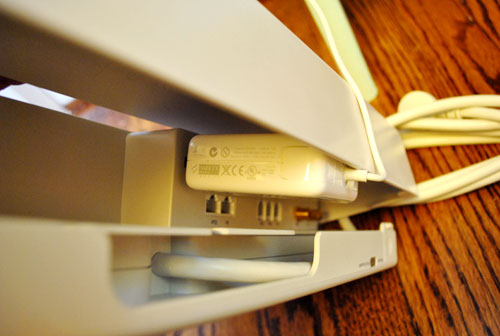 A bit disappointed, we trudged back out to Home Depot for a second time that day (and a second time ever for Clara) to find a replacement. Enter this guy: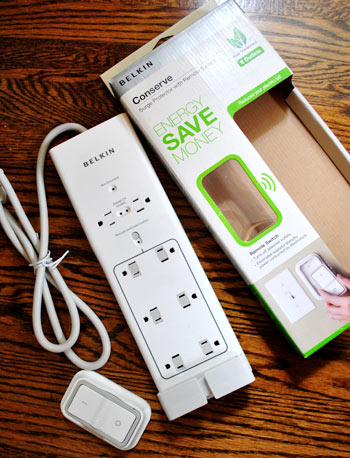 We hadn't even noticed him the first time we went powerstrip shopping, but this Belkin Conserve (which came in cheaper than the last one at Home Depot: $39 to be exact) met our minimum eight outlet requirement, plus it offered a cool eco-option. It comes with a remote switch to turn off six of the eight outlets when you're not using them (doing away with the dreaded vampire power effect to save energy and money). After some quick plug scheming in our heads we realized this could be the perfect option. See, we really only needed our modem, phone, and Airport to stay on at all times – and the modem plug has an extra outlet in the back of it meaning that those three items could easily be plugged into the two always-on outlets. So off to the register we skipped (well, it was probably more of a happy walk).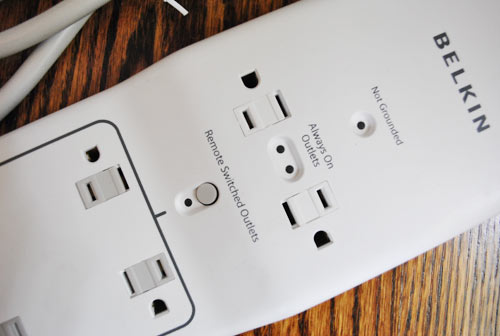 Like most surge protectors, this Belkin guy has holes on the back that make it ready for mounting (meaning I could finally achieve my second goal of getting everything off of the top of the file shelf). Our mounting spot of choice was actually the back rail of the desk (since we didn't want to mount it to the underside of the desk for fear that gravity wouldn't help those plugs stay in as much as it would if we mounted it on its side). So off I went to mark a few tiny pilot holes for a few small screws.
In case you've ever had trouble marking for holes on an item like this (perhaps when hanging a picture frame) I thought I'd share my odd-but-it-works system. It involves wrapping a little bit of blue painter's tape from the backside right through the middle of the holes and back around to the front side where I can see it. Oh and I draw the little arrow to remind myself which edge of the tape I should be looking at.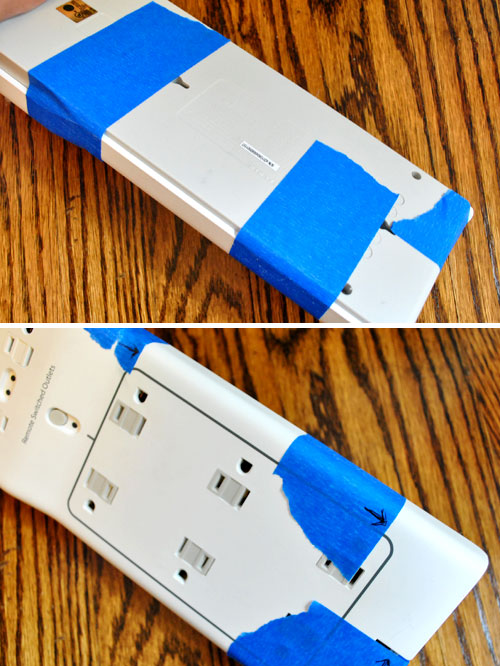 Then I can hold the item against the wall (or in this case, the powerstrip against the desk) and mark how far down my holes should be. Next I draw a line, and then mark on the line how far over I should drill. It's not the most clever thing in the world, but it has always worked for me!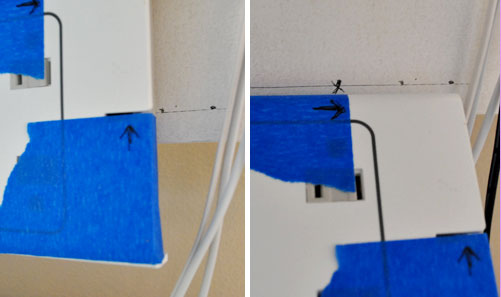 Anyway, with my two holes drilled and a bit of manhandling I finally had the powerstrip mounted securely to the back rail underneath the desk. Ta-da! Note: Those long holes on either side are leftover from constructing the desk. Since they were hidden I didn't bother to fill them in. Yes, I get lazy sometimes.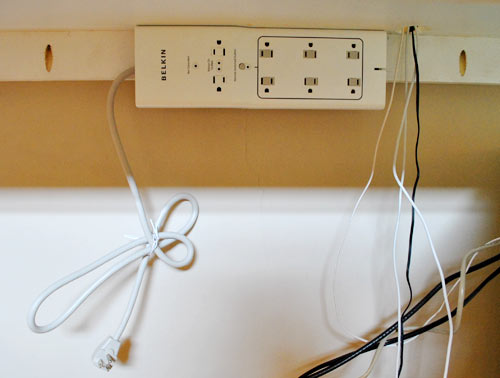 With the strip in place, I plugged everything in and watched a new mess of cords unfold before my eyes. Boo! Even with the cord wrangler that Belkin provided (at least it pulled all the wires off to one side… see that folded flat tan ring on the right?) it wasn't looking too hot. I guess I was finally getting a look at the jungle I created by plugging all seven cords into one surge protector. Sheesh.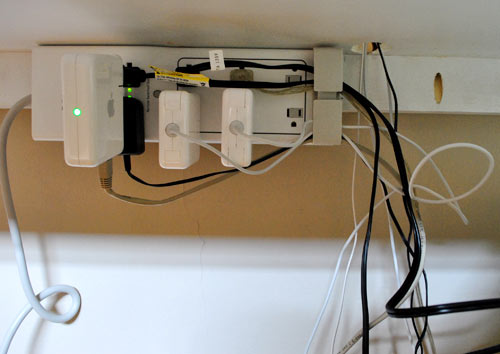 Not to worry, I still had a few more tricks up my sleeve when it came to making the excess cordage disappear. Such as these cable organizer clips that we snagged at Office Depot for just a few bucks. They have a small adhesive strip on the back so you can stick 'em anywhere that cords need wrangling.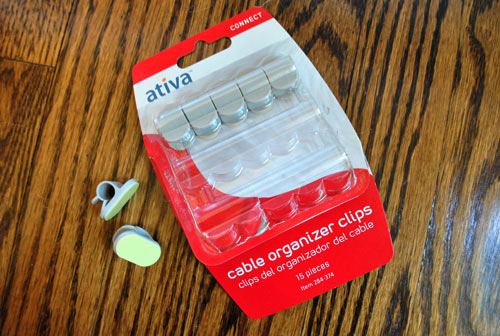 I started on the backside of the desk. By placing one every foot or so, I was able to guide all of the cords for our desktop items (the computers and the lamp) so that they were hidden behind the desk until the very spot that they were needed (i.e. my computer cord now pops up right next to my laptop) and by wrapping some of them I eliminated any sagging excess from making an appearance under the desk (which Clara could have someday tugged or nibbled- you never know!).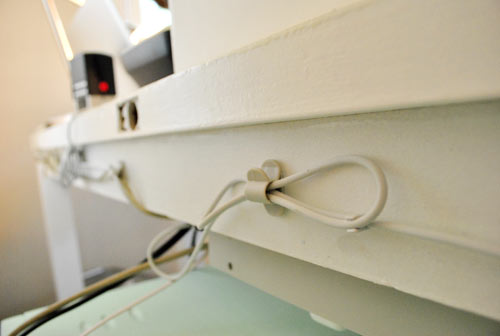 For the rest of the wires (most of which were going straight down towards the modem hidden in one of the white storage boxes on the blue shelf) I just used a twist-tie leftover from the surge protector packaging to at least corral everything into one thick strand. Beyond that, I let myself relax a bit knowing that everything else would be hidden behind the file shelf (not to mention that unless you were sitting on the floor under our desk you'd never see anything to begin with).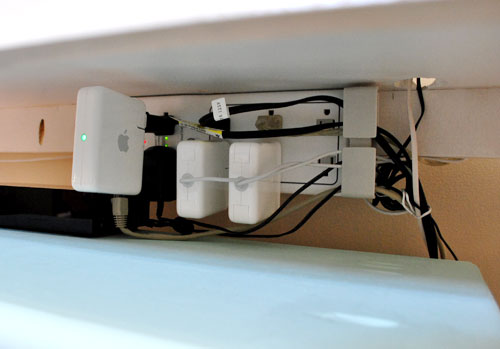 Of course one other eyesore was the cords coming from the wall outlet. I already helped that issue by eliminating one plug (since we no longer needed a second powerstrip) and I solved the remaining loose cord issue with my handy cable clips. Thank goodness both the cord and the clips were basically the same color as the wall. Oh, and for the ugly black coaxial cable that connected to our modem (which the previous owners so lovingly fed through a drilled hole in the floor) I just hammered a small nail into the quarter-round molding to keep the black cable hidden against the dark brown floor.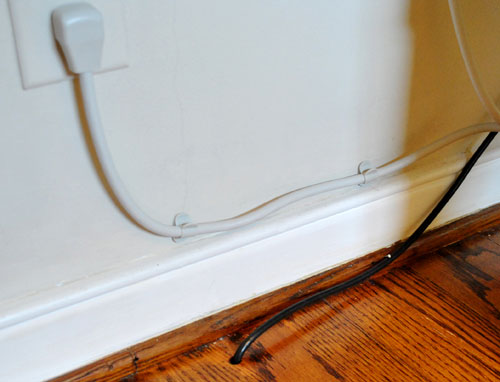 Then we just pushed the blue shelf back into place so the cords looked nice and clean and parallel.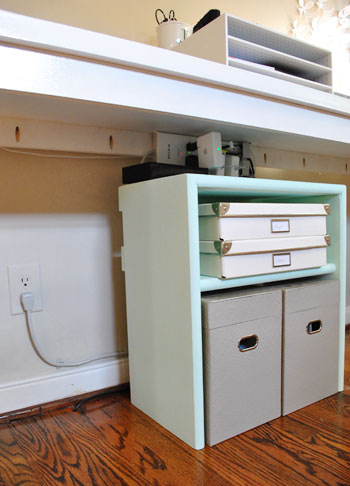 While I'm completely pleased at achieving two of my goals (#1 – freeing an outlet, #2 – making room on top of the file shelf), I was kinda bummed my cram-all-plugs-into-one-surge-protector tactic left me with that mass of plugs hanging from the back of the desk (even though no one will ever see them unless they're sitting under the desk). But, with goal #2 completed, Sherry and I plan to further obscure the whole thing with a small tray for keeping things like her paint fan decks on hand, which will truly hide that gang of plugs once and for all. And I shouldn't forget to point out that the whole thing looks great when viewed from a normal sitting or standing angle: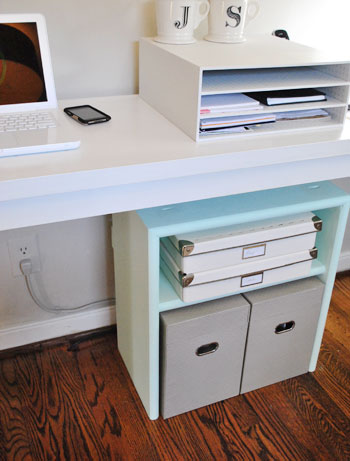 Before we leave this topic though, we wanted to share one other wire-related project that we tackled this weekend: going wireless with our printing. Our four year old HP printer/scanner/fax that sat under Sherry's old desk was still kicking, but the fax component made it a bit bulky for this office and it of course it didn't have any wireless functionality. But while shopping at Office Depot for our other cord-y goodies, we spotted this HP PhotoSmart C4780 printer/scanner/copier on sale (down from $100 to $79). And it definitely was an upgrade thanks to the wireless capability, the sleek and much easier to use scanner pad, and the smaller and thinner footprint. So as much as we had initially wanted to hold out for a shiny white Mac-esque printer/scanner, we couldn't pass up the deal, the shelf-ready size, and the fact that it would add tons of wireless printing and scanning function to our office. Woo hoo!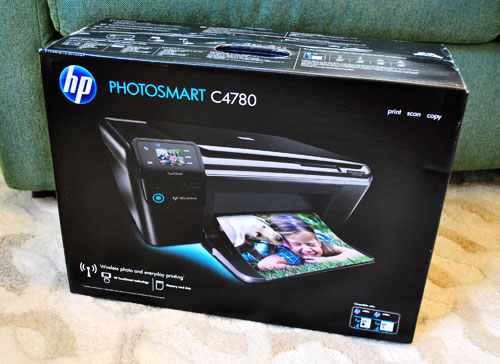 I'll skip the details of setting up and installing the printer itself, but just know that the wireless function works (thank goodness- and yes, we held our breath during the test) so there's no need to keep it within cords' reach of our computers. And the power cord actually slipped nicely through the small space between the bookcase and wall, making it easy for me to feed it to our other outlet behind the couch without creating any sort of messy wire chaos in the process. Perfecto!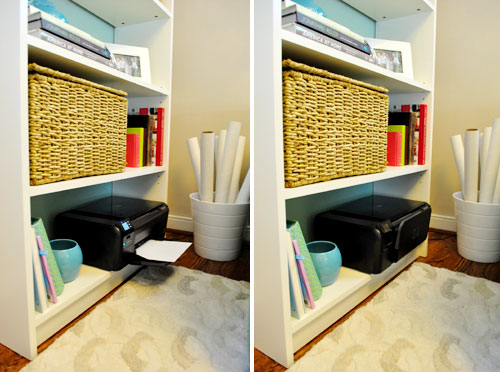 Thus concludes our tale of wires, cables, and cords. And since we know that no two cord situations are alike, we'd love for you guys to share any techniques that you've used, products that you've relied on, or tricks that you've pulled from your sleeves to make your wild wires behave.
P.S. Oh yeah, and thanks to everyone who suggested collecting reader postcards for our postcard art wall in the comment section of the last post! We're happily accepting them at PO Box 36665, Richmond, VA 23235. And a big thumbs up to those who already sent us cards from their home states (and countries). We can't wait to share our progress on that next week!
Psst- Wanna follow the entire office/guest bedroom/playroom makeover? Click here for the intro post, here to read about the big sleeper sofa hunt, here for the DIY desk play-by-play, here for the homemade light fixture project, here for our hacked Ikea bookcase, here for how we built some file storage, here for how we added some toy storage, and here for how we picked out some DIY art that we could agree on.