When our own before picture popped up in our inbox, we couldn't help but do a double-take. It actually wasn't our photo at all, but a beautiful dresser re-do that Desiree performed on the same piece that we scored and refinished for Clara's nursery a few months back. Small world, eh? Here's Desiree's letter:
Technically this isn't a Reader Redesign since you've already done it – perhaps it's more of an homage? At any rate, I just wanted you to know that I followed your tutorial to a 'T' and then some! I was looking for a dresser for our guest bedroom and when I found one identical to the one that you redid for your nursery, I jumped on it because I knew that re-finishing it would be a breeze.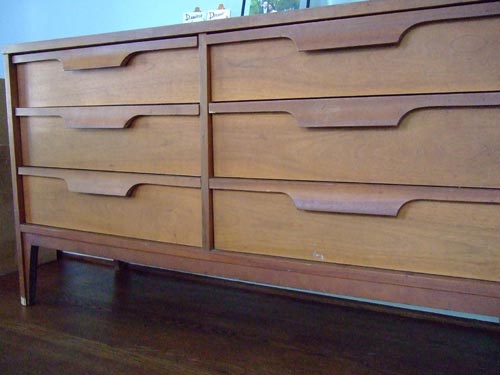 I wish I only paid $20 for mine like you guys, but everything is more expensive in the big city – even on Craigslist! I give y'all major credit, because I definitely couldn't have done it without your tutorial… and because I think you're kinda awesome! – Desiree
Well, right back atcha Desiree. We think your new piece is pretty darn cool (although it's kinda trippy to see Clara's changing table in someone else's house!). It's nice to know that the dresser looks just as good in a slightly lighter stain, and it definitely works in a room other than a nursery. Great job! Everyone, be sure to head over to Desiree's blog to see more of the transformation process (not to mention how well it matches the rest of the room). Thanks for sending the eye candy our way Desiree!
What about you guys? Have you taken on any furniture makeovers as of late? Or found any amazing pieces on Craigslist that you just had to have? Do tell.