***This giveaway is no longer accepting entries***
First I'll take a moment before revealing this week's freebie to let Destiny's Child start playing in your head (click here if you need some help).
Ok, now that that's out of the way we'll explain why this week's prize is bootylicious. Well, it comes from the cheeky folks behind Booty Bean Bags. They'd like to remind the world that bags o' beans aren't just for kids, gamers, and college students – they can actually have a place anywhere that anyone (even us grown-ups) would like to get comfortable. They've even extended the bean baggage to outdoor furniture, ottomans, and multi-person loungers. And we love that they don't take themselves too seriously (the fact that they're called Booty Bean Bags was a dead giveaway).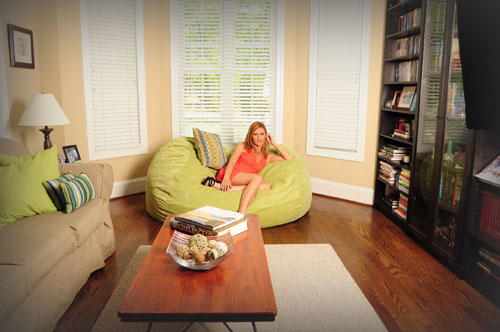 So in the spirit of having some booty-tastic fun, they're giving one person their choice of either a Chofa for One or Two (pictured above) or the Brawny Bag, which is durable enough for the great outdoors – and can even go in the pool! In fact it can reportedly hold five guys without sinking. Not that I understand why you'd want quite that much company when you're floating around… but if it floats your boat bag, we say go for it.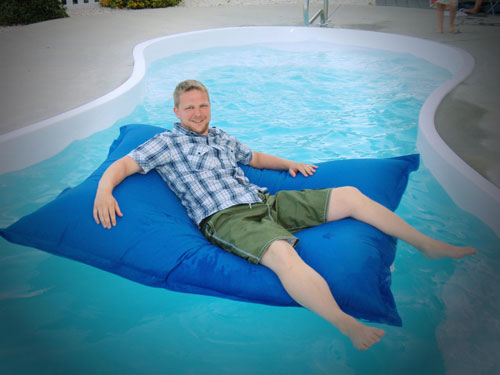 On to the all-important entry details (and don't forget to stay tuned for an exclusive YHL discount on Thursday):
PRIZE: Your choice of a Chofa for One, Chofa for Two or the Brawny Bag in any color from Booty Bean Bags.
TO ENTER: Comment on this post with the words "BAG ME!" (or, if you'd prefer: "I'M BOOTYLICIOUS") and…
BONUS QUESTION: … tell us about your absolute favorite place to relax at home. Is it a well-worn leather recliner? A bed with a sea of plush pillows? A lazy hammock in the backyard?
GIVEAWAY CLOSES: Wednesday, July 14th at 8pm EST
NUMBER OF WINNERS: One
PRIZE SHIPS: The lower 48 United States
USUAL STUFF: One entry per e-mail address is permitted. The winner will be selected using random.org and announced on Thursday. Good luck!
See our Giveaway FAQs page for more info. Pics courtesy of Booty Bean Bags.