We do our best to house crash a variety of homes, from the big and the beautiful to the cozy and quaint. This time we crashed a New Jersey townhouse that's so inviting we're certain none of the neighbors' adjoined homes could even compare. It's one thing to create a welcoming and warm home in a colonial on a hill, but it's another thing entirely to decorate a space (on a dime no less) that has the same floor plan as everyone else on the block. And Heather & Christian really went the extra mile. Here's the cute couple now, just itching to show us around. Let's get tourin'!
When you step into Heather and Christian's home, the open floor plan creates an expansive feeling, even when there's not one square foot to spare. The kitchen is the first area on your right, separated from the dining space with a solid L shaped counter. Heather and Christian mimicked this delineation again in the living area by smartly separating that space from the dining room with the help of an L shaped sectional sofa, which maintains that open feeling thanks to the low profile which allows you to see straight through to the glass doors on the other side of the house.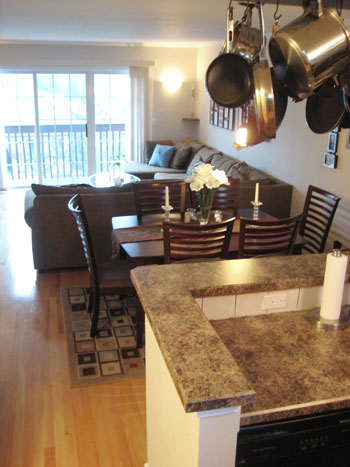 But it didn't always look this open. Here's an old shot of their townhouse (with the previous owner's furniture) BEFORE they knocked out the strange 3/4 wall dividing the dining area and the living space: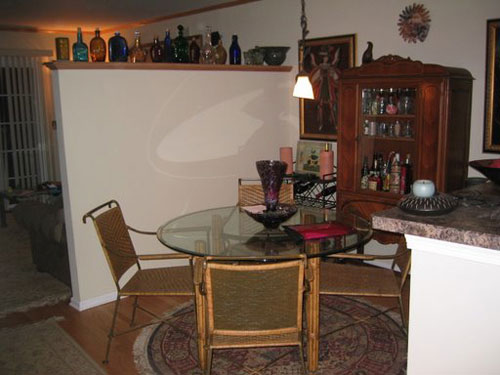 Taking down that oddly placed wall was the best thing Heather and Christian could have done for the space. Now there's an uninterrupted view, and the flow is fabulous. And Heather and Christian took it down with their own two hands (along with a sledgehammer and a hand saw)!
Here's a shot of their small but super efficient kitchen. The muted stained navy cabinets definitely add flair beyond builder white (which is what you'd expect in a townhouse) and everything from the pot rack to the wine rack makes the space feel functional and ready for some serious cooking (you gotta hang things where ya can in a small space, and Heather and Christians are seasoned pros).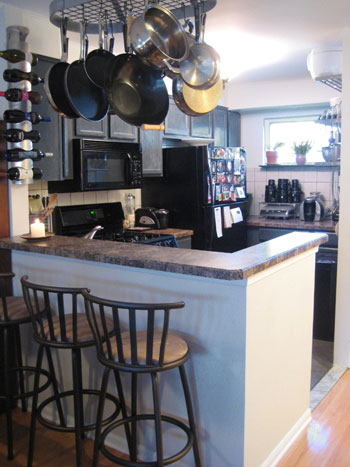 And speaking of seasoned pros, nothing better demonstrates their orderly and functional style than these industrial Ikea shelves, mounted vertically to facilitate storage and easy access in a space that might otherwise go wasted.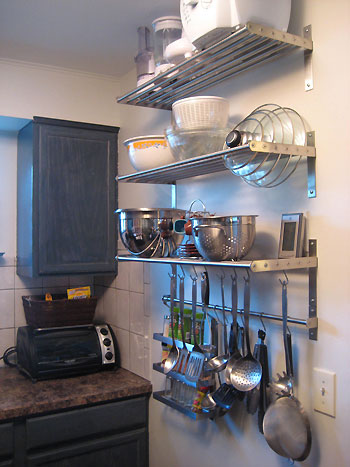 The dining area is a simple table for six. But for gatherings with more than six people, the three stools at the nearby counter (see fourth picture) allow for a total of nine who can chat and grub in the dining room- which is no small feat for such a compact space!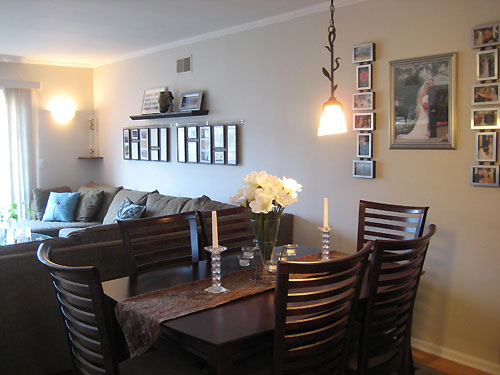 Here's their cozy and welcoming sectional with a few hits of pale blue and chocolate brown, two of Heather's favorite accent colors (which also reappear in the rug). Not only does this enormous couch make throwing an annual Superbowl party no sweat, it also comfortably sleeps at least two people in a pinch. Multitasking never looked so good.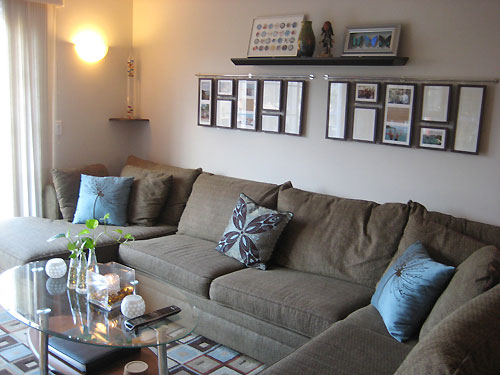 And when it comes to art, Heather and Christian love to personalize their space. From photos (hung from a rod in modular frames from Red Envelope) to a framed collection of Vegas poker chips, this space is decked out with momentos that really mean something.
Here's another smart and simple way to carve out a little "moment" in an area that otherwise would go wasted. Heather hung this big square mirror directly over a fuse box to hide the eyesore (while keeping it completely available should they ever need access). Of course mirrors are the number one way to enlarge a space and keep light bouncing around, so choosing a mirror instead of a big piece of art was a great call.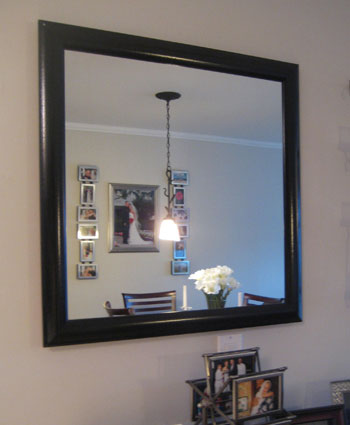 Heather actually found the inspiration for her moody navy bathroom in a luxurious hotel powder room that she fell in love with years ago. She vowed to someday paint her bathroom a rich navy, and finally got the chance when they purchased their townhouse in 2005. Voila- the previously unremarkable little "builder" bathroom was totally transformed for under $20! And the navy tone in here mimics the stained navy cabinets in the kitchen for a subtle cohesion throughout the entire house.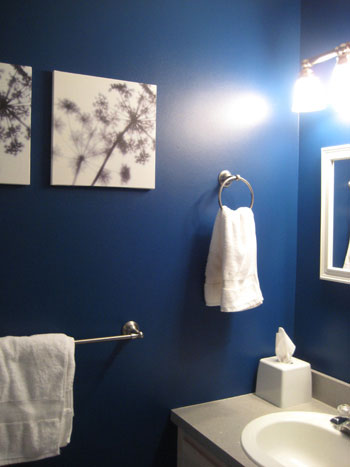 Never ones to keep things dark for long, Heather and Christan lightened things up in their cozy bedroom upstairs. A plush oversized bed creates a definite haven after a long day, and a soothing pale blue-green on the walls feels airy and serene- like a day at the beach.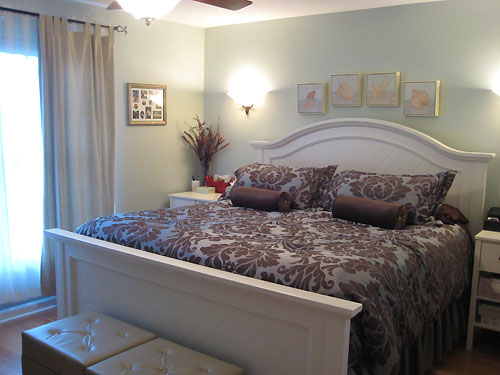 And so ends the tour of Heather and Christian's personalized little townhouse full of space saving tips and tricks. Stay tuned for more house crashing adventures- you never know where we'll pop up next…