After recently revealing that John would be coming on as a full time blogger here on the home front (and mentioning that we had a full scale guest bedroom to office-slash-guest-bedroom-slash-playroom makeover in the cards) we're back to spill more details about that space's big switcheroo. Spoiler alert: we need a sleeper sofa, STAT.
Let's take a look back – waaaaay back – at what the room looked like when we moved in.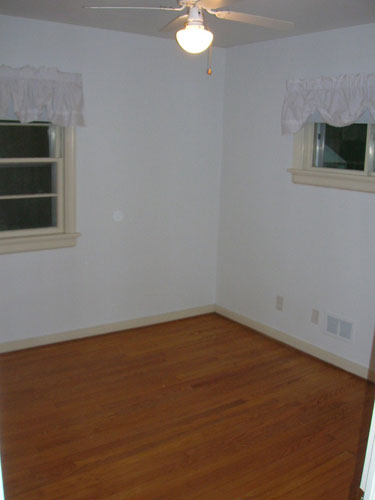 It was actually a pretty blank slate to begin with, so replacing the ceiling fan with a flush mount fixture (like this- basic and cheap, but still an improvement) seemed to raise the ceiling about a foot. Then we just painted the walls a neutral tone, added some crown molding, stained the floor a richer mocha color (which we also did to the rest of the existing hardwoods), switched out the valances for some clean-lined (and super cheap) roman shades from Ikea, and brought in a hand-me-down bed from a family member with some fun linens and a DIY headboard that we whipped up. Even the wall art was made on a budget.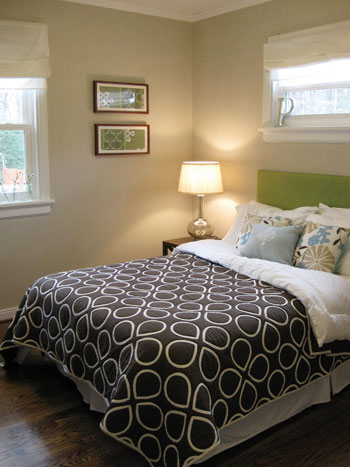 We loved our little guest bedroom and it served us well for years. In fact we were pretty sad when we realized that we'd have to make some major changes to the room when it came to accommodating an office for two along with a spot for a wee one to play without losing the can-sleep-two-people function that it always provided. Being use-what-we-have kind of people, our first thought was that maybe we could reposition the bed against two walls to create a daybed type feeling and free up some floor space. So we rotated it into the corner and came up with the idea to upholster another headboard panel (which we drew in thanks to Photoshop below, see the arrow?) to demonstrate the idea: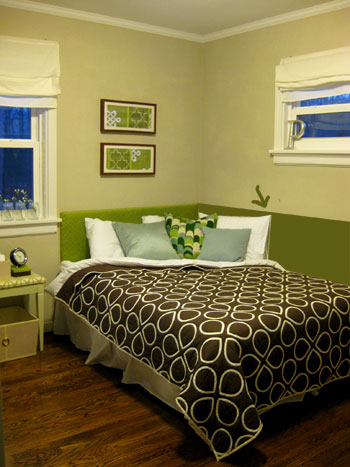 And remember the rug we snagged on super clearance from the Pottery Barn Outlet for $300 off a while back (with every intention of working it into the guest bedroom for some added softness)?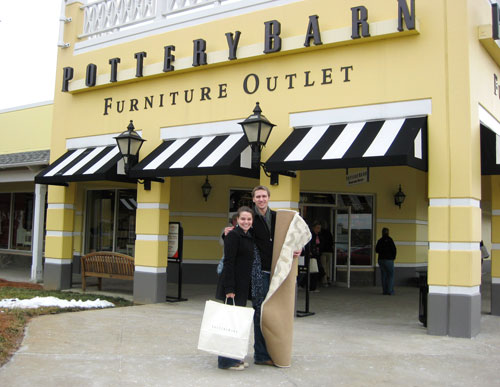 Well, we laid it out under the bed in an attempt to further ground that daybed/sleeping corner of the room. Burger seemed to like it (ten points if you find him), but we weren't convinced.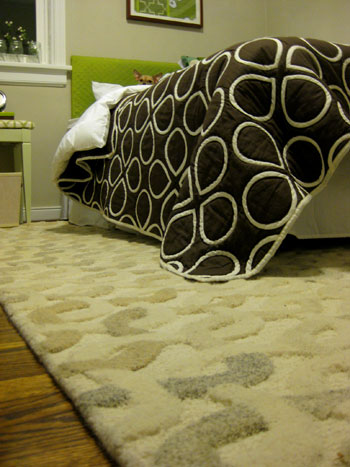 The problem? The full sized bed still took up a huge portion of the extremely small 10′ x 10.5′ room… leaving Clara zero floor space to play on while one or both of us worked (and speaking of working, we really had no clue how we'd fit two desk spaces into this plan as it was). So we decided that we had to pull the plug on the full sized bed and come up with an alternate sleeping solution for our guests (preferably one that could be tucked away or minimized during the rest of our time in that room so it could more easily accommodate two bloggers and a baby most of the time.
Which meant that it was time to hit up Craigslist to see who would cough up $60 for our full sized bed frame and hand-me-down Sealy mattress & boxspring. The craziest thing was that by the time we had the bed disassembled we already had a buyer in route to our house! And within two hours of listing our bed we'd sold it (for our full $60 asking price). Pretty sweet, eh? Here's the mattress waiting for pick-up in the nursery.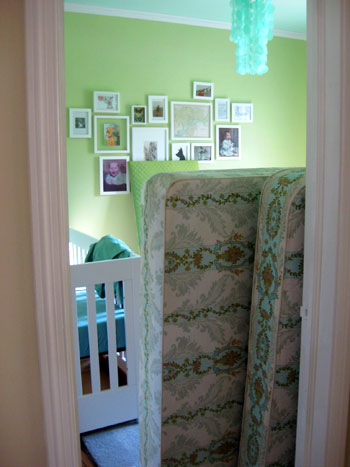 And you can tell this part of the makeover actually occurred a while back because there's no skirt on the crib and the nursery art wall hasn't been altered yet. We just like to do one project at a time, so after taking a quick nursery hiatus to sell the mattress we were back on baby-room duty while the office waited its turn.
Oh and because we know that you guys like seeing our house all torn up, here's the master bedroom with our guest bedroom linens piled high on the bed while we waited for our new Craigslist friend to come cart the bed away. Burger seems to sneak into every bed photo that he can, doesn't he?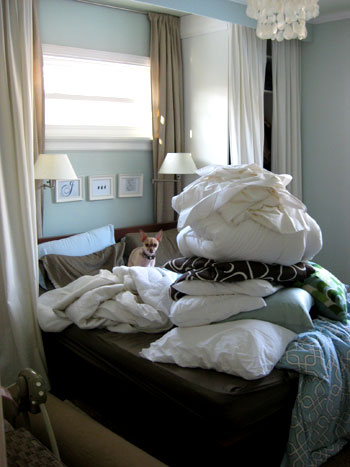 So anyway, once the ol' full sized bed was sold and the rest of the things in the space were cleared out, we were actually able to give the green bench and the bedside table that used to live in the guest bedroom a second life in the nursery (we love repurposing everything that we can so that was a thrill and a half for us).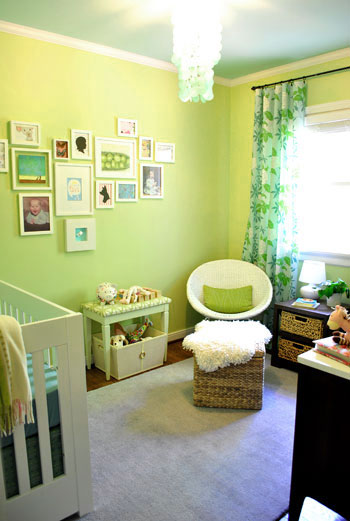 And we were left with a blissfully bare space to analyze every which way…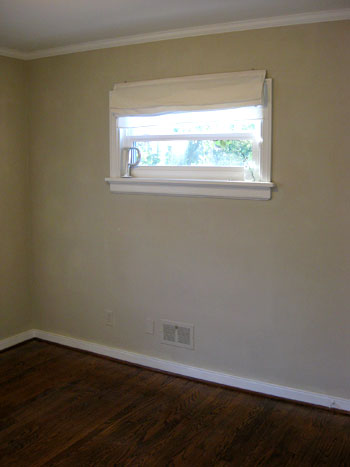 … to see how we could possibly squeeze a double office and a play area for Clara-Bean into the 10′ x 10.5′ room (along with maintaining the can-sleep-two function that we'd grown so accustomed to over the years).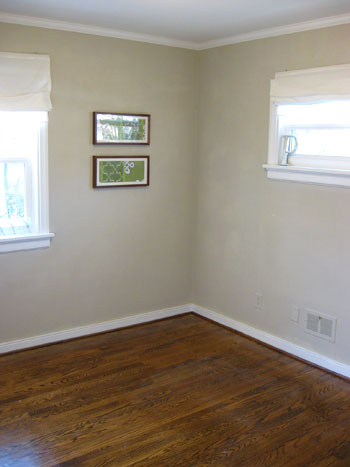 First we seriously considered a murphy bed. You know, those fold-out-from-the-wall options that we've seen popping up all over the place lately. The downside was that many traditional murphy beds were not only extremely pricey, but the layout of the room wouldn't accommodate the fold-up function since two walls had windows which would have been obscured when the bed was folded up (not a good idea in such a small space since we need all the light we can get). And the other two walls wouldn't work thanks to the doorway into the room and a closet that we needed to maintain access to. Even if the layout could have accommodated a murphy bed, the one thing we didn't like about it was the fact that when it was tucked up and away it didn't provide a place to sit (which we knew would come in handy for everything from nursing to relaxing with Baby P while the other 50% of YHL blogs away at their desk). So we wondered if we could bring in a piece that would provide functional seating space all the time, just with a much smaller footprint when it wasn't serving as a full sized bed. Yup, we're talking about a sleeper sofa.
But we had some serious reservations about how comfy a sleeper would really be for our guests. Almost everyone has had the ol' rollbar-dented-back experience when crashing on an archaic sleeper sofa, and we definitely want our visitors to be 100% comfy (as opposed to stiff and sore in the am). But we've actually slept on some just-as-comfortable-as-a-normal-bed sleeper sofas on occasion, so we knew that if we didn't skimp on the quality we could probably find something that would meet our needs when it came to providing some nice seating by day and sleeping by night when it was all folded out and fluffed up with linens and pillows. So our next step was to do some internet trolling to see what was out there online- just to test the waters. Here's what we dug up: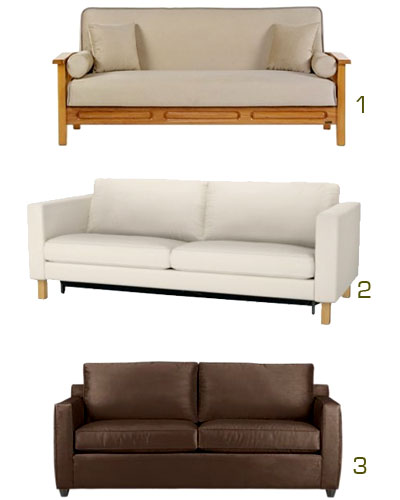 1. This $689 Target option
2. This $899 Ikea option
3. This $1400 Crate & Barrel option

But the issue that we had with online options were that we couldn't really lay on them to see how they felt with the mattress all folded out. And of course the $1400 Crate and Barrel option (which we could check out in stores for comfort-factor) was a bit more than we were hoping to spend. Heck the $899 Ikea version felt expensive to two cheap-os like us. And blindly ordering the $689 option (which was only available online and not something we could experience for ourselves to ensure that it was soft and easy to sleep on) felt a bit too risky to super cautious sofa-sissies like us. Besides, that honey wood was a bit too futon-ish for us, so the fact that we'd have to paint it or somehow make it over after paying full price and not being able to try it out felt like a bit much. And we decided we preferred upholstered arms for the higher end look and for the comfort factor when it's being used as a sofa (for nursing, reading stories to Clara, etc).
So after exhausting our online sleeper sofa search, we decided to hit up our favorite local furniture dealer where we could actually fold out the sleeper sofas and take them for a spin instead of blindly ordering them and hoping for the best. Sofa Design is actually where we got our beloved living room sofa (read how we saved $400 more than our Pottery Barn couch right here) and when we pulled into the parking lot to be greeted by a Floor Clearance Sample sign we couldn't help but get all hyper and excited that we might just find the deal we were hoping for…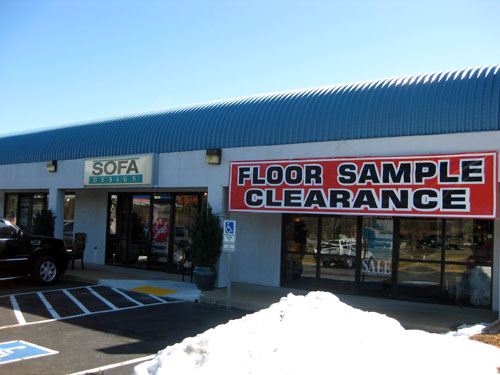 JACKPOT! We scored a full sized sleeper sofa made by Rowe (one of our favorite sofa manufacturers, in fact they made our aforementioned living room sofa) for just $699- thanks to the fact that it was a floor model. So it was just ten dollars steeper than the futon-ish Target version but a lot more plush and posh looking (and feeling! there's even a comfort guarantee that you can't feel the bar under the mattress unless you're over 350 lbs). Like nerds we totally pulled it out in the store and laid on it for a while as we thanked our lucky stars and then popped up to sign on the dotted line. And although we're usually neutral-sofa-people, we actually really like the subtle blue-green color of the cushions since they work pretty seamlessly with the rest of our whole-house color palette while injecting some fun (and stain hiding durability) into our future office/guest room/playroom.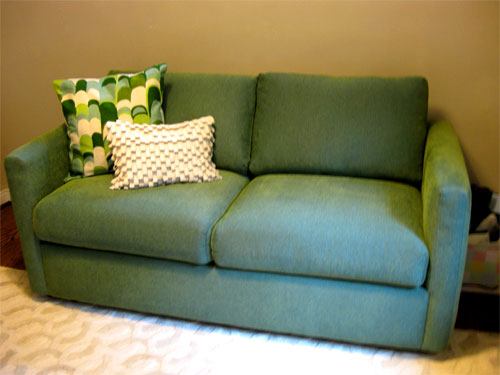 We placed it right under the higher window which really opened up the room and allowed so much more of our lovely Pottery Barn rug to be seen.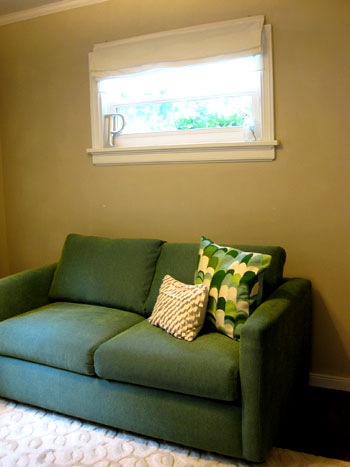 And you know what that means: waaaaay more floor space to accommodate a desk or two along with plenty of Baby P play area to spare.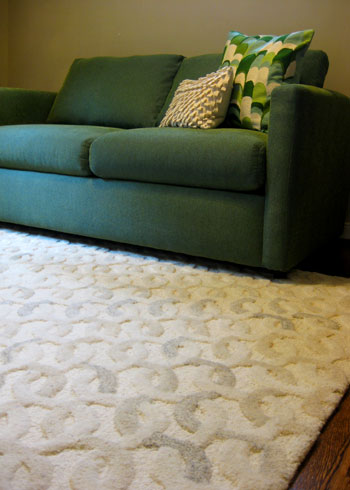 But that's just the beginning of our multifunctional office transformation. Stay tuned as we tackle more floor-plan maximization, paperwork and file storage, desks and chairs for two, art and accessories, toy storage, and even a new DIY light fixture makeover. Whew. And feel free to tell us all about any sleeper sofa or murphy bed victories that you guys have experienced. Have you built your own pull down bed? Or stumbled upon a super comfortable sleeper sofa on sale? Spill the beans.