As if our 10′ x 10.5′ home office / guest bedroom didn't have enough requirements (must accommodate two bloggers 50+ hours a week and sleep two people comfortably every now and then all while keeping our paper clutter tucked out of sight) we ambitiously decided to force yet another function on the space: playroom. We wish we could dedicate an entire room to that playroom title, but with three small bedrooms – one serving as the master, another as the nursery, and the third one being this room – we had to face the music and make it work a la Tim Gunn. So we decided that along with making a lot of rug space an absolute necessity for Clara (think tummy time, bouncy seat, play mat, etc) we also wanted to dedicate this little sliver of wall to her as well in the form of a small already-had-it bookcase full of her favorite toys and books.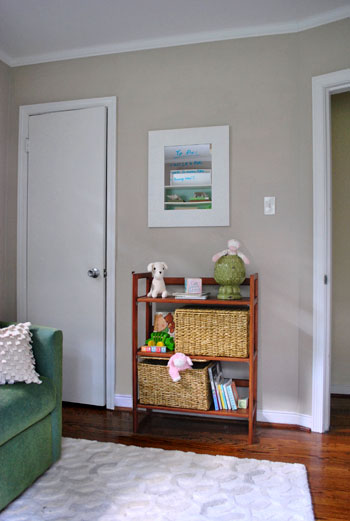 Not only is the new setup a pretty sweet deal for Clara, it's also super convenient for us. Because we're switch hitters over here at YHL, which means that one of us is on "entertaining duty" while the other person writes posts, coordinates giveaways, answers comments, and does all the other blogging stuff we've come to know and love. So having books and toys at arm's reach really keeps the back-and-forth trips to the nursery to a minimum for whoever is hanging out with Clara. Anything to make it easier, right?
All it took was a few more half-priced baskets from Michael's (just like the ones we used for our bookcase makeover) and items that we already owned (from stuffed animals and wooden blocks to books and even a fun little alligator pull toy that mesmerizes Clara every time we show it to her). And just as we mentioned, we already owned the bookcase which used to live in our sunroom. Oh and don't worry, we plan to anchor it to the wall well before she's mobile enough to pull herself up on it. Safety first!
Perhaps the best part of moving it into the office was that something that used to live in the office (before it became an office) found a perfect spot out in the sunroom to replace the bookcase we stole. Note: stay tuned for our mini sunroom makeover after we finish tackling this office project.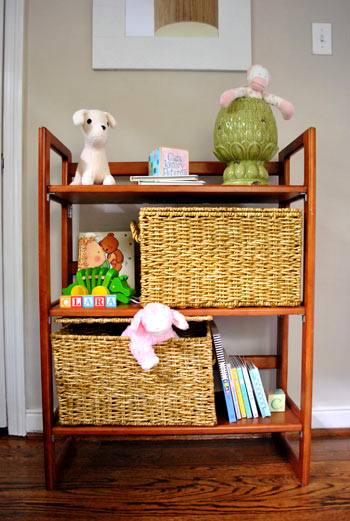 So for the price of two deeply discounted baskets (which are full of more toys, books, and stuffed animals) we worked in a sweet little baby-focused area for our sweet baby girl.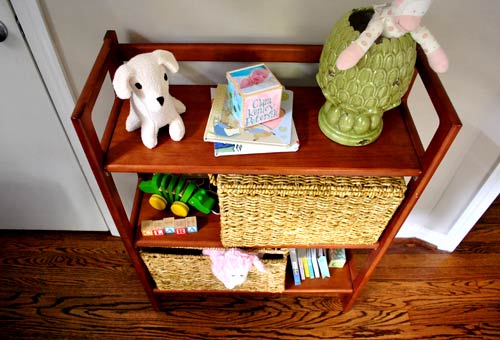 And since we can't get enough of the whole multitasking thing in this room, we also hung an old mirror and seized the opportunity to make it work as a To Do list of sorts with the addition of a blue dry erase marker. The most fun thing about our little mirror presto-change-o is that we also love that we can erase our list and write a "Welcome To Casa Petersik" message for our guests whenever they come to stay with us. Plus every guest bedroom should have a mirror so family and friends can check their hair before emerging in the am.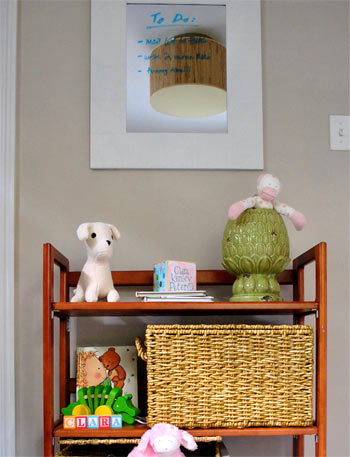 So that's the latest office / guest room / playroom news. Now we'll pick your brains. Have you guys ever added a small item of furniture to a room and in doing so completely expanded the function of that space? We'd love to know how you make your rooms multitask with minimal effort and expense. Do tell.
Psst- Wanna follow the entire office/guest bedroom/playroom makeover? Click here for the intro post, here to read about the big sleeper sofa hunt, here for the DIY desk play-by-play, here for the homemade light fixture project, here for our hacked Ikea bookcase, and here for how we added some file storage.