Yeaaaaaah, baby – it's nursery time! Pun most definitely intended. The last time we shared a shot of this room (in this post) it was looking like this. Totally newborn ready, right?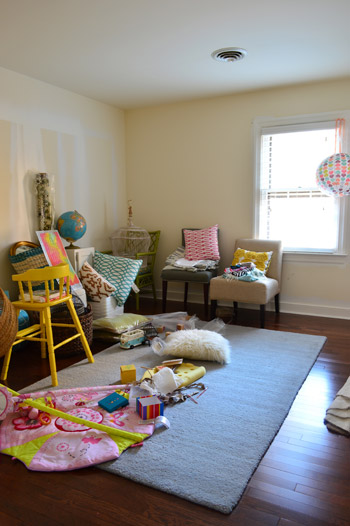 We started on Clara's nursery in February and she was born in May, so it felt right to get moving in there now that it's January (since the barnacle is due in April). We've had so many ideas swirling around in our brains for the last month after finding out we were having a boy, that waiting a hot second before running in there and going to town has been nice because the projects and ideas that we truly love have had a little time to float to the top.
We're leaning towards using bold green along with graphic black & white (although we're sure almost every color of the rainbow will end up in there in small doses) and we'd also love some natural elements (wood furniture, woven baskets, bamboo blinds, etc). As for the mustache doll, Clara picked one out for her brother at a craft sale we went to recently, so he's just in there for fun, along with the same green alligator toy that Clara played with as a baby.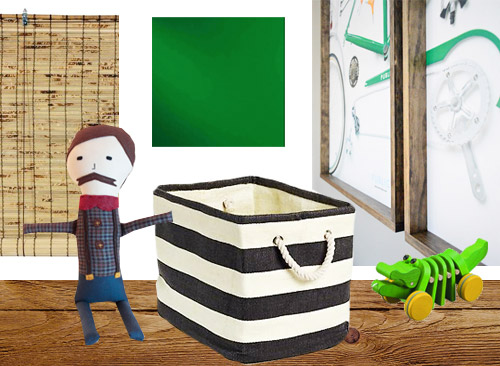 The whole green accent color idea actually came from the bike prints that John framed in rustic homemade wood frames for our last house's sunroom. Here's a detail shot of those awesome rich-wood frames…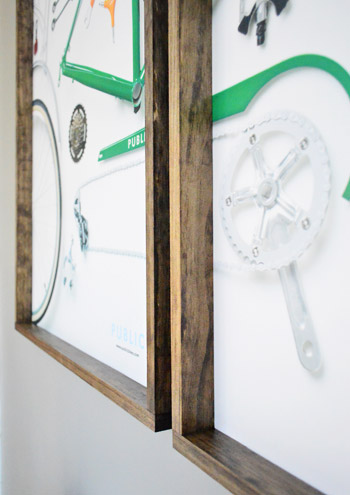 … and here's my favorite shot from that post. For obvious reasons.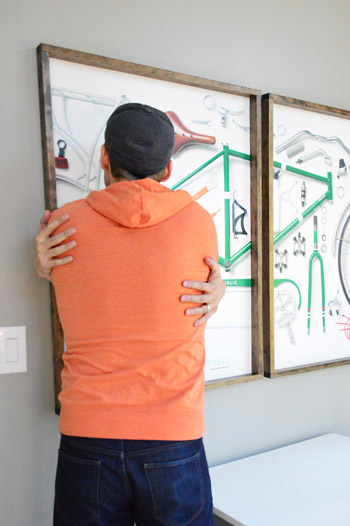 We think they'll make for awesome large scale art in the nursery, and from there we can layer in things like a black and white striped bench, a neutral rug, bamboo blinds, built-ins to flank the crib that are spaced to accommodate a twin sized bed in between them (longwise) – or even a full-sized bed (widthwise) for when the barnacle is older and no longer chilling in a crib like a villain angel.
So our starting point for the room is definitely that bike art, but our first purchase for the room actually snuck up on us. We were in HomeGoods and saw this big 100% wool rug, and something about it just had us at hello.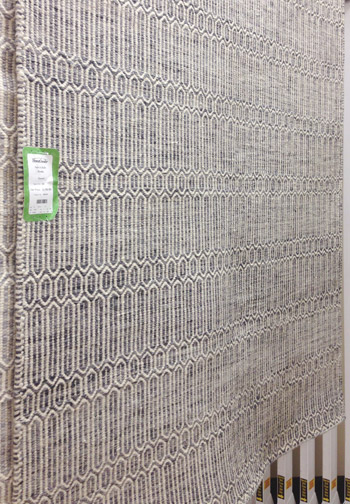 Even Clara was smitten.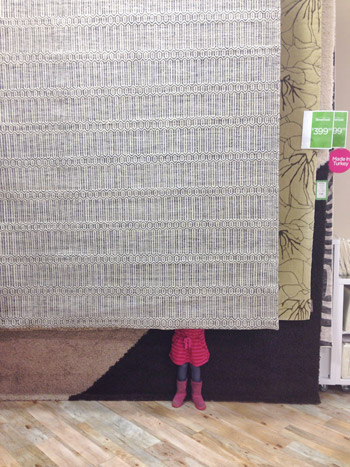 Within five minutes we were checking out with it and stuffing it into the car. It's an 8 x 10′ 100% wool Martha Stewart rug by Safavieh and it retails for $800 but it was marked down to $399. We liked that it was soft (not scratchy) and had a cool pattern on it that was somewhat subtle (so it won't compete with other bolder patterns, like a thick black and white stripe on something, for example).
But the room was hardly rug ready, so we had some cleaning up to do when we got home with it. After we put all that stuff where it really should go (either in other closets/rooms/or the storage room) it looked a lot better – and we were able to take our traditional "us in the room before we start on it" photo.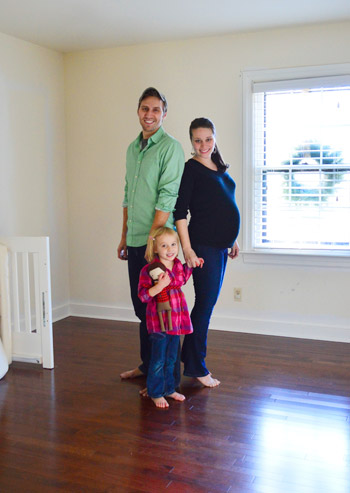 We did one of them in Clara's nursery before we started on that back in 2010 (apparently I automatically pop up onto my tip-toes whenever I'm in a picture next to tall John).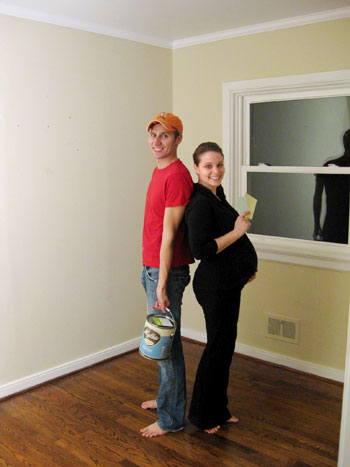 And then we snapped this one when we were done, so we're planning to do that in the nursery here as well. It was fun to compare how my bump changed after three months, and sort of hilarious that I "popped early" and just seemed to stay that big – well I grew a little more – in the last trimester).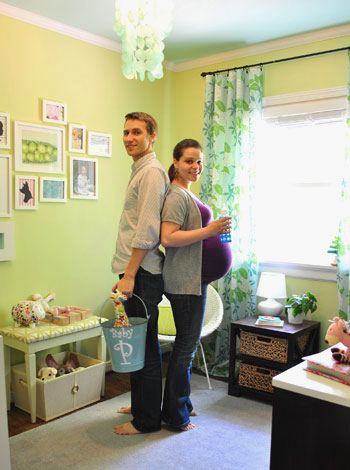 Here's the nursery now with the rug in it. It's looking pretty big here since it's shoved up against that side and back wall, but we think once we center it and load in the room it'll hopefully be great.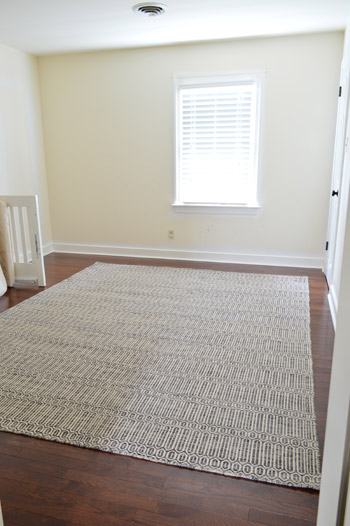 We're loving everything from the tone-on-tone pattern to the nice wool feeling underfoot. Just ignore those unpainted walls and that half-constructed crib…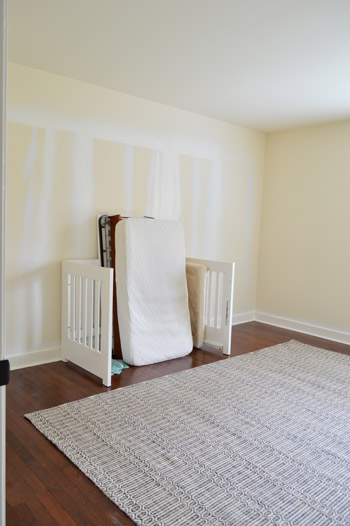 Rug close up. Hubba hubba.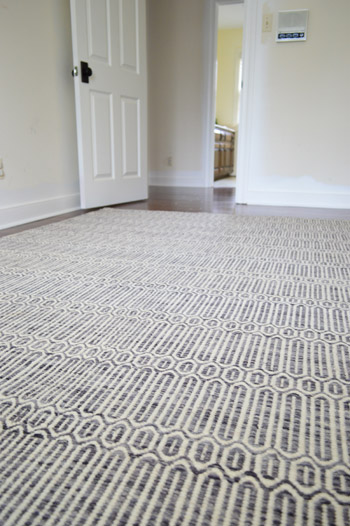 So there's still lots to do, but it's progress! We're sure our to-do list will continue to evolve as we go, but here's a first-thought brain dump for ya:
clean out the room
paint the walls and ceiling
address the window (bamboo blinds + blackout curtains?)
get a rug
add built-ins to each end of the long wall so the crib (and a future bed) can nestle between them
add sconces to the sides of the built-ins
create some sort of slatted or trimmed out wall between the built-ins for interest?
get the ceiling wired for an overhead light fixture (none of the upstairs bedrooms have them)
find an armchair for all that late night nursing
redo the closet for little clothes (paint it, add a second hanging bar, cubby storage, etc)
maybe even paint the closet door a fun color like Clara's?
add chunky crown molding
bring in a dresser/changing table (we're 80% sure we'll use the wooden hand-me-down from John's dad that's currently in our closet)
build custom shelves (since John did this for Clara, he'd like for this to be a tradition)
make a woodsy little cuckoo clock (since I made one for Clara, I'd like to make a charming little rustic one for the bun as well)
make a mobile
hang art (at least one or two prints will have a sea-faring reference, thanks to Clara's baby boy nickname of "The Barnacle")
We're planning to document this nursery's evolution exactly the same way that we did Clara's: in real time as we go. We created hers over the course of three months and 17 posts (cleaning the room, painting the walls/ceiling, going shopping, crib hunting, adding curtains/blinds, getting a crib, painting & hanging a mirror, finding a chair, making a faux sheepskin, refinishing her dresser, adding drawer liners, organizing her closet, making a crib skirt, making a mobile, building nursery shelves, adding art, and sharing the full reveal when it was 100% bean-ready).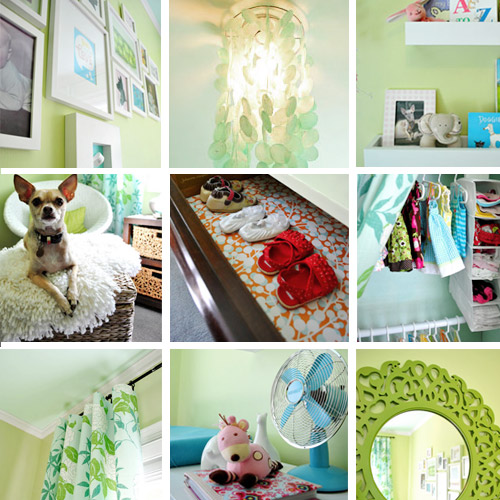 So while we expect that many of the steps that we take will change this time (we don't need a crib, but we want to add built-ins), it's safe to assume that over the course of the next three months, we'll probably share one or two updates a week as we go (along with progress in other rooms, showhouse updates, etc). We have a few loftier goals for this space (like built-ins, sconces, and chunky crown) so it might be down to the wire, but no matter what we hope to be done by mid April.
Oh man, it's pretty crazy to think that in a few short months we'll be a family of five (Burger counts!) with a former junk-room-turned-functional-bedroom for our littlest family member. I'm all grinny and hyper over here. Is anyone else working on a nursery? Do you have a big ol' to-do list and a permasmile on your face? Or do you have memories of creating a bedroom for your little one that you'd like to share? I can't get enough of that stuff.