We're knee deep in the middle of a bunch o' projects (in the office, the dining room, and the living room- yeah we're all over the place), so we thought we'd share the one thing we actually completed in the meantime, which was a little moving (and some obligatory shaking) when it came to Clara's nursery. Here's what it looked like mid-chaos (chaos = really bad pics):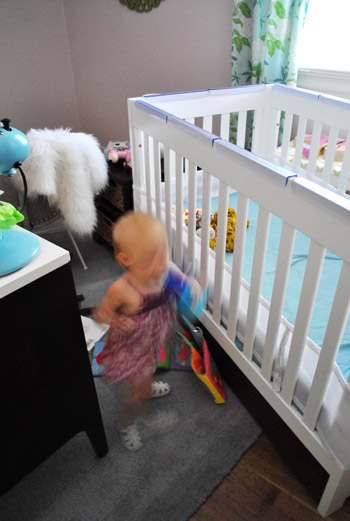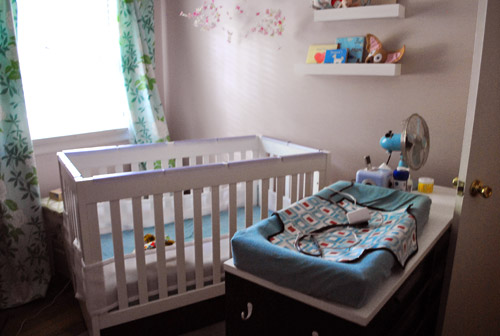 Why the furniture shuffle? Well, we arranged it for Clara's seven month old self (she wasn't even crawling when we moved in) and now she's a fifteen month old walking fiend with a lot wider "wingspan" so we had to make some changes to keep her safe slash happy slash sleeping.
The issues:
an air vent was located near the foot of the crib, and sometimes when the air kicked on in the morning it would wake Clara up early. Which any parent will tell you is a tragedy.
a few slivers of sunshine landed right in the crib due to slipping out the side of the thick curtains & closed blinds (which also occasionally woke her up at the crack of dawn)
her taller height/longer reach meant she was getting closer to grabbing the nearby curtains from her crib, which evoked visions of finding her swinging from the rafters in the morning like a happy little monkey
the bench under the window wasn't ever something Clara seemed interested in, but we worried when she got older she might try to climb up on it and get out the window (you know, when she enters the Houdini stage)
the ceramic table lamp on the side table was a lot more pull-downable thanks to our tall & active bean (time for something not-breakable and not-reachable)
Also:
there are just certain types of people who like to rearrange furniture, and we're it
Here's what it looked like before the switch: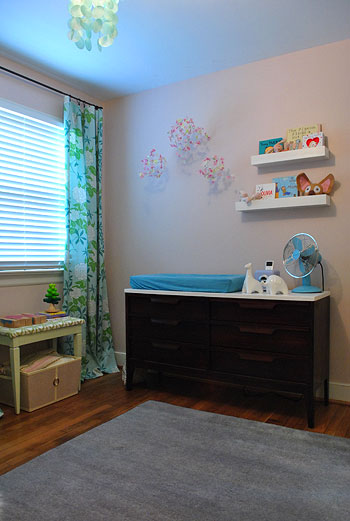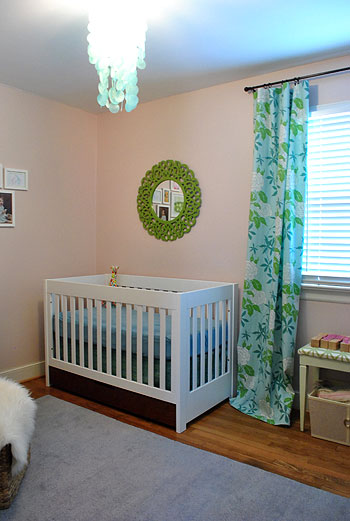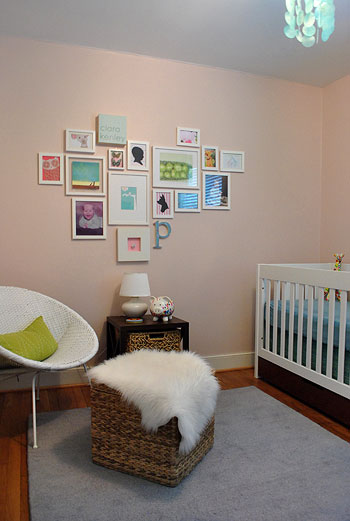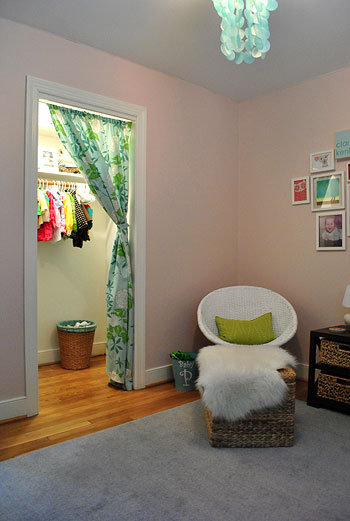 So here are the changes I made (John was working and I was on Clara duty, so she loved "helping" me push things or clapping while I did all the work):
I pushed the crib around the room against every available wall and in every possible configuration and decided that we (Clara and I) liked it best under the high-hanging and securely mounted mobile & floating shelves that used to be over her changing table (bam, no more air vent or stream of sunshine issues – and everything hanging on the wall is a good foot out of Clara's reach)
I was sure to pull the crib further away from the curtains so there's no way Clara's long arms can grab them from the new location (in some shots they look close but they're over 2 feet from the crib, and the crib mattress is in the lowest position)
I played around with a bunch of places for the changing table and eventually settled on the wall full of frames (although some of them hung too low so I tweaked the arrangement so they wouldn't get kicked mid-diaper-change)
I moved the chair, ottoman, and side table under the green mirror and added a not-ceramic-or-kid-height floor lamp that's a lot more bean-safe
I moved the bench away from under the window and stuck it on the wall with the closet
And since all those bullets are probably as clear as mud, here's a little sketch for ya: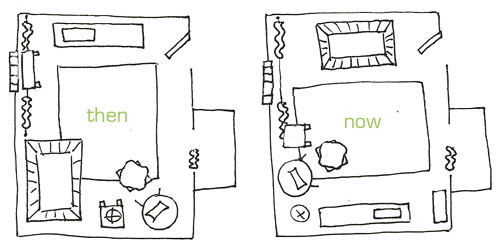 Now that the rearranging dust has cleared, it's deffffffinitely nowhere close to perfect. But it's a huge improvement in the function department (no more safety or early-wake-up worries). And Clara, who has always awoken at 7:30 (at least for the last 5+ months straight) has slept til 8:00 since the switch (two days in a row!). Which is no small miracle. So if the room looked beyond ugly we'd probably leave the furniture right where it is. Haha. Just kidding. Not really.
Anyway, here's the new setup: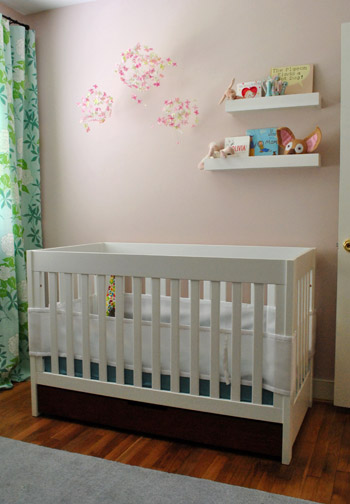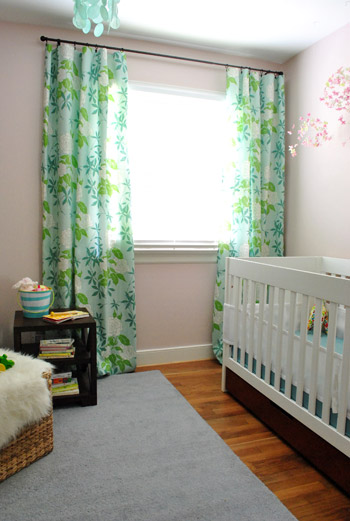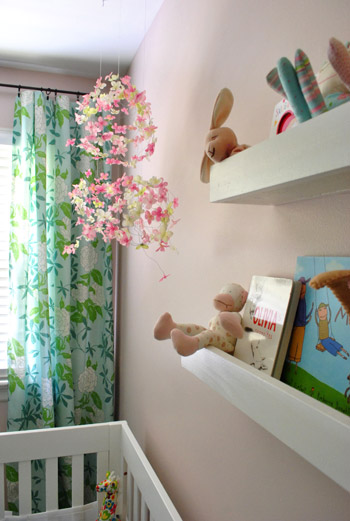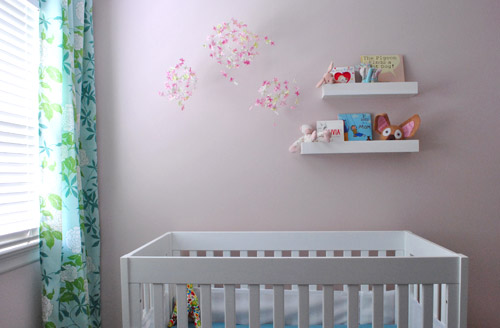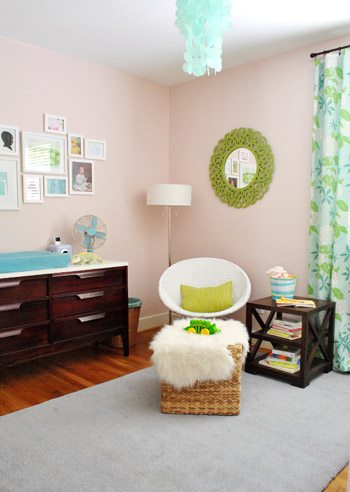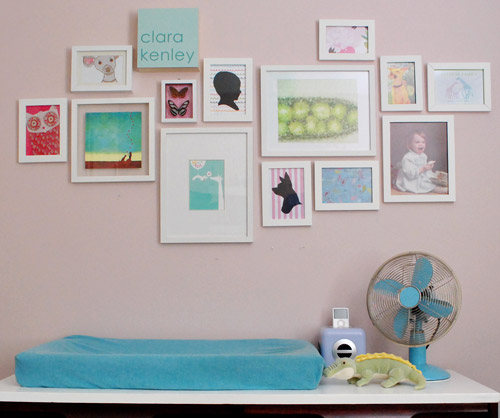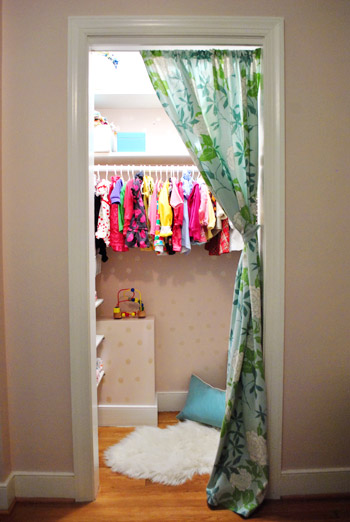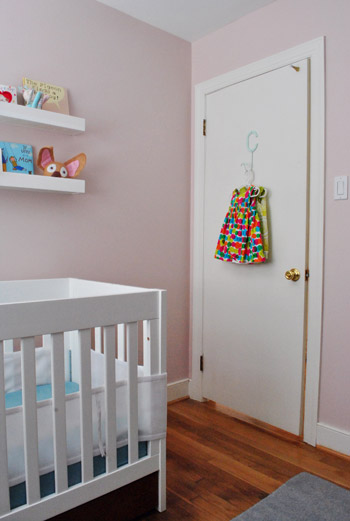 And here are some details that make my sappy mom heart happy: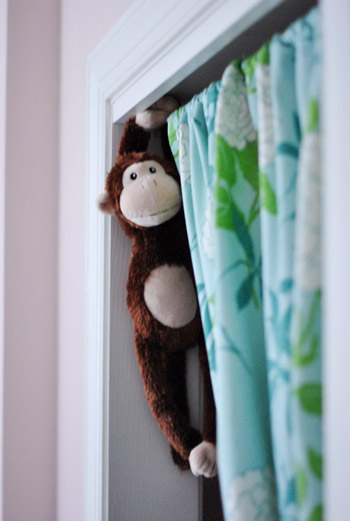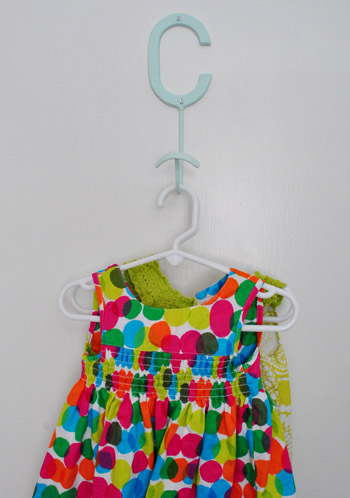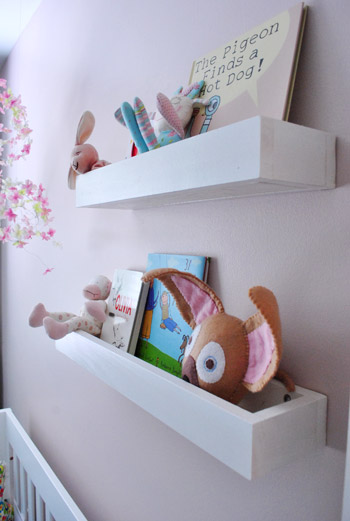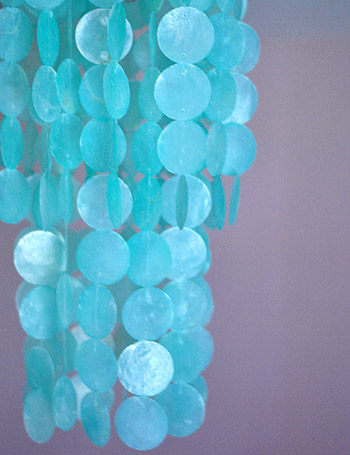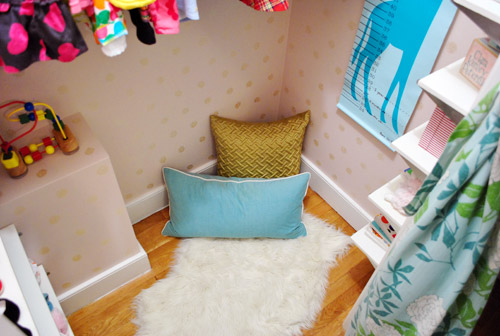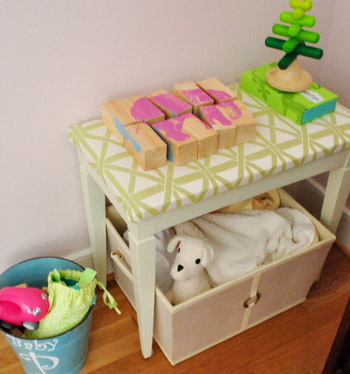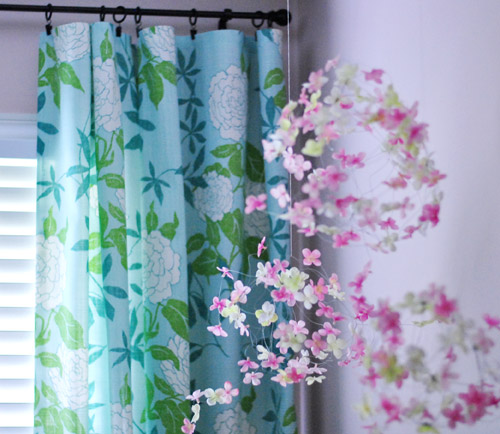 Of course there are more than a few things we'd still like to do in there (although we're set on finishing the other projects around the house that we have in progress, so there's no rush). But here's the ol' list:
get/make a less awkward side table for the chair and ottoman (that's an already-had-it nightstand from our old guest room that we stuck baskets in to create drawers – and later removed since Clara now likes demands easier access)
hang something over the green bench in the corner (I already know what's gonna go there – and let's just say I'm feeling ducky about it)
sew a new pillow cover for the chair (the green pillow under the green mirror is a little "meh" for me – and we have lots of spare fabric from Clara's photo project
expand Clara's frame wall (height and width wise) with even more photos (John's baby pic had to come down so it didn't get kicked from the changing pad, and I'm dying to get it back up there out of Clara's reach along with some other stuff)
DIY a dollhouse
make a beanbag for Clara's closet reading nook
paint the area under the window with leftover magnetic paint under wall paint so she can have a fun "secret" magnet wall
add crown molding
paint the ceiling
There are probably a bunch more things that I'm forgetting. Oh well, one step at a time, right? And since we're on the subject of the bean, here's another little video for ya. So proud of our little "reader":
Did you guys do any list-making or room rearranging this weekend? Did you do it while your hubby got his laptop on and the baby "helped"? Did you find all sorts of nasty dust bunnies that horrified you behind the furniture? Did your dog whine audibly and try to distract you by bringing in a toy to play with because he was so against the activity?
Psst- See how we made the flower mobile here, refinished Clara's veneer dresser here, painted and upholstered the bench here, painted the green mirror here, made the curtains here, built the book ledges here, found the capiz shell chandelier here, made the art wall here, painted the walls here, and stamped Clara's closet here.