This is a heartwarming story featuring Ethan Hawke and Gwyneth Paltrow about getting crafty with a pillowcase, some fabric paint, and a metal grate, hence that pun-tastic title.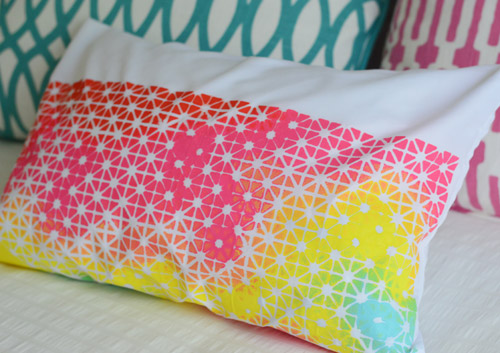 I don't know about you, but I always seem to have one or two extra pillowcases around. We only have one set of sheets per bed, but I think since I buy two extra pillows for every bed (and therefore need extra pillowcases) I must see them on sale and grab them without making sure I really need them (hence the over-abundance). Really, it's sort of a mystery to me since I'm the girl who won't buy tomato sauce or toothpaste unless I'm sure I'm out, but maybe in another life I was short a pillowcase and it ruined my day so now I hoard them. Truly, it's weird.
But anyway, I had this extra pillowcase so I thought it would be fun to use it as spare fabric and get a little crafty. And thus this project was born. First I taped it off in a rectangular shape using painter's tape to hold the fabric taut. Oh and I slipped a piece of cardboard inside the pillowcase to keep it from bleeding or sticking together before taping it down.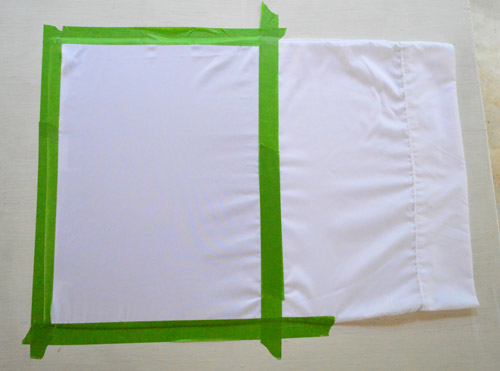 Then I taped this cute metal grate over it that I picked up at Home Depot for $9, which I immediately looked at and my brain said "um – STENCIL!" At first I debated doing this on paper to make some frame-able art, so you can go that route too, but then I thought using fabric paint on a pillowcase and stitching that up to make an easy little bolster could be fun, so I veered that way at the fork in the road that is Craft Street.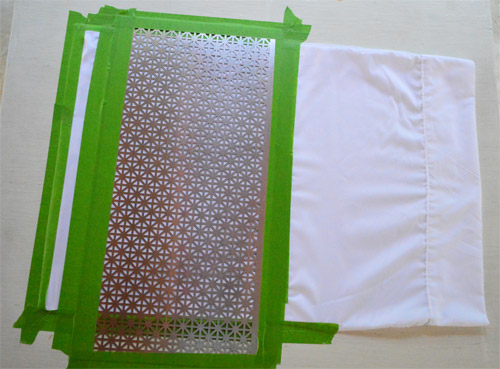 I raided my supply drawer for some Martha Stewart craft paints (they say right on the label that they work on fabric – and they're only a few bucks a pop so I grab them in colors that I like whenever I see them on sale). I also had these stencil brushes (the ones in the blue package) in my craft basket after using a coupon to get them almost free a little while back from Michaels, so I was happy to finally put them to good use. All told, the only thing I bought for this project was the $9 grate, but if you had to pick up the paint and the brushes and the grate it would probably be around $20 as long as you have some fabric on hand. The good thing is that the grate is reusable, so you could make a few pillows or even a table runner and matching napkins and then make some art/stationery/gift tags with it. Oh man, now I'm thinking about the holiday-gift potential…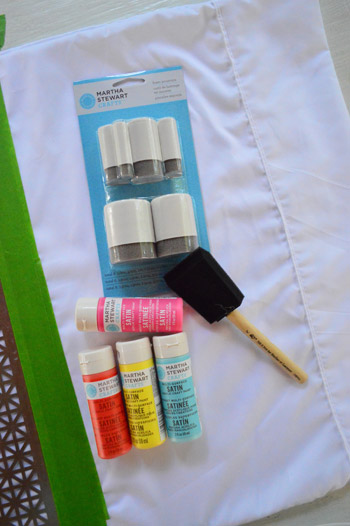 Next it was stamping time. I tried not to load my brush up too much (I worried from the start that things could bleed under the grate – and thick paint applications can make fabric crunchy) so I dabbed it on a paper towel a few times to get rid of excess paint before tap-tap-tapping my way around the grate. I tried to do sections of colors in sort of an irregular wave shape, just so nothing looked like obvious stripes and dots, but had more of a sand-art feeling. Oh yeah, who remembers sand art?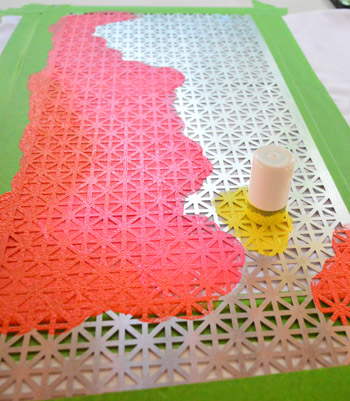 Occasionally I blended stuff using a bunch of extra dabs. This is what the blue did on top of the yellow after some extra pats in that area (see how it mixed to create sort of a yellow to green to blue gradient there?).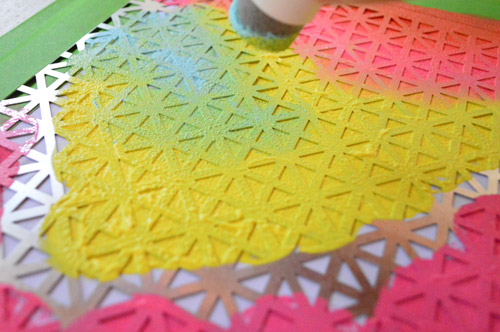 In other places I went with less of a blended edge and more of a defined color-meets-another-color border. It was fun and loosey-goosey and the whole thing probably took me around twenty minutes.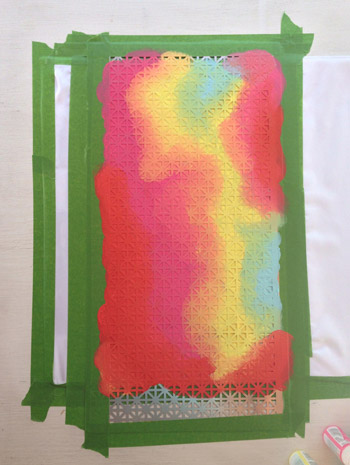 I waited a little while to remove the grate (maybe an hour?) just because I worried I'd shift it slightly while ripping off the tape and smear the whole thing. When it dried and I finally removed it… welp, there was some bleeding in a few areas. At first I was sad, but the more I looked at it, the more I liked the varied/imperfect pattern. It almost reminded me of constellations.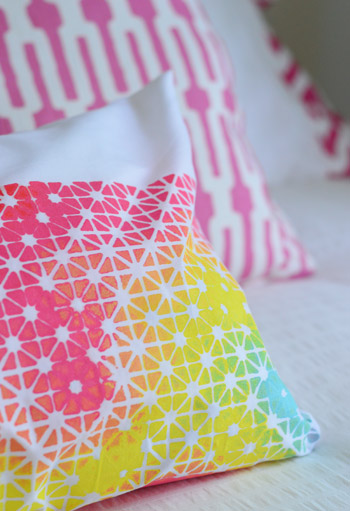 I think if you were going for a perfectly clean-lined look at home, using some stencil adhesive to stick the grate to the paper/fabric might result in a crisper edge, and using even less paint on your brush (and just dabbing it suuuper lightly) would probably cut down on the bleeding issue as well.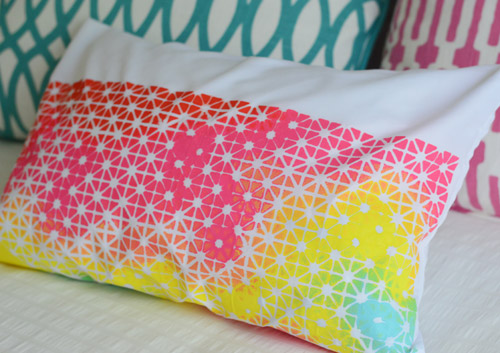 But in the end, I'm calling those imperfections a happy accident. Sort of like how you pay the big bucks for those hand stamped block printed fabrics that are cool and irregular… but that's the charm. At least that's what I'm telling myself.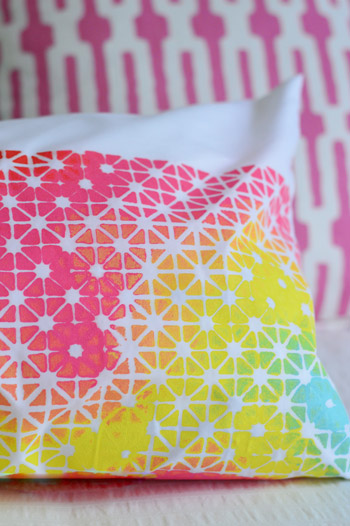 Update: For those asking if this is washable, someone commented to say they had luck washing fabric that they painted with the same Martha Stewart product by following the directions on the container, so it looks like it can work! I'd just read the label first to find out what you're dealing with if you plan to wash the item often (like cloth napkins for example) because other fabric paints might have simpler instructions.
Heck, I also think the grate is pretty great art itself. So you could always just paint the grate and not worry about any bleeding under it and then use a metal snip to cut it to fit a frame.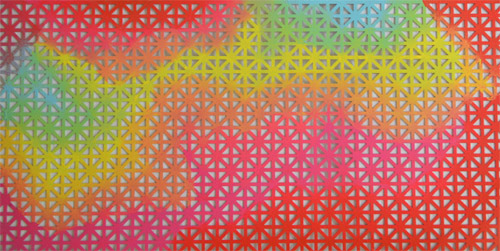 And now that I've mentioned the potential for reusing the grate, I'm kind of excited at the idea of a homemade runner or a matching set of napkins. Anyone else planning to try their hand at some grate creations? Will Ethan Hawke be invited? Will Gwyneth Paltrow bring the crudités?
Psst- Wanna know where we got something in our house or what paint color we used? Just click on this button: