I wasn't planning to post about this little craft that Clara and I whipped up together, but then we got a photo of John's Granny grinning and holding our creation and I couldn't help but put together a little post about it over here – just so we'll always remember it. Here's what we made: a sweet little birdhouse, complete with Clara's hand-prints on the roof.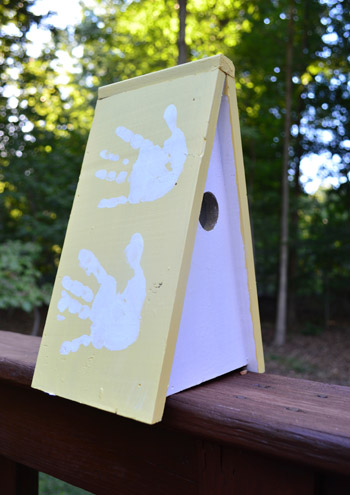 It was originally painted dark red all over (from HomeGoods, where it was $4.99) but Granny is just such a sunny lady that we thought it would be a fun activity to paint it some happier colors and mark it up with some Clara-hands before sending it off to West Virginia. We just used some white paint for the facade and some yellow paint on the roof to cover all the original red paint. Some of our lines were a little wiggly, buy I think that's part of the charm.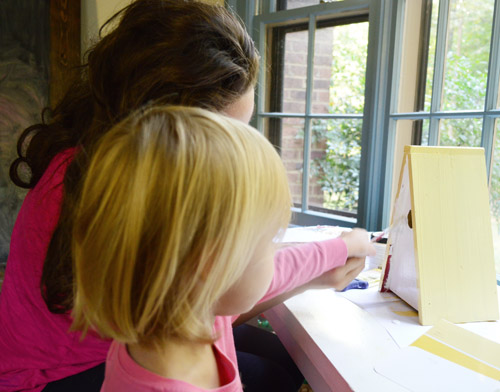 Then I coated Clara's hands with white paint and we had so much fun smashing them into the roof four times (two right handed prints are on the right side, and two left handed prints are on the left). After it dried I sprayed it with clear outdoor sealant to protect it from the elements (three thin coats helped me feel like it was locked in there good) and then we signed the bottom with a Sharpie and added the date.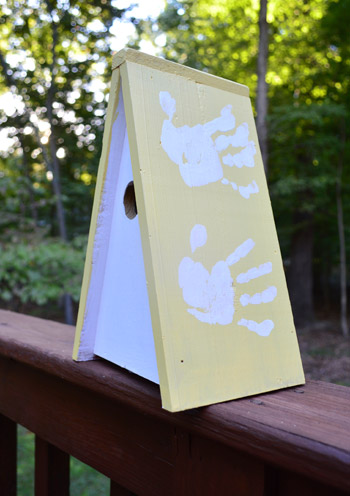 A little while later, John's mom and dad took it to Granny's house and snapped this cute photo of her with it. Clara LOVED seeing Granny holding her birdhouse creation, and I'm so glad we got to make such a fun little gift together.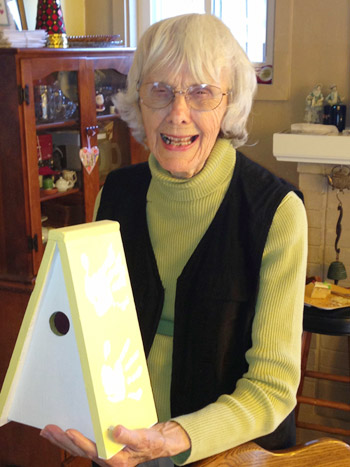 If you're looking for more easy projects that involve handprints, our friends at Childhood Magic have a ton of kid handprint project ideas that are super cute. We're especially charmed by the Strawberry Handprint Card the Handprint Butterfly Craft.
Are you guys doing any kid-crafts these days? Sometimes they're my favorite projects of all.