Well, we're upping the nerd factor around here and giving podcasting a go. The name? Young House Love Has A Podcast. I'll give everyone a moment to let that process. I know it's a tricky one. So much nuance.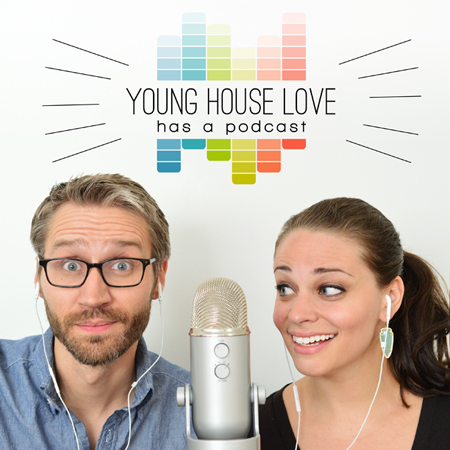 Listen on iTunes | Google Play | TuneIn Radio | Pocket Casts | Stitcher
You can check out our latest episode (a new one pops up every Monday) and all of the previous episodes that we have released (we've officially released over 50!). If you're already a podcast listener, just head over to iTunes, Google Play, TuneIn Radio, Pocket Casts, or Stitcher to subscribe and download all of our episodes. And if you're new to podcasts, here's how to listen in (it might sound complicated but it's completely free and just takes a few clicks)…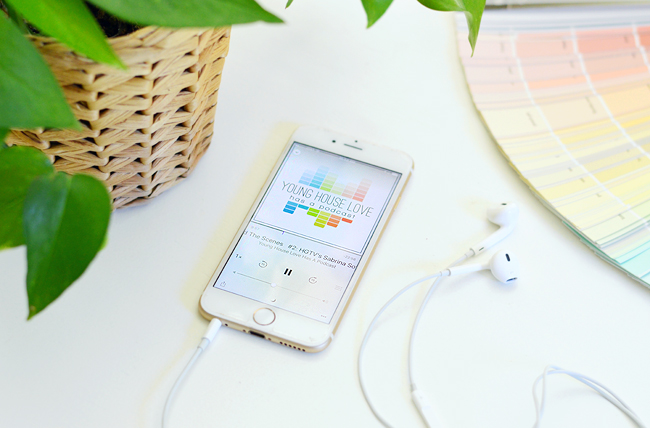 Getting Started with Podcasts
Podcasts are kinda like free, on-demand talk radio. Just like on-demand TV has become popular (you know, so you can play your favorite show whenever you want), podcasts allow you to play an audio program whenever you're ready and even pause it if you get interrupted. So rather than being stuck with whatever's on the radio, you can cue up any episode while you're sitting in traffic, doing the dishes, mowing the lawn, exercising, painting a room, ironing your dog's extensive wardrobe, etc.
You also don't have to waste data on podcasts! If you subscribe, which we'll teach you about below, each episode will automatically download when you're connected via wifi, and then it's ready to play on your phone anywhere at any time (so you don't have to stream any episodes or download them on the go). Seriously, even if you don't have service or want to use a stitch of data, if they're already downloaded, they just play like audio clips without needing the internet at all.
Our preferred method of listening is via the iTunes Podcasts app on our phones, which comes pre-installed on most iPhones and iPads (it's the purple icon you see in the screenshot below). If you're new to the Podcasts app, here's a quick 7-step tutorial to get you started: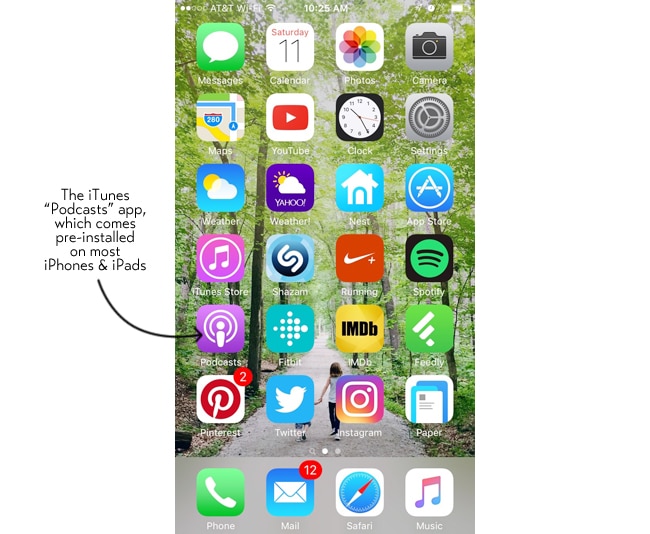 To subscribe to Young House Love Has A Podcast on an iPhone using the Podcasts app:
Step 1. Click the Podcasts app and then click the magnifying glass in the bottom-right corner to Search.
Step 2. Type "Young House Love Has A Podcast" in the search bar at the top.
Step 3. From this screen, click our large icon in the middle of the screen (known as our show's "cover art")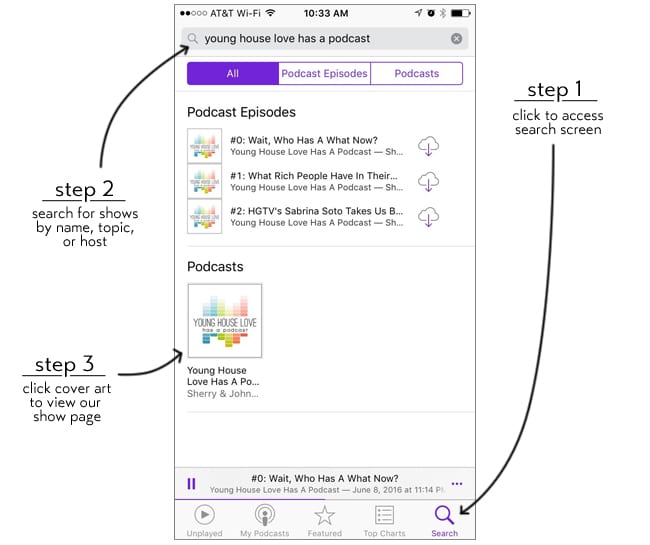 Step 4. Once on the "Young House Love Has A Podcast" page (seen below) press the Subscribe button. This is free and will keep you from missing any new episode that we post.
Step 5. The most recent episode may download automatically, but you can be sure you have all three by clicking the download icon (cloud with down arrow) next to each episode. This is also free, and will allow you to listen to all 3 episodes right away.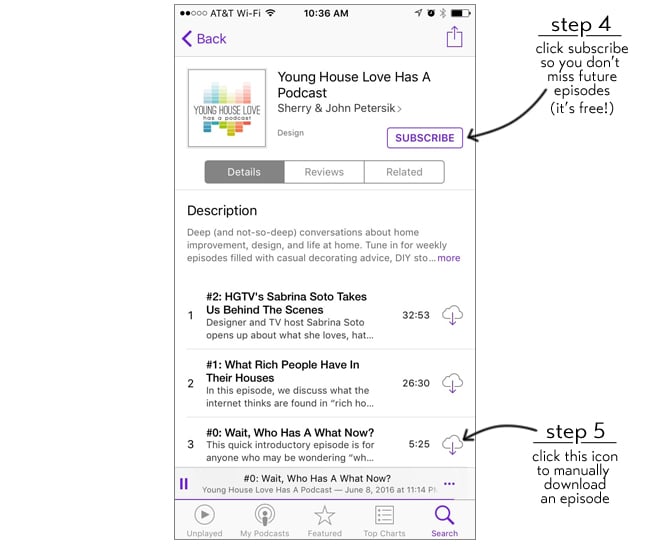 Step 6. You can view and play all of those episodes by clicking the Unplayed icon in the bottom left of the screen, which displays any downloaded episode that you haven't listened to yet.
Step 7. Then just click the one you want to listen to first and it'll start playing.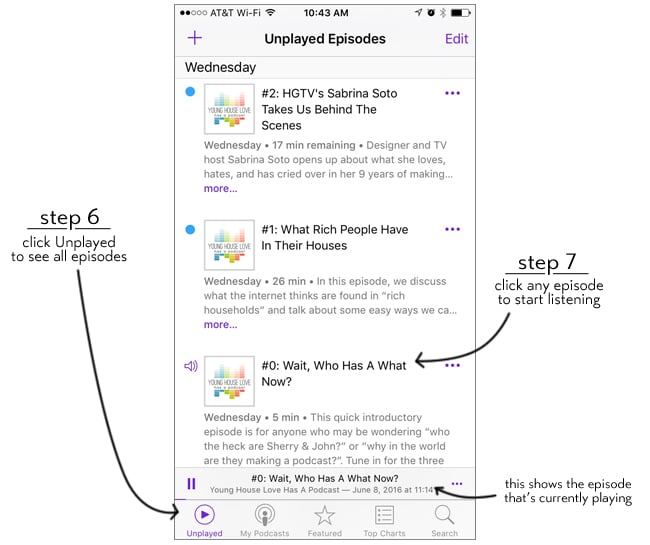 That's it, you're all set up, and it's pretty much auto-pilot from there! Each Monday, as long as you have subscribed, you can just click the purple Podcasts app on your phone, click into the Unplayed section on the bottom left, and a new episode should be waiting for you (already downloaded and ready to play without using any data).
You can also discover other podcasts to listen to by clicking the Featured or Top Charts section of the menu along the bottom of the screen. There's something for just about every topic imaginable – true crime, pop culture, news, yoga, parenting, entrepreneurship, and beyond!
Note: You can also stream our podcast on your desktop via iTunes by following this link and clicking "View in iTunes" under our logo. If you're on a PC computer that doesn't have iTunes, you can learn how to install it for free here (then come back to this post and follow this link to find us there), or you can try listening from your computer via Google Play. If you have an Android phone you can download an app like Stitcher, TuneIn Radio, or Pocket Casts.
I think that covers the basics to getting you started. And if you're wondering what I'm doing on any given evening, the answer is: playing with the microphone and slowing down my voice so I sound like James Earl Jones.