Now that we're wrapping things up at our current house and we've spilled the new house beans it's like we've finally given ourselves permission to LOSE. OUR. MINDS. So yeah, this new house video tour is full of chirpy excitement that only a home in your dream neighborhood can produce. Forgive me. It's not a good look. And watching it produces the same embarrassment that my way-too-enthusiastic mom elicited back in high school. Which confirms that I'm turning into her. Uh oh…
Woop, there it is. The first set of stairs we ever owned, and the house that's attached to them.
A few notes:
I'm not awkward at all in the beginning.
We used John's phone to "time stamp" this video thanks to Googling "today's date" on Friday when we filmed it. We're nothing if not high tech around here.
Drinking game: count how many times I say love.
Keep an eye out for John's finger coming into frame to tell me which direction to walk (yes, he holds the camera and I walk next to him to chat since his description of the house would be three sentences mixed with long silences and if I held the camera you'd lose your lunch).
Sorry about the audio getting odd in a few areas (empty rooms have weird echoes and it turns out the bathroom fan upstairs is crazy loud on film).
I sing about stairs. My life is officially a musical.
Ahhhhhhh! I can't think of any more. Did I mention we're crazy excited?!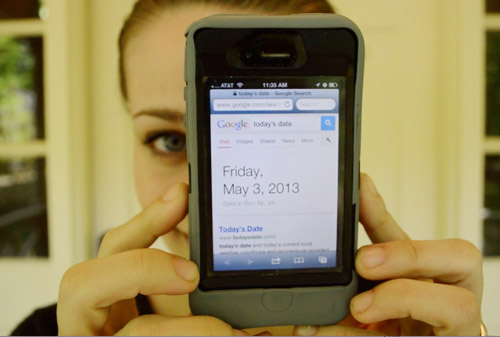 Oh and please bear with us when it comes to questions about our plans and the ol' to do list that we're compiling. We promise we'll whip up a floor plan post and share our new masterlist with all of our To-Dos on it as soon as we have those laid out (we're still in that changing-our-minds-every-second phase). It might be a little while before we've fully segued into the full new house mindset since we still live in our current house and definitely have a lot of stuff on our plates with selling it, getting packed up, and moving.
And now, I'll end this with a completely understated "AHHHHHHHHHHH!" and another big wet kiss for you guys. So excited to share this next chapter with you. Also if you're my mom and you're reading this, I'm not that scared of turning into you. Except that none of my shoes will fit anymore…