When Kathy sent us her kitchen makeover pictures we had to wipe the drool from our chins. Here's her letter:
I just wanted to send you some before and after pictures of our recent kitchen redo. I love reading your blog and all of the updates keep me inspired. In fact, we were inspired by your "how to" section's tutorial on painting cabinets. Instead of replacing our kitchen cabinets (we considered going the Ikea route), we decided to paint the pickled whitewashed facade a chic and solid gray tone (Fieldstone by Benjamin Moore- the wall color is Winter White also by BM). We then hired someone to do the following: raise the cabinets to the lowest part of the ceiling, install a new sink and faucet and exhaust fan, tile the backsplash in a white subway tile, tile the counters in a gray marble, and install a white shelf where the bottom of the original cabinets used to be. We saved gobs of money by using tile marble instead of a big slab. We also took the original brass hinges and spray painted them silver instead of spending $150+ on new hinges. The entire cost of the redo wasn't cheap, but it wasn't budget breaking either–materials and labor ran us around $1600 (the sink, exhaust fan, backsplash tile, counter tile and white shelves were all from Lowe's). You can check out some extra details on our blog. Thanks for looking! – Kathy
Here's the kitchen before the makeover: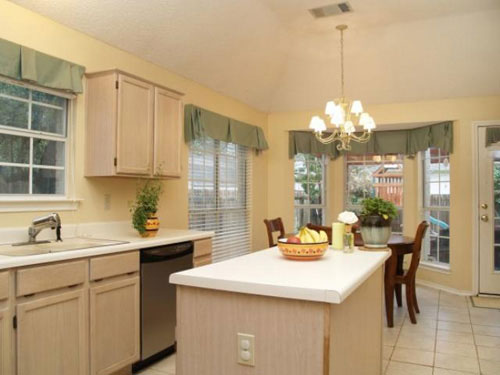 And here's the same space after the cabinet painting/rehanging, the new sink, the new backsplash and tile counters and the shelf installation under the newly raised cabinets: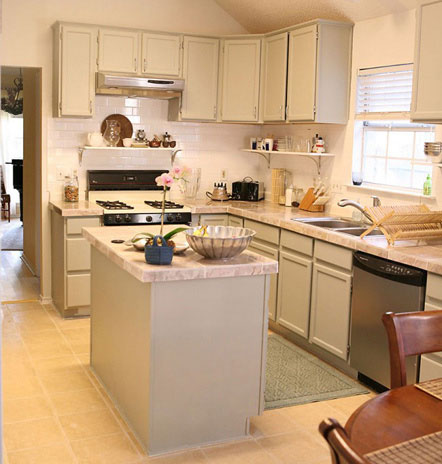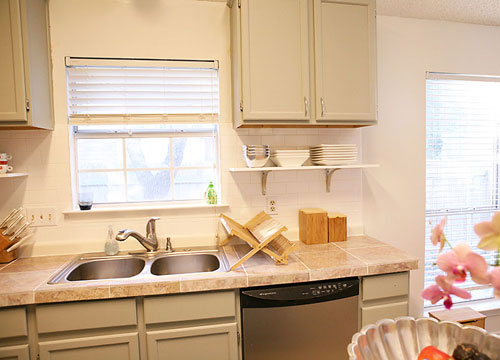 Isn't the difference just miraculous. At first glance it seems similar in tone, but the feeling of the newly transformed space is so fresh and crisp and charming as opposed to the builder before. And the raised cabinets and new stone counters really make the entire space feel a lot more luxe and lovely. And last but not least, the price! New counters, backsplashes, fixtures, faucets and rehung cabinets can usually run in the $5000+ range, so Kathy's budget-friendly makeover is that much more impressive. What do you guys think? Isn't this kitch the bee's knees?