Cabinet hanging continues in the laundry room (details tomorrow!) so since yesterday's post had a giveaway worked into it (we can't believe over 25,000 of you took the poll, John is beside himself with infographic glee), I thought I'd share a quick post about three recent redos. Sometimes things get wonky when you least expect them to, and the second time ends up being the charm (at least you hope it is).
Redo #1. Our cork bulletin board in the office. Back when we made this a few months ago, we used Loctite Spray Adhesive, since the back specifically said it worked for bonding cork to wood. Well… the cork squares slowly started to pop off the wall. To be fair, the directions did suggest spraying both surfaces (since we didn't want to spray it indoors on the wood backing, we just spayed the back of the cork outside and carried each square in and stuck it up). I'm not sure if that would have made the difference or not (we heard from a reader who sprayed both sides and still had issues with hers falling off) so I took down all of Clara's art…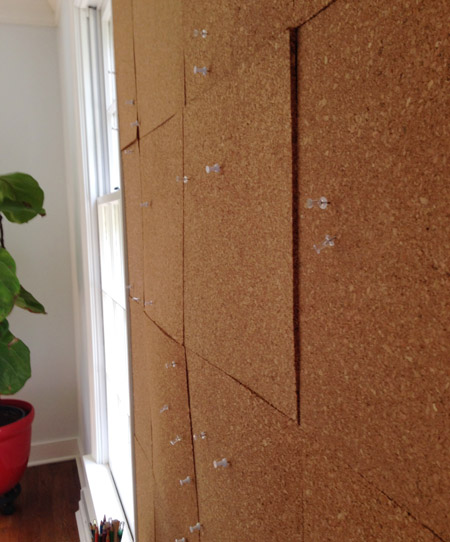 … and added some reinforcement in the form of Aleene's Tacky Glue on the back of each tile, along with a few tiny finish nails to hold the corners down (they're so small they sink into the cork and can't really be seen).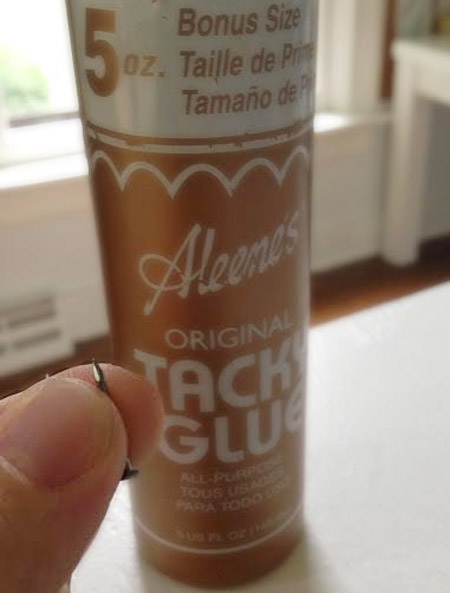 So far, this method has been great, and the cork is staying put this time. Even when it's super hot and humid.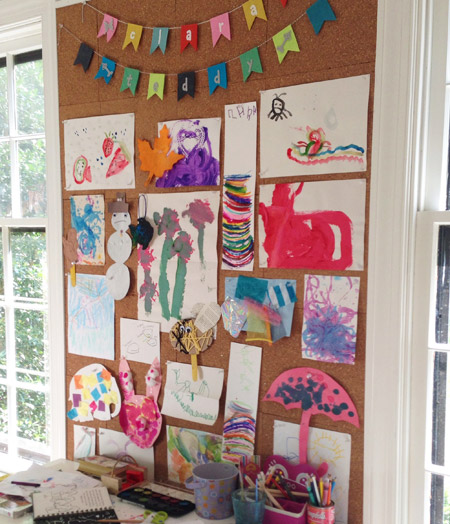 Redo #2. Our red adirondack chairs out back. Remember when we bought these guys two years ago? We hoped that splurging for pro-painted chairs would hold up better than spraying some wood ones ourselves. These are our famous last words from that post: "Chairs that came pre-painted by the pros with polyurethane paint for protection against the weather, heat, and sunlight definitely appealed to us as something that would hopefully stand the test of time. Just didn't want to spend less but end up with something that looked shoddy by next summer." Well, they lasted more than one summer, but two summers later they were maaaajorly faded. Sometimes they looked ok in photos, but in real life (especially when the pillows were off) they were very sad indeed.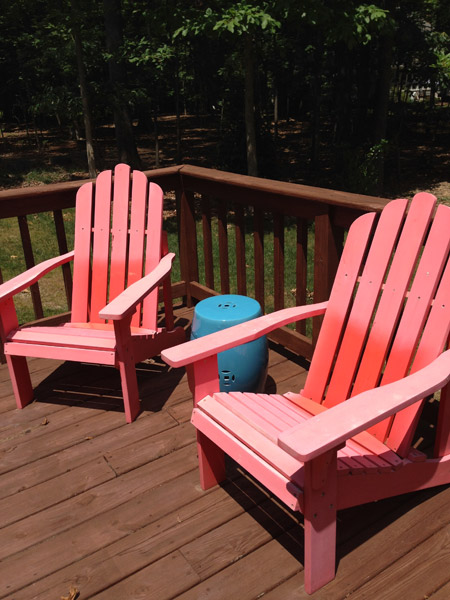 It was clear they needed more protection and a fresh coat of paint to help restore their bright happy color and protect them from the elements.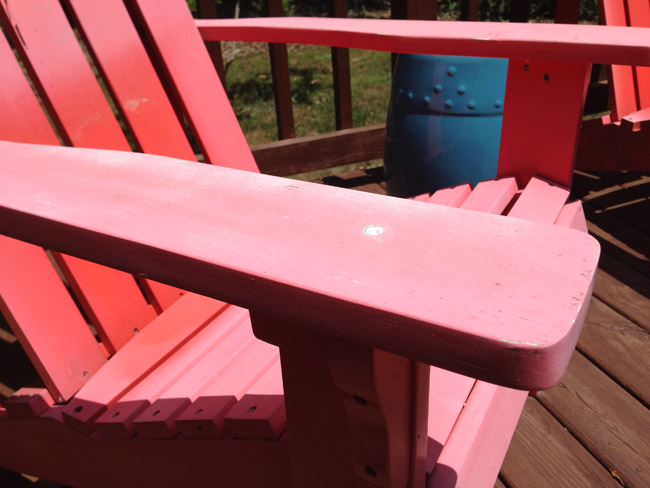 So I sprayed them with three thin coats of Gloss Protective Enamel by Rustoleum in their Regal Red color. It has a built-in primer and it's meant for wood furniture that's outdoors, so we hope it holds up well. Note: you can kind of see from the spray paint pattern on the cardboard that I flipped them over (resting them on the top of the seat and their arms) and sprayed their back/underside first, let that dry, and then stood them up to get all the other parts.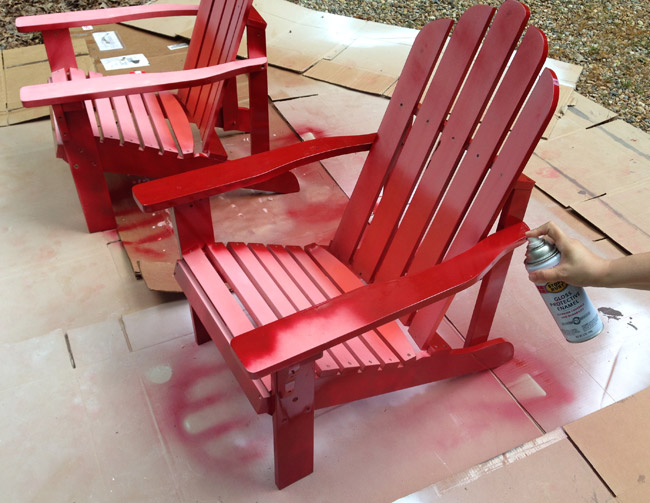 The happy news is that they look like new!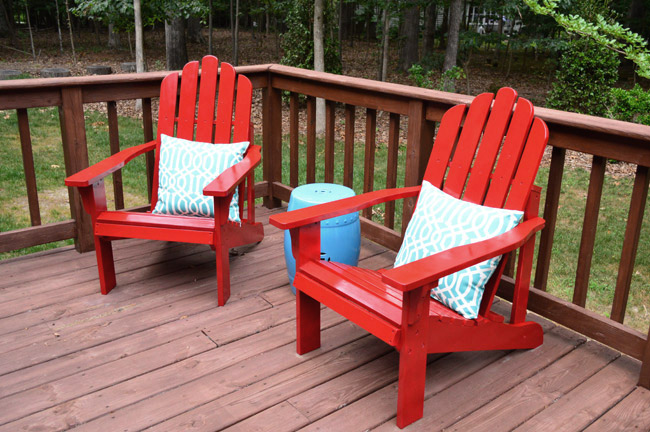 Only time will tell if this is going to be an every-few-years ritual, but I'm glad to have done it and seen great results (that always inspires me to do those "maintenance" things again down the line if I need to).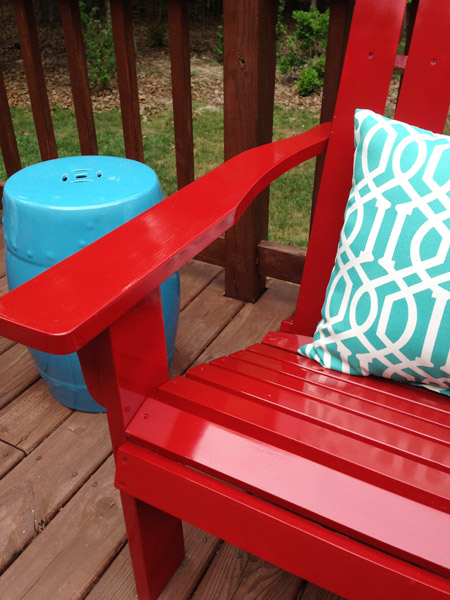 And now they match the red stool over near the egg chair, which is a nice bonus.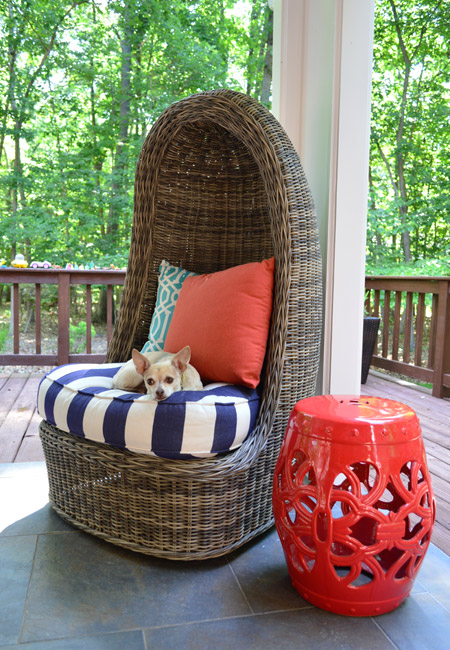 Redo #3. My little light-turned-terrarium. I showed you how I made it here, and how everything I planted gave up on me here…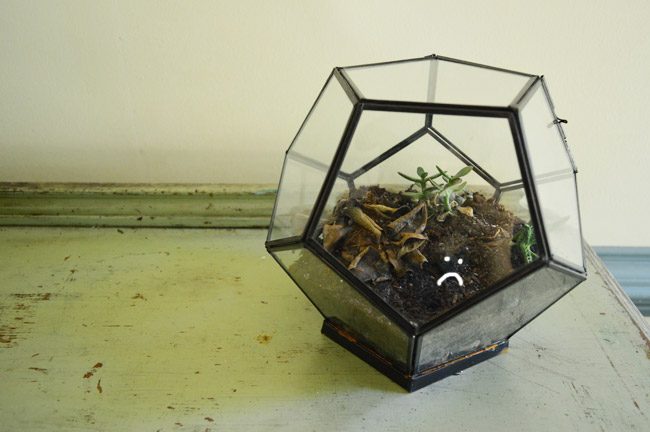 … but some of you noticed that things looked less bleak in a recent post.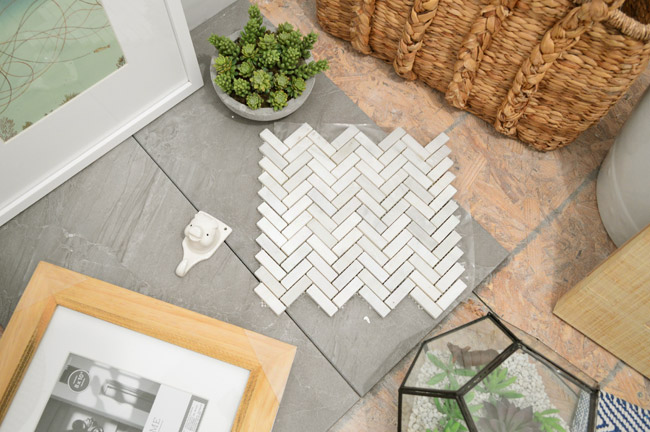 At the urging of some "I use fake ones in my terrarium!" comments, I grabbed a few faux succulents at JoAnn. I also noticed some pretty white aquarium rocks at the pet store while buying new food for Burger, so into my cart they went. Once at home, Clara and I had fun filling the glass case with white rocks and poking my fakers in there to hang out. Clara insisted that the deer should go back in there too, and five minutes later we had a finished product.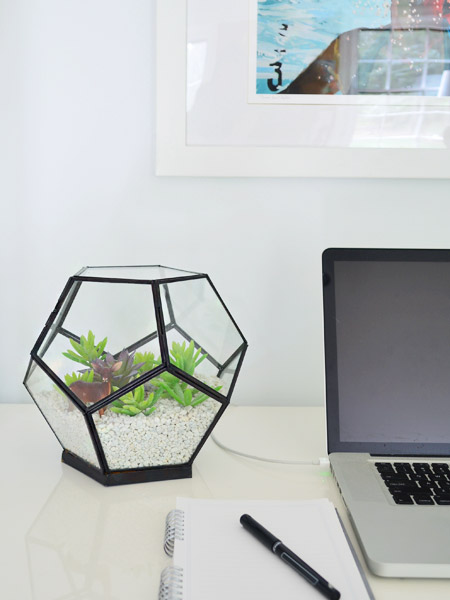 I still have plants that need to be watered and loved (much like Michael Scott, they want me to fear how much I love them) but it's nice to have something unkillable in the mix.
And now for a bonus. This isn't really a redo, just a giant duh moment. A few of you eagle-eyes noticed I was painting a door sign waaaay back here while making little desserts for Clara's tea parties, and correctly guessed it was going to be one of those "please don't ring the bell – the baby is sleeping" signs for the front door.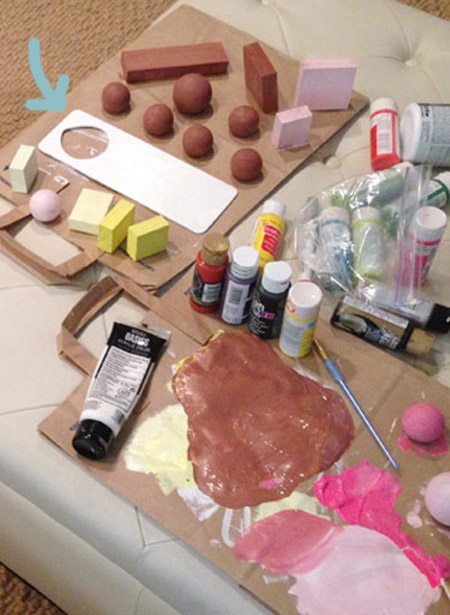 Well, after painting the background white, it stalled for a few months. I had big plans for using a thin brush to paint pretty scripty words on it, but after staring at the blank white doorknob hanger on the kitchen counter for way too long I finally just grabbed a red sharpie and scribbled out a message. "There" I thought. "It's not Pinterest worthy, but it's done!"
And then I walked over to the front door to hang it… and realized we don't have a doorknob on our front door.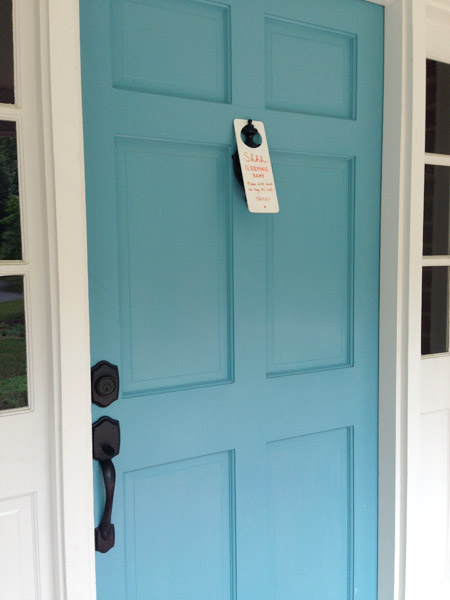 I laughed so hard there were tears, guys. How much of a duh moment is that? I mean I literally had months to reach this realization as the door hanger sat on the kitchen counter taunting my in its half-finished state… and yet… nada. So I Tim Gunned that sucker by hanging it over the door knocker. And you know what? It works. The sweet Fed-Ex guys just leave stuff instead of ringing the bell and setting off Burger The Barking Maniac. Just thought you guys would get a kick out of that. Feel free to pin your little heart out (insert winky face here).
The lesson for all of these redos? If at first you don't succeed, try try again. Also, check your door for a knob before making a door-hanging sign.
&nbsp
***UPDATE: We're sending out a giant thank you to the 30,000+ respondents to our survey! We've selected a random winner of the $500 West Elm gift card using random.org and the lucky person is… Sarah M from Birmingham, AL! Congrats Sarah – check your inbox!***
It's no secret that I'm a card-carrying infographic geek (in case you're wondering, the card has a pie chart on it). Here on our blog we've captured one year of living in this house, our book tour, and of course your responses to our annual blogiversary survey all infograph-tacularly, so with some sweet talking to my wifey and gentle nudging to our publisher, I've convinced them to let me put a few infographics in our next book. #nerdvictory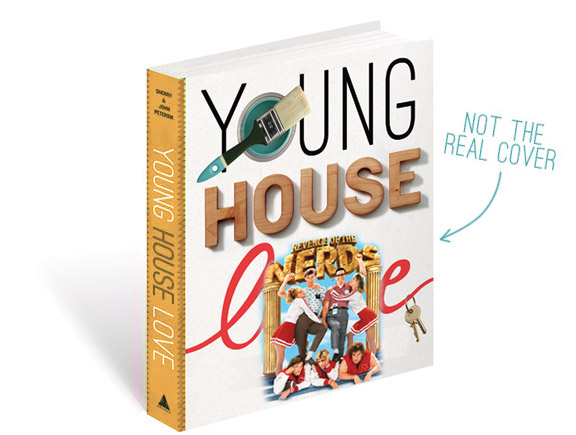 But obviously I need some info before I can get all graphic on you (not that kind of graphic). That's where you guys come in. Since Book Two is all about sharing how families really live (you can read more about it here) we thought it would be fun to share some stats on what "really live" means. We're about halfway done shooting the book (and mostly done sorting through your AWESOME submissions) and it has been an great reminder that there's a huge variety when it comes to families, design needs, and housing challenges. And since we can't photograph them all, we're hoping these infographics can represent a wider smorgasbord. Even if the questions are a little goofy sometimes…

To thank you for taking our little book survey we lined up a $500 West Elm gift card for one lucky winner. We'll select that person randomly from the respondents next Monday night (8/25) at 8pm EST. Please complete the survey just once per household. Oh and if you're an international reader, you can win a Visa gift card instead, so it's open to anyone in the world.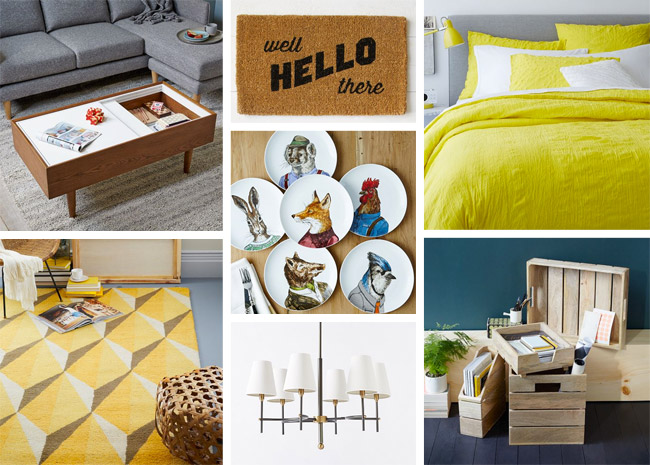 Taking the time to represent your little slice of home in the book could also end up earning you a shout out. We've got a few open-ended questions in there that will allow us to highlight some particularly unique / helpful / entertaining responses complete with your name and city (assuming you give us permission at the end of the survey, otherwise it's 100% anonymous).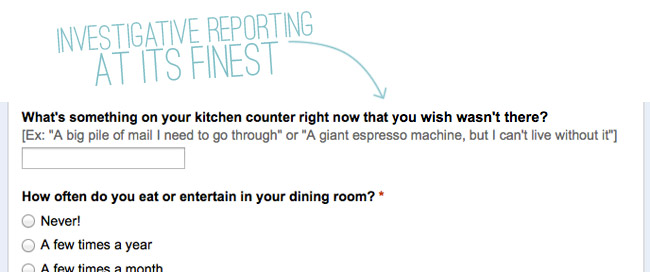 You can click here to begin the survey (or on the graphic below). It's not super-serious and by no means scientific, so we hope you guys have some fun with it. It's hosted via Google Forms and there are some open-ended questions but they're not required if you don't feel like typing much. Thanks in advance for taking the time to represent how you live in your home!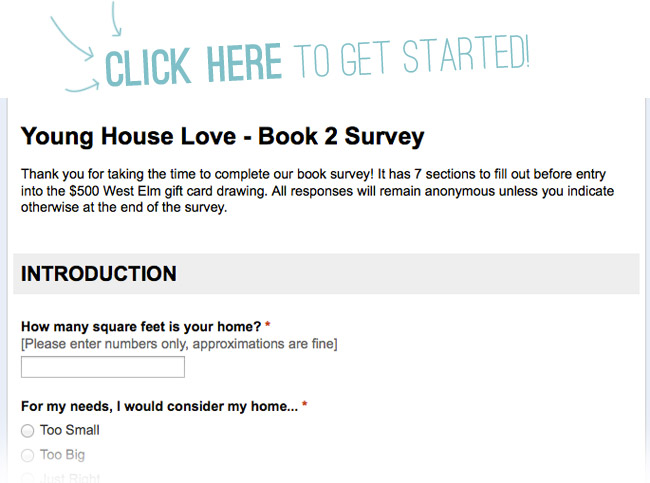 Oh, and PS: Since this has a $500 prize attached to it we won't be hosting our usual Fab Freebie tomorrow, but we're currently assembling some cabinets in the hopes of being back with a laundry room update tomorrow or Thursday at the latest.
&nbsp