Updated January 2022
We just installed approximately one million curtain rods at our duplex (okay, actually just 16 of them) so we wanted to share a simple trick we used to speed up installation, while still keeping everything looking level and equally spaced. This should take a lot of the headache out of hanging new curtains, especially if you're doing more than one window in your room. Plus, the trick is totally free!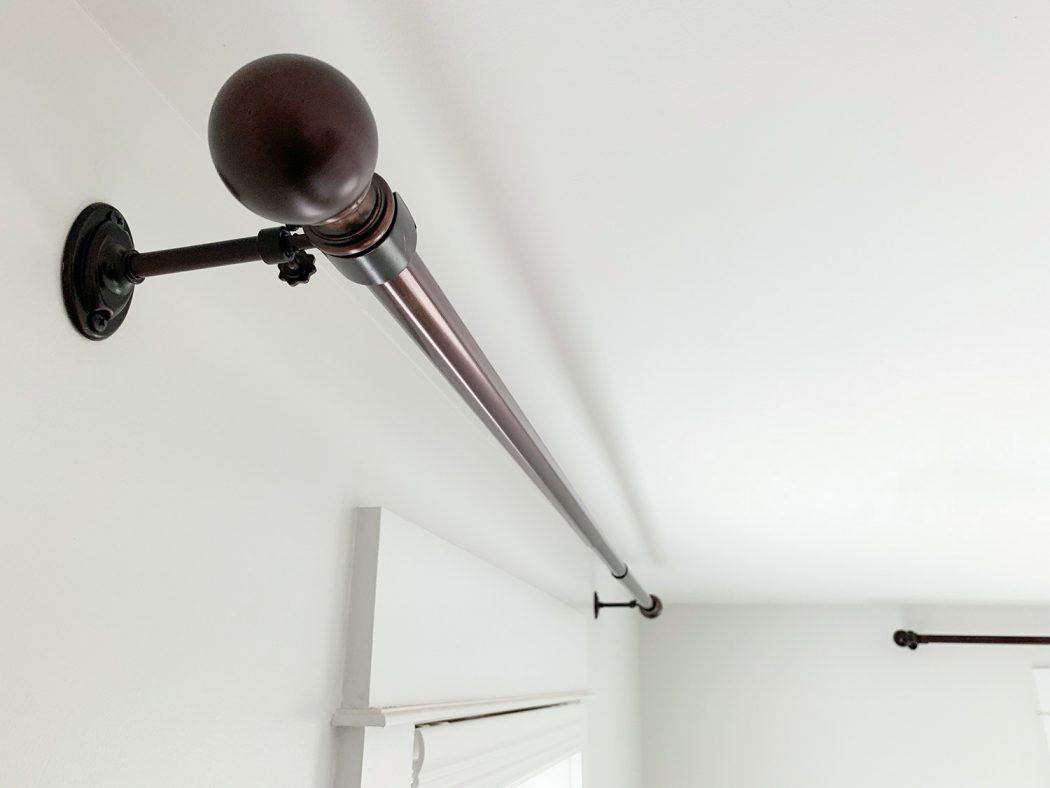 For this installation, we're using affordable curtain rods like these that you can get at most big box stores and these ring clips. We also are hanging simple $14 white Ikea curtain panels using this trick for making Ikea curtains look expensive. Together, these tips saved us hundreds of dollars across the whole house!
Before we talk about HOW to install your curtain rods, let's talk about exactly WHERE to put them. Here's some quick curtain basics:
How HIGH Should You Hang Curtain Rods?
There's no firm rule for this, but most people agree that curtains look best when they're hung (say it with me!) HIGH AND WIDE. As in, higher and wider than the window itself. This not only creates the illusion of a bigger, grander window, but it also makes your room feel taller and draws the eye up. The below has 9ft ceilings, and you can see how nice it is for the window trim to get to breathe a little, and for the eye to follow the curtains from floor to almost-ceiling.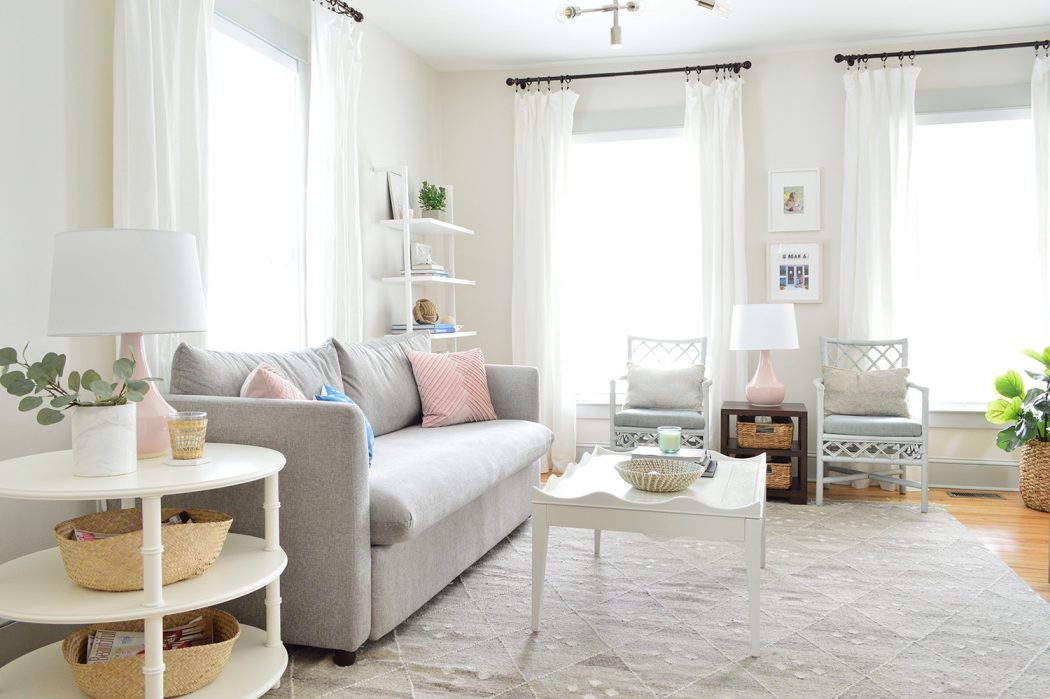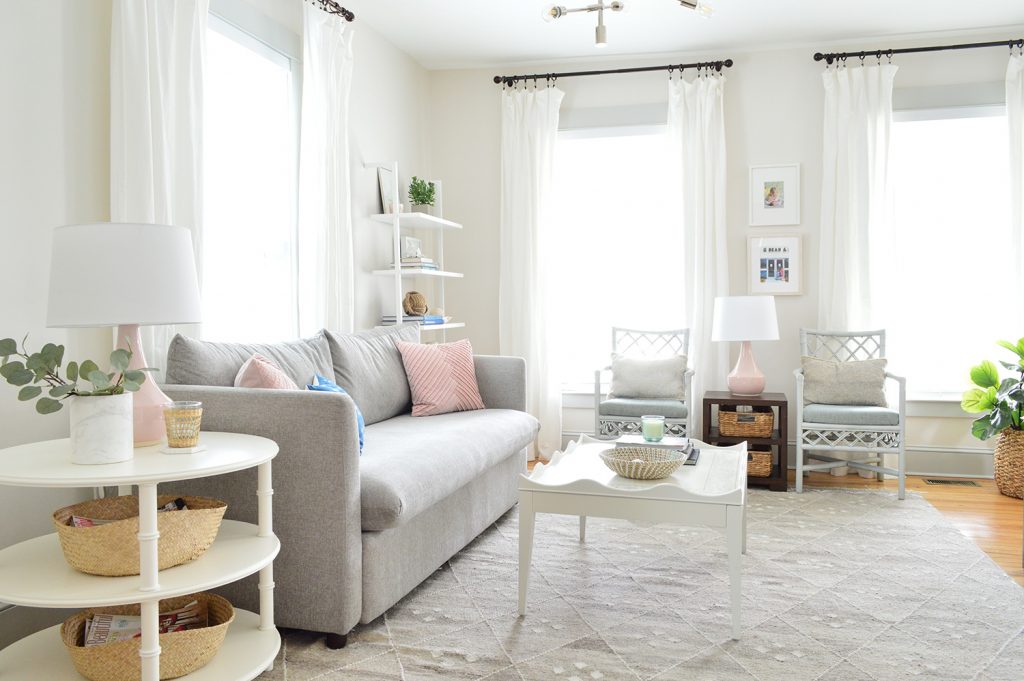 Speaking of the floor, most experts say that your curtains should usually touch or nearly touch the floor itself. Some like them to hover slightly above the ground, others love a dramatic pool of fabric at the bottom. We typically like them to graze the floor ever so slightly – like below in our showhouse's dining room. We find this helps keep them in place better.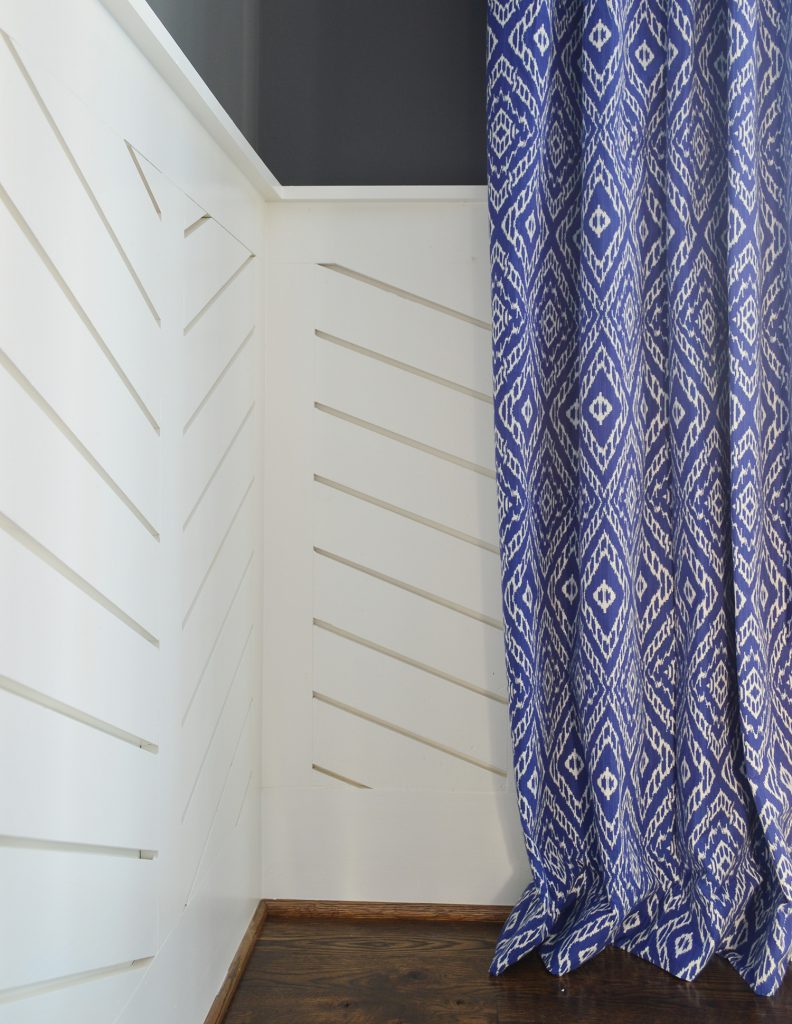 The precise placement of your rod depends on a few factors (ceiling height, curtain length, trim & molding style, etc) so I can't give you a hard and fast measurement for where your rod should always go… but generally, we like to hang ours about 3-4″ below the ceiling or, if there's crown molding, 3-4″ below the bottom edge of the crown. This allows the curtain rod to "reside" fully (including finials) within the painted area between the window and the ceiling.
But the important thing to note is that we're hanging them in relation to the ceiling, NOT the window. It's the assumption that your curtains need to relate to the window that causes a lot of people to hang their curtains too low.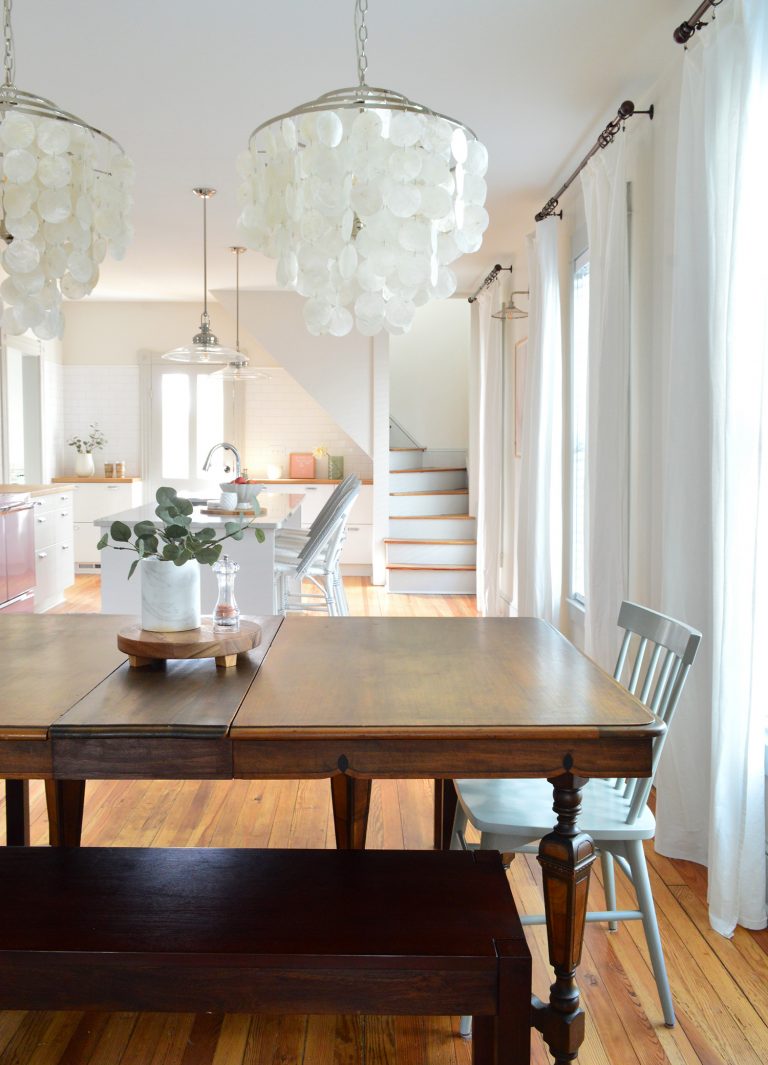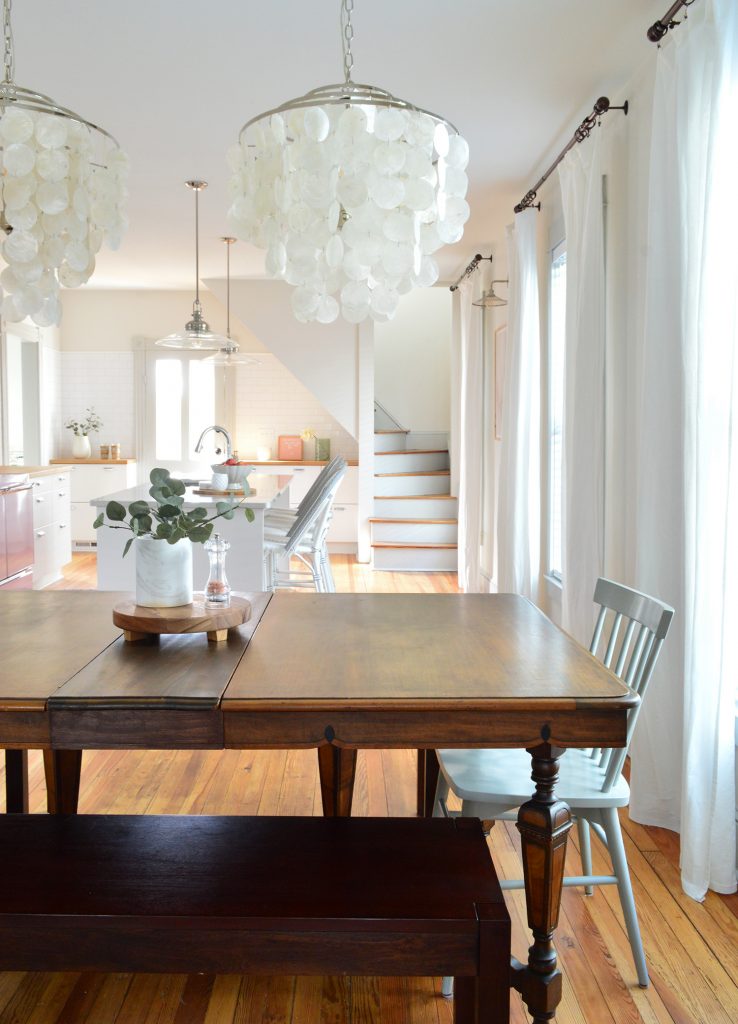 That being said, sometimes the window trim is really close to the crown or ceiling and you may not have 3-4″ inches of space to work with, like you can see in the photo below.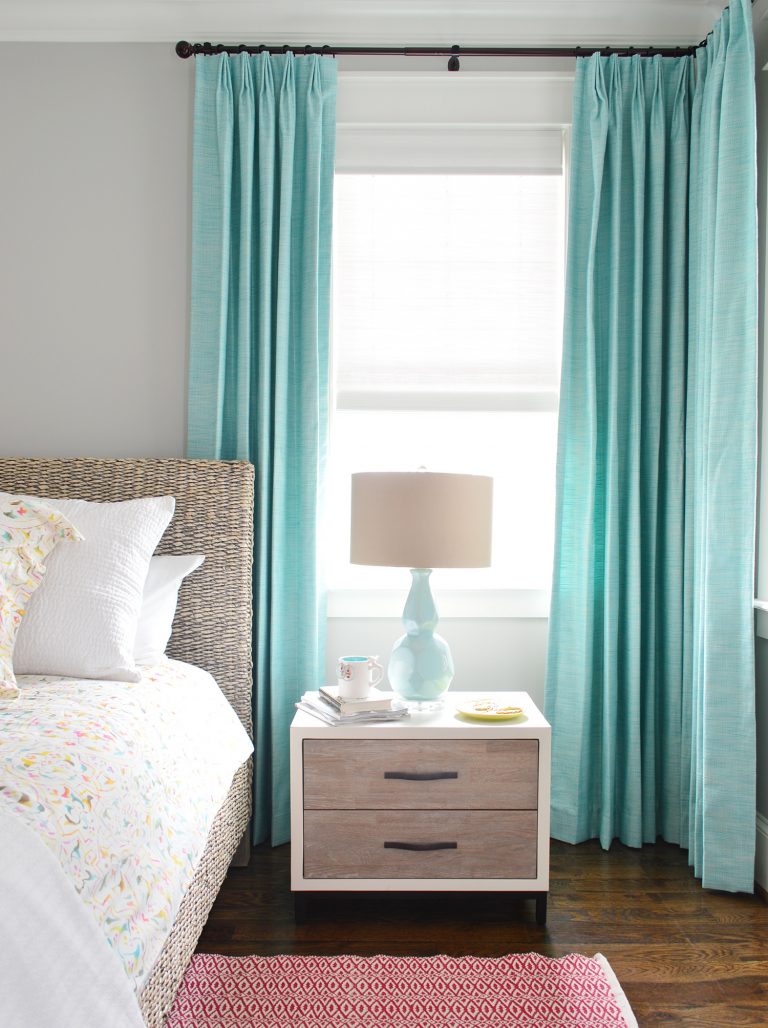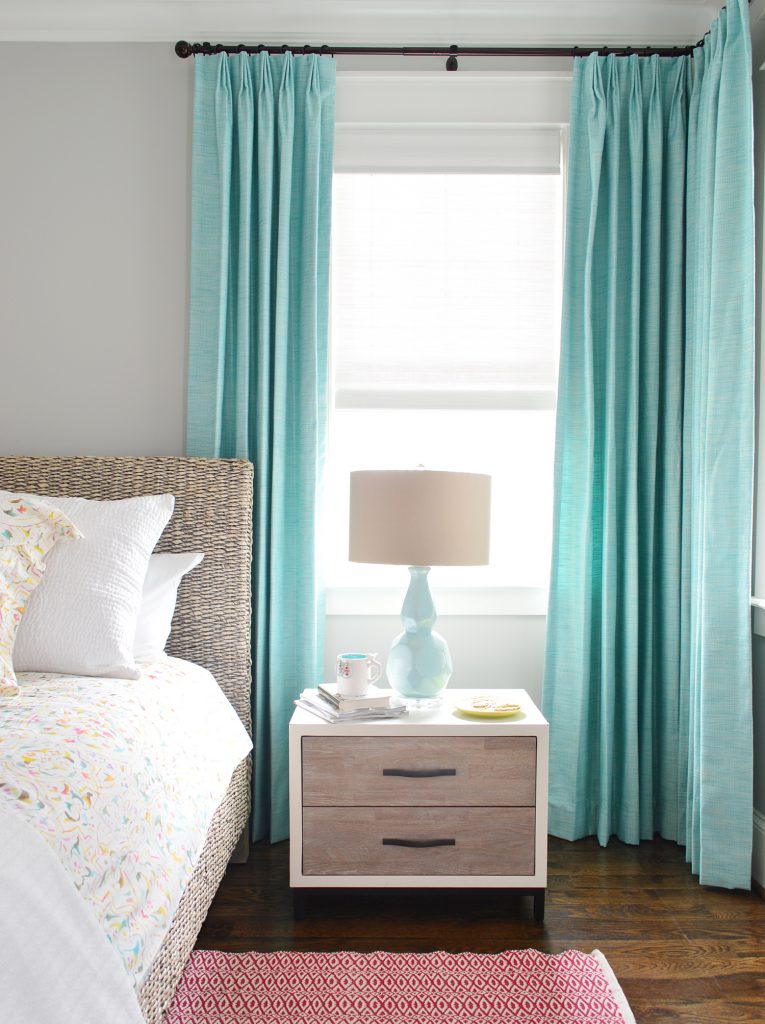 Also, any super tall rooms or spaces with sloped ceilings are special cases where you'll have to make a judgment call and you may not be able to determine your curtain rod height in relation to the ceiling.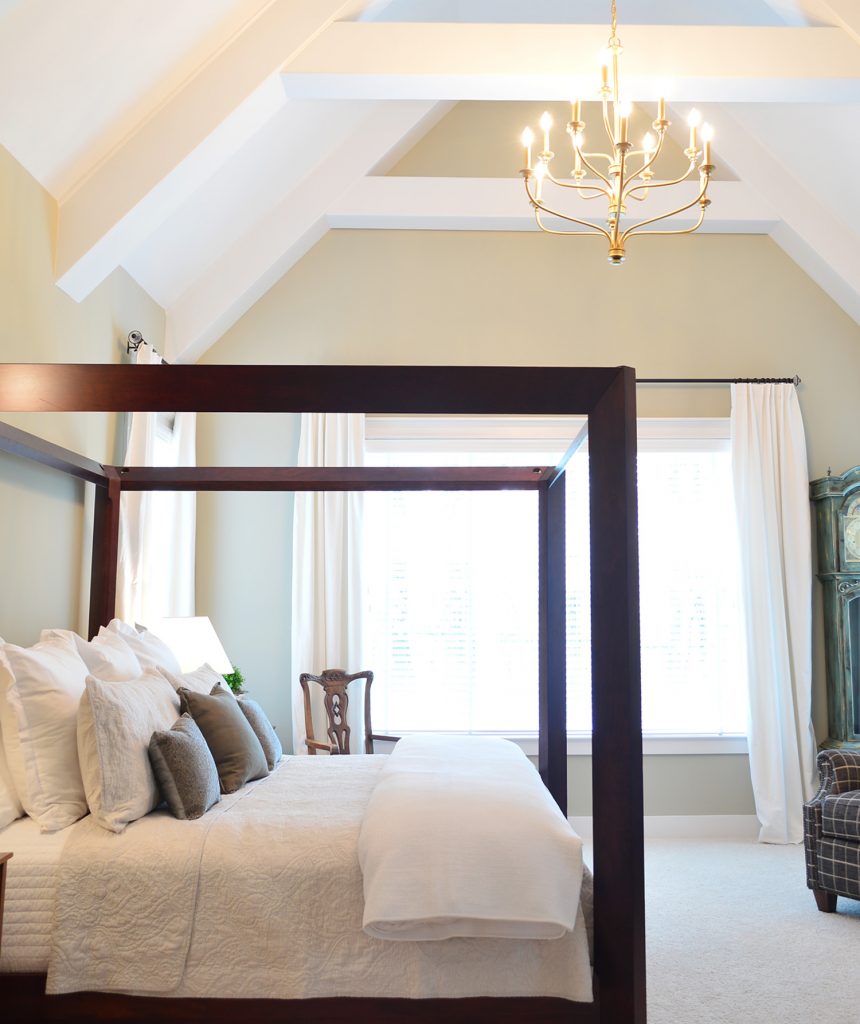 Ultimately, our favorite way to confirm the perfect curtain height is to hold half of the rod up and have someone else step back to double-check that it looks good. You can do this with just one curtain panel attached (after you've washed, ironed, and done whatever else might change the height of your panel – except for hemming, that should happen once they're hung so you can get the perfect length).
How WIDE Should You Hang Curtains?
This also depends on several factors, like the window size, what else is on the wall (especially if there are OTHER windows nearby), and how tight or loose you want your panels to look. Generally, we like to place the rod hooks about 8-11″ from the outer edge of the window trim.
By barely covering the edges of the windows you create the illusion that the windows are wider than they really are. In other words: THE CURTAIN PANELS ARE HANGING IN FRONT OF THE WALL NEXT TO THE WINDOW – NOT IN FRONT OF THE WINDOW (which makes it look smaller and blocks light). Sorry for shouting, but it makes such an crazy good difference.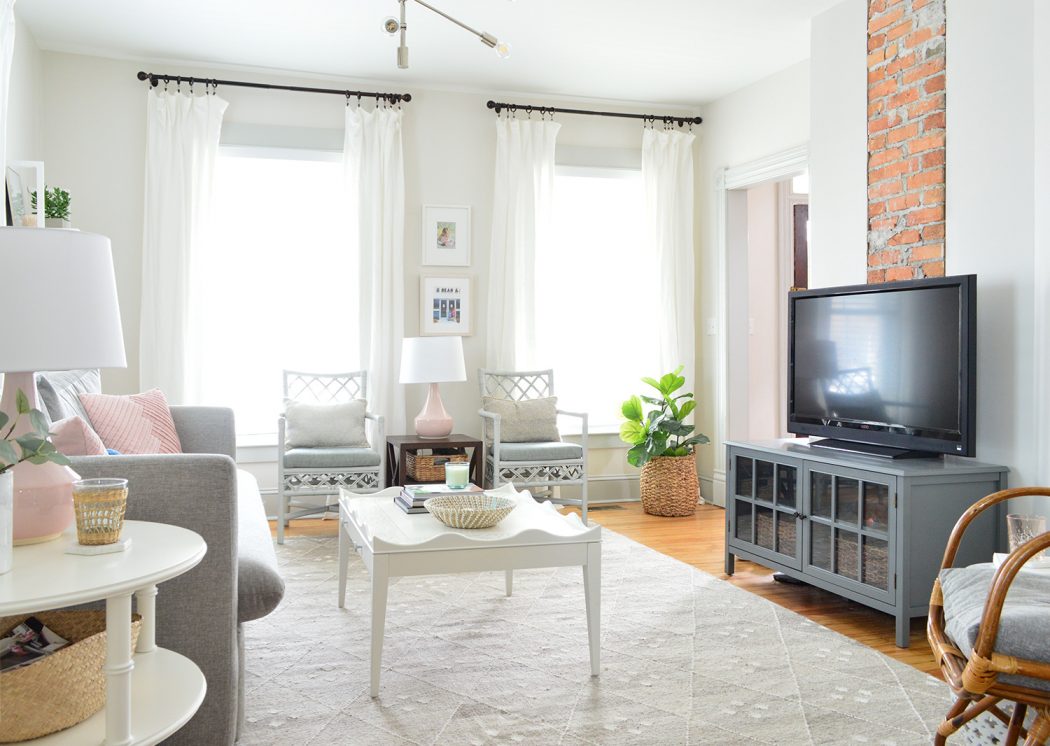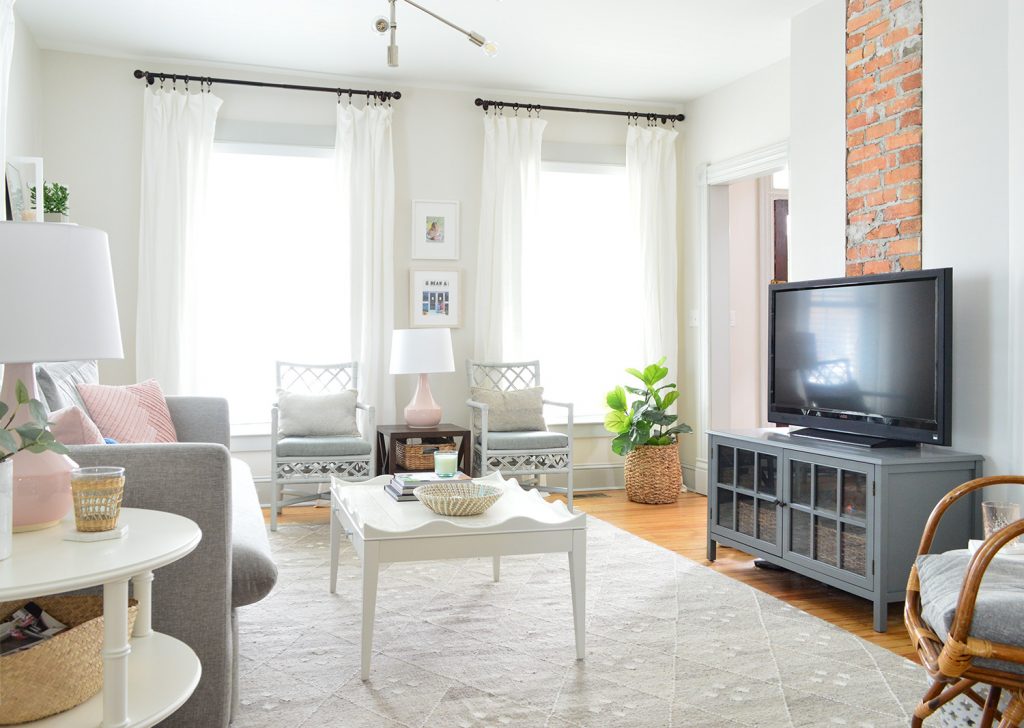 If the two windows are closer together (like in our bedroom below) you may have to cheat your rod closer than that 8-11″ distance from the window trim. Conversely, we might hang the curtains even wider if we're trying to fill a large wall space.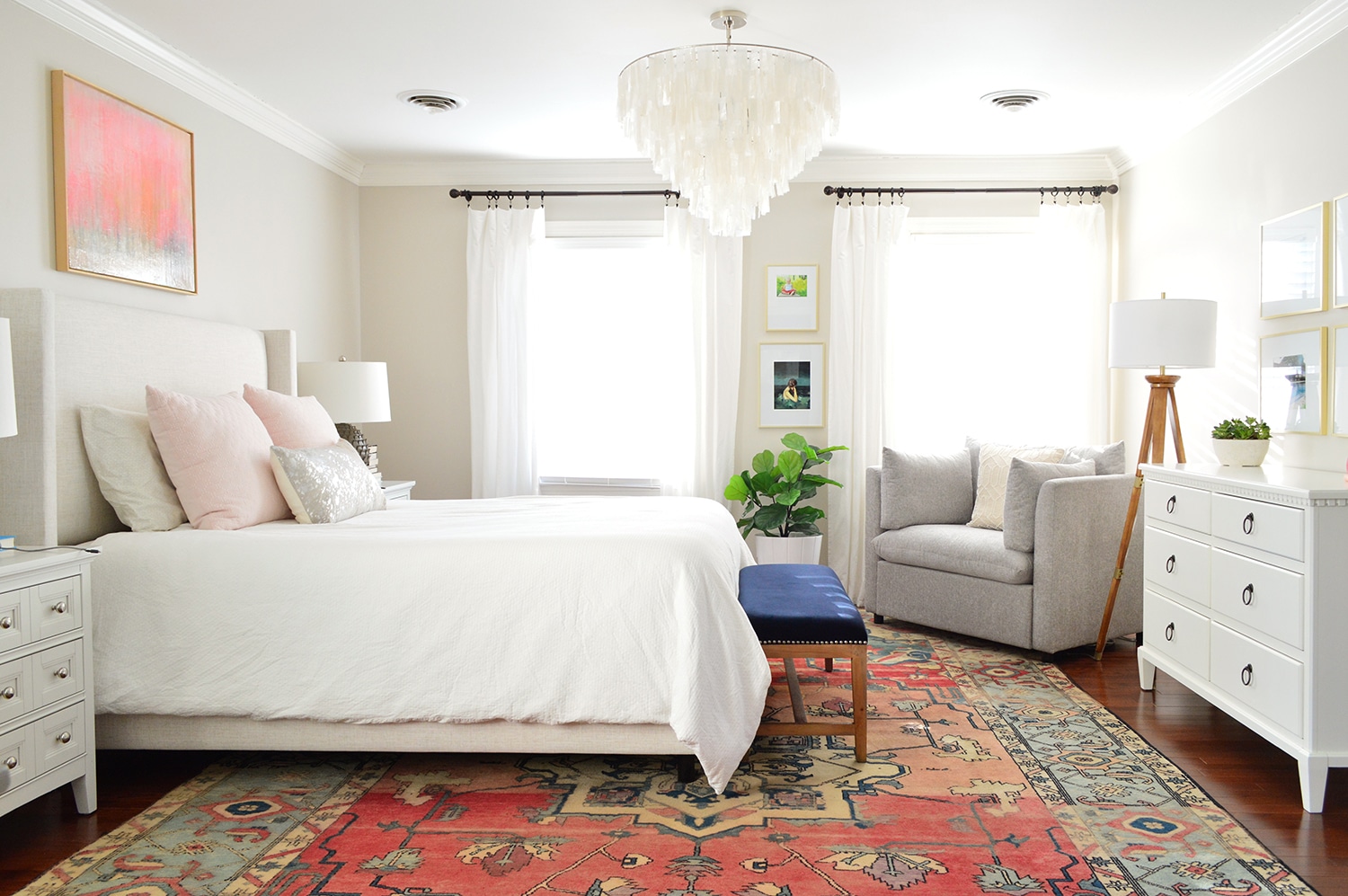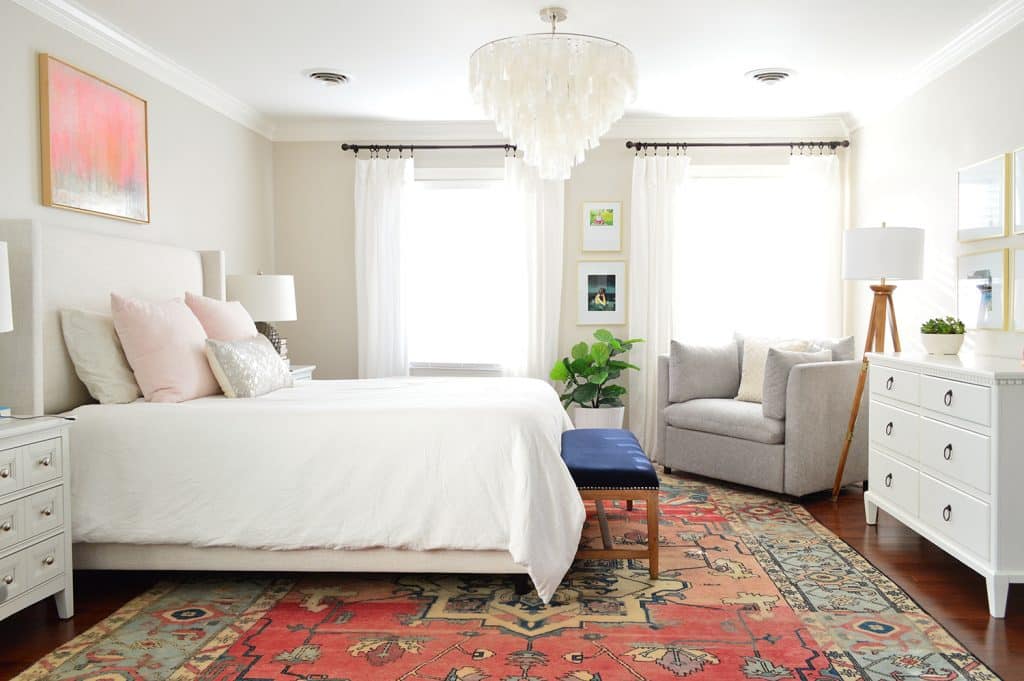 You can even hang the rod wider on one side than the other if we're trying to make a window look less off-center (more on that here – it can make all the difference!). So it really is flexible.
The Curtain Hanging Trick That'll Save You Time (On Video)
Knowing the width (your desired distance from the window trim) and height (your desired distance from the ceiling) is what makes this easy trick possible. John demonstrates it all in this video below (also watch for my super cool footwear cameo). There are more photos after the video, but I'd strongly recommend coming back to view it when you can.
NOTE: You can also watch it here on YouTube.
Tools & Materials Needed
Apart from your curtain rod and the included hanging hardware (brackets, screws, wall anchors), there are very few items you'll need to hang it quickly:
Small drill bit (like 3/32″) to make pilot holes
Larger drill bit (like 3/16″) to make wall anchor hole
Tape measure or ruler
Pen or pencil
Scrap cardboard sheet (like the one that came with your curtain panels)
Stool or stepladder
Step 1: Determine Your Measurements
We held up one curtain panel on the rod to finalize what spot looked best and then held the curtain rod bracket in place to take measurements. Using a tape measure, we determined that we wanted to place our curtain rods 10.5″ from the outside of the window frame (weirdly specific, I know) and 3″ down from the ceiling. These are our measurements to the top screw hole in the rod bracket since we find it easiest to work with the measurements of where you'll actually need to drill.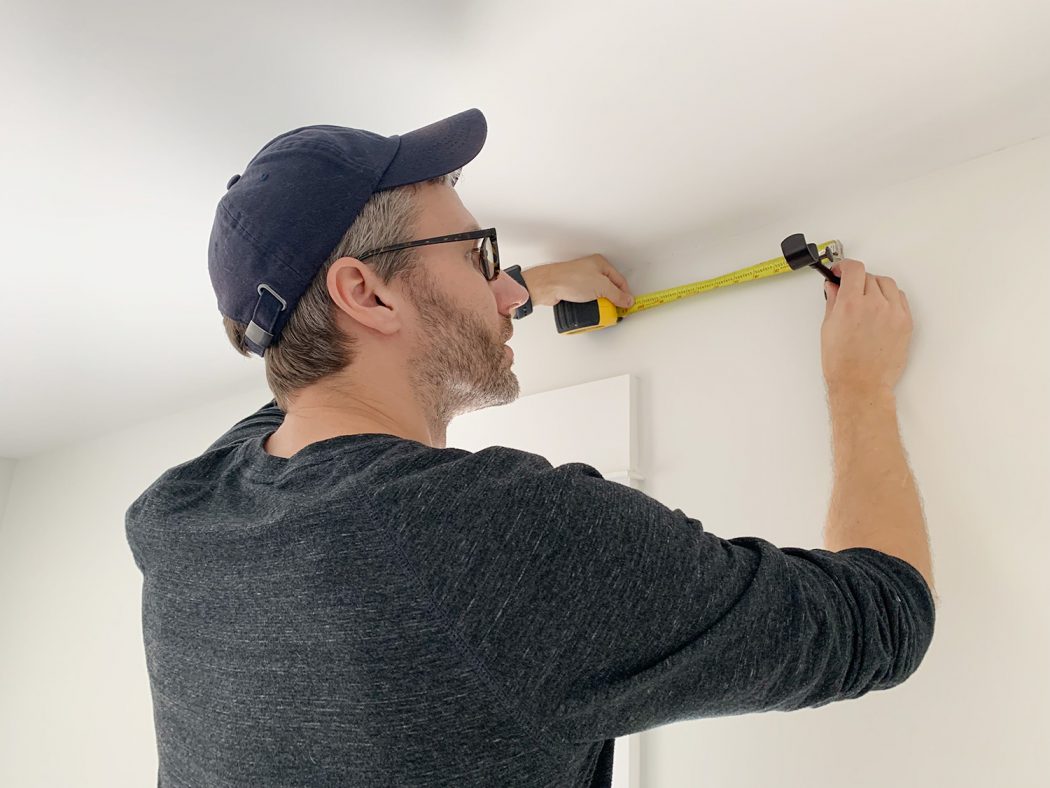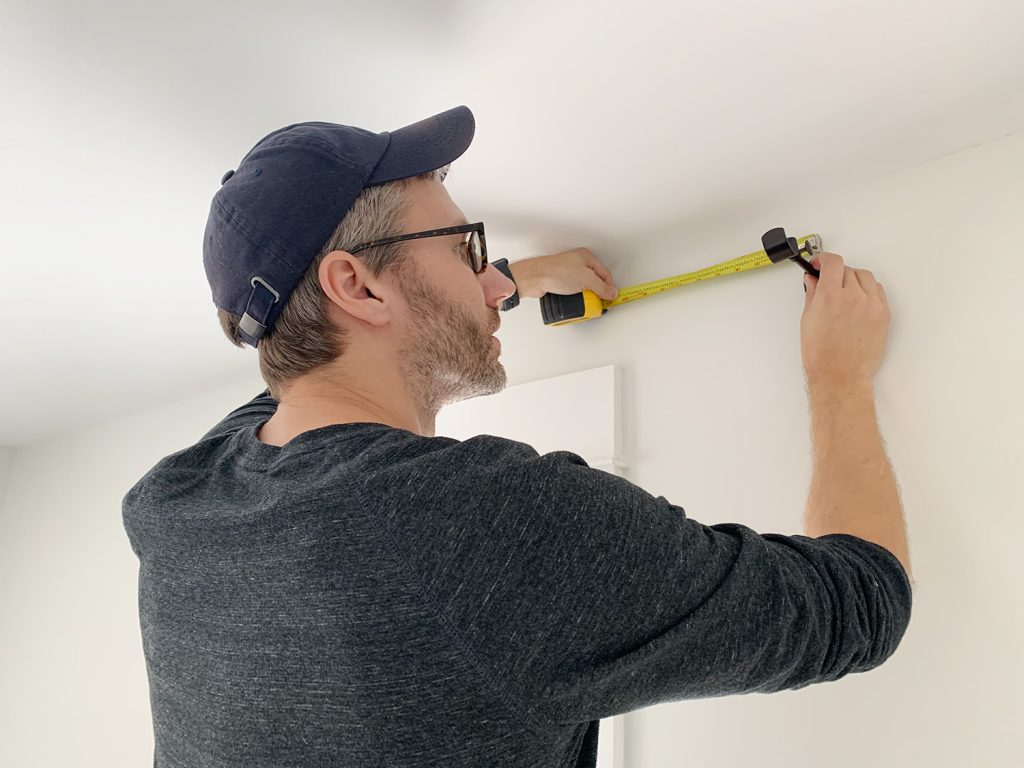 Step 2: Make Your Cardboard Template
We used a scrap piece of cardboard to make our template – marking 10.5″ from both sides (see white arrows) and 3″ down from the top (yellow area). This was actually the cardboard that came in the curtain package, so you might have something like it on hand already! Once we marked our lines, we lined up the curtain rod hook and marked the two screw holes on BOTH 10.5″ marks.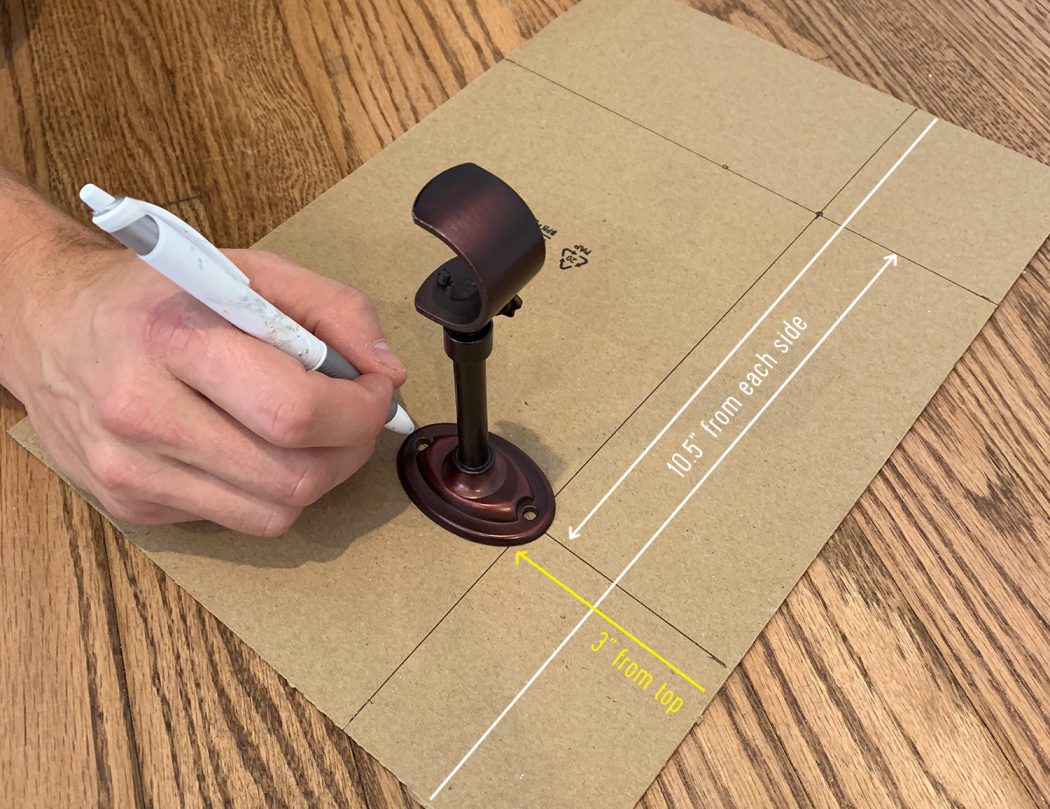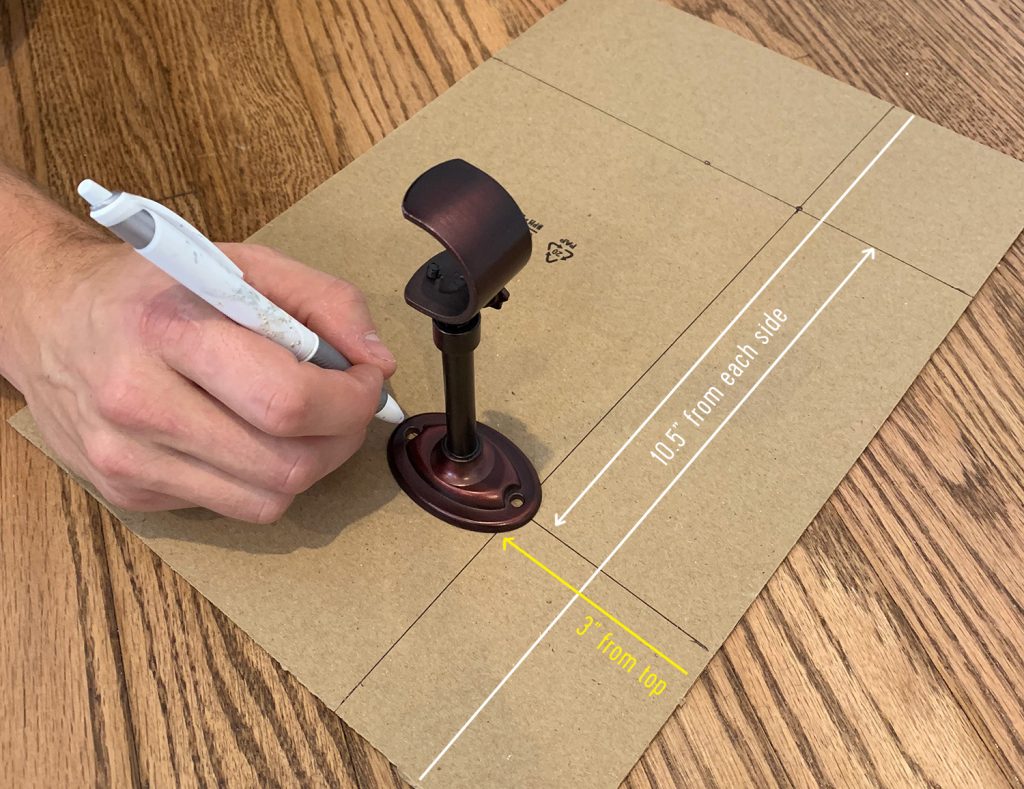 3. Drill Pilot Holes
Load up your power drill with a small pilot hole bit (we used a 3/32″ bit) and hold your template above your window with the top edge flush to the ceiling and the side edge lined up with the outside edge of the window frame. Then you can just drill small pilot holes through your two template marks.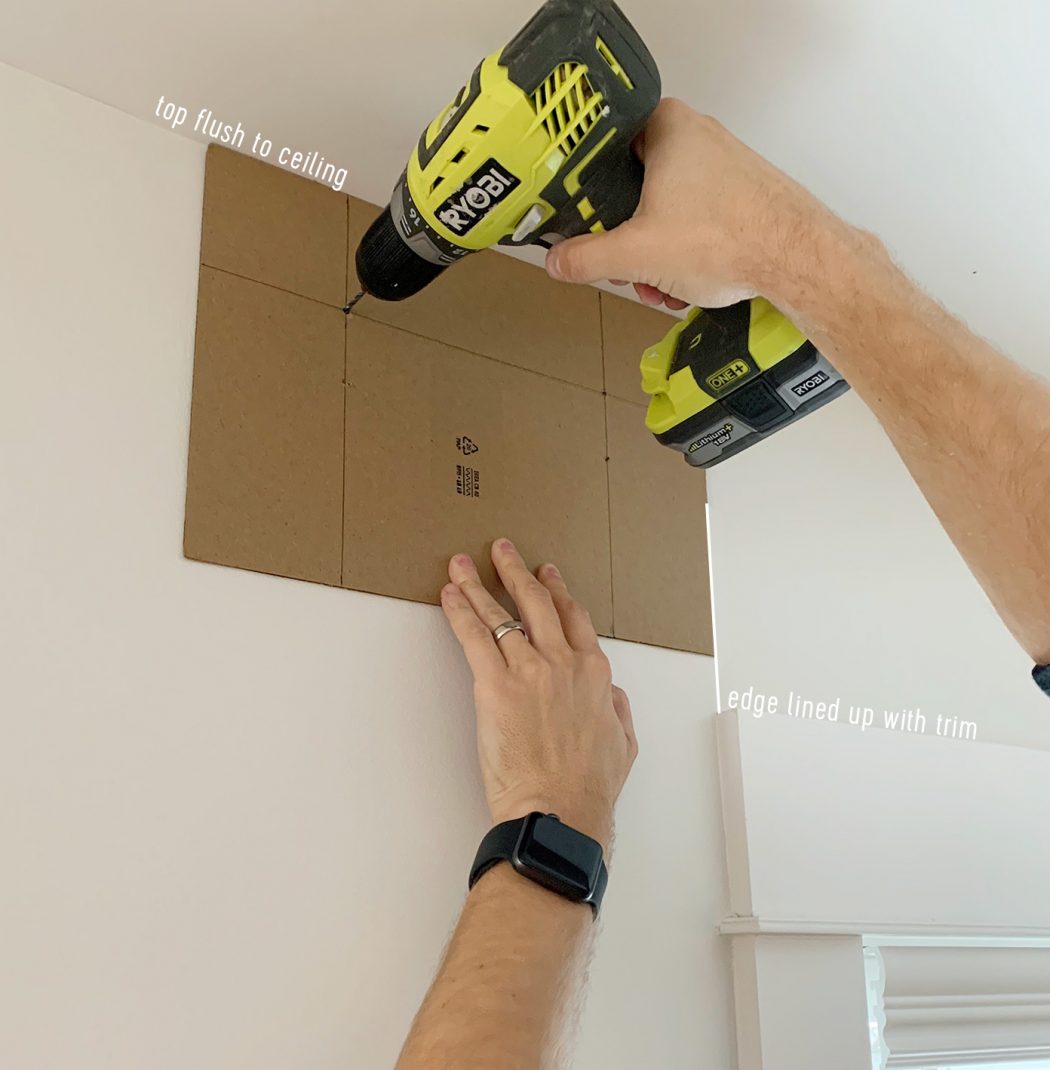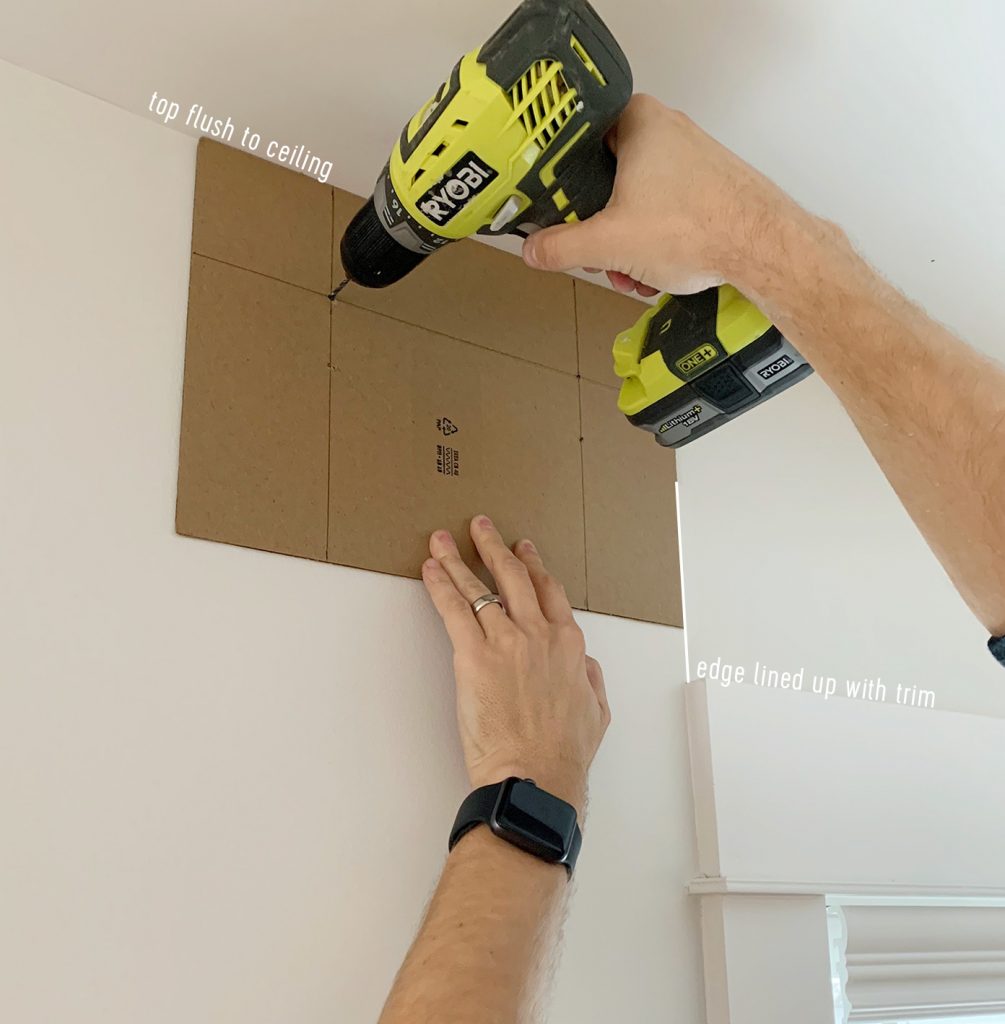 A note about keeping things level: CEILINGS AREN'T ALWAYS LEVEL (I'm looking at you, duplex) so using the ceiling as your guide might seem ill-advised.
What if your ceiling is sloped and your curtains end up being sloped too?!
Don't panic! When you're hanging the rod close to your ceiling, you actually want the rod to follow any slope in the ceiling! It will be your eyes' closest reference point for a straight line, so it will likely appear level even if it isn't. That's why a level isn't required for this process.
In fact, putting a perfectly level curtain rod next to a sloped ceiling could actually make the rod look wrong. Or emphasize that the ceiling is wrong. So yeah, using the ceiling as your guide actually works well for wonky ceilings (again, the duplex has plenty of those).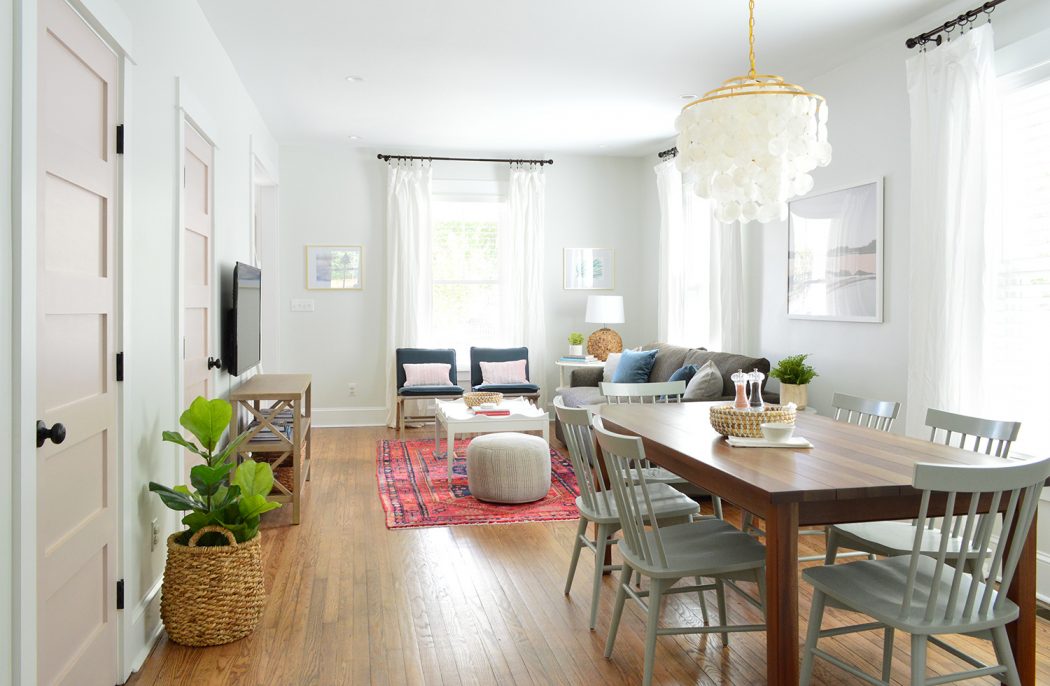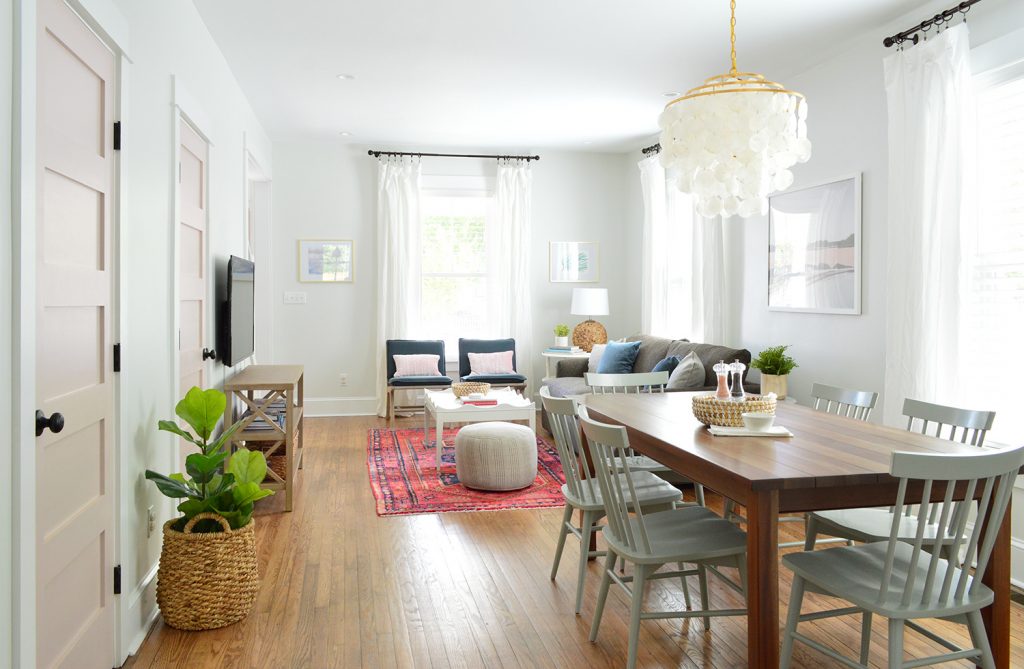 4. Drill Larger Holes & Add Anchors
Once you've made pilot holes on the other side of the window using the other half of your template (this is why you marked 10.5″ from BOTH sides of the cardboard) you can proceed. If you hit any studs, skip to the next step. Otherwise, you'll need to add anchors, which are typically provided with your curtain rod
Swap out your drill bit for the correct size that works with your anchors (ours needed a 3/16″ drill bit) and drill into each premade pilot hole to make larger holes for your anchors. Bonus – the template acts as a great way to catch drywall dust!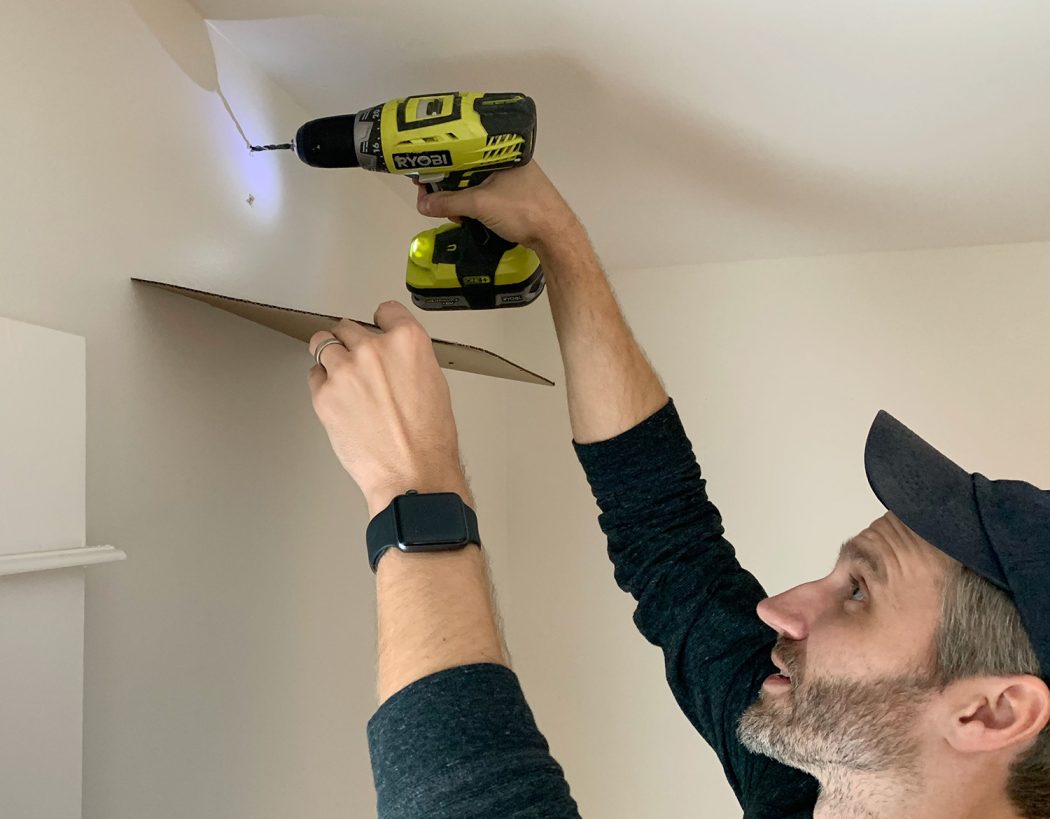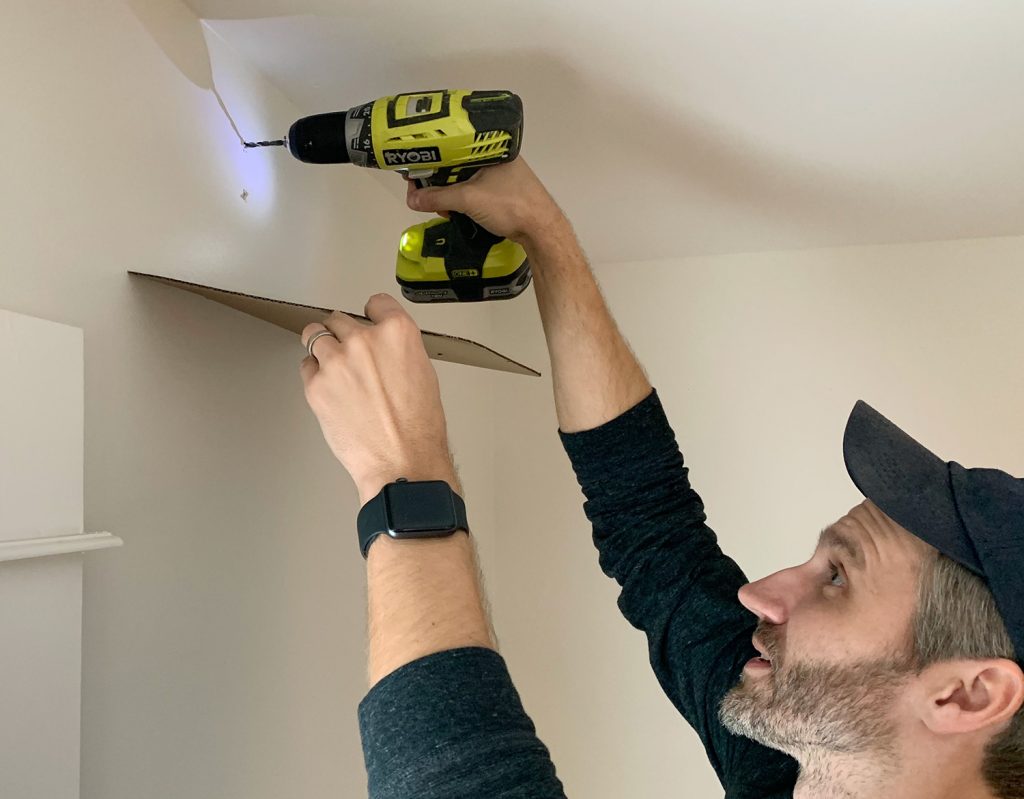 With all of your anchor-ready holes drilled, gently tap in your anchors in with a hammer or mallet. If you're able to push your anchors into the wall by hand, you're making your holes too large! Switch to a smaller bit or keep your drill steadier as you drill. Loose anchors can cause your rod to sag or fall out of the wall over time.
5. Install Your Curtain Brackets To The Wall
The rest is pretty straightforward – hammer in your anchors and secure your curtain rod hooks to the wall using the provided screws. We do all of this in real-time in the video above if you want to see exactly how quick this whole things goes.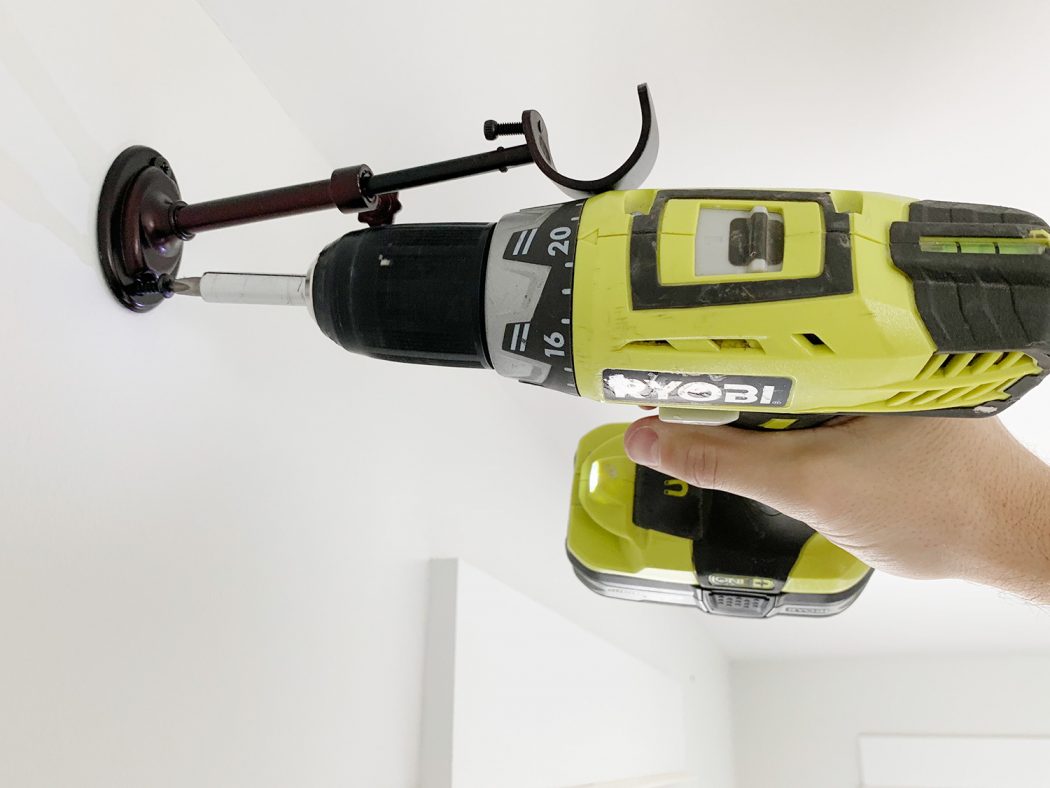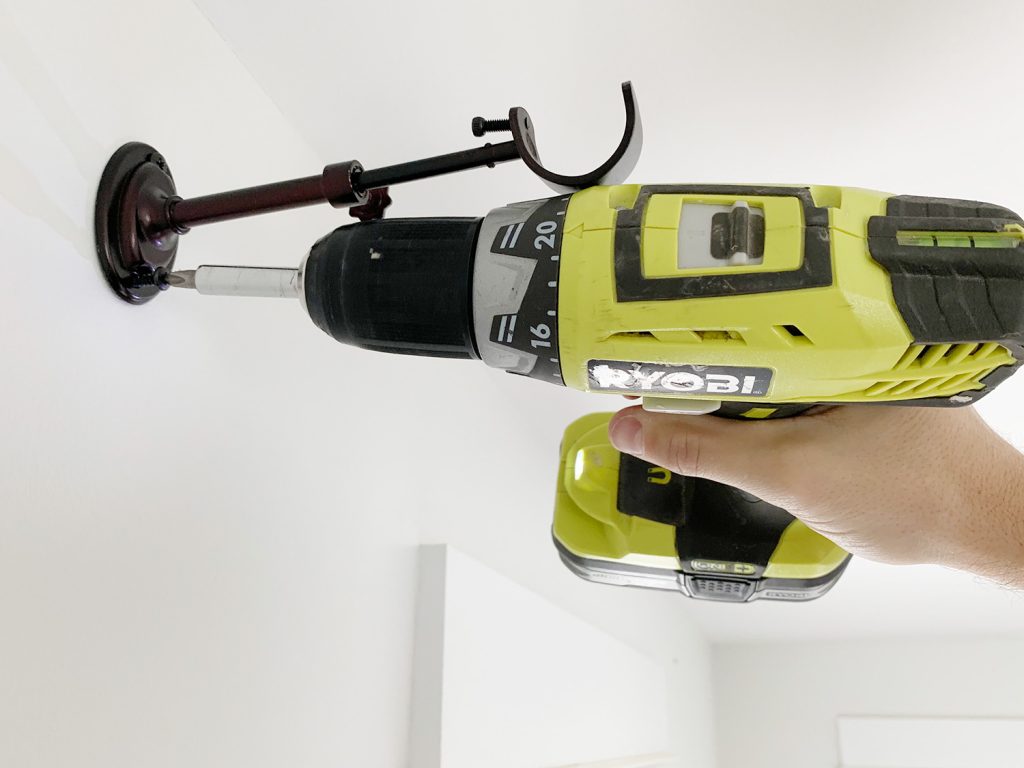 6. Add Your Rod & Curtain Panels
With both brackets secured to the wall, you can hang your rod with your curtain panel already attached. Now you're done… unless your panels require any hemming. Or you could just hide the bottoms behind a bed like we did below. Ha!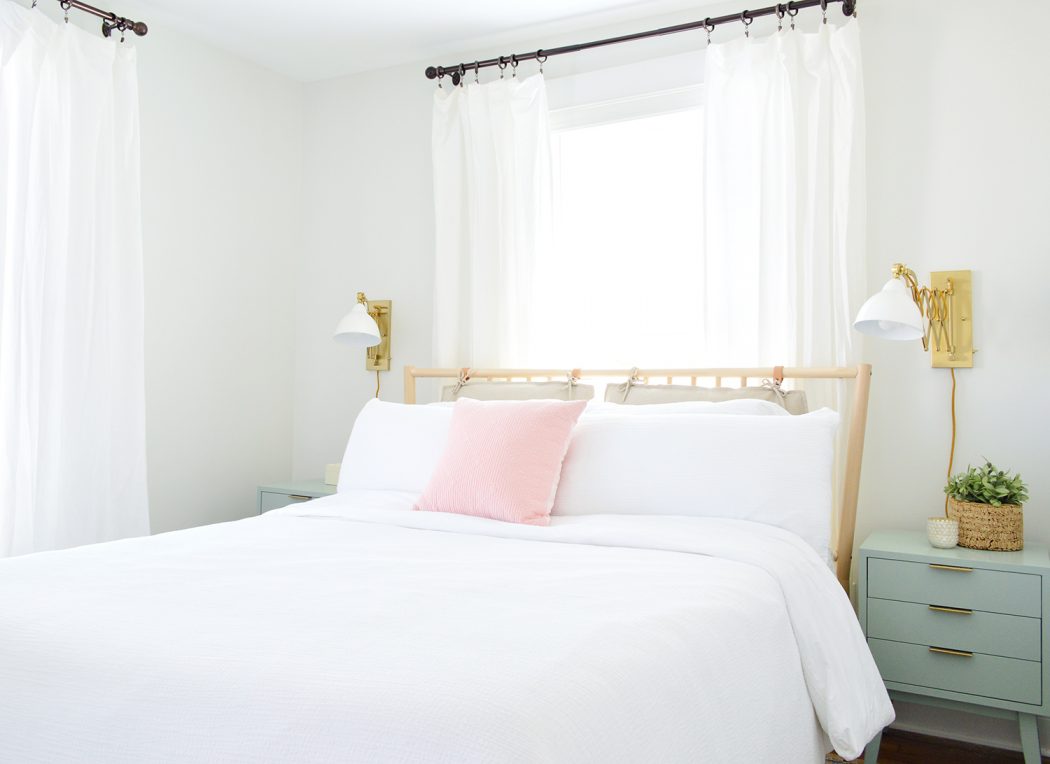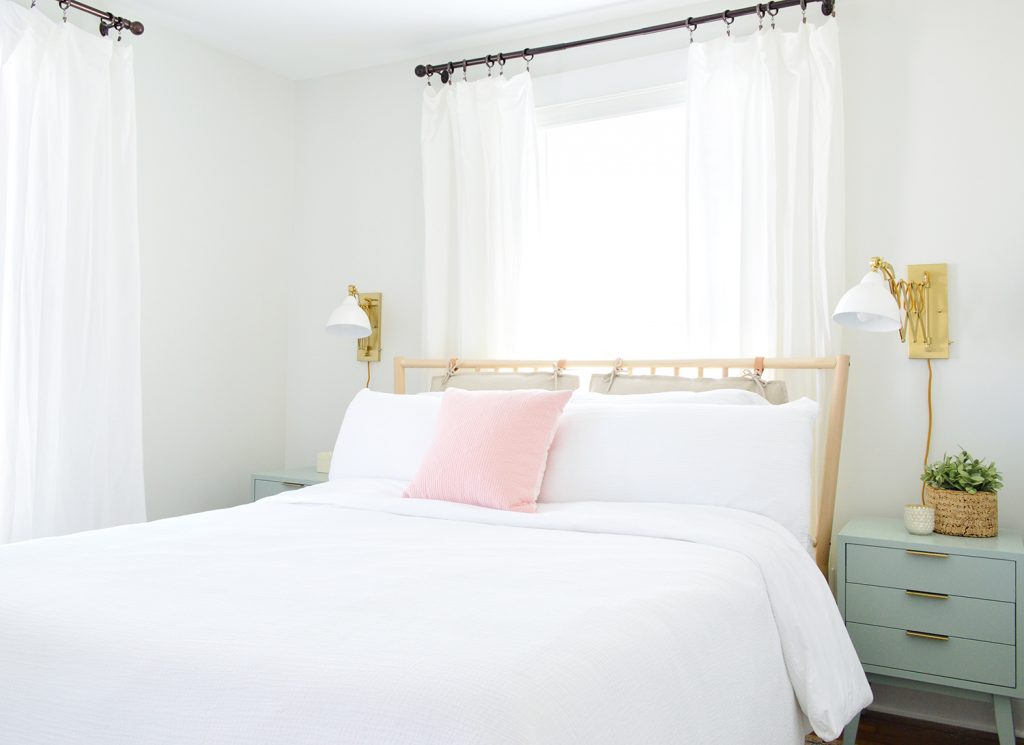 Bonus Tip: Correct Any Rod Sagging
Depending on your rod and how wide it is, you may notice that it appears to sag a little bit in the middle – especially where the smaller rod piece connects into the larger ones. Your package may come with a third, center bracket to hang in the center of your window, but often a third brack would be overkill for any window that's not super wide – so we rely on this weird little hack instead. Emphasis on WEIRD.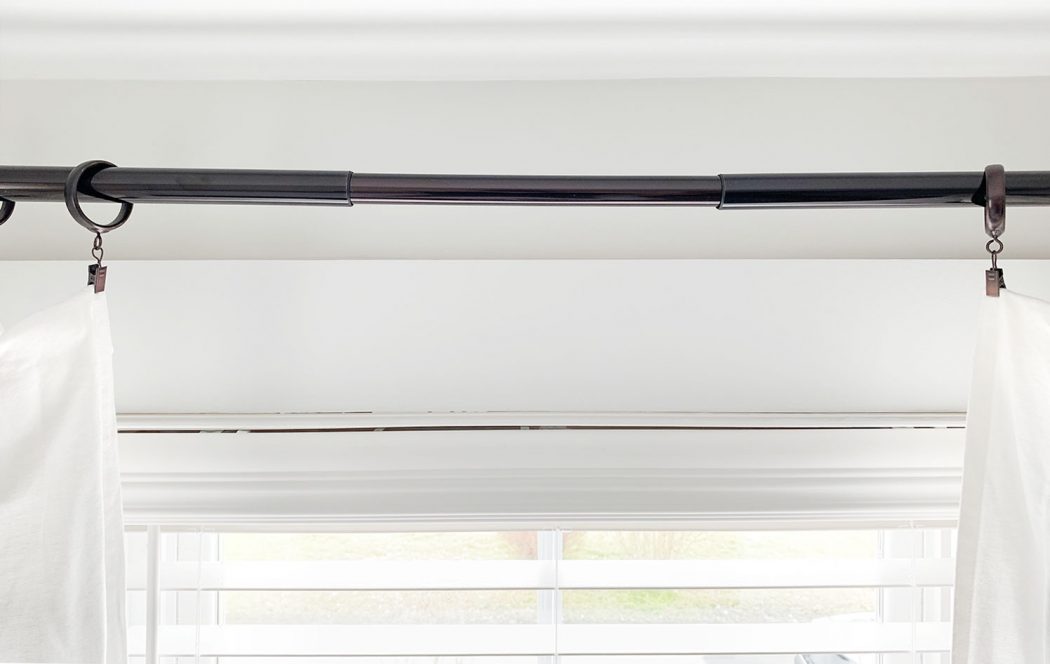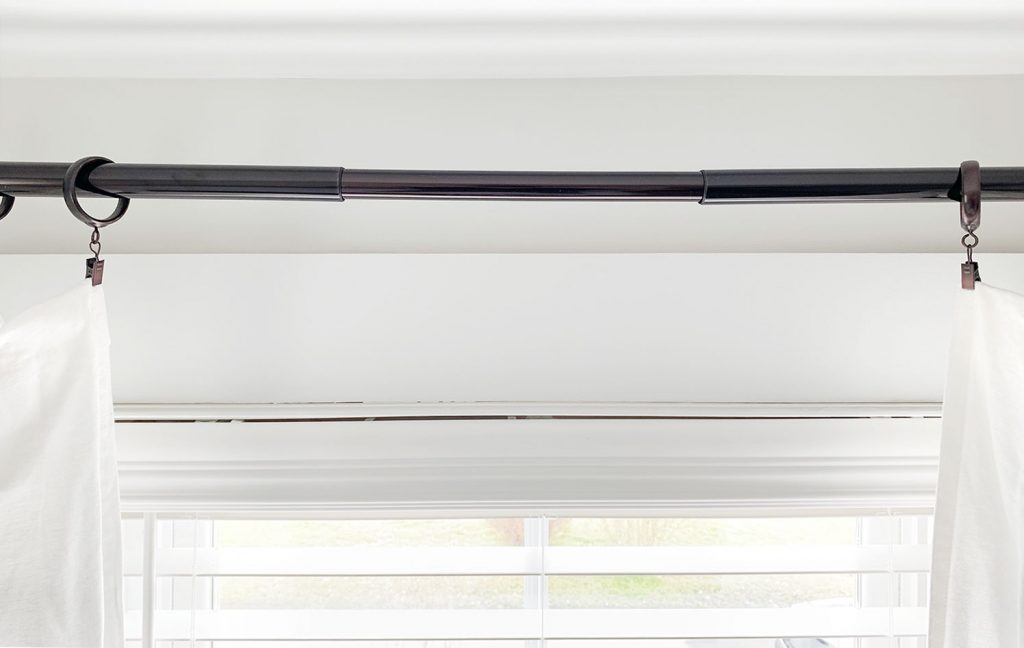 First, I take some of the protective plastic end caps that come on the curtain rods (they're just packaging) and use a utility knife or scissors to cut off some small slices.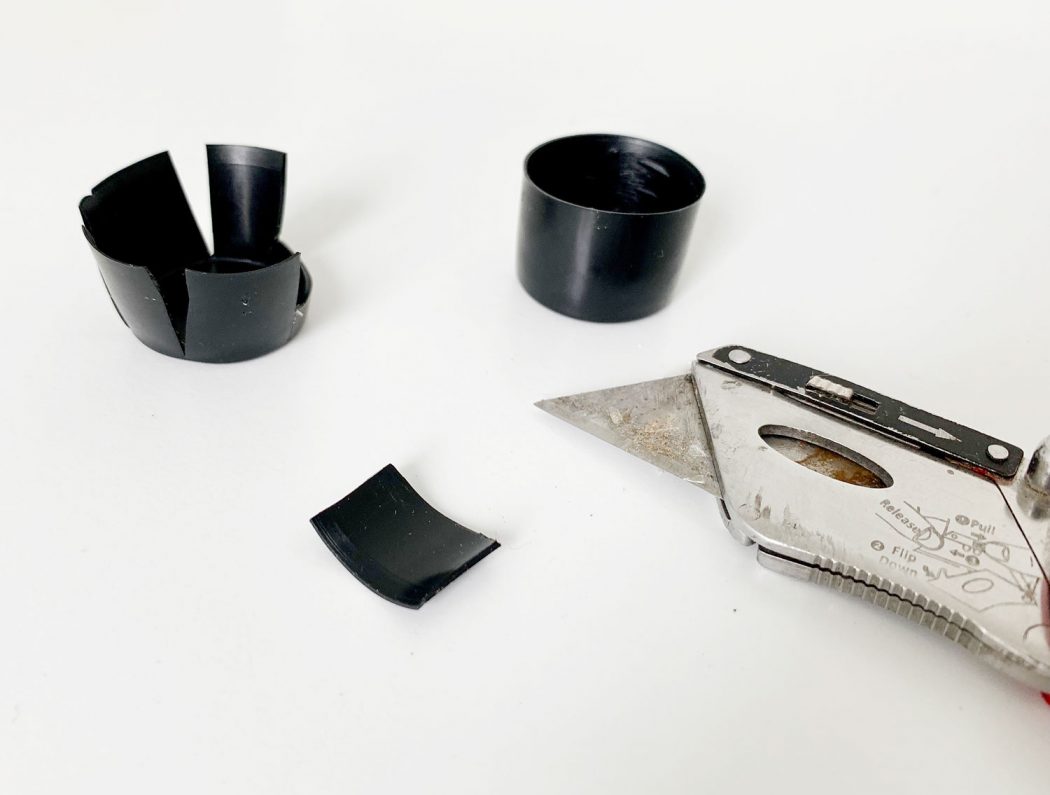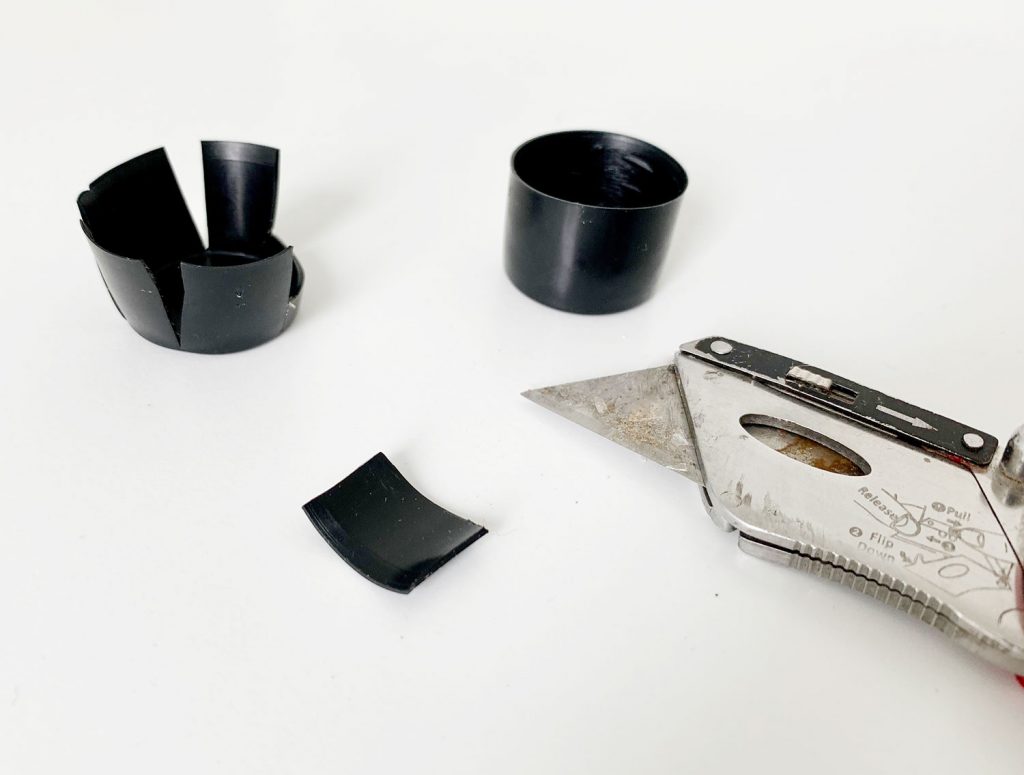 Then we tuck a piece inside the curtain rod at whatever connection point is sagging. It's important that you put it on the TOP side of the rod and if you can't slide it all the way in, just rotate your rod slightly so it's hidden from view because no one is viewing your rod from the top. I know it's REALLY weird, but it has been an easy way for us to correct a little bit of rod sag which makes my heart very happy. Just trust me – there is a noticeable difference and it no longer looks like it's sad and droopy. Plus it's free and I'm scrappy. So yeah. Five stars, would recommend.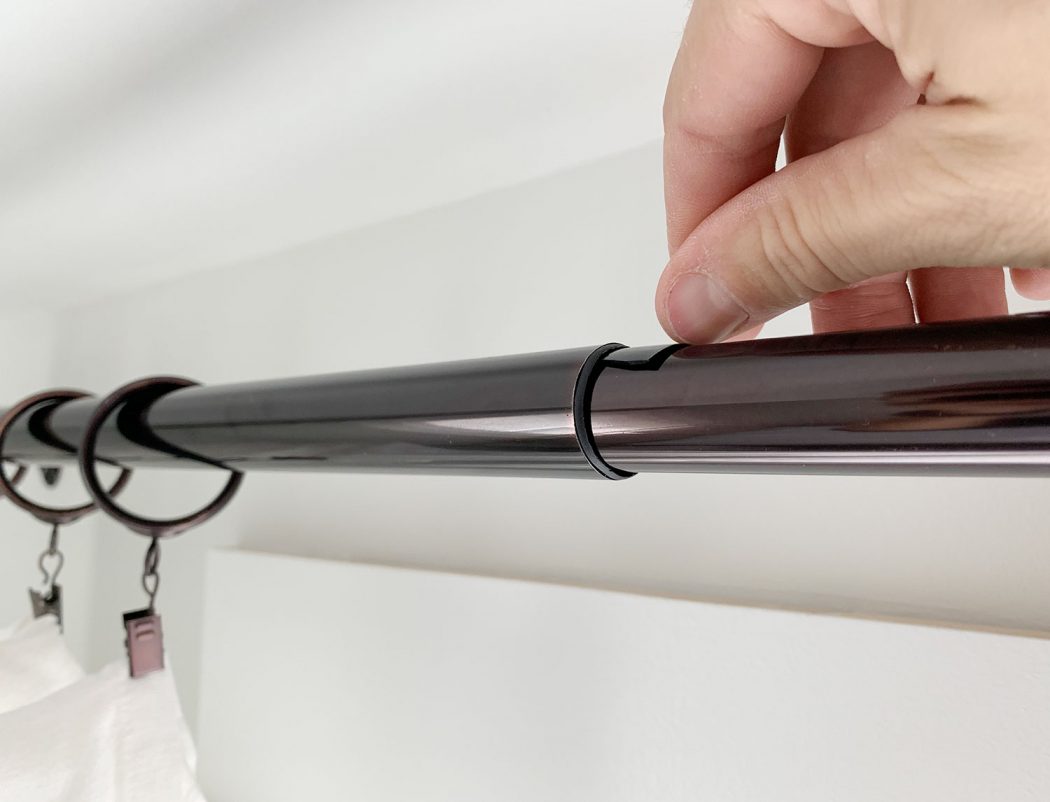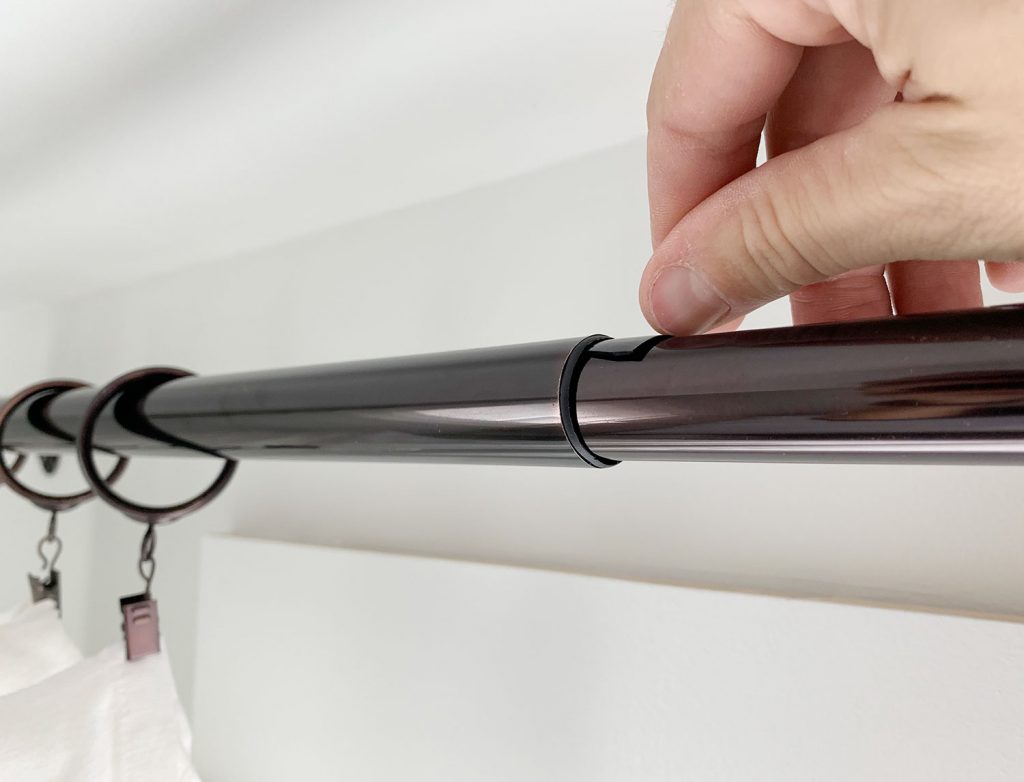 And again, you can check out our tips for hanging inexpensive white curtains and making them more expensive along the way.
Now, if all of this still seems like too much trouble – you can get away with no curtains in your room too. We wrote a guide for when curtains don't belong in a room and what you can do to your windows instead. Spoiler: some rooms shouldn't have window treatments at all! But hopefully with this trick for a quick curtain install, you won't be intimidated to do whatever is best for your space!
P.S. Wanna know where we got something in our house (or what color's on the walls)? Click here. And we made the same masterlist of sources & paint colors for the beach house too for ya. And we're pulling together a source lis for the duplex – it's not very thorough yet, but a lot of the stuff we have there is on this page for ya – and there's more to come.
*This post contains affiliate links*